On September 3, 2019, Google launched the most recent version of Android, i.e. Android 10 to the Pixel smartphones.
Officially, Android Q is called Android 10 and it has brought lots of exclusive features alongside it. Keeping security protections and user privacy, Android 10 has come up with some of the much-predicted features like gesture navigation, Smart Reply in notifications, Dark Theme, and more.
Declaring the all-new Android 10, Android's Senior Director of Product Management, Stephanie Cuthbertson told in a blog post that they took a few years of development and months of testing for introducing Android 10 to the world.
Google also declares that the latest Android 10 has been formed with 3 prime focus themes where the organization has performed for rising devices like 5G-enabled and foldable phones.
Then, the user data's security and privacy are at the focus of Android 10. Finally, Android 10 features improved digital wellbeing controls.
Android Q is Now Officially Android 10!
There have been many opinions about Android Q's name for the past few months. Android has always had a sweet dessert name for it's every version to accompany it.
Nevertheless, things are changing with Android Q. Finally, Google is done with its tasty dessert names and is rather moving to an easier numerical naming method. Thereby, Android Q is as such officially called Android 10.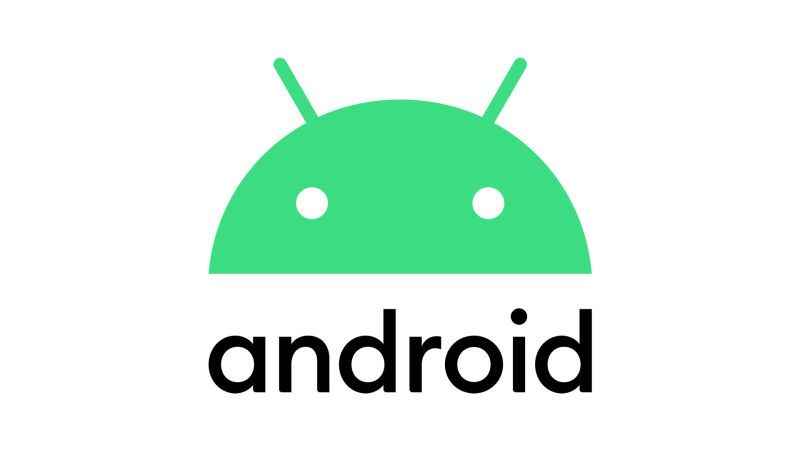 Since 2014, for the first time, Google is reviving the look and feel of Android brand, containing a redesigned logo which precisely boasts a green robot head. Now you will see that little robot whenever you see the Android logo text.
As an OS, Android is remaining the same, but its image is rapidly transforming. The logo is more playful and cleaner while dessert names are replaced by numerical ones.
Top Highlights of Android 10
If being an Android device user you need to know the top highlights of Android 10 that decode the latest mobile OS of Google: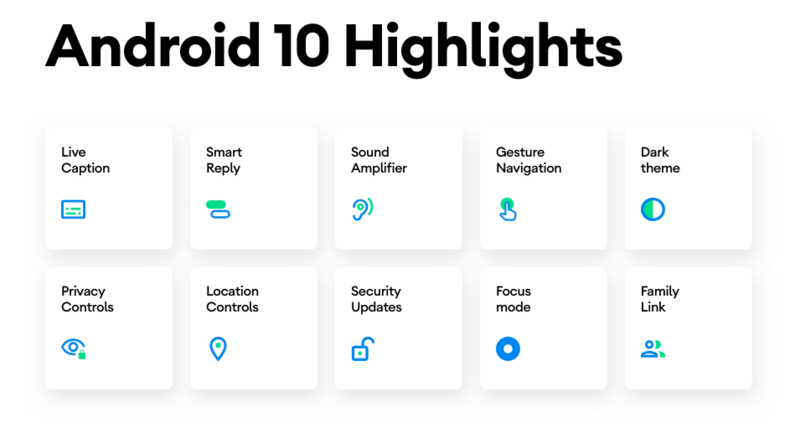 Finally, A System-Wide Dark Mode is Here
A system-wide dark theme has been added to Android 10 and this mode is perfect for low light and saves your phone's battery as well. To activate this dark mode, users need to navigate to Settings or turn on the Battery Saver.
This transforms the system UI to dark and allows the theme of applications which assist it. Users can create a tailored dark theme for their apps or choose a new Force Dark feature which enables the system to build a dark version dynamically from the current theme.
Moreover, developers may take the benefit of DayNight feature of AppCompat to provide a dark theme for users on Android's previous versions.
Live Caption Locally Rewrites Media in Real-time
With the introduction of Android 10, users will find the caption media playing automatically on their mobile phones. According to Google, with a single click, users can allow the function.
This marvelous feature captions audio messages, videos, and podcasts automatically along with helping you record yourself.
The most important part of this feature is that live caption will work with no requirement of your mobile phone's data or Wi-Fi connectivity.
The Back Button is Officially Gone and The Gesture-Based Navigation has Arrived
With Android 10, the iconic back button, a navigation basic of Android, is officially gone. Looking into the gesture-based navigation of Pie which kept the iconic back button around, now Android 10 boasts a completely gesture-based navigation system.
A swipe from the right or left edge of the screen goes back, a swipe up and hold unveils the multitasking menu, and swiping up goes home. For Android navigation, this is a great shift; however, in case you don't want to commit to complete gestures yet, you don't even require.
Alongside the all-new gesture-based method of navigation, Android 10 enables you to shift back to the two-button system and the conventional three-button array of Android Pie.
However, it's not clear whether these options will be found on Pixel 4 device which ship with Android 10 unusually. But at least for smartphones like Pixel 3 and Pixel 3a which are overhauled to Android 10 from a former version, it depends on you as to what navigation method you utilize.
Featuring Smart Reply in Notifications
The latest Android 10 utilizes on-device ML for recommending contextual actions in notifications like smart replies for messages or opening maps for addresses in the notification.
With user privacy in mind, Google has developed this feature, keeping the ML processing totally on the device. This feature can be beneficial for your applications and you can opt-out in case you would instead make your recommendations.
There is A New Theming Section
One thing which makes Android great is being capable of personalizing our mobiles to the greatest extent. And with the latest version of Android, Google is offering its users more ways to fix with the appearance of their device.
Hidden in Android 10's Developer Options, there is a new Theming section where the accent color of your phone can be changed. Although the iconic Pixel blue is the device default, you can change this to black, ocean, cinnamon, purple, green, orchid, and space.
Faster and Easier Sharing With Shortcuts
The most recent Android 10 features Sharing Shortcuts which makes the process easier and faster, enabling users directly move to another app for sharing content.
App developers can publish all share targets which introduce a particular function in their applications with the attached content and these are displayed to users in the share UI.
Since they are published in advance, the share UI immediately loads when introduced. Sharing Shortcuts feature is same as App Shortcuts and utilizes the similar ShortcutInfo API which is also assisted in the Share Target AndroidX library.
Better Assistance for Foldable Mobiles
The foldable phones ultimately will hit the market in 2019. To make sure to give users a better experience of these phones, Google has optimized its Android 10 with foldable-specific encounters and features.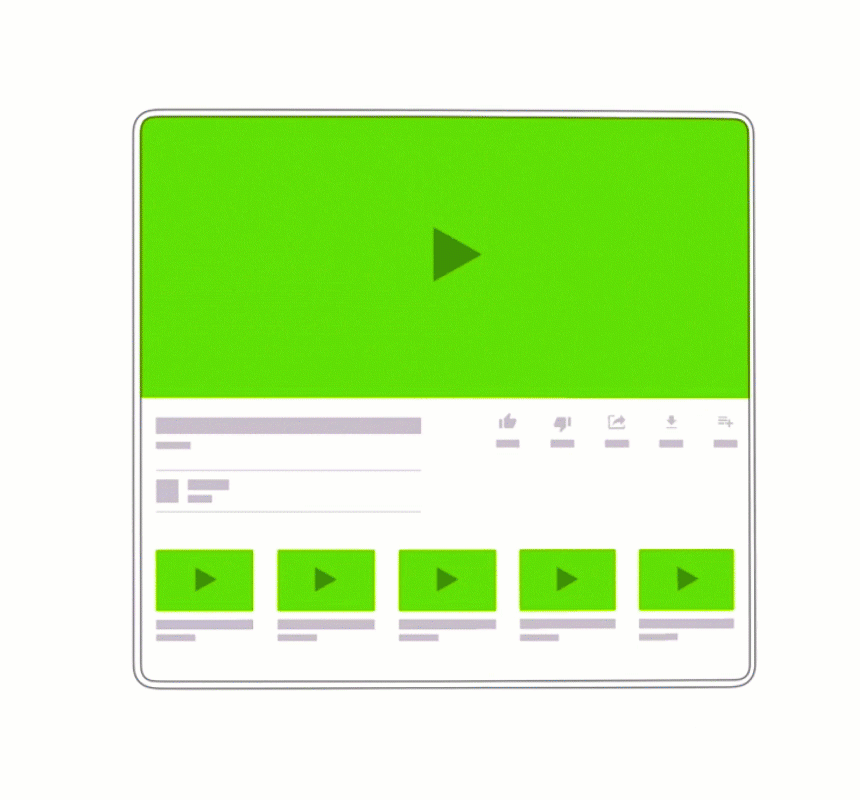 To help Android apps take benefit of these and other big-screen mobiles, Google has done many enhancements in Android 10, incorporating changes to onPause and onResume for assisting multi-resume and notifying your application when it has focus.
Google has also transformed the function of the resizeableActivity manifest feature to help developers handle how their app is shown on large and foldable screens.
Security Updates are Rolled Out Now
For device makers, generally, it takes weeks for rolling out Android updates to smartphones. Often this leaves the mobiles susceptible to severe flaws. Google targets to troubleshoot these flaws with Android 10.
According to the Android website, now vital security and privacy resolutions can be directly sent to your mobile from Google Play with Google Play system updates like all other apps get updated. Hence, you can get these troubleshoots as early as they are available.
Enhancing Digital Wellbeing with New Focus Mode
With the introduction of Android 10, Google has improved its responsibility to Digital Wellbeing.
This latest mobile operating system with the new Focus Mode which enables users to choose and pause apps which distract them temporarily until come out of Focus Mode. Nevertheless, users will require signing up as a beta tester for using this mode.
Improved Sound with Sound Amplifier
With Android 10's Sound Amplifier, you can hear more clearly what is around you. Now your phone can filter background noise, improve the sound, and fine-tune to how you hear well.
Whether you are listening to something, watching TV, or talking to your best buddy, simply connect your headphones and hear every sound more clearly.
Featuring Family Link for Parents
Currently, Family Link is a part of every device running Android 9 or 10. These tools are very useful for parents for setting regular device bedtime, screen time limits, time limits on particular applications, and more for their children.
Moreover, they can review the applications kids install on their devices as well as see their use.
Providing Users More Control Over Location Data
Now users can have more control over their location info via a new permission option. They can enable an app for accessing location just when the app is really in use.
For maximum applications, this offers an ample access level, whereas for users it's a great boost in control and transparency.
Boasting Unique Privacy Features
Android 10 boasts some exclusive privacy features. For beginners, users can have all the privacy settings like Ad Settings and App and Web Activity in a single place.
Moreover, users can decide where all information will be stored by the applications and for how long it will be stored. Additionally, users will get a choice of opting out in the case of ad retargeting and personalization.
Check out the infographic: What's New in Android 10?
Is Your App Prepared For Android 10?
With the public introduction of Android 10 and forthcoming updates, Google wants all Android app developers to update apps for compatibility. So, they can offer their users a seamless move to Android 10.