Google's Android 11 Public Beta Update is Officially Out!
4 minutes read
36.0k Views
After delaying the release of Android 11 beta twice, Google finally launched the software on June 10 so developers can start refreshing with it.
Basically Google I/O takes the responsibility for the biggest announcements of the organization, but with the COVID-19 pandemic, the updated version was launched with no fanfare.
That doesn't mean it's not a big update because several helpful new features are there, incorporating security enhancements, bubble conversations, modifications to notifications, and so forth.
The Major Features in The Android 11 Beta
Here are the best features released with Android 11 Public Beta:
1. Better Media Controls
Switching between devices is one of the most bothering things regarding listening to music on Android. With Android 11, you can choose your audio output fast from the notifications screen. Android 11 offers better media controls so you can interact with music in your notifications section.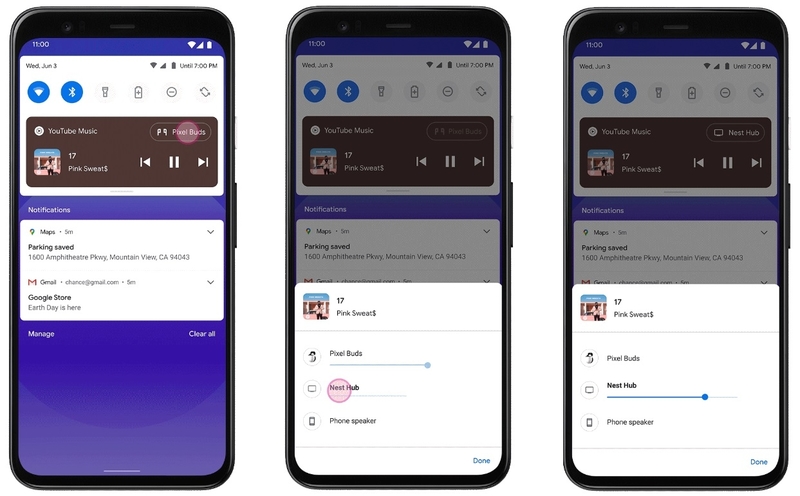 According to Google, you can switch between apps in the last played music order. This is really handy for somebody who continuously switches between AudioBooks and music.
2. Simplified Conversations
To make communications simpler and easier, Android 11 will shift all conversations of yours across several messaging applications to a fixed space in the notification shade. This feature will significantly make it simpler for a user to see, respond to, and handle all conversations in a single place.
Users can mark an important conversation. It will be pinned to the top so you don't ignore any notification, even when you have enabled 'Do Not Disturb'.
Google has also launched Chat Bubbles, which is the same as Facebook Messenger. It pops out conversations, which helps users open a complete conversation with a single tap and reduces the requirement for switching back and forth between applications.
The Gboard or Google Keyboard has also got a useful yet minor update. Currently, it will offer automatic and appropriate recommendations for text and emoji.
3. More Privacy
Google began to consider privacy more seriously with Android 10, enabling users to restrict things like location access to just operate when you are basically running an app.
At present, the organization is helping you give applications one-time access to some features like a microphone or camera, something that must have been done before.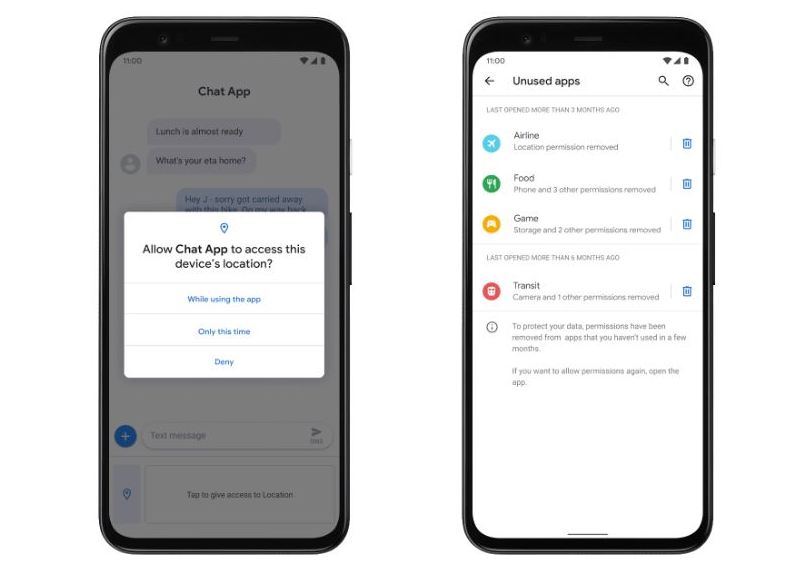 According to Google, in case you haven't utilized an application for a long, it will reset all the permissions related to an app automatically and notify you as well.
This implies if you need to download a random videoconferencing application you won't utilize again but will be very lazy for uninstalling, you don't require worrying regarding it recording you when you are using it once.
4. Smarter Device Control
The release of Android 11 Beta provides more extensive control to the user. The smarter device controls make it easier and quicker for users to control and access their connected devices.
Now, users can bring up device controls immediately by pressing the power button for a long time. Moreover, it will display your credit cards and other payment procedures added to Google Pay.
5. Voice Access
We know that Android has many accessibility features and Android 11 has brought an update to the voice access, one of the most important accessibility features. Now it has an on-device visual cortex that understands context and content on the screen and can create labels and access points for accessibility commands.
Hence, in case you are controlling the device with your voice, you can speak normally by only saying what is on screen rather than requiring recognizing a number on a grid.
How to Enroll For Android 11 Beta Program?
For now, you can download the Android 11 Beta by Pixel 2 and all the latest Google Pixel mobiles. Nevertheless, other eligible mobiles from different brands will get the update shortly.
To enroll for the Android 11 beta program, you will need to sign in to your Google account and visit the Android 11 beta page for enrollment. If you visit the page, you can see your device listen when you select the 'View Your Eligible Devices' option. Now tap the enroll option under your device name and you are done.