Android 11 is ultimately launched after months of numerous beta updates. Google has officially introduced its greatest and latest OS version. Although there are not a lot of surprises for people who have been utilizing the beta for a while now, it's nevertheless a valuable update for anybody else.
Currently, the update is available on selected Pixel phones, Oppo, Xiaomi, OnePlus, and Realme Phones. The latest Android does not bring some drastic changes to the platform; however, when you update, you will find some interface changes and some new features providing significant daily enhancements.
Top 15 Features of Android 11
For the last few days, we have been using the near-final development of Android 11 and gathered 15 of our favorite features. This is only a part of what's new as there are over 100 features that serve app developers for enhancing further the entire Android experience. On Google's developer website, you can read about all of them.
In case you are using a device that is compatible with Android 11, here are some reasons to ponder upgrading:
1. A Redesigned Music Player
While playing music, generally you can see a notification with music controls if you swipe down the notification drawer. However, now in Android 11, these controls are integrated into the quick settings menu. So, if you swipe down the screen's top and along with your Bluetooth and Wi-Fi tiles, you can see music controls.
It's a clear appearance and it functions with streaming video that you have cast to other screens. It's not only a cosmetic enhancement.
You can also select what device will play the music, which is accessible in case you have Bluetooth earbuds or speakers connected. Drag down the menu more for seeing other options, like the capacity of providing a song thumbs up without opening the music app.
2. Built-In Screen Recording
Android has finally in-built screen recording. Screen recording in Android 11 is as easy as adding a fast settings tile and clicking it. Before starting to record, you can select whether you need to record audio from your microphone or you prefer showing touches on-screen.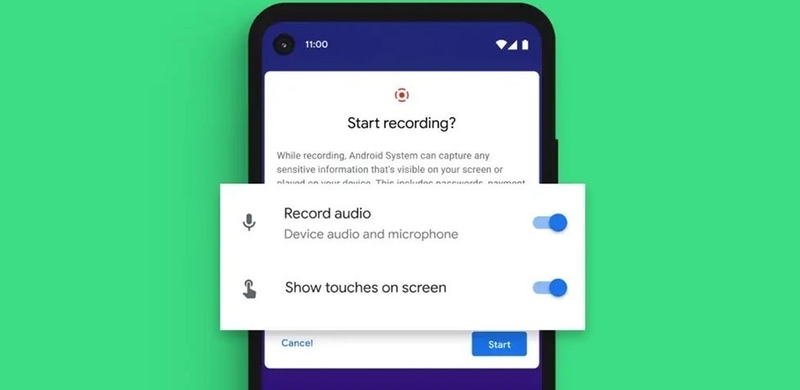 However, this has some significance for developers. Many screen recording applications are nowadays available on the market. Although Android 11 does not spoil their performance, it implies that third-party screen recorders will require offering some engaging features if they need to be utilized rather than what is developed into Android.
3. Bubbles
Google is ultimately presenting its official implementation of conversation Bubbles. In case you utilize Facebook Messenger on Android, you might already aware of this feature. The feature enables conversations to stay in floating bubbles that can be moved around the screen and get from inside any app.
Although developers will need to update their applications code for supporting the feature, we expect the feature will catch on fast. While Android has always had favored the iOS on notifications, this update takes it a step ahead.
4. More Limited Permissions
Android 11 gives you the choice to force an application for asking for permission every time it needs to utilize an element on your phone. That goes along with the current option to permit access just when you are utilizing the application.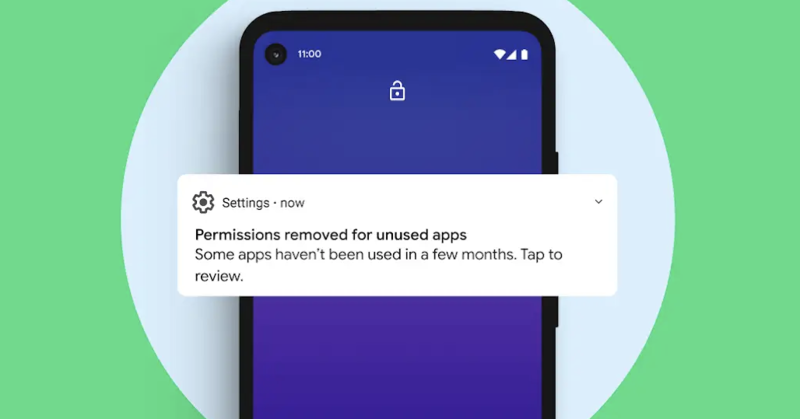 Moreover, applications you do not utilize but are still installed on your mobile can see their permissions automatically revoked over time.
You should choose this option. Press and hold the icon of the app, click on App Info, and select Permissions. At the bottom, you can see a toggle to Remove Permissions in case the app is not utilized.
5. Power Menu Device Control
Android 11 has come up with a new power menu that enables you to fast access all connected smart devices.
Just press the power button for long for reaching the new menu and control all connected devices like smart locks and thermostats with a click, with no requirement for opening many applications. This latest addition lets us feel that Google has finally brought the smartphone to the smart home.
6. BiometricPrompt API and Identity Credential API
Now developers can utilize the BiometricPrompt API for particularize the strength of the biometric verification needed by their application for accessing or unlocking the app's sensitive parts.
The Identity Credential API will unlock some new cases like National ID, mobile drivers' licenses, and Digital ID. However, it's still unclear whether Android 11 is prepared for digital-first identity experiences.
7. Enhanced Voice Access
Voice Access is the accessibility app launched by Google many years ago. It enables people to controls their mobiles with only their voice. Earlier it needed you to remember some commands or select corresponding numbers on your screen. Android 11 can understand the content better on the screen and the context around it also.
Simply say the app name you need to open or the action you need to finish and the mobile will understand itself. Ensure to install the Voice Access app first to use it.
8. Google Play System Updates
Introduced last year, Google Play System updates are the advanced updates of main OS elements to devices in the Android ecosystem. And one of the greatest changes in Android 10 for newly released devices is the launch of Project Mainline.
Now with Android 11, Google has increased the number of updatable modules. Google has fixed a total of 12 Project Mainline Modules along with the ones exist on Android 10. So, currently, the total is 25 Modules. These new modules will help boost consistency, security, and privacy for both developers and users.
9. Unique Features for Pixel Users
Some latest features are there stored for Google Pixel devices' users, apparently being created accessible via Device Personalization Services, closed-source Pixel Launcher, and other Pixel-exclusive apps.
Google states that supported Pixel gadgets will receive extra tools for streamlining and handling the phones, like new actions for choosing images and texts, app recommendations depending on the daily regime, live view location sharing, and screenshots.
10. Pin Applications in the Share Menu
In case you have tried a lot to discover an app you need to utilize for sharing something in the Share Menu of Android, the good news is you can ultimately pin all favorite applications to the top. Google has several share menus.
For instance, in Google Maps, the sharing appears different from sharing in Google Photos and that appears distinct from sharing on YouTube, which is also not similar to the main Android Share Menu.
In case you handle to access the primary share menu, click on an application in the Apps List, and just pin whatever you would prefer to the top.
11. Smarter Suggestions for Apps
Android 11 makes app suggestions smarter. It helps you add a dedicated Suggested Apps dock on the home screen. It bumps the current dock up a row. The new dock that comes under the current one will be occupied with the ever-changing gathering of applications Android anticipates you will further need to open.
In case you are specific regarding where applications must arrive on the home screen, this is not a favorable feature for you. You can toggle on or off it by tapping on the home screen, navigating to Home Settings > Suggestions > Suggestions on Home Screen.
However, you can combine things by pinning some apps you like in the new dock and leaving the vacuum slots for the transforming suggestions.
12. Keep the Notification History
Have you ever swipe away a notification impulsively before getting a scope for reading it? Currently, you don't need to think about whether it was something vital. Android 11 launches Notification History that can be accessed by navigating to Settings > Apps & Notifications > Notifications > Notification History.
Simply toggle it on and you can see notifications that were dismissed recently and the alerts from every application that knocked you in the past 24 hours. You can click on them for jumping directly into the respective application, simply like a basic notification.
13. Conversations Are Prioritized
Now Google keeps all conversations separate from other notifications, prioritizing them near your notification shade's top part.
They receive their segment, taking control over random pings from other applications and you can set some conversations as a priority, enabling notifications to come through even in case you have muted notifications otherwise.
14. Improved 5G Support
Android 11 incorporated enhanced developer support for helping you reap benefits of the quicker speeds and 5G networks' lower latency. You can understand when the user gets connected with a 5G network, receive an estimate of the connection bandwidth, and check if the connection is metered.
15. Call Screening Support
Android 11 helps call screening applications do more for dealing with robocalls. Apps can authenticate the STIR or SHAKEN status of an incoming call as the call details' part, and they can also report the reason for a call rejection.
Moreover, applications can tailor a system-provided post-call screen for helping users perform functions like adding to contacts or marking a call as spam.
How to Download Android 11
Android software updates are quite slow for rolling out, which means just a few mobiles can download Android 11 now. Makers like Samsung will take some months for sending it out to their gadgets. In case you bought a mobile straight from a wireless carrier, you will need to wait for more as the update needs an additional approval level.
In case you have the latest Pixel mobile or a Google Pixel 2, you can receive Android 11 now. Selected phones like Realme, Oppo, Xiaomi, OnePlus and Android One Devices like Nokia-branded phones also can get it.
To check whether you can download the update, navigate to Settings > System and click on Advanced > System Update. It must begin seeking the update automatically (if not, you can click Check for Update). In case you cannot see anything, you may require waiting for more days.
In case you don't have an Android One or Google Pixel phone, check the site of your manufacturer or social platforms to find when or whether your phone will receive the Android 11 update. Maximum high-end mobiles receive 2 years of Android upgrades from their launching date. Hence, in case you bought your mobile sooner, or in late 2018, you must get it.