Top 10 iOS 13 Features That'll Excite Mobile App Developers in 2019
8 minutes read
41.8k Views
A shout out to all the Apple lovers out there!
Your beloved company has recently come out with a bunch of exciting announcements in the previous week at the annual Worldwide Developers Conference 2019 held at San Jose, California.
From new product launches to interesting updates to the existing ones, including the Operating System, there is a lot more for both app developers and users.
At the event, the tech giant introduced Pro Display XDR and Mac Pro. However, it was the announcement of iOS 13 that went on to create a buzz.
As per reports, iOS 13 will offer a massive boost in its performance along with a range of new features that will be compatible with iPhone 6S and the later versions of iPhone.
Top Notable iOS 13 Features You Should Know
So, what are we waiting for? Let's dig deeper to explore the top 10 new features iOS 13 has in store for you!
1. Dark Mode
The WWDC 2019 surprised everyone with the unveiling of one of the most awaited features by iPhone users across the world – the Dark Mode.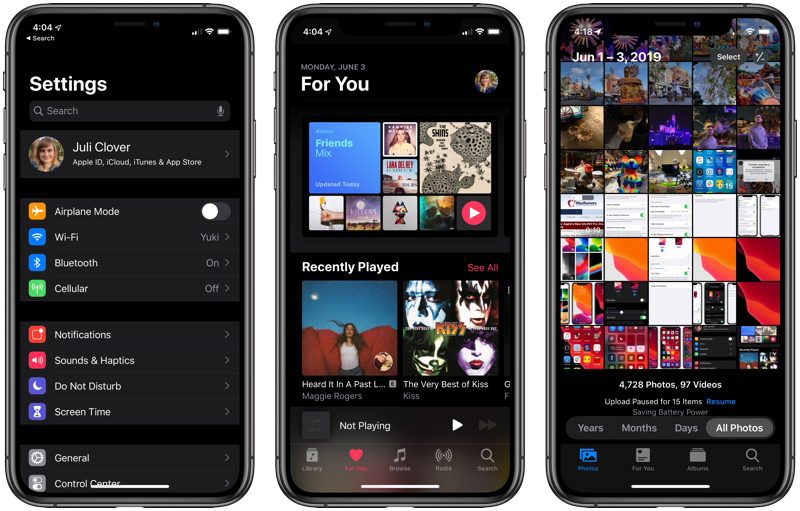 Yes, iOS 13 will be offering a dark mode that will be system-wide, visible at system-level as well as in applications. Not only will it save your phone's battery, but also be being easy on your eyes! A highly demanded feature, this one is now up and running!
Users would be able to turn on the dark mode manually and schedule it as well. Moreover, a series of new dark-mode optimized wallpapers will also be released with iOS 13.
As far as third party apps are concerned, app developers will easily be able to integrate this new feature into their apps.
Read also: The Best Practices to Design Dark Mode for Mobile Apps
2. New Photo Editing Tools and Revamped Photos App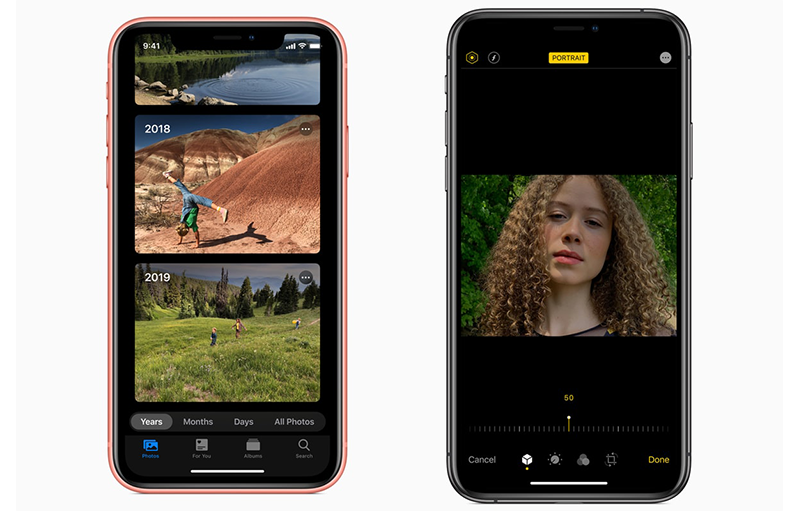 Apple's iOS 13 will provide users with a set of all-new photo editing tools that will allow them to edit not just their pictures but videos, too.
You will be able to edit, add effects and filters, as well as rotate your videos. The latter is happening for the first time on an iOS ever!
At the same time, the new photo editing tools such as shadows, contrasts, highlights, brilliance, and noise reduction will lend an additional professional touch to your snaps.
If that wasn't all, the Photos app is also getting revamped with a more user-friendly interface and clutter-free presentation of all your captured memories.
3. A Refined Maps Experience
With its iOS 13, Apple is promising users a map experience that is absolutely precise. The company has made ground-up modifications in its Maps app and travelled down 4 million miles in order to provide users with accurate addresses and road coverage.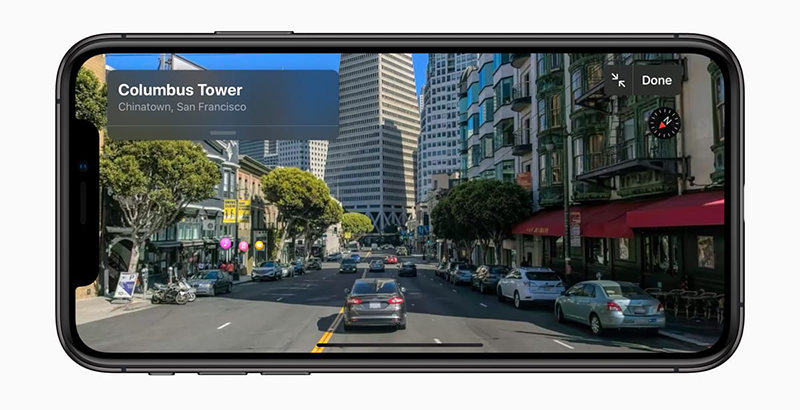 Fascinatingly, Apple has also added a Look Around feature in the app which provides a 3D view of a place, similar to Street View by Google.
Initially, the Maps app will offer detailed maps of a select few cities. However, it is expected to cover all regions of the US by the year-end and more nations in the upcoming year.
4. A Quick Keyboard
Typing on iOS 13 keyboard will become a breeze. How? Well, Apple has included a new keyboard called the 'Quick Path Keyboard,' will enable users to swipe across with ease while typing.
Similar functionality has been offered by a number of third party apps, such as Gboard. But, now that iOS has come out with its own swipe-type functionality, users won't have to depend on any third party app anymore.
5. An Improved Siri
Siri has been popular ever since it was first introduced. Knowing this, Apple has upgraded it even further with its iOS 13. The new and improved Siri is about to make its presence felt with an all-new voice that will be achieved through neural TTS.
To put it simply, Siri's voice will become more human and less robotic even though the voice would still come via the software.
Moreover, the company will also launch an Indian English Voice to add a local touch to Siri for its Indian users. Also, call acceptance and rejection will turn more personalized.
6. Emoji Search and Memoji
Apple, with its updated Emoji search feature, has finally made it easier for the users to search for an emoji of their choice. This is a function iOS users have been demanding for quite some time now.
Along with that, the company has also added support for the custom creation of Memoji on all compatible iPhones.
There is something for Animoji fans as well, because iOS 13 will be bringing with it three new Animoji characters – an octopus, a cow and a mouse. These user-created Animoji and Memoji will be easily usable in the Messages app.
7. Updated Reminders App
As of now, iOS users have found it difficult to utilize the confusing interface of Reminders application. Keeping that in mind, Apple has breathed a new life into this app with its iOS 13 version.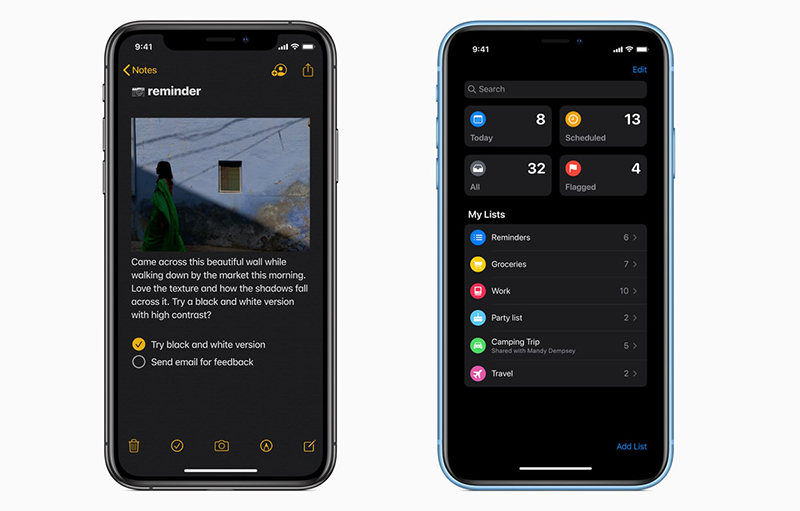 The enhanced Reminders app will come with an easy-to-use interface, reminder lists, and smart filtering options like Flagged, Today, All, and Scheduled.
On top of that, the app allows you to organize your reminders better as well as tag people in it. The tagging will be synced with Messages so you get reminders during your conversation.
8. Sign in with Apple
Apple has always focused on offering utmost privacy to its users. iOS 13 keeps that promise, too with its secure and seamless authentication feature called 'Sign in With Apple.'
The feature will allow users to directly log onto websites and apps through their Apple accounts, either via Face ID or Touch ID.
Read also: Step by Step Process of Integrating the Touch ID and Face ID in iPhone Apps
However, users won't need to provide personal information while creating a new account. As for the developer community, support for 'Sign in With Apple' can easily be added to their applications and websites.
9. Find My
With its iOS 13, Apple will be merging two of its apps – Find My Friends and Find My iPhone in a single application. That means users would be able to track both their phone as well as dear ones via a single app.
What's more interesting is that this new Find My app will let you locate even the offline iOS devices. So, in case a device is offline, a Bluetooth beacon will be sent securely to the nearby iOS device, which, in turn, will be relayed to iCloud before reaching you.
10. Health App
To add more utility to its Health application, Apple has included a bunch of new features. There's a cool cycle tracking feature for female users who would now able to track their menstrual cycle with the Health app.
The latte will also predict the beginning and the end of the cycle for the upcoming three months.
Other than that, the app will offer a summary of the most vital data users need including alerts, highlights, or recent entries. It will also provide them with information about their audio levels and tell them if it is loud or optimum.
Mobile App Developers Have So Much to Look Forward to!
In addition to these features, iOS 13 will also bring a host of other improvements that would up the game for iPhone app developers worldwide.
Right from an improved version of Core ML 2 to better functionality and storage of Cloud-based Apps, enhanced data stability, and security of Enterprise App Development, this list is long and pretty exciting.
Also, with Project Catalyst being made public, there's every chance iPad apps would be flowing into Mac like crazy! This is a big deal in the world of iPhone app development. Developers will now have a lot more to experiment while building on iOS.
So, WWDC 2019 has been no less than a gala for app developers! It has opened the leeway to what we can call a new era in mobile app development.
The times, they are a-changing!