Mindinventory Developed an app called "Journey" to Help People that are fighting physical, mental, & other challenges
4 minutes read
10.6k Views
I choose not to place 'DIS' in my ABILITY' -Robert M. Hensel
Being physically or mentally challenged or facing any other similar challenge can surely make one's life difficult to live. However, one can make the most of today's technology and help such people fight better and face these challenges head on. This is what the 'Journey' app is all about which is trying to make a positive change in the lives of such people. It is the first-ever iOS app of its kind.
What is Journey?
Breaking away from the usual norms of social networking sites, Mindinventory has developed a life changing social network application named Journey which helps to bring together those individuals who fight mental, physical or other such challenges while allowing them to connect with others who are battling similar struggles around the globe. The app also allows them to post and share things with one another no matter how close or far they are.
What's special about 'Journey'?
This unique app will give physically and mentally challenged people a chance to share their stories, experiences and struggles with others while also allowing them to give and seek advice, learning and educating themselves in the enriched global community. Motivating one another and providing support are the 2 major benefits of such an app which allows such differently able people to stay positive and hopeful in their lives.
Some of the most astounding features of 'Journey' are:
Post pictures of anything you want to one or multiple persons
Ask questions or answer them
Post your thoughts daily and get opinions on the same
Private photos or messages can be sent to friends directly
One can post anonymously or stay anonymous when using the application
Journey users around the world connect with each other and help one another in various ways
Aim of 'Journey'
The 'Journey' app wishes to make such people able enough to stand out from the crowd and help them learn from people dealing with similar situations. It aims to help educate, encourage and enlighten such individuals so that they continue their struggle with a smile and feel encouraged enough to make their dreams come true on their own!
Journey's the Number One!
The hard work means that today, Journey is one of the best apps in the Social Category in the iOS store. Here is how the app is faring today in the iOS store. Do not forget to download the app on your iOS device – it's worth it.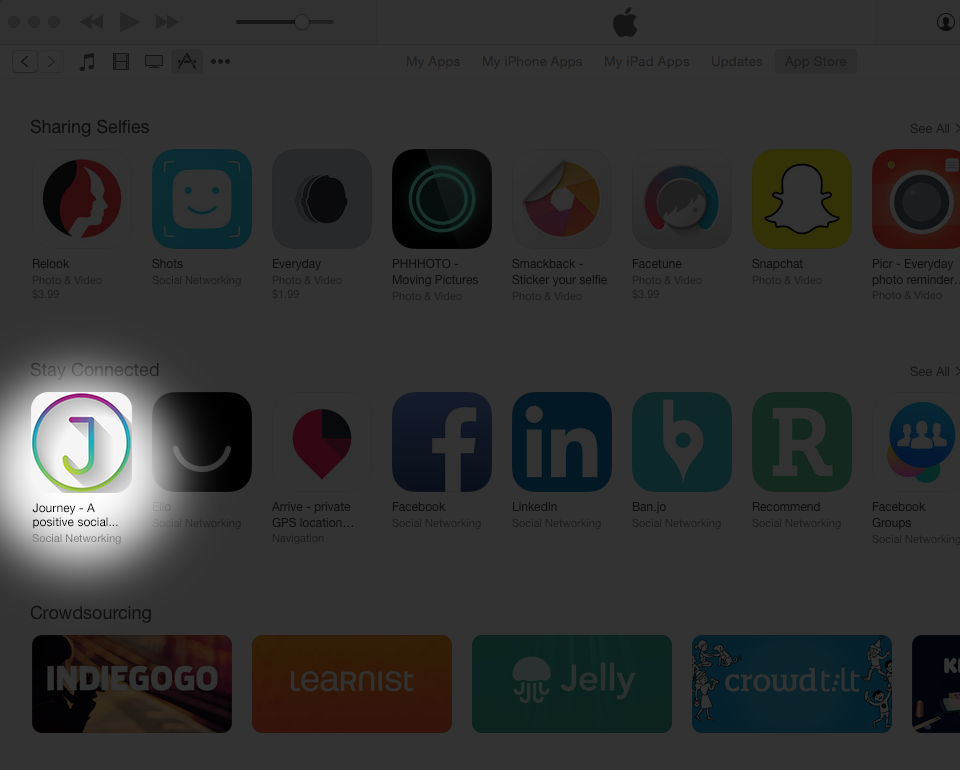 Developed by Mindinventory for Taylor
Taylor Martinez, the Co-founder of Journey, has been working with Loren Hall to create a difference. Taylor himself has been associated in different roles working with organizations that help treat patiens with chronic illness. Loren on the other hand, has worked as a Personal Trainer for years and knows how to inspire people. For them, the app is just a step ahead to make the right type of difference in the society.
About the iOS and Android app development team at Mindinventory – If you're looking for quality, the team developed the Journey app to help mobile users look at social networking in a new way. The Mindiventory team does work on similar apps that aim in increasing user engagement. With a focus on quality and adherence to deadlines, the team is commited to win over clients every time. Journey is just one of the apps in their portfolio – and one that really stands out.