WWDC 2019: Everything Apple Announced
12 minutes read
28.3k Views
Apple has unfolded all most recent updates regarding its hardware and software at the WWDC 2019 Keynote. We have compiled a roundup of everything in this post which Apple declared in this conference incorporating WatchOS, MacOS Catalina, iPadOS, iOS 13, the brand-new Pro and Mac Pro Display XDR, and so forth.
The nearly 2.5 hours WWDC 2019 Keynote was bundled with many software declarations also as well as the launching of the all-new Mac Pro hardware.
Here is a fast summary of the latest highlights from the keynote conference:
iOS 13
Apple previewed iOS 13, revealing a brand-new look for its iPhone with Dark Mode and some exceptional ways of browsing and editing images, navigating the world with a new map, and logging in to websites and apps.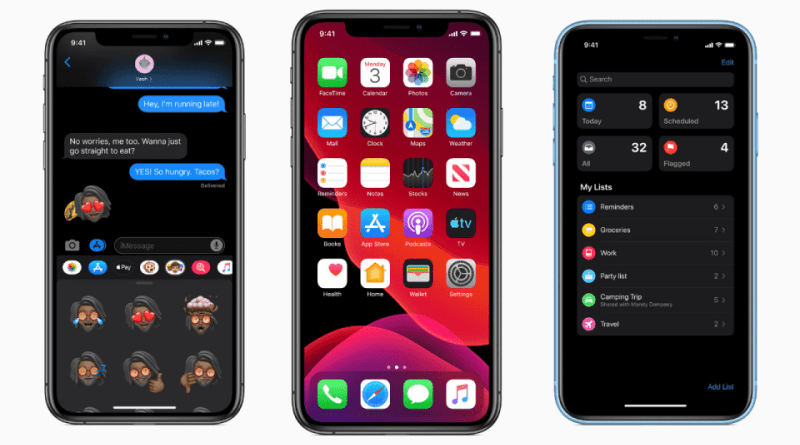 iOS 13 is more responsive and quicker with optimizations all over the system which makes Face ID even quicker, lessen app download sizes, and enhance the app launch.
The public beta of iOS 13 will be available in July and the final version will arrive in this fall.
HomeKit
HomeKit is getting an update since Apple is constantly struggling its way into the smart home space. Security and privacy are the main concerns, which have HomeKit functioning with more device partners.
Apple will possibly introduce a new HomeKit Secure Video service in the forthcoming months and this service is going to provide users with encrypted video storage and streams.
Thereby, you can purchase a HomeKit Secure Video camera from a hardware partner like Arlo or Logitech and all the security camera video data goes directly to an iCloud account rather than a Google service which just you can access.
The same HomeKit program is going to be accessible for Wi-Fi routers created by organizations like Linksys and Eero.
SwiftUI
Swift has received a new UI update and features which take many lines and load down it to only a few. Apple is easing workflows for developers by adding tools automatically for moving toward low code.
SwiftUI will make automated moves and provide a bundle of new features. Apple will also add a SwiftUI framework for developing Apple Watch applications. This framework will be accessible across all platforms that have a common API.
MacOS Catalina
Apple also launched MacOS Catalina as the most recent update to its operating system for laptops and desktops. This update is going to offer the users a wide range of options and features, incorporating enhanced user experience, precise voice interactions, and the scope of utilizing iPad as the 2nd display surface.
On the other hand, the team also unveiled Project Catalyst, a brand-new tag which will enable iOS app developers for making their apps available on both desktop and iPad giving efforts on code shipping for the two.
Core ML & Create ML
Core ML 3 assists the rise of more kinds of real-time, advanced machine learning models. With more than 100 model layers presently assisted with Core ML, applications can utilize top-notch models to offer experiences which highly understand speech, natural language, and vision like never before.
App developers can overhaul machine learning models on-device utilizing model customization for the first time. This tactic provides developers with the scope of offering tailored features with no compromise on user privacy.
Using Create ML, an app dedicated to machine learning building, app builders can develop machine learning models with no need for writing code. Numerous model training with various datasets can be utilized with all-new kinds of models such as sound classification, activity and object identification.
iPadOS
Possibly the biggest software update is iPad getting its own platform. Apple declared the iPad will split off from iOS and run on iPadOS going ahead.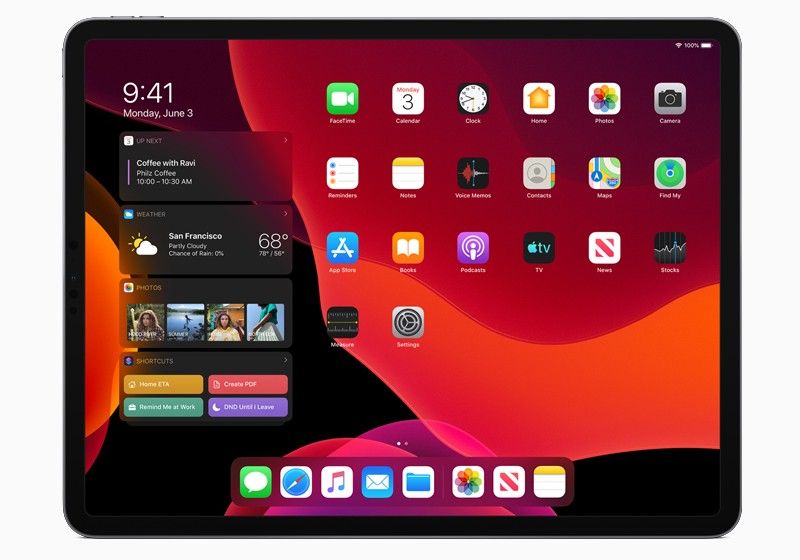 Nevertheless, maximum anticipated features the iPad will get with the new software came to accomplishment. iPadOS gets the capacity of running numerous windows for an open app, and Slide Over panels can be manipulated and detached easily.
The Files app has received an update with assistance for SD cards and external drives and pictures can be uploaded directly from cameras to 3rd party applications.
Desktop-class browsing is another update with iPadOS whereas Safari will obtain a download manager and new keyboard shortcuts. Apple will also add 3-finger gesture shortcuts for undo, copy, cut, and paste.
tvOS 13
tvOS will receive noteworthy updates which will overhaul your Apple TV experience. Currently, it will get a home screen with more enriched, multi-user support, and full-screen content previews feature.
Moreover, it will get a customized recommendation feature which will recommend you watching on Apple TV and what you can listen to using Apple Music. Alongside this, tvOS on Apple Music will also include lyrics to every song so you can sing the song synchronized with the tone.
On the other hand, the forthcoming tvOS 13 will also assist PlayStation 4 Game Controllers, Xbox One, and Bluetooth Controllers, which will gradually upgrade the gaming experience of the users.
Revamped Siri
Siri has received a little new voice. Presently, this voice assistant of Apple is produced completely by a neural text-to-speech technology instead of a manual recording.
Siri has got a maximized assistance on other Apple gadgets such as the AirPods. Siri can let you respond instantly by reading your incoming messages on the Bluetooth earbuds. Presently, you can also split AirPods in case you want to share them with your friend during content streaming.
Moreover, the speaker can presently detect various voices for customized responses on the HomePod. At the time when you are driving from or to your home, you can just tap your iPhone over the HomePod for transferring where you are at in a song between two different gadgets.
Siri has also received new assistance, i.e. CarPlay support which is presently compatible with more 3rd party applications such as Waze and Pandora. Siri can even recommend automated shortcuts depending on the smart home devices, connected applications, and your activities.
Read also: The Entire Process of Integrating Siri in the Third-Party Apps
All-new Maps
Apple is offering an all-new maps experience with better pedestrian info, broader road coverage, more detailed land coverage, and more accurate addresses.
At present, this new map is available in some particular states and cities and will be available soon across the United States by 2019's end and to more nations in 2020.
Mac Pro & Pro Display XDR
Apple has launched its new Mac Pro, a totally revamped, developed workstation for pros that push the restrictions of what a Mac is able to do, and unfolded Apple Pro Display XDR.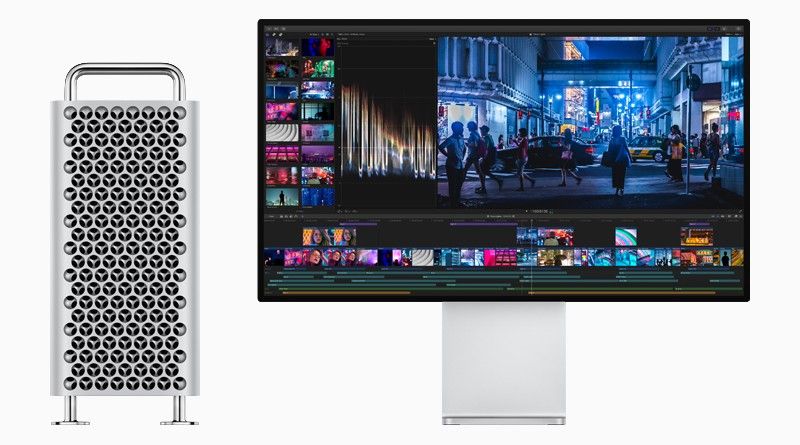 The latest Mac Pro highlights workstation-class Xeon processors up to 28 cores, 8 PCIe extension slots, and an exceptional performance memory system with a huge 1.5TB capacity, and a graphics building highlighting the strongest graphics card of the world.
Moreover, it launches Apple Afterburner, an advanced accelerator card which empowers playback of 3 streams of 8K ProRes RAW video at the same time.
Pro Display XDR highlights an extreme 1600 units of peak brightness, a huge 32-inch Retina 6K display with 10-bit color and P3 wide, a super wide viewing angle, and a massive 1,000,000:1 contrast ratio – everything at an advanced price point.
All at once, the brand-new Mac Pro and Pro Display XDR are the strongest tools have ever been offered by Apple to its pro clients and will transform workflows for sure.
WatchOS 6
Apple Watch's latest version has been introduced with new complications and watch faces, new first-party applications like Calculator, Voice Memos, a dedicated WatchOS App Store, and AudioBooks.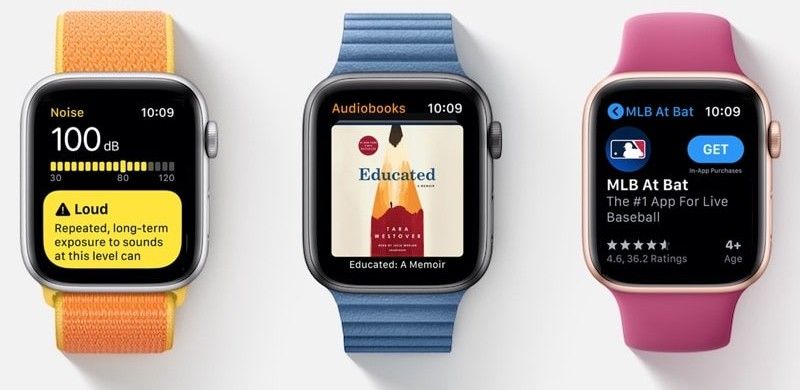 WatchOS 6 also comes with new health and fitness features like Favorites views, Highlights, and Trends for comparing your functions over time.
Simple Sign-in
Apple is coming with a more private, new way to easily and fast log into websites and apps.
Rather than filling out forms or utilizing a social account, authenticating email IDs or selecting passwords, clients can just utilize their Apple ID to verify and Apple will safeguard the privacy of the users by offering developers a robust ID anyway.
ARKit 3 & RealityKit
At the center of Augmented Reality, ARKit 3 puts people. Using Motion Capture, developers are able to mix the movement of people into their application and with People Occlusion.
Augmented Reality content will display automatically behind or in front of people to empower more engaging AR experiences and fun-green screen-like apps.
In addition, ARKit 3 also empowers the front cam for tracking up to 3 sessions and back and front cam assistance at the same time. Also, it allows collaborative sessions that make it even quicker for leaping into a share AR experience.
RealityKit was developed from the ground up for Augmented Reality. It highlights assistance for camera effects like motion and noise blur, great environment mapping, and photorealistic rendering, making virtual content almost inseparable from reality.
Replacements of iTunes
Apple's Craig Federighi did a great job minimizing the fact that the organization was ultimately replacing its famous TV show/movie/podcast/music/iOS device handling application with the launch of 3 new standalone applications – TV, Podcasts, and Music.
These 3 applications deal with those 3 kinds of media; whereas iOS device handling presently receives a particular small section in the Finder app. Do not be upset about the death of iTunes!
Memoji
This was anticipated to come. Apple fulfills its urge of turning people into cartoons with a set of new ways of customizing your Memoji. Currently, you can add hats, more hairstyles, jewelry, and even makeup to your Memoji.
Moreover, you can utilize so-called Stickers for changing your Memoji to conventional emoji. Capture the exploding head emoji, but rather than a general yellow smiley face, it will be now your face with an exploding head.
Overhauled Health App
Apple's great initiative, Health app offers a smooth and better availability to personal health information in real-time. Now, this app is redesigned by Apple.
This app currently comes with new charts and visual graphics, and a new summary view with data and highlights. This application will also help compare the last 90 days' information with 365 days' information and receive tailored suggestions with the help of Machine Learning.
One more brand-new application named Cycles enables users to track their menstrual cycles on iPhone and Apple Watch alongside logging vital data.
Feedback Assistant
Apple also declared that they will discontinue its Bug Reporter feature. So, now you can discover Feedback Assistant available on Mac, iPhone, iPad, and other Apple platforms for developers to deliver their bug reports and ask for an update in APIs and other app building tools.
Furthermore, the Apple professionals unveiled that a Feedback ID will be sent to the app builders when they report a bug that will finally enable them to track the bug status and reap other perks.
Screen Time
Similarly like iOS, Mac will also bring Screen Time feature which implies that presently even the users of Mac can notice how much time they invested in their devices and what applications they use the most – finally making it simpler for them for mitigating the time they invest on these gadgets and empower better health states.
According to Apple, this feature will be usually for families with parents having a scope for restricting the time their kids spend on using Mac devices.
Apple Arcade
Tim Cook also launched Apple Arcade – a video subscription service which is going to available on Sony PlayStation, AppleTV, and Xbox.
Find My
Apple extended its Find My iPhone service to all other platforms. They launched an application named 'Find My', which is going to be accessible on Mac devices also and enable users to find their devices even if they are in sleep mode or offline.
Moreover, the all-new Activation Lock feature will make it complicated for an intruder to have access to a stolen Mac device.
Apple Photos
You can now handle your images more efficiently and in a more streamlined way with the help of Apple Photos.
It'll automatically distinct screenshots and other unwanted images from your actual, implying images utilizing the capacity of Machine Learning. This is how it will assist you in clearing out your camera roll.
Smoother Video Editing
The image editing highlights like adding filters, balancing colors, and rotating images will presently be accessible in video editors also. This is going to come with a game-changing distinction in the videographers' lives.
Windup
So, these are some of the most important declarations made by Apple on its 3-days WWDC 2019 event. Stay excited to experience these software and hardware updates in real very soon!