What Makes a Mobile App a Necessity for Your Jewelry Business?
7 minutes read
44.9k Views
The digitized business world has become highly technology-oriented. Mobile apps are being extensively used in various industries, and the jewelry business is not an exception. Mobile apps have proven to be versatile marketing tools.
A powerful mobile strategy goes beyond a mobile-friendly website. A customized, business-oriented mobile app can streamline your jewelry business.
Given that 80% of the internet users use smartphones, it is logical to reach out to your potential customers through a powerful mobile application.
The forward-thinking jewelry entrepreneurs have already integrated sophisticated mobile apps into their business. From strengthening their customer service to leveraging the marketing strategy, mobile apps can benefit your business in a number of ways.
For any jewelry businesses, investing in a powerful mobile app is a smart decision.
Benefits of Using a Mobile App in Jewelry Business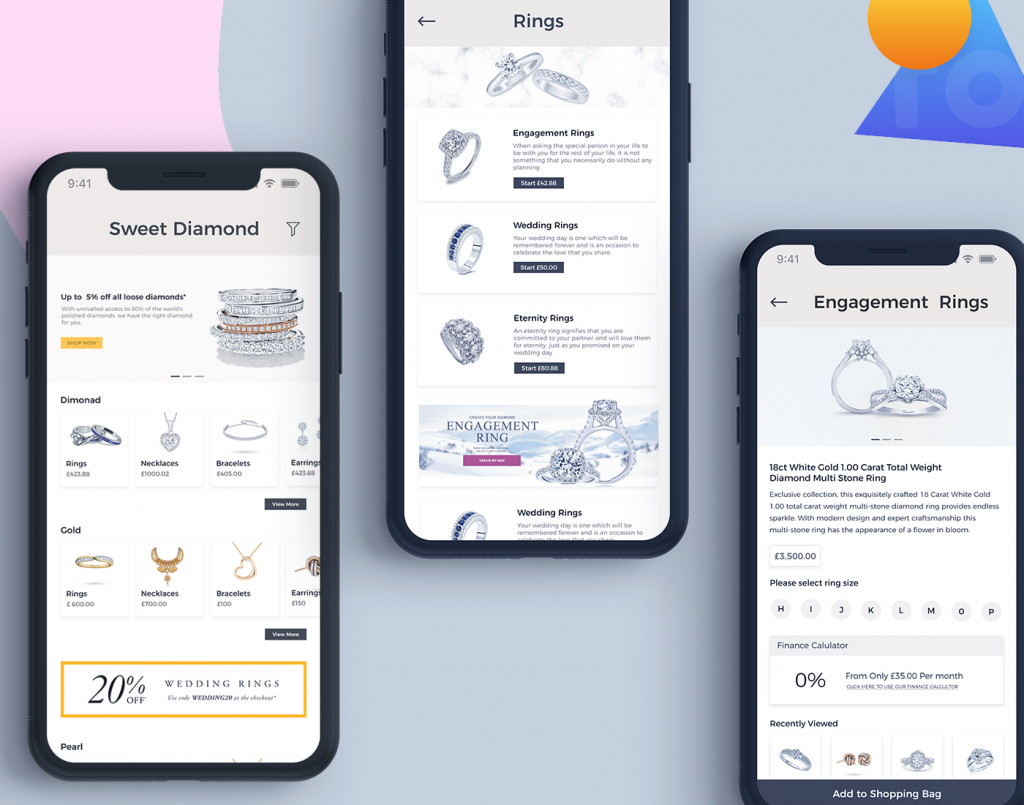 Let's explore the benefits of investing in a mobile app for your jewelry business:
Greater Visibility
Think of mobile apps as a mechanism to bolster your point of sales marketing. An average person spends 89% of the time they use a mobile phone on apps. This enables you to get across to potential buyers through these apps.
When your products are available at their fingertips, your business potential gets a boost. Eventually, mobile apps open up a new gateway, through which you can tap the customer base. It is a cost-effective way to reach out to your customers.
Customers today have become tech-savvy and they prefer avoiding crowds and queues. Sitting back at home, they can comfortably browse through your collections on the apps. Even when they are outdoors or travelling, you can remain in touch with them.
Informing Your Customers
For any business to grow, a consistent connection between the company and the customers is a necessity. A dedicated app for your business serves as a tool to keep the customers updated about the latest offerings.
In case you have a new design in your collection, you can send them push notifications. This is one of the most effective ways to make the potential buyers have a look at the jewelry. The virtual stores make the products accessible to your customers. At the same time, you can enhance the sales prospects and let the buyers engage with your business.
Besides, when you offer classic and trendy jewelry along with lucrative images, customers find them attractive. You can eventually inform them and make sure that your customers return to the app in future to explore the collection.
Knowing Your Customers
When it comes to high-value purchases like jewelry, customers need to make informed decisions. Even if you have a physical store, it is important to have a mobile app for your business. This helps business owners and marketers to know the tastes of their customers.
Often, customers want a channel to communicate with the business firm. Particularly, while jewelry, they need to convey their preferences to you. Right from the designing process to delivery, a seamless interaction is necessary.
You may also carry out polls and surveys through these apps in order to know their expectations. Integrating a mobile application enables business owners to get closer to the aspirations of potential customers. An interacting shopping experiment, on the other hand, leads to a greater retention rate.
Cost-effective Branding and Promotions
In the jewelry business, branding and promotional activities can be expensive. Traditionally, entrepreneurs incur huge expenses and this amount can be curtailed, when you have a mobile app.
A dedicated mobile application can couple up as a promotional tool, through which you can create a better brand awareness among potential customers. Developing a mobile app involves certain costs.
However, this amount is reasonable, considering that a successful jewelry company needs to spend several times more while carrying out the campaigns.
Besides, an intuitive app enhances the overall experience of the users. They get a good impression about your business. Enhancing the user experience is one of the most strategic ways to retain them. Eventually, you can carry out your branding and marketing processes through a single platform.
Personalized Shopping Experience
With a customized business app around, you can deliver a personalized shopping experience to your customers. It can lead to 42% greater customer retention and 32% increment in cross-selling and up-selling.
Presently, entrepreneurs are striving to furnish every little detail about the available products to their customers through the mobile apps. This enables the buyers to make better informed purchases.
Eventually, you can enhance their experience and it leads to a greater revenue generation in course of time. The robust apps offer several payment options to the customers. A flexible model for payment and seamless customer experience helps a company win the loyalty of its customers.
Read also: Things To Consider Before Integrating Payment Gateway in a Mobile App
Sharing Your Products
When you come up with desirable and stunning jewelry for your customers through the apps, they are likely to share them with their acquaintances and loved ones. Particularly, with the inception of social media platforms in business, the scope of sharing has become prominent.
The sharing options are available in the mobile apps, through which they can share and forward the items to people they know. This leads to an indirect marketing effect, where a greater number of people get to know your business.
Fashion enthusiasts often find jewelry alluring enough to shop them. They also share these items along with their experience on platforms like Facebook, Whatsapp and Instagram. Your business gets a wonderful prospect to grow, with a greater visibility.
Integrating AR Through Apps
A large segment of business firms has already incorporated AR (Augmented Reality) in their apps. It enhances the overall shopping experience of the customers, providing them with better choices when they make the purchase.
Through AR, computer-generated images are superimposed on the user, providing them with the opportunity to check out how they will look when they wear the jewelry items. Customers find it easier to compare the products and find out the model that can suit their looks.
In the virtual business world, people cannot check out the items physically. Implementing AR allows the customers to get the products personalized.
Should You Go for Mobile App Development?
Today, most of the business houses have their websites, through which they can customers. However, a dedicated app can complement your efforts in marketing the products and retaining the customers.
In order to promote the use of apps, some companies come up with offers that are exclusively available on the mobile applications. In the process, they get the customers know their products.
A survey reveals that over 70% of customers find push notifications valuable. You can tap your customer base in style, with a powerful mobile app for your jewelry business. It is important to any business to make the products available at the fingertips of their customers.
The mobile app can be your virtual store, where customers find all your products. Considering the benefits discussed above, it is recommended to build a highly interactive and intuitive app for your jewelry business. This will help you to get across to the target audience and build a reliable customer base.
Presently, leading jewelry companies are collaborating with the app developers. This helps them to capture customers from all classes and strata and eventually grow their customer base.