How to Measure ROI for Your App Development
8 minutes read
36.1k Views
To learn about and understand how businesses work, it is necessary that you understand the set of terms related to business. Among those terms, the one which is widely used is Return on Investment (ROI) which is a method of determining the efficiency of an investment. It is a key metric used to rank the attractiveness of a number of different investment alternatives and is expressed as a percentage or a ratio.
Generally, the Return on Investment can be calculated by any of the following formulae:

So, if a business spends USD 1000 per month on an advertising campaign and generates USD 2000 in return directly from that campaign, you get ROI by dividing 2000 by 1000 which is equal to 2.
This means that for every single dollar spent on the campaign, the business earned two dollars. ROI calculation helps you understand what is working for you and what is going against your business. Hence, you can introspect and invest in areas where you can earn and generate more revenue.
ROI for App Development
Think of the last few times you made a purchase. Were they in-store or online? For most of us, they were made through our phones using a mobile app. The convenience that such purchases offer has attracted many people towards online purchases which have resultantly boosted mobile commerce. The industry is only going to grow as research indicates that mobile commerce will reach USD 250 billion by 2020.
This trend has also caught the attention of organizations who are now realizing the importance of mobilizing their work applications. While there are certain obvious advantages found in mobile app development for business, there are issues that make manufacturers reluctant to go mobile.
The reluctance usually arises from the fact that they are not sure about the factor of ROI for mobile apps. This is quite reasonable because financial success for the mobile apps in the current complex and competitive marketplace is not an easy task. The mobile apps developed by the enterprises comes at a hefty price. Hence it becomes important that they provide a solid ROI.
In the following section, we will discuss ROI in different types of apps and finally the steps involved in measuring the ROI for an app.
ROI in the Development of Hybrid and Paid Apps
The pay-per-download model can be the fastest way to obtain an immediate ROI for your app's development. However, this method is not received well by users, as they are reluctant to pay an initial cost for an app that they have not tested. Customers usually hold high expectations of such apps which are often not met, hence, leaving the customers unsatisfied most of the times.
Not every app is essentially designed to make money directly; there are other ways to monetize the apps rather than making customers pay for it initially. Different business models have been used for applications, the following two among them, have gained popularity among paid-for apps.
Setting low prices for downloading the app: In such cases, the price for downloading the app is kept very low, so the cost of purchase for customers is not high. Such application development usually obtains a decent ROI in the long run.
Setting high prices for an app: Some relatively well-known brands may go for high prices for their app because they are sure that the product will get sold. This should be the case when the ROI for the app is guaranteed otherwise it can backfire.
ROI in Hybrid App Development
The hybrid app provides more possibilities for monetization; hence, they are found abundant in the market. These apps focus on obtaining benefit after they are downloaded. ROI for such apps may be obtained through advertising, in-app purchases, and subscription payments.
Other Kinds of ROI in Mobile Application Development
ROI can be achieved in different ways in application development. Some companies sell user information to third parties to generate revenue. Others seek to analyze user behavior and patterns within a given industry. As long as the app provides a service that is useful to the customers, the app is bound to obtain a good ROI.
Steps Involved in Measuring ROI of Mobile Apps
1. Define Your Objectives
The most crucial step of all is to know what you want to achieve from an app. It is important because other steps logically follow this. This must start before the designing of the screens and even before starting to write the code. Every mobile campaign can be measured by one of the two intended outcomes:
Evaluate your consumer interaction: Focus is on mobile influence, user acquisition, and retention rate.
Evaluate your workplace efficiency: Focus is on sales and marketing, asset management and field service.
The mobile app developers must be clear about the business objectives and key metrics at all stages of app development. Without proper implementation of this step, you may not be able to effectively utilize your funds in the app development process.
2. App Development Costs
This step is important because you may need to ensure that you keep within the confines of the budget and do not consume any excessive resources in the app development process. Keeping an account of the developmental costs is necessary because you are going to need it to measure it against the key performance indicators as discussed in the next step.
Development Costs generally include:
Implementation costs
Hardware costs
Support and integration
It must also be kept in mind that after the app has been developed, there is also a need for a maintenance team which adds to the long-term development costs.
3. Give Each App a Measurable KPI
Key Performance Indicators (KPI) is a business metric used to evaluate the factors that are important for the success of an organization. They differ from one organization to another as some may consider net revenue as a KPI while others might consider customer loyalty metric or retention rate as a key performance indicator. This goes hand in hand with the first step as the metrics will differ depending on the objectives of an app.
If your aim is customer interaction, you may want to know if your app is acquiring new customers and hence you can compare the costs of your mobile efforts against the efforts of other channels.
The metrics will let you know if the campaigns you have started is resulting in an increase or decrease in leads. Hence; you can compare the costs of your leads from mobile against those from other channels. You can also get an idea about the influence of the app on your customers and whether it is impacting buyers' behavior or not.
For workplace efficiency, the metrics will give you an idea about the performance of your app and its impact on your sales. You are also in a better position to evaluate the maintenance costs and equipment uptime. These metrics let you look at your campaign efforts from multiple angles and help you to maximize your results in a way you like.
4. Weigh your KPI Measurements Against Costs
Now that you have given each app a measurable KPI, you are in a position to estimate the overall value of the app. You can measure the KPI measurements against the development costs and know whether they outweigh them or not.
It is advised to do this with a projected lifespan of the app in mind, or at least the amount of time you want to keep spending to upgrade and maintain the app. You can calculate the ROI for your app development by dividing Net Present Value (NPV advantages) over NPV costs. The two can be found out using the formulae: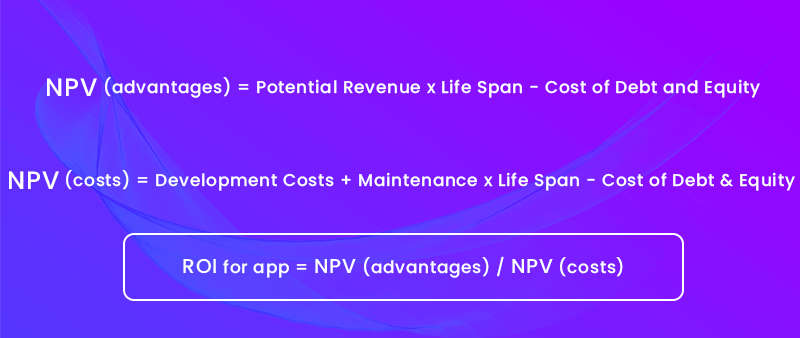 The Bottom Line
As the market shifts towards a digital world, many businesses have come to the forefront to invest in mobile app development. Understanding and appropriately calculating the ROI of your app not only maximizes your results but also helps your business to grow in the direction you want.
The article only gives you an understanding of ROI for app development. However, a true calculation of ROI would require a holistic view of your omnichannel consumer so that you can understand the impact of every moment on your business.