Cloud computing contains a sturdy computing strength and a great infrastructure that help organizations provide an exceptional client experience. Such client service not just meets different customer requirements but also enhances the business landscape.
When it comes to migrating your business to the cloud, you need to learn about three primary types of cloud computing: IaaS (Infrastructure as a Service), PaaS (Platform as a Service), and SaaS (Software as a Service). Learning about different cloud computing services will help find out the right tech configuration for a business.
At the time of moving your business to the cloud, you should know the benefits and differences of different cloud services. And in this blog, we will discuss the key differences between these three cloud computing models (IaaS, PaaS, and SaaS).
IaaS (Infrastructure as a Service)
This cloud computing service helps companies get resources delivered via cloud or virtually. Using IaaS tools, companies can create and handle servers, data storage, operating systems, and networks without purchasing hardware.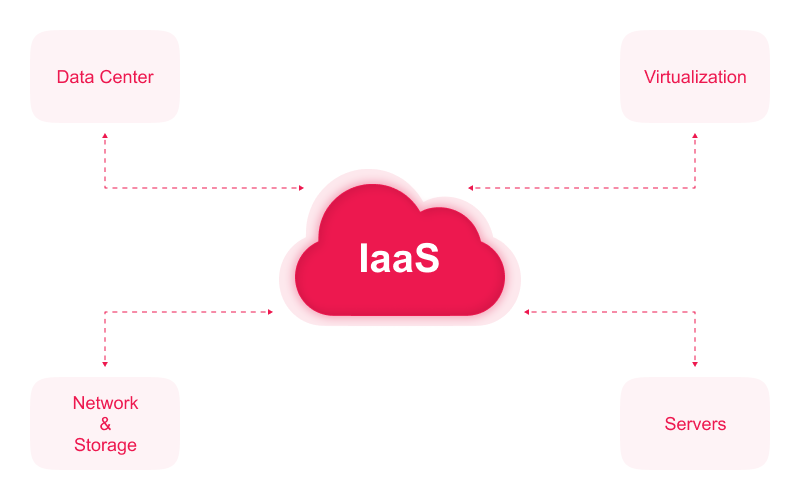 Rather, IaaS clients can utilize an API or a dashboard for accessing and handling their resources.
IaaS Delivery
IaaS products deliver cloud computing infrastructure, such as storage, operating systems, and network virtually. This platform helps developers to handle hard drives, servers, storage, virtualization, and networking.
IaaS Characteristics
The characteristics that define IaaS as a cloud computing service are as follows:
IaaS platforms and services are flexible, scalable, and dynamic
Companies get full control over the infrastructure
Cost varies based on usage
Multiple users can access one piece of hardware
IaaS services are affordable
Advantages of IaaS
IaaS has many advantages:
The most flexible cloud service model
You don't have to maintain it or purchase a physical server
You can scale or downsize it as per requirement
Its PAYG (Pay-As-You-Go) model helps businesses just pay for the necessary resources
Easy to automate the distribution of storage, servers, networking, and processing power
Disadvantages of IaaS
Some disadvantages related to IaaS are as follows:
Although customers get full control over the operating systems, applications, middleware, and data, security risks can appear from virtual machines or hosts.
Although clients can operate legacy applications in the cloud, the infrastructure may be inappropriate to offer the right controls for securing such apps.
The manpower may need more training and resources to learn the ways of handling the infrastructure efficiently.
Security concerns may come because of multitenant infrastructure.
Need to depend on the internet connection as its the single way of accessing the infrastructure
Examples of IaaS
Some popular IaaS examples are:
PaaS (Platform as a Service)
This cloud service model works at a distinct level. Rather than a fixed product made for some particular reasons, the PaaS platform offers a framework in which clients can do their own tasks.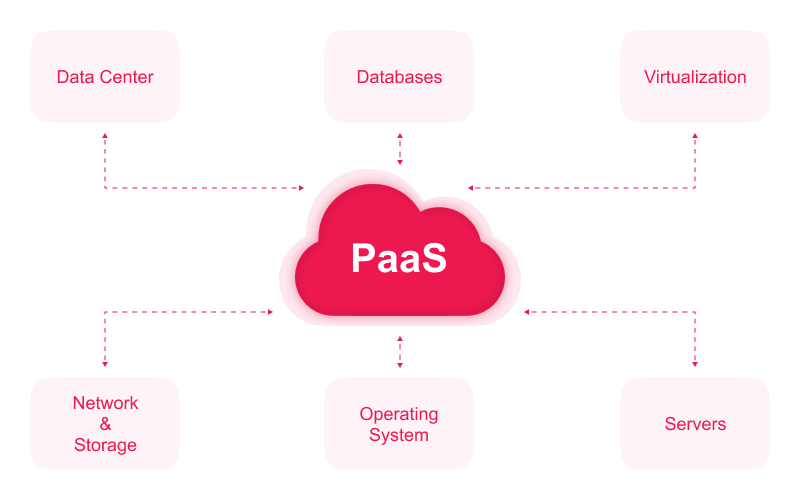 Moreover, this platform deals with cloud-related operations like offering virtualization, handling operating systems, catering to storage units, maintaining servers, and managing networking.
PaaS Delivery
PaaS delivers a safe, readymade, cloud-based platform for developing or hosting software over the web. It works as a base for SaaS. This platform assists developers in focusing freely on software creation without concerning about infrastructure, storage, software updates, or operating systems.
PaaS Characteristics
The characteristics that define PaaS as a cloud computing service are as follows:
Combines databases and web services
Develops on virtualization technology, hence, resources can be simply scaled up or down according to your business changes
Available for many users through a similar development app
Offers several services to help in app development, testing, and deployment.
Advantages of PaaS
The benefits of using the PaaS cloud service model are as follows:
PaaS enables easy collaboration for the whole team
It is affordable
Developers can create an app directly on the platform and deploy it instantly
This platform is highly scalable and flexible
Apps can be easily tailored and updated on the PaaS platform.
Disadvantages of PaaS
Some disadvantages associated with PaaS are as follows:
A third party handles your data. Hence, there could be security risks.
As the app depends on the host, you may face difficulties moving from one cloud to another.
You could encounter possible compatibility problems if some elements are outside the cloud.
You may not optimize PaaS solutions for your preferred frameworks and language.
PaaS is possibly not a plug-and-play solution for current legacy services and applications.
Examples of PaaS
Some famous examples of PaaS are as follows:
SaaS (Software as a Service)
SaaS is a virtualized, readymade environment designed with a flexible and engaging UI. This cloud service model represents a cloud-based setup for developing software without extra coding, just by tailoring the design and front-end features.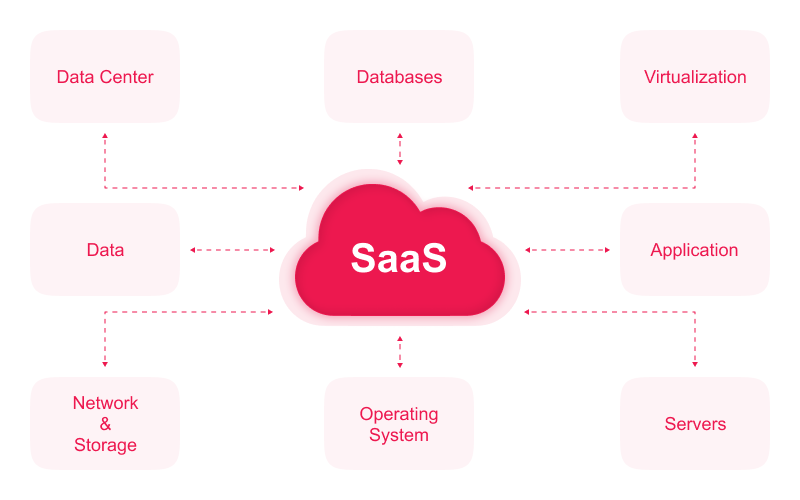 Moreover, every SaaS software solution contains web-delivered content that every user can access through a browser.
SaaS Delivery
SaaS delivers over the internet. With SaaS, you don't require IT employees for downloading and installing apps on every separate PC. Vendors can use SaaS for handling every possible technical risk like server, data, middleware, and storage. This causes organized supports and maintenance for businesses.
SaaS Characteristics
The key characteristics of SaaS platforms are as follows:
Delivers the web.
An all-inclusive cloud service model that provides compliance, security, and maintenance as part of the expense.
Highly scalable, with various tiers for SME businesses.
A third-party provider hosts it on a remote server.
Advantages of SaaS
The top benefits of SaaS products are as follows:
Easy to set up and use
Cloud-based and easily accessible online
No need to use a local resource
No need to upgrade or manage SaaS apps
Buying and finding SaaS products are easy
Disadvantages of SaaS
Some drawbacks of SaaS are as follows:
With SaaS, you don't have control over the cloud-based infrastructure the SaaS product runs on.
Maybe SaaS tools are not compatible with other tools and hardware used in your business.
If any security risk arrives, all your business and its data may get hampered.
The complexity can restrict how the SaaS products or other associated services can be utilized.
SaaS products provide nominal customization capacities.
Examples of SaaS
Some popular SaaS examples incorporate:
IaaS vs PaaS vs SaaS: Key Differences
Every cloud service model is different and has some advantages and disadvantages that are different from others. To understand and decide the right platform for your business, let's start with differentiating IaaS and PaaS!
IaaS vs PaaS
The key difference between IaaS and PaaS is that IaaS apps are cloud-native, whereas PaaS solutions are cloud-ready.
With PaaS, you can run an app anywhere on any platform, due to high scalability. On the other hand, with IaaS, apps are first made in the cloud environment and you can reap the full benefits of cloud functionality.
PaaS vs SaaS
SaaS provides a readymade solution that doesn't need any extra input from developers. SaaS providers handle everything from the back end. On the other hand, PaaS also gives developers significant flexibility so that they can build their own systems.
However, PaaS requires features that modern digital clients need, such as scalability, customization, and user-friendliness.
SaaS vs IaaS
The readymade SaaS apps directly run through online browsers and don't need any developer input. Since SaaS products are plug-and-play, they are the best fit for every
business environment.
On the other hand, IaaS gives users access to app management and operational settings. This is why users choose IaaS solutions rather than SaaS.
Final Words
Every cloud computing solution has different pros, cons, functions, and characteristics. Each cloud service model comprises some exceptional capacities. So, choose the right one to enhance your business.
While choosing a cloud computing solution, consider your business goals so you can simply fulfil your users' requirements through scaling the cloud infrastructure. All three cloud services, IaaS, PaaS and SaaS can improve the efficiency and productivity of your organization and help you progress more.