RPA for Enterprises: A Way to Cognitive Business Intelligence
14 minutes read
384 Views
Robotic Process Automation (RPA), whenever we hear about it, the first thought that comes to our mind is robots replacing us. Honestly, there's no robot involved, and those are no way nearer to replacing us. But it's the AI-powered software automation that streamlines mundane tasks, resulting in better efficiency with precision.
So what you were thinking, "It's some kind of technology that we used to see in our favorite Hollywood movies?" We still have to wait to witness that.
The RPA concept was first conceptualized in 2012 by Phil Fersht; however, 2018 was the year when its popularity exploded with the adoption rate of digital transformation.
Seeing the RPA getting popular in the business landscape (especially in enterprises), the global market size of the RPA is projected to grow over the board by more than 13 billion USD by 2030, which was valued at 3.17 billion USD in the financial year 2022.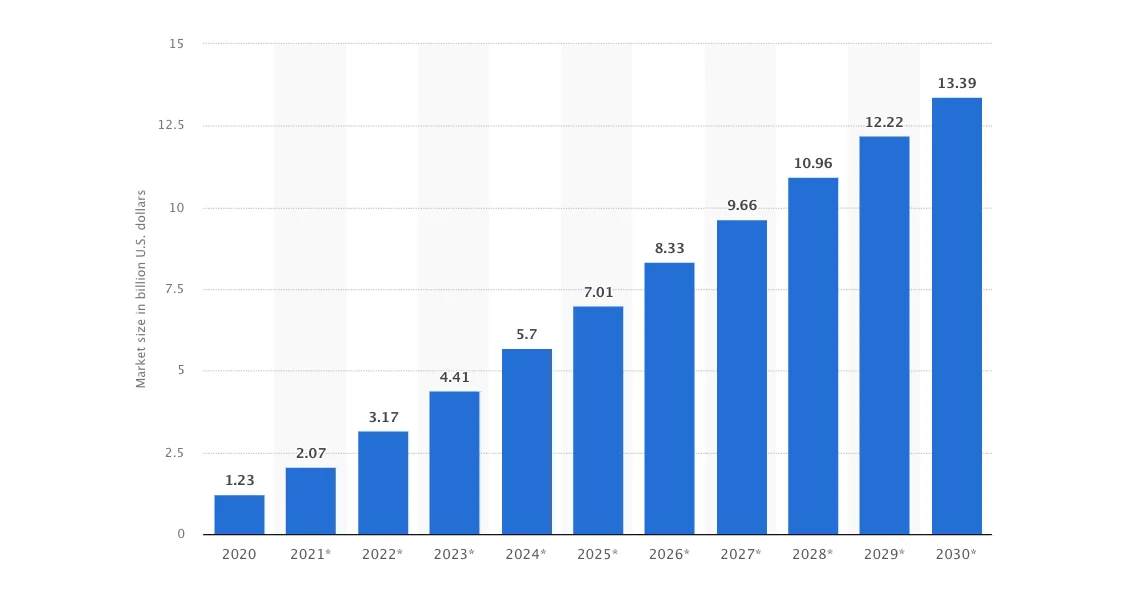 As you can see in the above graph, the adoption rate of the RPA seems to be increasing every year, so there must be a reason. This blog is more than just that and takes a detailed look at ways RPA benefits enterprises and how effectively businesses can claim those.
So, let's put all our questions on the same page and satisfy our curiosity through this blog.
What is RPA, Its Types, and How does it Work?
Robotic Process Automation (RPA) are advanced software-based robots, also known as "bots" that automate and streamline rule-based, repetitive, mundane, time-consuming human tasks.
This way, they perform tasks, like data entry, manipulation, report generation, etc., as if those were done by humans, and sets humans free for tiresome processes, so they can focus on other business competencies, resulting in many benefits.
How does RPA Differ from Other Enterprise Automation?
Though both RPA and traditional business automation systems focus on increasing process efficiency, they are way too different.
However, Robotic Process Automation is more focused on mimicking human beings and helping them set free by reducing their intervention with some activities and performing activities as instructed. Hence, activities performed by software bots are more clear and precise.
What are the Different Types of Robotic Process Automation (RPA)?
As the name RPA fascinates us, it mainly has three types, which are more fascinating than they are named:
1. Attended RPA
The attended bots-based automation is usually triggered upon the user's command and is best suited for the tasks that are difficult to detect by programs. These bots can also represent human beings' work as they do and ask for their advice when necessary (in scenarios where artificial decision-making capabilities lag). This type of automation is ideal for customer-facing staff to augment and automate their complete manual work.
2. Unattended RPA
Ideal for back-office staff, in unattended automation, software bots are triggered automatically for rules-based processing. It can help to do batch processing work in the cloud, such as data entry to a specific location and at specific intervals. Hence, unattended automation is excessively being utilized by the Finance & Accounting team to process invoices, Retail to receipt and inventory management, HR to onboarding and off-boarding employees and clients, and in many other ways.
3. Hybrid RPA
This automation is the output of the conjunction of both: Attended and Unattended RPA, needfully created to streamline and achieve efficiency in front and back-office activities (more like end-to-end process automation).
What Types of Business Tasks Can RPA Perform?
Among other types, RPA technologies can be designed in these two main ways:
Programmed Bots, which are rules-based programs, and their functions are programmed by developers.
Intelligent Bots are created with the help of AI technology and are capable enough to learn and perform tasks on their own.
Mostly, software bots at first require navigation from a user through their mouse clicks and movements. After getting enough data and understanding for the tasks, they can perform tasks without needing any meddling from human beings.
Regardless of the process automation bots' types, RPA helps to automate tasks like:
Data scraping and reading from the web and digital systems;
Reading and writing data to databases;
Opening emails and attachments and extracting data from those data files;
Moving data, files, and folders from one digital source to another;
Logging into applications and various digital systems;
Filling out digital forms with precision;
Doing routine analysis and creating reports;
Connecting to system APIs;
Making calculations;
Collecting social media analytics insights;
Following 'if/then' rules and many other tasks.
Apart from these, ones beyond rule-based, repetitive, and office-based tasks require more careful and sophisticated technology and programming.
How can RPA Benefit Businesses, Especially Enterprises?
Robotic Process Automation (RPA) offers many benefits to a business than it claims through its name. Hence, enterprises should opt for RPA to avail of the following benefits:
Improved Business Results
In any condition, RPA works the best in the favor of businesses and helps them achieve better results. By utilizing RPA in conjunction with workload automation (WLA), businesses get reduction in IT efforts used for scheduling, starting up, and monitoring task flows.
Apart from that, businesses can utilize RPA for their IT operations, like workflow lifecycle management, data warehouse management, network management, SLA management, KPI monitoring, cloud management, etc.
Moreover, the 24/7 availability of RPA bots and their programming helps businesses achieve better process efficiency, accuracy, and thus better business results.
Better Focus on Higher Value Activities
Employees, in general, spend most of their half a day doing manual digital administrative processes, which may make them bored with such repetitive tasks or tired to focus on core tasks. If such tasks are handed over to the RPA solution, it can help businesses allocate the freed-up resources to move on to the high-value-added tasks.
For example, the sales team can leverage RPA to search for prospective client's contact details and send personalized messages. This helps them spare the remaining time to maintain better business relationships with clients.
These are just two targeted business departments, but RPA contains much more potential to drive better business growth.
A Way to Extra Cost Saving
RPA is setting up its position as the must-have digital solution and becoming an enterprise-level opportunity. According to Deloitte's global RPA survey report, around 72% of enterprises are listed to start their business journey with RPA. The majority of decisions are influenced by looking at the payback reported within a year of adoption, which was around 20% of the full-time equivalent (FTE) capacity provided by robots.
Not just that, RPA also has the potential to meet the exceeding demand of thriving businesses, which includes: improved compliance by 92%, process quality/accuracy by 90%, productivity by 86%, and cost reduction by 59%.
RPA also helps enterprises to cut extra wages by reducing the need for hiring professionals to do mundane tasks specifically.
Let's understand this concept by considering the example of a bank. A bank can automate foreign trade finance processes with the help of RPA, which also requires 50% less staff than traditionally needed. In short, utilizing RPA, a bank can cut the salary budget by up to 50%.
It can raise concern for many professionals losing their jobs. However, businesses can choose two ways to avoid doing so: one is employing the freed-up employees for other functions or up-skilling those to fit well into the upgraded IT-driven systems.
Apart from this topic, RPA can help businesses to achieve cost saving up to 75%, says Gartner.
Enhanced ROI
In one study, Gartner mentioned a case study on Westpac, which mentions that it has achieved 2:1 of the financial benefit of pilot projects as compared to the cost of cost of implementation traditionally. It also shows the 2X ROI post implementing RPA in the business system.
To give this result more support, McKinsey also shared its study on RPA, stating its potential to drive around 30-200% of ROI in the very first year of the adoption.
Reduced Operational & Human Errors & Risks
The fewer errors in business operations, the lesser the risks associated. Humans may make mistakes but Robots don't, due to their robust programming. If we talk about manual efforts, human errors and low-quality data generated through traditional operations may cost businesses billions of dollars annually.
RPA-driven operations not only prevent data errors but also deal with data redundancy and generate event logs to refer to further audit processes.
For example, if a bank leverages RPA to automate its Document Ordering, Data Entry, and Verification processes, RPA can lead it to significant error reduction and save up to $1M annually.
However, you should consider that RPA doesn't offer total error-free operations and is not an ideal option for all kinds of processes. Also, the edge cases should be assessed, like whether they are part of RPA test cases because those that aren't can malfunction RPA bots.
Increased Process Efficiency
In any business, what's most important? It's the on-time delivery of its operations. It is the one that sustains the customer's faith in your brand and leads to better business benefits. That's where RPA bots can be of great help in scheduling and starting up processes for a certain time slot.
But how can RPA help to maintain such an on-time delivery? If we consider the case of payment proceeding and receiving scenarios, then RPA can be programmed to:
Initiate payments by setting up rules-based criteria;
Check the receiver's side account details to initiate the payment receiving process and follow-up emails to customers with a payment-making link.
Moreover, Banks utilizing RPA and process mining tools can achieve 2X efficiency in loan application processing time.
In short, RPA helps to achieve operational efficiency, which was before delayed due to the unavailability of respective managing professionals.
Increased and Improved Customer Engagement
What customers nowadays demand is, quick replies from the businesses they are buying services from. By creating AI & RPA-powered chatbots you can provide customers access to share their queries and get quick answers whenever they want with 24/7 dedicated support, even when customer services executives are not available or busy handling other inquiries.
This way, you can ensure proactive customer engagement, leading to effective business outcomes.
Polished Data Quality
Are you sure that the data extracted by you manually is 100% error-free? Maybe not. In fact, a study shows that manually extracted data may contain 38% errors, which can cause huge trouble for your business.
As RPA is programmed with rules-based conditions with clear instructions for the ideal practice for the processes, it can offer 99% process accuracy even at speedy operations.
Increased Employee Satisfaction
Adopting automation in the workplace can be scary, as many professionals fear losing their jobs. But in 2021, Salesforce surveyed its 773 automation users in the USA, from which around 89% felt more satisfied with their jobs, while 84% with their company as they adopted business automation.
Also, 90% of IT users showed their satisfaction with cross-department collaborations. 81% of users are less worried about automation replacing their jobs. 88% of users trust automation due to error-free task completion with efficiency.
Not just that, 79% of employees also voted for automation to increase their overall productivity, while 91% shared positive experiences as it offers better work-life balance with productivity.
In short, the adoption of RPA solutions is your gateway to a happy workplace.
Saving Data Getting Into Wrong Hands and Fraudulent Activity
Automation also plays a key role in not exposing data to many human beings, which also reduces the chances of misuse of data, probability of fraud, and compliance issues.
Financial institutions use RPA to automate tasks like transaction monitoring, fraud risk assessment, and account validation.
Insurance companies use RPA to automate tasks like claims processing and policy underwriting to avoid fraudulent claims.
Healthcare organizations implement RPA in their system to streamline patient registration and billing to reduce the risk of healthcare fraud for insurance claims and enforce organization-wide efficiency.
These are just a few industries, but many others can also implement RPA to identify and prevent fraudulent activity more quickly and efficiently.
Improved Process Management
RPA can be used to maintain an audit trail in various ways, such as to log all changes done to data and systems (such as CRM systems), generate audit reports (all changes to system configurations), and monitor suspicious activities. This way, businesses can also improve their compliance and security posture.
In addition to that, RPA can also help to reduce the cost of maintaining an audit trail, improve the accuracy of the audit trail processes and data, and offer better efficiency in performing audit trail management operations.
If we talk about statistics, adopting RPA for this process can help to reduce maintenance efforts by 78% and significant improvement in IT audit quality as it logs records in detail.
Also Read: Reasons Why Businesses Need AI-Powered Process Automation
Mistakes to Avoid When Implementing RPA in Your Business System
You'll find many effective practices to implement RPA in your business processes, including evaluating your business processes, choosing the right RPA platform by considering factors (scalability, security, integration capability), developing and testing RPA robots, and lastly, deploying and monitoring RPA robots.
But with those best practices, you should also consider the most common mistakes that businesses often make during the RPA implementation, and those include:
Understanding that RPA can fully automate your business; Nah, it cannot; it also requires some human-side inputs or settings to initiate;
Not defining priorities and values during the development of RPA bots; but the thing is Voice of Consumers (VoC) may contain highly valuable information, which bots should handle;
Automating highly complex and evolving (volatile) business processes through RPA can be more challenging as it's a highly advisable and effective solution for rules-based, repetitive tasks only;
Deploying RPA bots without any configurations for data validation, monitoring, error detection, and alerting, which may lead to exceptions;
Not creating any plan for the ongoing support can be a huge mistake because RPA bots may need frequent fixes to match with top-notch performance all the time;
Considering RPA an endgame for the legacy system, which they aren't. RPA bots are more like code on top of code; they help to optimize the existing business legacy systems but do not overall outpace them.
It's a must to understand the true potential of RPA before planning to implement them. A bit concerned about whether to go for it or not. Don't be!
Implementing an RPA solution on your business model can be the best decision you can make to buy yourself some extra time to reinvent processes, be super productive, and stay on top of the industry competition, providing much better value to your customers.

When MindInventory Becomes Your Ally for the RPA Solution?
In the age of adopting digital transformation – a solution without the implementation of RPA can be incomplete. To achieve this, you need specific expertise, for which MindInventory comes into the picture.
With expertise in dealing with big data, artificial intelligence, and machine learning fields, MindInventory can become your advanced technological synergy. We provide world-class RPA solutions by studying your business operations in-depth, which helps to improve your business efficiency and customer experience.
So, planning to transform your business with RPA? Contact us with your requirements now and know how we can fuel your business with this RPA agility!
FAQs on RPA for Enterprises
What are the cost and time factors playing a role in implementing RPA in my business?
The cost and time to implement an RPA solution in any business can depend on various factors, like the business requirements, the complexity of the RPA bot implementation, requirement for the ongoing support, the technologies and effectiveness of the algorithms that need to be used, and much more.
Can RPA work alongside human employees in an enterprise?
Yes, of course! As we have mentioned in this blog, no matter how well you program RPA bots, there'll be a need for the human command to get started with. Yes, they can replace professionals doing simple rules-based data entry tasks, but you can work on upskilling them to be fit to work with them or switch them to do tasks of other departments.