How AI Is Empowering The Real Estate Industry
14 minutes read
36.6k Views
In the world that debates about whether AI will replace the human workforce, the extensive adoption and use of AI in various industries is highly evident. This technology has started reshaping industries across the globe by not only improving existing processes but also unlocking entirely new possibilities across various sectors.
One such industry that has immensely adopted AI, especially Generative AI is Real Estate, whether it be the AI-powered tools or software developed by AI developers to provide realistic and interactive experiences of the properties to the prospects or the use of virtual agents to facilitate communication between clients and real estate agents.
Even various reports and statistics show projections of the growing utilization of AI in not just real estate but also in various other industries. According to Global Industry Analysis And Forecast by Maximize Market Research, Artificial Intelligence (AI) in the Real Estate Market is expected to reach US $ 1335.89 Bn by 2029.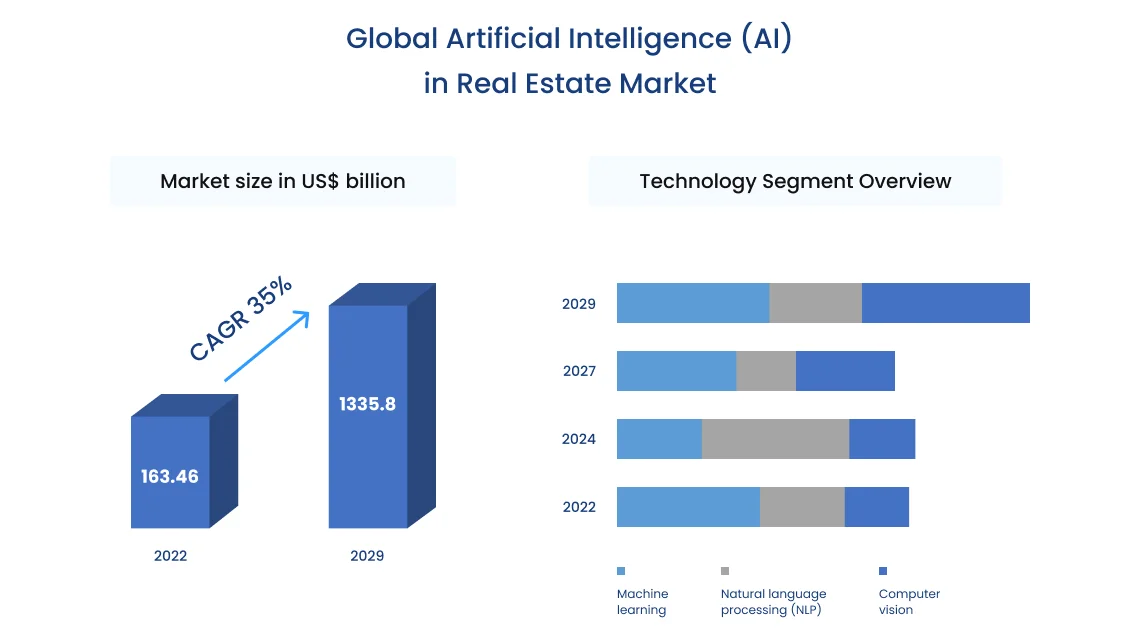 Before we jump right into trends let us first understand some basics about artificial intelligence and its impact on real estate.
What is Artificial Intelligence(AI) in Real Estate?
In AI, the "Artificial" part involves designing and building computer programs, algorithms, and systems that can mimic human-like "Intelligence" to perform such as learning, problem-solving, and decision-making.
AI when used in real estate can streamline property searches, make price predictions, analyze markets, automate property management, enhance the overall efficiency of buying and selling properties, and more.
Can AI Change the World of Real Estate?
AI has the potential to significantly change the world of real estate. The features of AI like machine learning, Natural Language Processing (NLP), recommendation systems, data analysis, pattern recognition, autonomous decision-making, generative models, predictive analytics, simulations, and more can be applied in real estate to enhance the overall experience for buyers, sellers, and investors.
AI-powered technologies are already making a substantial impact in various aspects of the real estate industry, and as AI continues to advance, its influence is likely to grow even more profound.
As we navigate an era of digital transformation, AI is poised to play a pivotal role in reshaping how real estate operates. To ensure that your business sustains the tides of AI shortly, it is better to incline your real estate business strategies toward the use of Artificial Intelligence.
We have listed some of the Real estate AI trend forecasts that will not only give your business competitive but also a futuristic edge. Let us not delve into these Real Estate AI trends and unlock tomorrow's real estate.
AI in Real Estate: Top 9 Trend Predictions
The oldest use case of AI in real estate dates back five years, and since then, the use of AI-based tools in this industry has been prevalent. To keep up with the pace of AI adaptation in the real estate industry, it becomes inevitable to foresee trends. Here are some futuristic real estate AI trend predictions for you to watch out for.
Advanced Analytics
When it comes to analyzing silos of data, the human mind has a limitation which is why real estate AI can open the unexplored doors of data analysis that were beyond human capabilities due to manual analysis limitations.
A lot goes into a real estate marketer/agent trying to sell the property to tenants/investors hunting for the best deals. These advanced analytics are a win-win for both entities.
Let us dive into some of the futuristic advanced AI analytics trends that are anticipated in the real estate industry in the upcoming years.
Emotion Analysis in Property Marketing
The prospects' response to any property-related content, such as listings, advertisements, or marketing materials can provide major insight into driving emotional engagement in property marketing strategies/campaigns.
With the use of AI-driven NLP algorithms, data visualization, and more such aspects of Artificial Intelligence in real estate, real estate marketers can use this data to not only gauge how the prospects feel about the property but also provide a tailored experience through their marketing strategies.
Neighborhood Life Quality Analysis
Before renting or buying the property, tenants or buyers want to ensure the quality of life in the neighborhood to not only safeguard their family but also for long-term satisfaction, resale value, community atmosphere, lifestyle compatibility, and more.
AI can be used to analyze the data about the neighborhood like crime rates, school ratings, healthcare facilities, services, and more to help the buyers make a data-backed decision when renting/buying a property.
Predictive Property Value Trends
For buyers/sellers, property value is one of the pivotal points in evaluating whether buying the property would be a better financial decision or not.
Based on various factors such as economic indicators, urban development plans, market sentiment, and more, AI for real estate can provide insight into how property values of any particular property or neighborhood may change in the future.
Tenant Screening and Behavior Analysis
Landlords or real estate investors who have rental properties often deal with issues related to default on payments, property damage, tenant retention, and more.
AI can only analyze tenant data such as credit history, debt obligations, rental references, financial stability, and more to identify potential high-risk tenants but also predict tenant behavior from their energy usage patterns and maintenance requests to identify potential lease renewal opportunities or issues. AI can also provide recommendations for the personalization of services for greater tenant satisfaction and retention.
Predictive Analytics for Property Investment
Property investment is one of the most risky decisions property developers/ investors make. This decision involves expensive risks such as financial risk, market oversaturation, regulatory risks, and more. With predictive property investment analytics, these real estate professionals can mitigate various risks.
Further, with the use of AI in Real estate these professionals can analyze vast datasets and historical trends to forecast property performance, have perfect market timing, make an efficient capital allocation, smartly diversify portfolios, and more.
Legal and Regulatory Compliance
It is not just the tax, mortgages, and insurance that are to be taken care of when one buys, sells, or rents a property. The real estate professional has to consider various regulatory or legal factors like safety and health standards, zoning and land use, contractual obligations, local, state, and federal laws and regulations, and more. A breach in any of these aspects can land the real estate professional or firm in legal troubles like fines, lawsuits, and more.
The use of Artificial Intelligence in real estate especially for ensuring the law and regulatory compliance would help the professional scan for any loophole in legal documents, identify legal/regulatory risks associated with any property development, empower automatic generation of compliance reports, ensure data accuracy in reports, and facilitate real-time monitoring of regulatory changes.
Further, it can also analyze real estate contracts, leases, and agreements to identify and flag potential compliance issues.
Building Health Monitoring
From security and safety to indoor air quality, fire and smoke detection, elevator and escalator monitoring, water leak detection, compliance and reporting, and more, the user AI in real estate can facilitate the timely and accurate monitoring of property's overall health.
AI can analyze the data from various sensors and systems present in the property to monitor equipment and systems, such as HVAC, plumbing, and electrical systems, and to anomalies or signs of wear and tear.
The job of AI does not just end at detection as its most important role comes into play with its prediction capabilities to prevent any costly breakdowns or increase in downtimes.
Energy Efficiency Optimization
Sustainable property is the new normal and real estate professionals have their biggest concern of energy consumption when it comes to sustainability. The data analysis forte of AI can help these professionals to have an insight into building's energy consumption patterns.
Further, the AI can monitor the various high energy consumption systems like heating, ventilation, and air conditioning (HVAC) systems to optimize energy usage. Real estate AI can also recommend energy optimization alternatives to reduce energy usage and cost to minimize environmental impact.
Natural Disaster Risk Assessment
When buying or renting a property, especially in a region that the buyers/ tenants do not have familiarity with can increase the risk factor, especially in terms of natural disasters.
From building designs to weather data analysis, geospatial Analysis, real-time monitoring, structural and material analysis, and more such predictive capabilities of AI for real estate can be utilized by the property acquirer or tenets for a better understanding of the risk associated with natural disasters in the region.
The use of AI in real estate would also aid in an informed decision-making process, to enhance the safety measures of the property, risk mitigation strategies, post-disaster management planning, and more when buying or renting a property in disaster-prone areas.
Enhanced Security Solutions
When it comes to futuristic security solutions, AI can provide unmatched security to the occupants and their properties by utilizing its analytical skills, automated responses, and highly webbed integration to various systems present in properties.
As a part of threat detection, AI systems will continuously analyze data from various sources, including surveillance cameras, sensors, and social media, to predict potential security threats like unusual behavior patterns or recognize individuals with malicious intent.
Further to ensure entry to authorized individuals it can provide access control by integration with advanced facial recognition technology. Further, it can also adapt access permissions in real-time based on user behavior and contextual factors like access to maintenance professionals.
In case of any breach, AI systems can enable automated and immediate responses like notifying law enforcement, locking down building access, or activating alarm systems.
AI-Predicted Urban Planning
Urban planning encompasses various characteristics and principles that guide the development and management of urban areas for spatial organization, infrastructure development, aesthetics and design, transportation, security, economic development, resilience and disaster preparedness, and more.
AI algorithms will analyze vast datasets, including demographics, traffic patterns, environmental factors, and social trends, to inform city planning decisions. Whether it is to predict and mitigate traffic congestion, planning of green spaces, renewable energy integration, optimizing public transportation routes, generating design options that maximize space utilization and energy efficiency, and more.
AI-predicted urban planning promises to create more efficient, sustainable, and livable cities, improving the quality of life for urban dwellers while addressing pressing planning challenges.
AI Real Estate Advisors
From financial guidance, investment strategies, legal and regulatory expertise, property search/selection/management, and more, real estate advisors have a key role to play. The effectiveness of this multifaceted role can be increased by AI real estate advisors which are just computer-based systems and real estate applications but come with capabilities of data analysis, machine learning, and predictive modeling to offer insights and more.
AI real estate advisors can not only analyze the market better but also provide data analysis, machine learning, and predictive modeling to offer insights, evaluate investment risks, offer 24/7 customer support through chatbots and virtual assistants, analyze historical data and market dynamics, and even identify profitable ventures.
In a nutshell, these AI real estate advisors are anticipated to empower clients with data-driven insights, ultimately leading to more informed and successful real estate transactions.
Must Read: How is the Blockchain Technology Disrupting the Real Estate Industry
AI-Enhanced Property Financing
Whether it is real estate transactions or investments, financing plays a pivotal role in the real estate industry. In this era when a minute error in data or estimation can result in expensive mistakes, AI systems that facilitate accuracy and automation can be favorable for investors and real estate professionals.
For real estate professionals who are seeking personalization these days, AI algorithms not only provide access to personalized, real-time financing solutions based on individual financial profiles, market conditions, and risk assessments but also enable lenders and buyers to make data-driven decisions.
Apart from enhanced risk management, the use of AI in real estate would significantly improve the borrower experience and streamline lending operations.

Benefits of Using AI in Real Estate Industry
Regardless of real estate professionals, buyers, or tenants, the use of Artificial Intelligence in Real estate is beneficial to all these entities in various aspects. Here are some of the benefits or reasons why property developers must consider using artificial intelligence in their business.
Improved Property Valuation
Enhanced Property Search and Recommendation
Streamlined Property Management
Efficient Lead Generation and Marketing
Personalized Customer Experiences
Predictive Maintenance and Cost Reduction
Enhanced Security
Data-Driven Decision-Making
Market Insights and Trends Analysis
Faster Transactions
Sustainable and Energy-Efficient Practices
Enhanced Tenant Screening and Management
Virtual Property Tours and 3D Visualization
Regulatory Compliance and Risk Mitigation
Increased Operational Efficiency
Develop Custom AI Based Real Estate Solutions with MindInventory
Given the stats and human exploration of AI applications in various industries, the future would include adaptation of AI to a great extent. For real estate businesses to sustain in this transformative phase of the industry, real estate AI software development is the best approach forward.
This is where the leading AI development company MindInventory comes in with its pool of pre-vetted expert designers and developers who are skilled to provide custom solutions to businesses of all sizes.
Hire dedicated AI developers from MindInventory to give your real estate business a touch of artificial intelligence with a custom real estate development solution that accords your business a competitive edge and provides benefits of this blooming technology which facilitates unprecedented business growth.
Being one of the renowned web and mobile app development companies, hiring dedicated developers from MindInventory comes with additional perks like on-time delivery, flexible engagement models, flexibility in time zones, and more giving access to the best AI real estate development services to businesses regardless of their size or region.

AI in Real Estate: Conclusion Thoughts
In a nutshell, the integration of AI in the real estate industry is poised for remarkable transformations. The real estate industry has already adopted Artificial intelligence and machine learning in various aspects. These trends would only fuel the further transformation of the real estate industry.
Further, the use of artificial Intelligence in real estate would not only make the properties smarter but also more resilient, compliant, and responsive to the needs of both investors and occupants along with overcoming modern challenges. Regardless of the size of the real estate business you belong to, implementing these trends as a part of your business would enable your business to stay relevant in upcoming years.
FAQs on AI in Real Estate
How to use AI in real estate?
AI can be used in various ways in the real estate industry to streamline processes, enhance decision-making, and improve the overall experience for buyers, sellers, investors, and real estate professionals. Some common use cases of AI in real estate are predictive analytics, property search and recommendation, market analysis, virtual tours and visualization, document management, and more.
How much does it cost to develop an AI-based real estate app?
The cost of developing an AI-based real estate app can vary significantly based on several factors. Some cost considerations that the business runner can keep in mind while budgeting for AI-based real estate app development are features and functionality, UI UX designs, third-party integrations, platform, location of development team, infrastructure and hosting, and more. However, you can share with us your project specifications and our team will get back to you with the accurate cost of developing your AI-based real estate app.
How will AI affect real estate?
AI in real estate will simplify property searches, make property valuations more accurate, and predict market trends. Property management will become more efficient, and tenants will enjoy better experiences. However, it raises privacy concerns and may require regulatory adjustments. Overall, AI will enhance efficiency and improve the real estate industry.
Can AI replace real estate agents?
Though the use of AI in real estate is increasing substantially owing to its predictive and analytical skills, it still lacks the human or personal touch like empathy or emotional intelligence which play a crucial role when it comes to customer interactions. So, the use of AI in real estate would benefit in automating certain tasks, increasing efficiency, reducing human error, and more but would not completely replace real estate agents.