How to Hire Dedicated Developers for Your Project
8 minutes read
24.4k Views
If you run a startup seeking a dedicated developer for your project, then you should be aware of today's tough competition. Not hiring a good developer can harm your business growth.
To accomplish success in the market, you should not develop poorly built and buggy software. Hence, try to hire dedicated remote developers who can create a flawless and innovative software solution.
For a startup company, budget matters a lot and when you are depending on your developers to get fruitful results for your organization, you should opt for hiring remote developers only.
Nowadays more and more organizations prefer hiring remote developers because they work faster and hiring them can save on your expenses for licensed software, taxes and more.
Thereby, hire those remote developers who are not just experienced in this field but also won't burn your pocket because of their high wages.
Having affordable yet good development services can help you save your business expenses and increase business growth as well.
Things to Consider When Hiring Dedicated Remote Developers
If you fail to hire the right developers, it can bring down the reputation of your organization. This is why make sure to follow the tips given below that will surely help you hire the right remote software developers. Let's read on.

1. Know about their expertise
When you find a developer who provides quality service, check how skilled he is, what projects he has built, the complexity of the projects and their results. This will provide you a complete image of the developer's expertise.
2. Consider speed and flexibility
A developer must have these important qualities. Speed means that each step of design, development, and deployment of the software can be implemented by him as quick as possible.
The developer must be flexible to acclimate and execute every sudden change that happens amid the software development procedure.
3. Interview the developer
If you are seeking dedicated remote software developers and hire effectively, follow a proper procedure to choose him but ensure that you are not the single person in your agency to analyze him to choose him for the project.
If you find a developer fit for your project, ask one more person from your organization for interviewing the developer. This procedure will cause the hiring of an extremely talented remote software developer who will be the best fit for your project.
4. Ensure the developer has good communication and team working skills
While hiring a remote developer, you should not ignore such soft skills. Excellent communication skills and team working skills are required to become a good software developer. The best developer must work perfectly while staying connected with your project team.
5. Hire a creative person who has more ideas
While hiring a remote developer, try to assess how much creative the person is amid the interview process instead of how many theoretical questions he answers accurately.
Now the answers to maximum technical questions are available online and an uncreative candidate can also read them and answer in an interview. But when it comes to displaying creativity, he will fail.
Henceforth, seek a creative person who provides more ideas in the interview.
6. The developer must be passionate and should have a portfolio to show
An enthusiastic and passionate software developer should have worked on several projects and must keep on learning new things. Ask him regarding his other projects that he has done himself; ask his personal experience, and how he dealt with those projects.
In case he is passionate about his work, he will certainly show his portfolio to you and explain how he overcame all issues and challenges while working on previous projects. A portfolio always makes a developer a highly deserving candidate.
7. Ensure the developer can write clean and crisp code
There is a difference between writing clean and crisp code and writing any type of code that appears hard to understand. Writing clean code is an expertise that a developer must possess.
Therefore, search for such type of a developer to get clean coding and involve him in your project right away.
Read also: When is the Right Time to Hire a Dedicated Developer
Advantages of Hiring Dedicated Development Team
Now that you know how to hire dedicated developers on a remote basis, have some knowledge regarding the benefits of hiring these specialists for your project.

1. Lowered expenses
Outsourcing development service is usually cost-effective. Startups need such developers to reduce the expenses of their projects.
2. Flexible taxation
While hiring passionate developers, you can receive tax incentives that will help you save on extra taxes and you will lower your expenses for taxes that you have to pay if you hire in-house developers.
3. Assured Quality service
Many candidates, who have sufficient skills to compete with professionals, offer services at a lower hourly rate than in-house specialists.
When your project demands for a pair of new specialists, don't go for employing, rather hire efficient remote specialists to get assured quality services.
4. Saves your time
The procedure of hiring remote software developers may take less time as you don't have to make a lot of paperwork which is necessary when you hire an in-house employee.
Additionally, you don't have to think about the office space for the developer and he can focus more on your project from his location and you can handle other necessitous business tasks.
5. Better output
Don't think that dedicated developers will work less efficiently than those specialists you employed on an in-house basis.
For this reason, working with developers on a remote basis can provide higher output than you possibly think.
Read also: Top Benefits of Hiring Offshore Developers
Where to Find The Most Dedicated Remote Software Developer?
Now that you know the benefits of hiring dedicated developers and how to hire them efficiently, you should know the best source to find the most dedicated specialist on a remote basis.
Wondering where to look for? While searching for an software development firm for hiring dedicated developers, you should seek a firm situated in one of the most famous nations for offering outsourcing services.
This is necessitous because organizations situated in such regions have expertise in doing their work amazingly because they have been doing the same job for many years.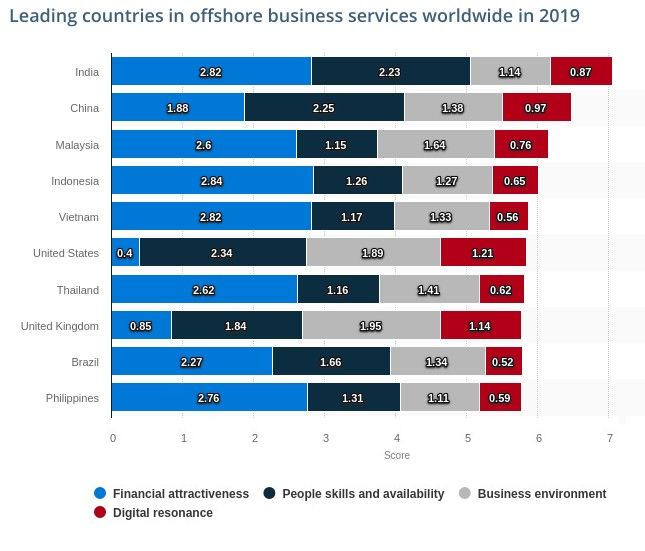 According to statista, India was considered the most popular destination for offshore outsourcing services worldwide in 2019.
You would possibly like to outsource software development to India out of these nations. This is because of India's second position in ranking for its population and being a developing country, there are a lot of developers and other professionals available in the IT industry.
Apart from all these, India is globally recognized as the largest IT outsourcing country.

Summing Up
If you have read the tips mentioned above, you start seeking a remote developer best fit for your project in your preferred location.
Hire people who are extremely talented to work for your organization. Whether you are a startup or an MNC or an individual business, these tips will perfectly work for you in hiring a developer on a remote basis.
FAQs About Hiring Dedicated Developers
How much does it cost to hire a dedicated developer?
Honestly, there is no straightforward answer to this question because of various factors at play. The cost to hire an app developer depends on many factors like the type of app, development platform, complexity of the design, number of pages, features and functions, location, maintenance cost, an experience level of the developer, etc.
How do I hire a dedicated app developer?
Hiring the correct developer might be the most significant part of developing your app. There are many resources to hire a dedicated app developer for your projects like LinkedIn, Upwork, and Toptal. But, the most reliable source is hiring an app development company like Mindinventory.
How long does it take to build an app?
Figuring out how long does it take to develop an app will depend on numerous factors like development platform, complexity of the design, features and functionality, testing and many more. On average, it takes around 8-10 weeks to develop a mobile app.