Imagine a world where a virtual tour to a real estate property is as immersive as visiting it offline; buying and selling a property is done in just a few clicks with crystal clear transparency where security is at its best, just like Fort Knox.
The entire real estate landscape is being reshaped the way we used to engage with the housing market. All thanks to the enablement to the groundbreaking technology of the decade we know as Web 3.0, where blockchain, cryptocurrency, and NFTs are taking place.
But "how?" is all we have to figure out! So, realtors get ready to take a deep dive into the decentralized world and begin the search for web3 applications in the real estate world that solve all possible industry pain points.
Wait a second! Before we kick things off, let's first understand…
What Benefits Does Web3 Bring to The Real Estate Industry?
Gone are the days when we used to interact with the internet properties in 2D boxes. It's time to switch to super immersive 3D, a mediatory-free decentralized world, where a different but powerful currency takes place – we know as Cryptocurrency and no chances for hackers to steal something that is yours.
It's Web3 technology introducing digital users to the decentralized world where they have total control over their belongings, and they'll be rewarded for their efforts.
And when it comes to the real estate industry, Web3 brings considerable benefits. So, here are the reasons that give real estate businesses a push for adopting web3 technology:
Better Efficiency
Web3 technology uses blockchain-powered solutions like Smart Contracts – a pre-coded algorithm to automate and streamline real estate processes regardless of the complexity and reduce inefficiencies in real estate transactions.
For example, Smart contracts can help to automate the execution of agreements, eliminate the approval for intermediaries, and reduce extra costs and procedural delays.
Increased Transparency & Integrity
Web3 allows realtors to list their real estate properties on a decentralized server, and users can even verify important information. This way, they don't even have to pay excessive fees to private real estate companies.
Moreover, Web3 uses blockchain technology to ensure utmost transparency between the parties while safekeeping immutable records and real estate transactions. It even reduces the risk of fraud, simplifies due diligence processes, and enhances integrity between parties.
Accessibility And Liquidity
Web3 removes barriers for all interested people from across the world investing in real estate without charging excessive processing fees. And it all became possible thanks to blockchain technology and asset tokenization.
Not just that, it even enables global real estate investors to buy or co-own a tokenized property. Further, this improves the liquidity of the digitized assets by enabling realtors to sell digitized tokens for cryptocurrencies using the NFT marketplaces, and that too, efficiently.
Fractional Ownership
As the name suggests, this allows users to own a fraction/portion of a property. With this, they can create a rental income, make ownership claims, and do so much more.
Disintermediation & Cost Reduction
Web3 technology being a gateway to a decentralized world – removes the need for an intermediator from a transaction process. This exemption will help speed up the real estate property processes and transactions while eliminating external processing and involvement fees and ensuring security.
Top Web3 Solutions for Real Estate to Build in 2023
Now, let's have a look at the effective ways you can utilize web3 technology to build modern-age real estate solutions that solve current real estate problems:
NFT-based Property Ownership
In web3, tokenization plays a crucial role, which is powered NFTs (Non-fungible Tokens) that allow complete and micro property ownership. This type of property ownership through NFTs can be done easily the same as crowdfunding and blockchain-powered NFT marketplaces. It further increases liquidity in the market.
Smart Contracts for Transaction Automation
With the concept of smart contracts – many real estate leaders eagerly want to know the importance of smart contracts. But will it replace the jobs of real estate agents?
Well, it's hard to say, but there are many reasons that state that smart contracts can act as a complement to real estate agents' jobs. If utilized excessively, smart contracts ease certain job parts of real estate agents, but definitely not entirely.
As smart contracts are blockchain solutions, they automate real estate transactions while eliminating the need for most of the paperwork, which results in reduced delays and errors during the process.
It also carries the USP of blockchain technology and ensures improved transparency and trust between real estate agents and buyers, as all the terms and conditions mentioned in the contracts are immutable and superbly secure.
It eliminates the involvement of real estate sector intermediaries, which results in additional cost-cutting from their commissions and fees.
In short, smart contracts will ease the complex real estate process but definitely not entirely replace the jobs of real estate agents.
Real Estate Assets Tokenization
You can say, Asset Tokenization is the USP and the greatest impact of Web3 technology. But what is asset tokenization?
Basically, asset tokenization is a process through which real-world assets are digitally tokenized/minted to be traded in NFT marketplaces. This brings many benefits to the real estate sector, including fractional ownership, accessibility, and liquidity, while lowering barriers to entering the housing marketplace and involved costing.
Moreover, it even enables a worldwide pool of investors with adequate assets to participate in real investments done across the world.
Blockchain-powered Crowdfunding Platforms
A real estate crowdfunding platform allows real estate leaders to arrange funds from different investors in return for profit shares. Well, that was the story of web2 crowdfunding platforms.
But blockchain-powered real estate crowdfunding platforms are decentralized for managing property listing and fundraising. Through this, real estate businesses can trade their assets, rent or other property-related agreements, and so much more.
In short, blockchain technology streamlines all real estate procedures and requirements and facilitates investors and property owners to transfer funds securely.
Moreover, by adopting blockchain crowdfunding platforms, real estate businesses can enhance process transparency, easily and accurately analyze property data and investment risks, and easily manage funds and data flow.
Also Read: How is blockchain technology fueling the insurance industry?
Real Estate Marketplaces
Likewise to any other property selling or renting platform, like Snug, the web3-powered decentralized, peer-to-peer real estate marketplace connects buyers, sellers, renters, and investors to further crack the real estate deals.
Moreover, such platforms are feature-rich, implemented with smart contracts and tokenization to facilitate users with faster and more efficient property transactions. As that'd be offering a peer-to-peer connection, there'd be no chances for other intermediaries to interfere and extract their cut for the service.
It's being a blockchain-powered real estate solution, it ensures that every user, whether a property owner, renter, or real estate agent, must have to verify their identity using the immutable and tamper-proof distributed ledger. This further ensures ever-lasting integrity amongst users so that they'd stay away from fraud cases.
Loan And Mortgage Securitization
Originally, loans and mortgages involved a significant amount of paperwork. The traditional pen-and-paper method used to document real estate contracts raises serious security concerns, including the risk of theft or manipulation of terms and conditions and even the entire property.
Given the multitude of procedures involved, settlement delays can occur, significantly impacting the calculation of investors' capital.
Although loans and mortgage processes have already been digitized, Web3 takes them to the next level. By harnessing the strengths of Web3, you can encode every condition, ownership rights, and loan payment history into programmable, tamper-proof smart contracts that can also be updated with future payments.
This approach ensures that your contract remains up-to-date with accurate data, eliminating the possibility of using outdated information or attempting to alter the data once it has been entered.
Virtual Real Estate – Metaverse in Real Estate
Many tech-savvy users consider web3 an acceleration to the metaverse that enables an immersive digital property tour experience that takes users to another dimension. Metaverse is a powerful technology that unlocks a gateway to virtual real estate.
As per the legit reports, the global Metaverse in the Real Estate market was last valued at $1139.55 million in 2022 and is expected to grow to $15698.24 million by 2030 at a CAGR of 38.80% for the prediction duration.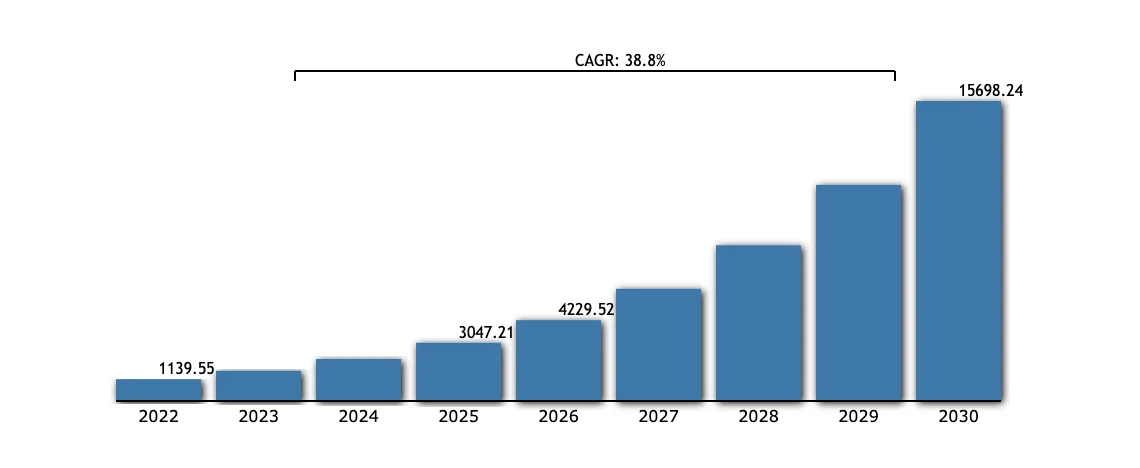 A Metaverse real estate solution enables tech-savvy users to buy, sell, or rent virtual lands just the way they traditionally used to deal with real estate assets. This event allows real estate agents to create a digital twin of their property plans and real estate assets. Then users can even take a virtual tour of their interested properties before they make their decision to purchase.
Here, in the metaverse real estate property solution, blockchain, NFTs, AR/VR, AI, cryptocurrencies, and many other web3 technologies play a crucial role in unlocking this rich AI and graphically driven virtual world. Using which, users can traverse through the virtual real estate lands from the comfort of their homes.
Popular Examples of Web3 Real Estate Solutions
You'd be surprised to know that, but yes, there are many web3-based real estate solutions, and from which, here below are a few popular web3 real estate solutions:
RealT
RealT is a decentralized real estate business with a team of seasoned real estate and blockchain executives with technology, e-commerce, and marketing professionals, aiming to create a real estate ownership experience.
It has created an Ethereum-powered platform, allowing real estate investors to make fractional real estate investments and that too irrespective of global boundaries. Here, further, the investors can own properties based on crypto tokens' shares, which will decide the decisions made for the property.
When planning to try using RealT, the user must have an Ethereum wallet, such as Coinbase, MetaMask, TrustWallet, and Wallet Connect.
Moreover, here, the management of each property listed here is done via the property management company, which includes property sourcing, maintenance, and rent collection.
Propy
Propy is a decentralized real estate marketplace that rose from silicon valley that aims for making real estate transactions self-driving and empowering realtors with technology. This platform is powered by Web3 and blockchain that overcomes traditional, complex, time-consuming real estate trading.
Additionally, Propy enables users to list properties (those that comply with U.S. legal framework) through NFT minting and buy or sell properties using fiat or cryptocurrency.
Metamall
Metamall is a highly advanced, first-of-a-kind web3 VR-based project built using the Solana blockchain and powered by DeFi and NFTs. It lets users visit the infrastructure of a megamall in an extensively immersive way like they are visiting the mall for real and interacting with VR and NFT-based mall components.
In addition, this platform also allows users to mint, explore, and trade their NFTs in their own virtual mall and link their decentralized wallets. Some technology experts also call this platform a primary center for crypto enthusiasts to experience.
Moreover, allowing tech-savvy users to own high streets, lounges, and game zones to have fun, shop, and engage with friends.
At last, you can say that metamall offers a new generation of virtual real estate infrastructure visit experience where people can shop, have entertainment, engage with shop executives, and advertise their businesses.
CitaDAO
CitaDAO claims that it's the only web3 initiative, a tokenized real estate platform powered by Ethereum blockchain and DeFi that lets users redeem their decentralized real estate assets and manage risk levels considering certain properties in their portfolio.
Traditionally, there was limited access to owning a property for investors to earn from trading properties. And CitaDAO aims to make real estate investments and transactions entirely secure and limitless.
This platform is created on purpose to solve issues faced by real estate investors, such as integrity, property accessibility, ownership transfer, and liquidity. CitaDAO makes it easy to mint and tokenize real estate properties and trade them.
As CitaDAO is a DAO (Decentralized Automated Organization) platform, it uses AMM (Automated Market Makers) and liquidity toolsets to ensure the liquidity of the platform.

Challenges in Web3 – Powered Real Estate App Development
Indeed, web3 brings the ultimately new experience in real estate procedures with its unique offerings with security assurance, but with such, you can also expect to face the challenges mentioned below:
Scalability
With force attracted towards web3 technology, real estate apps built on web3 will get that attention, making the app's scalability crucial. As blockchain networks are complex in implementation, developers often find it complex to deal with its scalability limitation to deal with transaction speed and network congestion.
So, when developing web3-powered real estate apps, blockchain developers must ensure that the app can handle users at scale, tons of property listings, and seamless transactions, along with top-notch app performance and less transaction costs.
User Adoption
Well, it's not a challenge that you face during the app development, but when it's hosted in the public registries. It's true that web3 is gaining popularity very quickly, but there are still many users unfamiliar with the web3 world. To make them adopt the web3-enable real estate solution would require you to educate them, which is quite challenging.
So, to overcome this challenge, you should try to create a user-friendly and easy-to-navigation app interface, simplify complex processes, and focus on much more that can help to overcome this hurdle.
Interoperability
Web3 is still an evolving technological landscape in which many new blockchains, protocols, and standards are merging up. Hence, considering such a paradigm shift with a rapid pace, creating and ensuring interoperability across real estate systems and blockchain networks can be a challenge.
But it can be solved by following some standards and protocols, such as RESO (Real Estate Standards Organization), that help in streamlining data exchange.
Integration with Existing Systems
Web3 technology is entirely a disruptive concept built upon blockchain technology, facilitating a decentralized space for users. As it comes with new concepts and has unique requirements, it may not seamlessly integrate with conventional real estate systems.
So, to overcome that challenge, developers must carefully plan the app integration process after assessing the platform compatibility with web3 principles. When doing so, it's highly recommended to hire expert blockchain developers.
Governance and Legal Frameworks
Real estate is a highly regulated, document-intensive industry that follows many clauses and involves jurisdiction for major real estate processes, such as property title transfer, property ownership verification, and so much more while ensuring compliance with anti-money laundering regulations and many others.
So, understanding these concepts can be a hard nut to crack for developers to take care of all. But with deep research, analysis, and consideration, developers can understand and integrate important real estate compliances into the solution while ensuring its decentralized nature.
How Much Does It Cost To Develop a Web3 Solution for the Real Estate Industry?
Developing a web3 solution for real estate is a complex task, and calculating its development cost can vary depending on many factors, as listed below:
The complexity of the project
Features and functionalities
Design and user experience requirements
Expertise of the designers and developers
No. of talents you hire
Location of the app development company
Integrations
Testing and quality assurance
Ongoing maintenance and updates
These were only basic factors, but you can even consider major factors at micro levels. There's one more factor you can calculate when planning to develop your web3-based real estate solution, which is the engagement model, specifically the hiring cost for dedicated designers and developers.

Wrapping Up
Wow, the web3 technology world is such a big one to explore, especially in the real estate industry. And what we know about the application of web3 in real estate is still a drop of the ocean, and we have a lot to discover. Though with the power of disruptive, decentralized technologies, like blockchain, DeFi, NFTs, metaverse, DAO, and more, the real estate industry has revolutionized a lot in terms of space exploration, transaction processing, security, and a lot more.
If you're a real estate leader planning to tap into the decentralized world, then MindInventory can be your one-stop destination to get your full-fledged web3 development solution, from design to development with ongoing support, managed team, and a lot more. So, what are you waiting for? Consult our experts today!
FAQs on Web 3.0 in Real Estate
What's the future of web3 in real estate?
The future of web3 in real estate is bright, transforming, and full of innovation that promotes more transparency and security with its decentralized nature. Though, in this starting phase, there will be difficulties, sometime, we will see many potential updates in the web3 real estate solutions, such as smart contracts, automated transactions, more advanced features, and enablements into the marketplaces, improved security, automation, and so much more.
Should businesses invest in Web 3.0?
Well, yes, but before investing in Web 3.0, businesses must consider a few factors, such as the business type, industry trends and relevance, vision, and more. Once comparing these factors, if businesses decide to invest in web3, then they can reap many benefits, such as early mover advantage, better efficiency, cost saving, new revenue streams, more opportunities for partnerships, and much more.
Can Web3 be integrated with existing real estate systems and technologies?
Yes, you can integrate your existing real estate system with web3 solutions, and if done seamlessly, they can complement each other and enhance the efficiency of the real estate solution.