Top Reasons Why Your App Needs an Efficient Ul/UX Design
6 minutes read
22.6k Views
In this highly competitive digital era, nothing is more necessary than an excellent user experience. UI and UX are the main components of your digital product that makes sure to boost user experience. A great UI can make an immediate impression on users while an amazing UX can put a long-lasting impact on their minds. Hence, both should be done properly to make your app successful.
A good user experience brings more profit for any business. All you need to do is to create a good UI/UX design so your users can browse through the app easily.
As per a Statista report, more than 6.3 billion smartphone users are there across the world. A few reports say that we have 2.89 million applications available for download on the Google Play Store.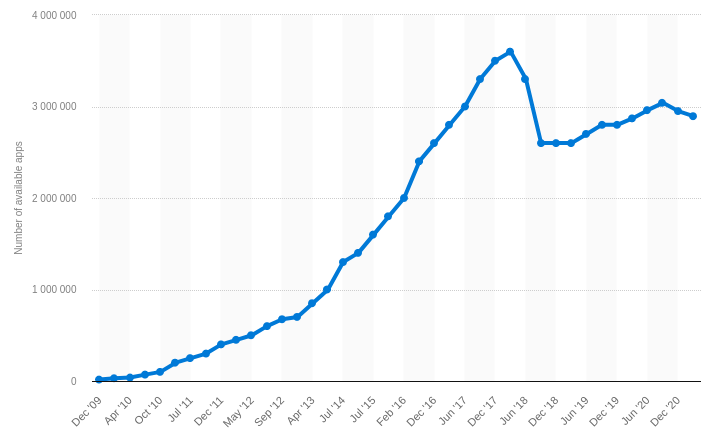 Before we dive into the reasons why an excellent UI/UX design is important for your app's success, let's explain what UI and UX imply!
What is UI (User Interface)?
User Interface leads to the presentation of an app when users interact with it. It makes sure an easy interaction of users with the app. In short, UI is all about an app's appearance, graphics, and design. Your app UI must be appealing enough.
What is UX (User Experience)?
UX consists of human choices, viewpoints, emotions, and feelings during and after using an app. To boost an app's user experience, you need to improve its usability, ease of use, and accessibility. Don't forget to conduct a comprehensive study on your users' requirements, for making an effective UX design.
Read also: Mobile App Design Fundamentals – The Difference Between UI and UX
Reasons Why a Foolproof App UI/UX Design is Significant for Business Growth
An effective UI/UX design can create a great user experience. This is why it plays a pivotal role in business growth. To build a good reputation for your digital business and enhance brand recognition, pay more heed to user satisfaction. Let's discuss the reasons why an app needs an excellent UI/UX design for its success!
1. It Causes Client Satisfaction
Before designing the UI of your app, ensure to understand your users. This will help you make changes in your app to meet your users' needs. An effective UI design entails intriguing content and easy navigation that causes client satisfaction.
Make sure to design your app with all the necessary features. Moreover, you must have an attractive CTA button that should be in the right place and a simple format.
2. It Creates Brand Recognition
People usually use apps with a good brand identity. With a foolproof UI/UX design, an app can create an intriguing community.
Therefore, the promising users can suggest to you some exclusive features to help you enhance and upgrade the app. This whole mobile app design process leads to your business success.
3. It Saves Your Time and Money
Using an effective UI/UX design helps you create a good user interface, which results in an enhanced user experience. A good user interface design leads to a great user experience. Hence, it saves your time, effort, and money.
4. It Helps You Know Your Clients' Needs
A UI/UX design is always made focusing on your target users. And an engaging UI/UX design can allure the target audience. You can divide all users through the app UX/UI, which helps understand your users' needs. Understanding your target users will help you convert prospective leads into sales positively.
5. It Drives More Traffic
If you design your app UI/UX properly, it will drive more traffic to your app. As a result, it will help gain new clients and retain them as well. You need an attractive app UI/UX design in this competitive market to stay ahead of others.
6. It Offers Consistency across the App
UI and UX designs are beyond screen orientation and colors. A good and effective UI/UX design offers consistency across the app.
Moreover, your app gets an exclusive appearance and feel. And a consistent UI/UX design enhances user experience that leads to business growth also.
7. It Improves User Interactivity
User interactivity is all about how comfortable users are while using an app. Hence, UI/UX designers make user personas to understand the target users and their preferences.
Moreover, they pay heed to personalization that delivers appropriate content as per users' choice.
8. It Increases Customer Loyalty
Customer loyalty is directly associated with a business' growth. And you can earn customer loyalty by offering good experiences to your app users. A positive user experience helps users promote your app to others. Users' feedback, ratings, and reviews help others know your app precisely.
User journey maps signify users' interaction with your app from the scratch. Since good reviews can bring you more clients, you should map your app UI/UX cautiously.
9. It Reduces Development Costs
A foolproof UI/UX design eases the app development process. It includes appropriate app features, app functionality, accessibility, usability, interfaces support, etc. So, you need a spontaneous and simple UI/UX design that is beneficial for users and your business. A well-designed interface reduces development time, costs, and effort.
10. It Increases Business Productivity
A well-designed app is effective in terms of growth, sales conversion, etc. You need easy navigation and seamless UI to lower customers' search time and meet their needs, which leads to client satisfaction and increased business productivity.
11. Make You Stand Out from the Crowd
You should understand your clients and their needs to grow your business properly. An effective UI/UX design gives you that scope to influence new users, which causes more sales conversions. Your unique design ideas will help you stay ahead of your competitors.
How an Effective UI/UX Design Makes an App Successful
Mobile users prefer intriguing and simple app designs. You need to offer them smooth navigation and an easy-to-use interface. Developing a well-designed app leads to business success. Most users like a visually attractive and user-friendly app with great features and functionality.
Hence, building a great interface will give your users a realistic feel while using your app. Moreover, it offers the necessary information consistently. If more users use your app daily, it will drive more traffic naturally. This will increase sales conversions and hence enhance your brand identity.
Final Thoughts
UI and UX designs build a brand name and enhance its digital presence. When it comes to user experience, online users expect a bit more. Hence, they search for apps with an easy-to-use and intriguing interface.
Your business will get an exceptional visual identity with a foolproof UI/UX design. As a result, it will grow more. So, this is high time to apply the best UI/UX design practices and follow the latest mobile app UI/UX design trends to stand out in the digital world.