Why Mobile App Market Research is Important and How to Conduct It?
11 minutes read
8.0k Views
So, you are up with a matchless app idea? Can't wait to turn it into reality, can you? But, hold on a second and think; you have got to think about multiple things before you actually begin with app development. Let's take you where should you start from:
Did you know there is this thing called app market research that can bring a whole lot of improvement in your app launch strategy? Basically, the more you research and learn about the market trends, the better solutions you can find for your customer's pain points.
So, now you know where you should begin from, let's learn how you should begin with it. Here you are going to do app market research from scratch. Getting the basics cleared never goes in vain. Let's start with it first.
What is app market research?
App market research is the concept that helps you understand your audience to the core. Researching the app allows you to understand the current market trends and what customers are more likely to appreciate over other stuff.
Here are certain points you need to take care of before starting with app market research:
Is it the right time to launch your app?
Does your app execute your USP clearly?
Are you covering your customer's pain points and helping them back with the resolution?
Why is app market research so critical for your app's success?
According to Statista research, the number of global smartphone users is 6,567 million in 2022. And this figure is going to look something like 7,690 million in 2027. So now, you know why the mobile app is ruling the world!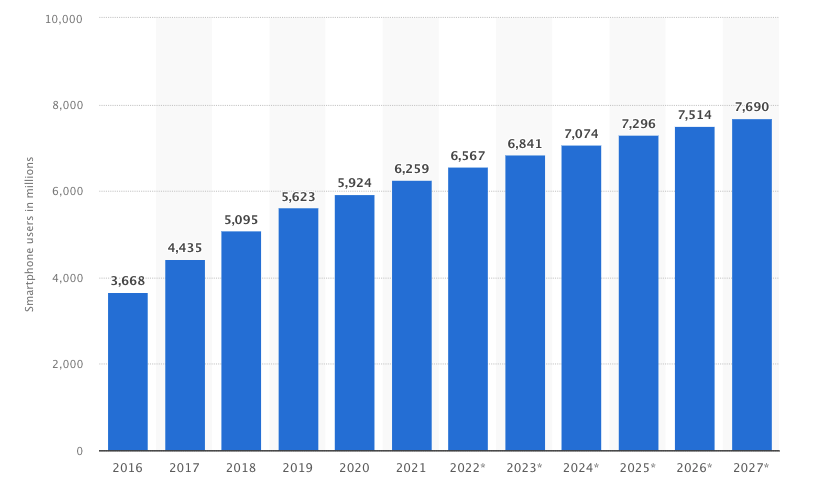 Now that you know the empowerment of a mobile app, you should learn about app market research, too.
An app idea that doesn't have a back of market research could be at the risk of failure, even if it is pretty unique. And here's a big-time example of the same:
YouTube was launched back in 2005, seems like it was the ideal time for this platform to be launched as now we all know the popularity of the same. On the other hand, Vine failed to achieve the popularity that YouTube owns. Vine was a video-sharing application in which users could make short 6-second videos and share them.
In a nutshell, the concept presented by Vine was appreciated enough but not enough to bring significant changes in the market like YouTube.
Thing event is the big time example of a failure of a bright idea due to a lack of market research. So far you have understood the importance of app market research and the repercussions when it's not considered to be conducted, now let's jump onto the key segment, the best strategy to do market research for mobile apps.
Do your market research for your mobile app with these dynamic strategies
In this segment, we will be helping you with the most workable ideas and tactics that can relatively help you make your app launch successful and drive users towards the same. Let's get cracking:
1. Know your target audience
Knowing your target audience is the base of your app market research, your audience decides how you should be doing the app market research.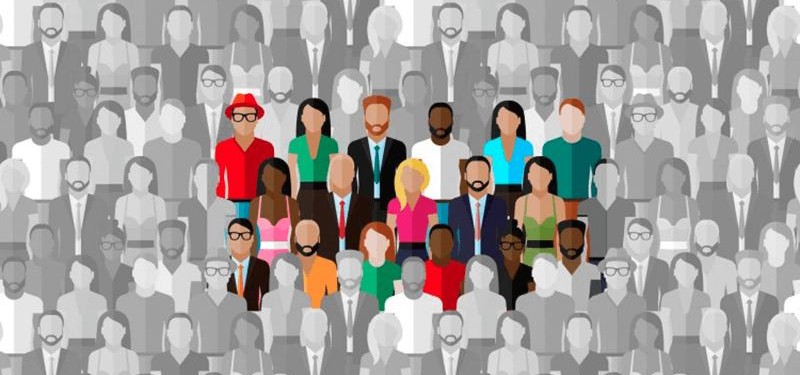 When you know about the people your app is designed for then the further process is going to be a cakewalk. But to decide who your target audience is calls for some research.
First of all, your target audience is a group of people that share common interests. You do not need to get into minor details but into basic ones like their age, location, the language they speak, and in some cases, gender is also required.
Data plays quite a vital role to help you with demographics related to your target audience. Let's jump to the next point to learn how to collect authentic data in a proper way.
2. Gather relevant data
Having real-time statistics allows you to do a whole of improvements in your app. Every year you will see a difference in data, make sure you are pacing along with the updated one. While you are doing app research, you will need to make sure that you are referring to a trustworthy source.
Here we are stating below some standard sources to get reliable statistics and data for your use:
Gartner
Gartner opens the doors for you to explore, witness, and assess technologies, applications, and companies across worldwide IT setup.
Statista
Be it information technology or other sectors, you will possibly never fail to get the stats about the sector you search about. Statista's large-scale database contains statistics covering over 170 industries and 150 countries.
Google Trends
Google Trends is a free tool that helps with data and graphs on the basis of popularity of specific search terms used on Google and YouTube.The best part is it helps you understand the trends and popularity of every specific concept as per country's trend.
Pew Research
Pew research is quite a popular platform for gathering data to help people make use of it. By conducting polls and surveys it publishes authentic information. However, it focuses primarily on politics, demographics, trends, and social issues, but you can get statistics on other topics as well.
Gallup
Gallup is a Washington-based analytics organization that gathers data itself and then publishes articles and podcasts covering that information. This also is the key source to get some substantial data.
Knoema
Knoema is an extensive open data platform for exploring, managing, and visualizing data. Apart from helping with the data, it also publishes articles to help people get some more information.
These 6 platforms to get legitimate information are being widely used, however, there are many other portals where you can find out the same. But if talking about reliable data, you can definitely rely on these 6 platforms.
3. Keep a check with social media updates
Social media is not just a part of our lives any longer, it has become a necessity. We may have gone into the phase of addiction when it comes to social media, but that's the key way you get ample information from.
Well, taking a look on the brighter side, there are a large number of channels that share the information which can lead you to the way of a better app market research process.
Apart from that, social media is something that not only walks along with the trends, but it creates trends in some way. Having said that, let's just take an example of one of Instagram's creations: reels.
Instagram created a feature to make short videos where you can be candid and perform anything you like. Many brands have made good use of this feature and have created some videos that are insightful as well as enjoyable.
Social media is the platform that allows you to be free-spoken so you can create unique and engaging content and help people take advantage of the same.
Moreover, we have multiple popular platforms like Twitter, Instagram, LinkedIn, Facebook, Pinterest, YouTube, and so on; we can expand our way of market research by instilling the information the brands share on these platforms.
Because social media has enlarged the wings of businesses by enabling them to represent themselves in a different way with respect to the platform's essence.
Knowing what your competitors are doing with social media will get you a better idea of using the same. So, buckle down; make social media your pal and see the results.
4. Know your competitors
Approximately 54.4% of worldwide web traffic comes from mobile devices. Thus, knowing what your competitors are doing to make their app launches successful always brings you some valuable information.
You see, every booming idea starts with spying on your competitors, funny, right? But the fact is businesses somewhere are dependent on each other in spite of being the competitors.
If your app is successful, then it is temporary; your competitors have already done their homework and are in the process of making something better than this. This is how it is!
Knowing your competitors' USP, strong points, and weak points can be your treasure as it's going to help you improve your app and its marketing strategy. Also, this helps you bear in mind what exactly your customers are expecting from your product.
Important note: While gathering information, do not take any metrics or pieces of information for granted, even though it's irrelevant. You never know when it is going to be helpful so better jot it down and thank yourself at that time while using it.
Analyzing your competitors is quite a task, right? Relax, we shall walk you through the best way of doing it! Let's jump to the next point.
5. SWOT Analysis
SWOT (strengths, weaknesses, opportunities, and threats) analysis is a concept with which you can identify and examine internal strengths and weaknesses.

You will also learn about external opportunities and threats that carve prevailing as well as future operations to help develop strategic goals.
As American business magnate, Mr. Bill Gates has said above, we mustn't underestimate our competitors whether they are having a large-scale business setup or just have begun; take everything into consideration.
Researching your indirect competitors is also as important as the direct, you may think this could be a somewhat waste of time but understanding their approach towards the product; how they are pleasing their customers can help you with some valuable information.
Remember every successful business was once a startup!
While you are doing app market research, understanding the strengths, weaknesses, opportunities, and threats of your competitors is pretty crucial.
After doing so, compare your app launch strategy with theirs; what are sections of improvements and modifications. Enhance your strategy and then pitch it, you are going to see a major difference for sure.
6. Pitch your strategy when it's done
After taking every important aspect into consideration, it is time to implement the whole thing. You can pitch your market research strategy and ask for the reviews.
Getting objective feedback can help you improve upon your key points that can ultimately be beneficial for the app launch. Ensure that you ask for reviewing these things:
Are the customer pain points been properly taken care of?
Have appropriately executed our USP throughout?
Have we considered the points that are going to differentiate our app from others?
Is our app strategy data-driven?
7. Revamp is never something to shy away from
Pitching the strategy is mainly to ensure that you have covered every point really well. When you get to see the results that are different from your expectations after a pitch; that's a high time to include or improve things that were lacking earlier.
Also, make sure that you made the best use of your research and have included all in the marketing strategy. Never feel blue to rework, it is anyway going to be helpful and make your app launch process smoother! Mistakes are the opportunity in disguise to present the better of what you had earlier.

It's a wrap
A key to a successful app launch is always hard work and research, you simply cannot cut things short and face the desirable results. However, you can always choose to refer to the sources that can make your path easier.
As we are known as a top mobile app development company, we always love to lend a helping hand to our clients by offering them strategic solutions to achieve the best results!
If you are thinking of having your idea converted into a top-notch app, then we are waiting to be a great contributor to your success.
FAQs on Mobile App Market Research
How is the mobile app market segmented?
The worldwide mobile application market is segmented on the basis of the marketplace, region, and app category. It is further classified into the Apple iOS store, google play store, and other marketplaces keeping its marketplace in mind.
What is the CAGR of the mobile app market by 2026?
The global mobile application is expected to reach $407.31 billion by 2026.
How to know if your app is being appreciated by your users?
You can develop a minimum viable product (MVP) to allow your end-users to drop their feedback. This must give you a clear idea of whether your app is going to be successful or vice-versa.