Product Design vs UX Design: The Detailed Comparison
8 minutes read
7.7k Views
There are many reasons why design roles are not the same. With the development of the digital world, the digital design industry is also growing faster. Several functions are now available to deal with various issues with different business requirements. And the difference between product design and UX design comes to mind first.
These two design roles look the same, but they have different functions. Designers usually maintain the aesthetics, whether it's a product or the whole website or app. After all, users prioritize aesthetics. And as per the most recent statistical report, 38% of visitors may leave a website if its layout is not appealing.
However, the aesthetic design does not only mean layouts and images. It also implies user experience, which must be suitable for retaining users. Hence, designers play various responsibilities with several specializations.
But, every designer plays a distinct role. Although some skills are essential for all of them, specific functions need a particular skill set. Designers' specialization decides how they can help you meet your business requirements.
So, how does a product designer differ from a UX designer? Is there any similarity? Can a product designer become a UX designer? Let's unveil all the queries in this blog!
What is UX Design?
UX or User Experience design helps build products that offer a significant experience to users. The design process is all about designing the whole method of getting and combining the product that covers different attributes of design, branding, function, and usability.
UX designers ask a few questions regarding the product's usability and performance. Moreover, they think about users' desire to accept a product and deliver a beautiful and practical design.
Read also: Top UX Design Challenges and Their Solutions
What is Product Design?
Product design is a combined method of creating a product from start to end. The process includes everything from conducting the market study, recognizing issues, making the product, bringing comprehensive solutions, and other associated activities.
Product designers try to solve real-world issues and make easy-to-use products. Their primary duty is to consider various essential product features, which causes a successful design and marketing.
Is There Any Similarity Between Product Design and UX Design?
Let's start by discussing the similarities between the job roles of UX designers and product designers! These two design job roles try to create user-friendly, satisfactory products to achieve the end user's objectives. Here are the points that showcase the equivalence of these two design job roles:
Accurate levels of tailoring to customize the office for the absolute user experience
Convenient workflow and ease of use
Creating genuine scopes for upgrades, user feedback loops, and add-ons
Interesting position of workflow artifacts, like icons, menus, and buttons.
We can see that UX designers and product designers have many similar targets. So, how do they differ from each other? Let's find out below!
What is the Difference Between Product Design and UX Design?
The main difference between these two design job roles is in their aspects. A product designer is more calculated, whereas a UX designer is more strategic. So, how do they differ in every aspect?
1. Designing Methods
As earlier discussed, the working methods of product and UX designers are different. The primary responsibility of UX designers is to describe how a product feels. For this, they create interaction patterns and write product usage scenarios.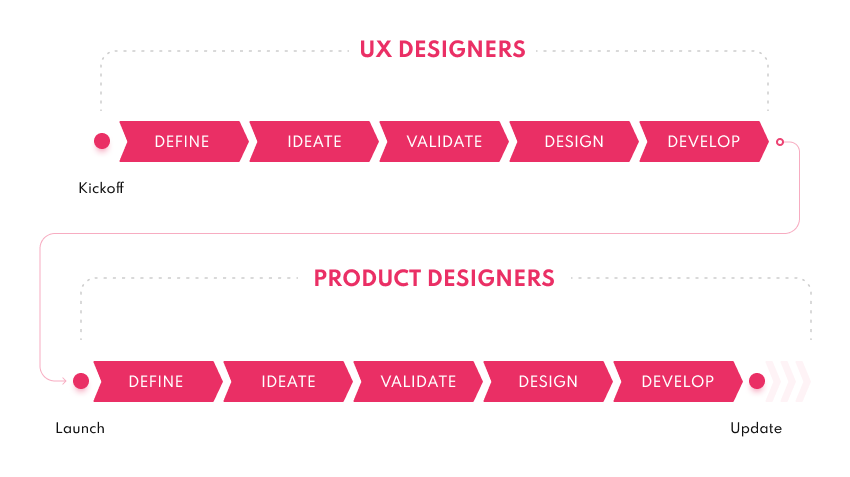 They create a prototype for a user interface. Moreover, they record user activities through various testing tactics like email surveys and A/B testing.
On the other hand, product designers usually build the feel and look of the entire product. They give information about the functions of some specific parts of the product. Moreover, they find a market scope and make plans for applying the solution to the issues.
2. Targets and Responsibilities
Responsibilities and focus also decide how a product designer differs from a UX designer. A product designer primarily focuses on the business needs more than a UX designer who is initially concerned with user requirements. For instance, a product designer is concerned about the product designing method's compatibility with other business targets.
However, a UX designer solely focuses on users' different usability issues. Hence, responsibility is a significant factor in deciding between a UX designer and a product designer.
3. Skill Set Needed
The skillset is the most significant difference between product design and UX design. Although the basic things will be similar, the specifications are different. Here's how we can compare the skills needed for these two specializations: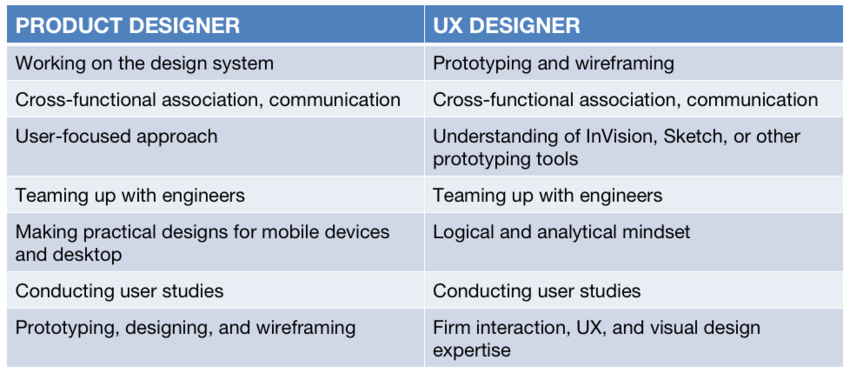 Furthermore, a product designer should have curiosity. They must be good at logical and analytical thinking. A strategic mindset is compulsory for a product designer, as they work with planning and designing. And in a nutshell, they should be deeply knowledgeable about the market and the product.
UX designers need not be so curious or empathetic. They must be efficient in studying and arranging data. Often, they work with UX copy; hence, they should also have good writing knowledge.
4. Tools Required
The tools both designers use also decide the difference between them. Generally, both of them depend on the same design software, incorporating prototyping tools. Moreover, product designers use sketch and mind mapping tools, whereas UX designers use interactive and wireframe design tools.
Although their primary aims are the same, the connection between UX design and product design shows the difference between their ways of operation. Both of them can fulfill your business requirements.
5. Qualifications Required for Designers
There is no significant difference between the qualifications of product designers and UX designers. They are even the same in this matter:
Professional experience in the desired sector
Degree with an appropriate specialization
Precise knowledge of design methods (planning, instructing, and application)
The required qualifications for these two designers may vary from company to company; however, the mentioned qualifications are fundamental.
6. Salaries of Designers
Salaries for product and UX designers vary based on their skills, experience, location, and organization. The salary range for designers never remains the same. Since they are in high demand, their salaries keep increasing daily.
As per the report by several salary aggregate websites, product designers in the United States earn significantly more than UX designers on average.

Final Words: Importance of Product and UX Design for Your Business
Product design is about product optimization to help accomplish your business objectives, whereas UX design elaborates those business goals into user journeys. Clearing off the misconceptions and understanding the similarities and differences between product design and UX design can help you refine your business and manage and develop it better.
Furthermore, the UX and product design value are beyond making users happy. And delivering the best user experience is about making your product secure by building a powerful market presence. Good design increases client loyalty, lowers development expenses, enhances ROI, and optimizes conversion paths.
To achieve this, you need industry-best design professionals who know how to examine, explore, and hypothesize. And it helps you build significant user experiences alongside allowing your organization to make informed business decisions.

FAQs on Product Design and UX Design
Is product design and UX design same?
These two design roles look the same, but their functions are quite different. Product designers are more involved in the entire product design process, whereas UX designers are primarily concerned with improving the user experience of a product.
Why product and UX design are important for your business?
The value of UX and product design goes beyond achieving user satisfaction. The UX connects your users with your products and fulfils your users' needs. Furthermore, a great user experience enables you to create consumer journeys on your website that are most conducive to business success.