6 Reasons Why a Bad UX Can Kill the App
9 minutes read
5.3k Views
Since the first man arrived on Earth, the world has changed drastically.
Studying the history of mankind, we can easily see how man has progressed and advanced from someone with minimal opportunities to a being who defies every force to reach beyond the highest level.
Though this change is present on all levels in all fields of life, it is nowhere pronounced as in the world of computer technology and cybernetics.
The Age of Mobile Apps
As we moved from using bulky and immovable desktops to light and portable laptops and then ultimately to the very convenient mobile phones, the way we do business also changed.
From having only physical outlets and no digital presence, our organized first found themselves finding customers through websites and then added mobile apps to the train too.
Today, as many as 42% of small startups conduct their businesses through a mobile app. Out of the total remaining startups which do not already have an app, 30% are planning to build one soon.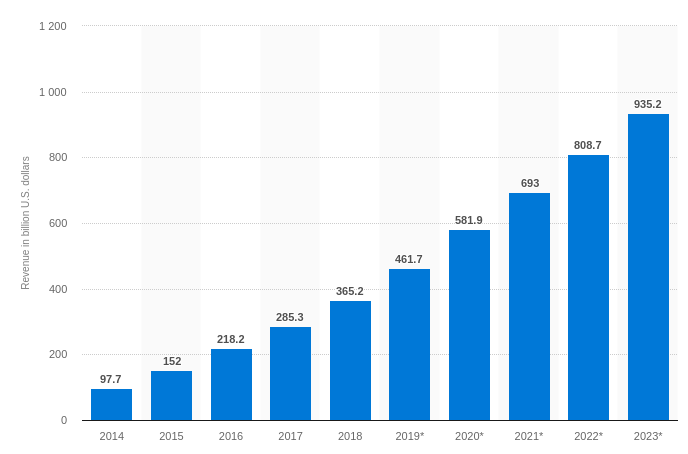 Mobile apps are expected to hit a humongous $581.9 billion in revenue by 2020!
The Benefits of Using a Mobile App for Your Business
Mobile apps have transformed the world of e-commerce and completely changed the way we do business today.
Having a mobile app has unlocked multiple doors for businesses – both small and large, and made surviving and thriving in the competitive corporate world slightly easier.
Let's see some of the most prominent ways in which having an app can help a modern business.
1. Mobile apps help your brand become popular with a broader audience
A large part of people who might be interested in buying your services and your products, shop exclusively on their mobile phones.
Developing a good app helps you tap into this unexplored market and expand your customer base. With more customers on your plate, you are ultimately going to generate more substantial revenues.
But the benefits of a smartphone app are not just limited to finding new individuals who might hire you – mobile apps are also an excellent tool for branding.
Reaching to a larger audience with your message helps you become famous and might even make you into a trend that everyone wants to be a part of!
2. Mobile apps assist in building better communication between you and your customers
Secondly, mobile apps are a superb platform to reach out to your customers and ask them what they think.
Excellent at generating quick feedback, your smartphone app can help you establish better communication between your brand and your customer, making your customer feel like you genuinely care about them.
3. Making use of mobile apps, you can appear more reliable and trustworthy
Thirdly, mobile apps can enhance your image in the eyes of your target audience. Many people today would not trust a company if it did not have some sort of digital presence.
While having a sound website is the standard, adding an aesthetic and helpful mobile app to the mix makes you appear that much more reliable and trustworthy.
This encourages your target audience to do business with you and, ultimately, contributes to a more substantial profit at the end of the month.
How Can Lousy User Experience Kill Your Mobile App?
From the above, we can see that a mobile app is an indispensable tool for all businesses – regardless of how small or big it is. But if you fail to develop a winning app, it can quickly die down and result in a loss of customers, instead of hiking the numbers up.
If your mobile app fails to meet the standards, the smartphone users today have in their minds from apps, you may end up harming your business instead of boosting it.
In the following paragraphs, we will discuss 6 ways in which bad UX could kill your mobile app.
1. Your app does not have regard for its' users time
If your app takes ages to load, your customers are not going to like it.
In the fast-paced life, they do not have enough time to stick around and wait for a slow app to stop refreshing.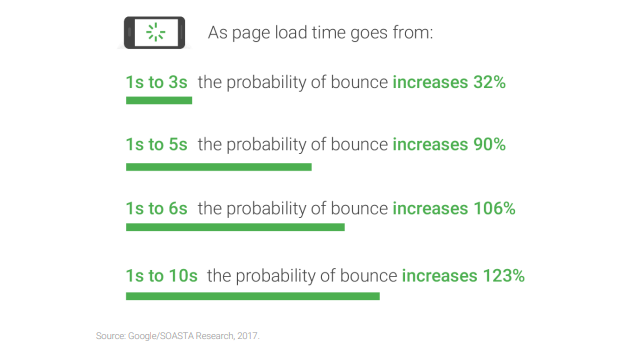 As page load time increases from 1 sec to 3 sec, the probability of bounce increases by 32%. Add a couple more seconds, and it will increase to 90%, and at the 6-sec mark, it will reach an alarming 106%!
For some exceptionally slow apps that take 10 seconds to load, the probability of bounce increases by 123%.
2. A complex and challenging to use app starts the user off on the wrong foot
Sometimes, amateur designers and app developers might add a lot of unnecessary features to make your app look 'creative' and 'unusual.'
They do this on the pretext that customers will see these unique features and think of your app as out of the box and one of a kind. As a result, they will be drawn to the app and begin using it regularly.
However, what these app designers and developers fail to realize is that many people may not understand these features because they have never seen them before.
Because of this, these unusual features are more of a hassle than something your consumers would appreciate. The key to running an e-commerce mobile app is to keep it simple and minimalistic.
In this way, you can not only guarantee aesthetics but also maximum functionality.
3. People cannot find what they are looking for
Another app design mistake that can lead to bad UX and ultimately, the untimely death of the app itself is not keeping your app organized. This is why you need experts!
Read also: Avoid Committing These UX Pitfalls When Designing an App
One of the biggest reasons people like to shop online is because, in online shopping, they do not have to search extensively through racks of items to get to the one they are interested in.
If your poorly developed app takes away the liberty to find what they want in an instant from the customers, you are killing your app.
For the above reason, incorporating a search option is so crucial for an app to become successful.
Not having the opportunity to immediately locate the product one would want and being forced to scroll through thousands of items before getting to the page you are interested in discourages the customers from doing business with you.
Poor navigation might even frustrate the user so much that they decide to abandon and uninstall the app altogether.
4. Your users want a closer look, and you are not allowing them
Not granting the customers, full access to your pictures, is another grave mistake that severely affects UX.
If you are a business selling products online, then you should know how much people want to look into the details before placing an order on the internet. Therefore, allowing users to zoom into product pictures should be a part of your basic app design.
If you limit your users to full pictures, no matter how large they are, people are going to get upset.
This might even make your app look shady and suspicious – therefore discouraging your user's e-commerce with you and bringing about a loss in your monthly revenue.
5. Your users are not moved by or relate to your content
If your mobile app contains content that fails to connect you to your users, you might as well just give up right now. It is essential to host content on your mobile app that moves the user and makes them think that you are a part of his world.
If your design is dull and dry rather than being fun and engaging, it is going to translate poorly into your revenues sheet. It is only when you develop a relationship with the users of your app that you can hope for your app to be a success.
For this, it is super important that you do show individuality and creativity. This means no more use of generic stock photos. Instead, get up close and personal by hiring professional photographers and models that your users can relate to and understand.
Trust me, this small investment will make a world of difference when it comes to how successful your app is going to be.
6. Your users do not know how to communicate their problems
Last but not least, not putting your contact information in a visible and easily reachable place on the mobile app is an instant deflection for any app user.
Not only does it make you look dodgy and untrustworthy, but it also gives off the impression that you do not care about your customers. Why else would you avoid listening to what they have to say?
To appear interested and concerned, always be available when your customers want to reach out to you. A good user-centric app design encourages users to communicate any problem to customer support – no matter how small.
If you fail to do this, your users just might get too exasperated that nobody is there to listen to them and hence, abandon your app.
Read also: How to Improve the User Experience of your Mobile App
The final word
Do you already have a mobile app to supplement your reach to your target audience? If not, are you planning to build one shortly? Are you investing enough money in your app design to guarantee a UX that is off the charts? Let me know what you are doing to ensure that your mobile app users are happy and satisfied.