While building a website, you get a scope to impress your visitors. The internet is filled with lots of info and your website must be different to attract viewers. Most significantly, it should engage them so they can utilize your content.
Irrespective of your industry, you have to follow the fundamental web design principles. You need to make it beautiful, user-friendly, and incorporate all appropriate details required for telling your story. On top of everything, your web design procedure must be encouraging.
For this reason, we check out website design trends every year. 2023 has also brought some amazing web design trends. It's a year for new solutions, originality, responsive design, and aesthetic extremes.
Top Trending Web Design Trends for 2023
It's time to take a look at the following web design trends that can make your website amazingly different in 2023!
1. Videos as Design Components
Videos are always omnipresent in website design. In case you need to add interviews or promotional videos to your website, videos are the best way to involve your audience by enthusiastically delivering crucial data.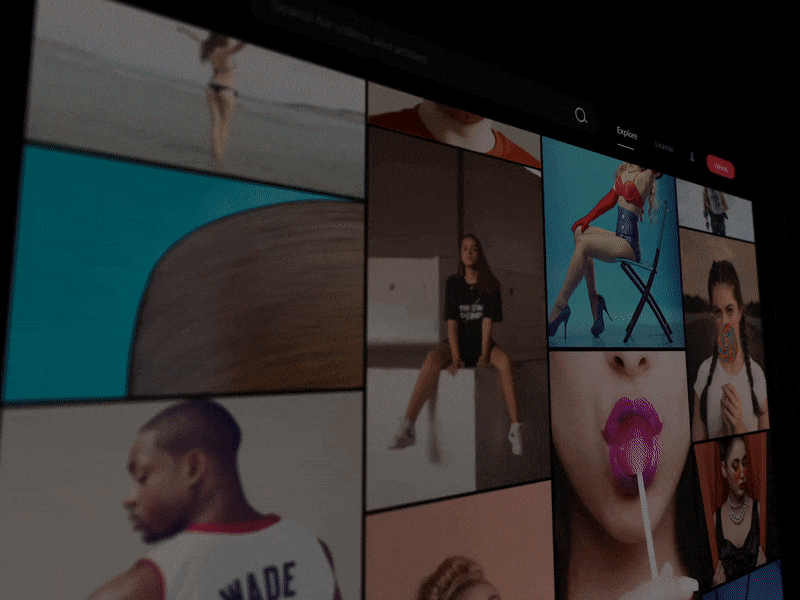 Source: Video Website Exploration
Now videos are playing a new role in website design. From being totally informational, they are converting to design elements. Due to the seamless creation of new technologies, now videos can be included in the website design in exciting and new manners.
2. 3D Illustrations
The lines between virtual reality and reality are confusing. 3D effects and strategies in the 2D space are good instances of this in action. Designers are exploring every 3D element, from animations and illustrations to scenes made with images and objects.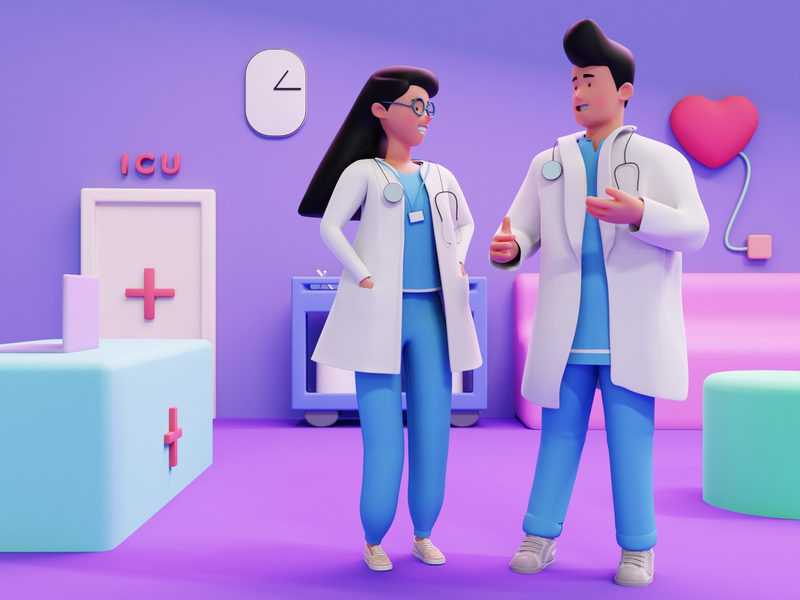 Source: Healthcare 3D Illustration
Illustrations can add 3D effects and intensity with shadows and simply the right concept in the creative procedure. And this might cause something that has a more realistic feel.
3. Organic Shapes
Although geometric shapes were one of the big web design trends in 2019, organic shapes have taken place in 2023. Fluid or organic shapes are everything that does not include straight lines. These are the shapes that occur in nature, such as a river or lake's edges, hills, and how they are winding and asymmetrical.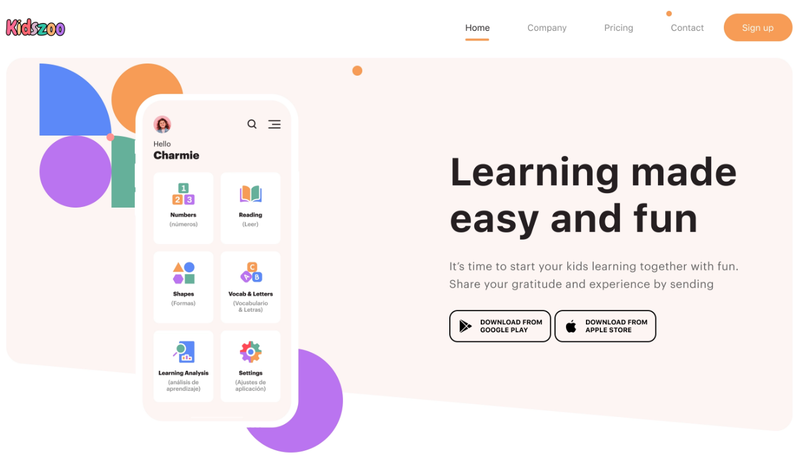 Source: Kidszoo Landing page
Organic or fluid shapes can amazingly break up a website's segments without rough angles or lines. Moreover, they can be perfectly utilized in the background, like the way Android utilizes circles behind every item on their homepage.
4. Dark Mode
Dark mode is one of the most popular web design trends for 2023. It is trendy as it offers a low-contrast application or website that you can easily browse through in low light environments. It helps you highlight a particular content type as well.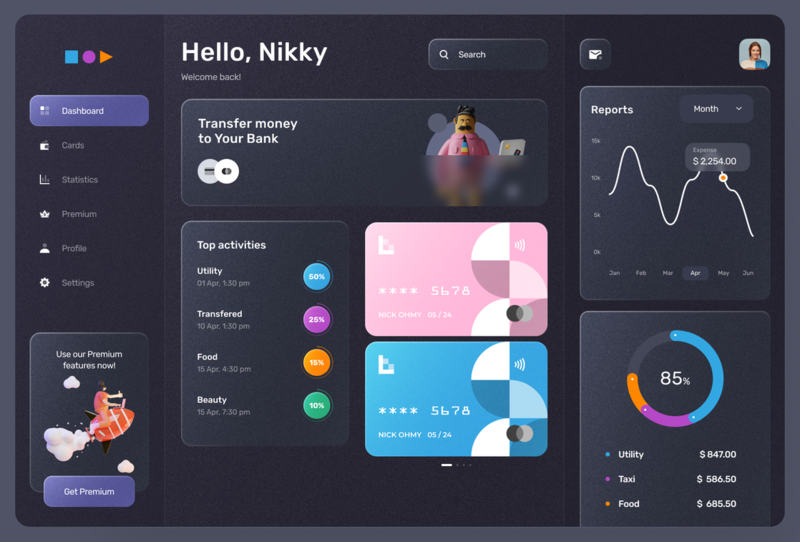 Source: Finance Dashboard
Some other reasons to go for this trend include:
Dark mode works as a battery saver.
It gives your device a cool and modern appearance.
Your eyes don't get stressed while using a device in low-light environment.
5. Changes in Scrolling
The changes in scrolling have already transformed the way users operate websites. This latest trend is going to stand out in 2023 with the transformation of scroll animations, horizontal scrolling, and scrollytelling.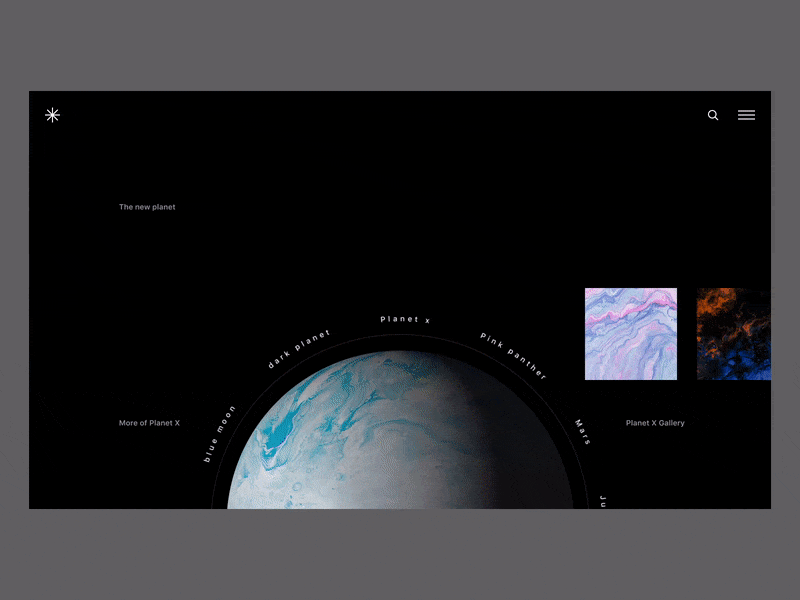 Source: Planet X landing page
This is why websites are getting more accessible and engaging instead of just playing a media role that connects users with web activities. These transformations not just help users get more engaging experiences but gather basic info from websites.
6. Parallax Animations
Parallax is an optical illusion that we see in our daily life. It occurs when nearer objects seem to move quicker than distant objects. The parallax effect on website pages looks so surreal and real.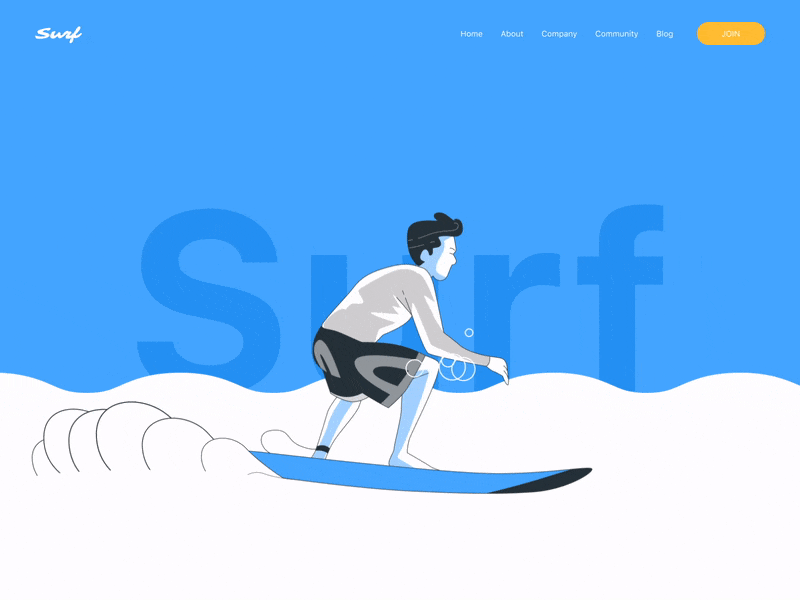 Source: Surfing
The use of background and foreground for creating depth has another advantage of immersion. It converts the computer screen into closer to a theatre stage. Since users browse through website pages, they consider its performance as magical.
7. Maximalist or Minimalist Extremes
Both maximalist and minimalist web designs are in trend in 2023. Minimalist website design grows on simplicity, uncovering extra design elements. However, its less-is-more strategy can make a powerful impression on the target audience, offering them an easy user experience.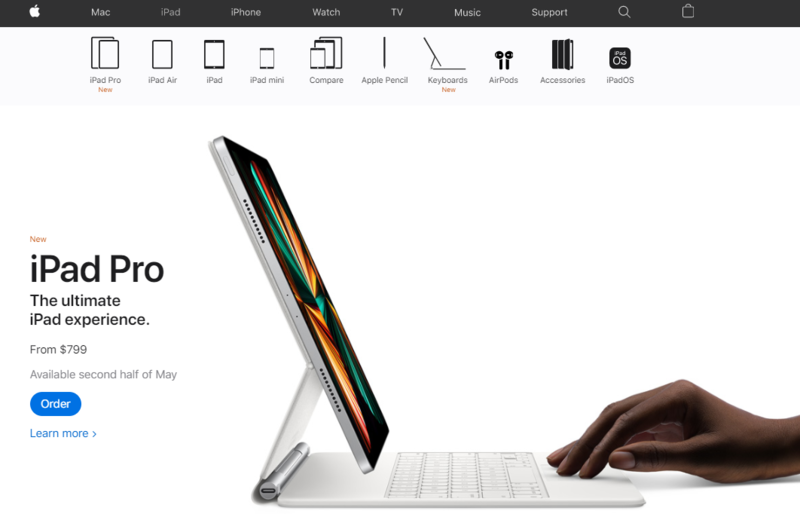 Source: Apple
On the other hand, maximalist web design will focus on a no-holds-barred tactic in 2023. This approach gives value to creative expression rather than order. The advantage of adopting a maximalist web design trend gives you more freedom and there is less restriction when it comes to sharing your ideas.
8. Light Colors
Want your visitors to keep looking at your web pages? Then, opt for light colors. This kind of low-saturation, comfortable colors are sometimes grayed-out or dulled, just like a cloudy day.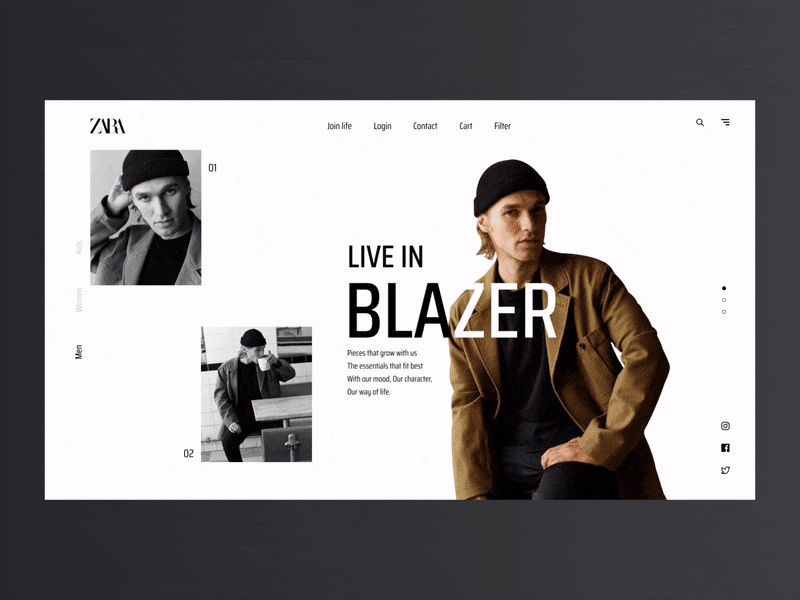 Source: Zara website redesign exploration
Many web designers utilize muted colors for displaying minimalist looks. Moreover, these colors also offer a more elegant and natural feel.
9. Cursor or Mouse Actions/Icons
You might miss this small trend if you don't focus on your cursor or mouse actions. As you hover, click, or scroll your cursor or mouse, their states transform into interesting things. This amazing trend not just displays the capacity of the design but helps make users happy.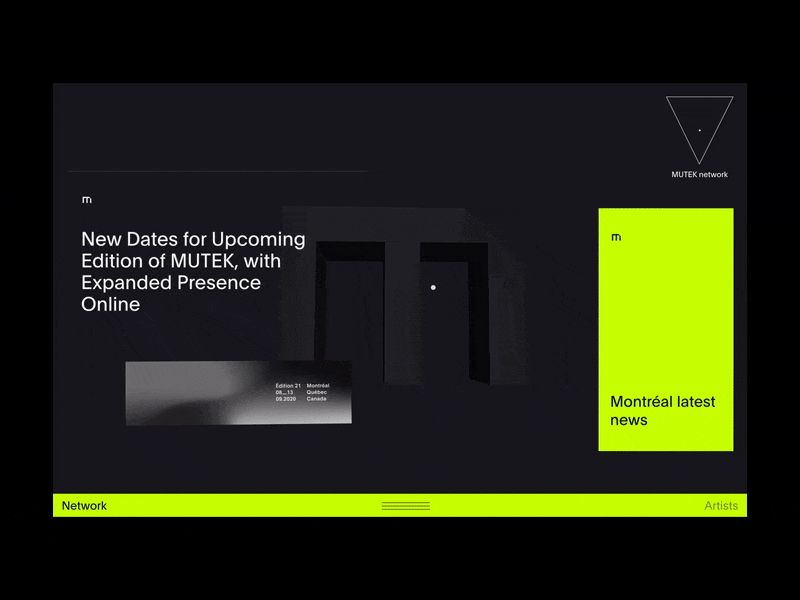 Source: Menu and filter
This fun trend makes users want to browse from their desktop even more as its many small effects do not feel similar on a mobile device.
10. Neumorphism
This is one of the most popular and ongoing web design trends in 2023. It contains 2 concepts – material design and skeuomorphism. Although it executes a minimalist approach, it serves a sense of 3D in the form of buttons and other design elements.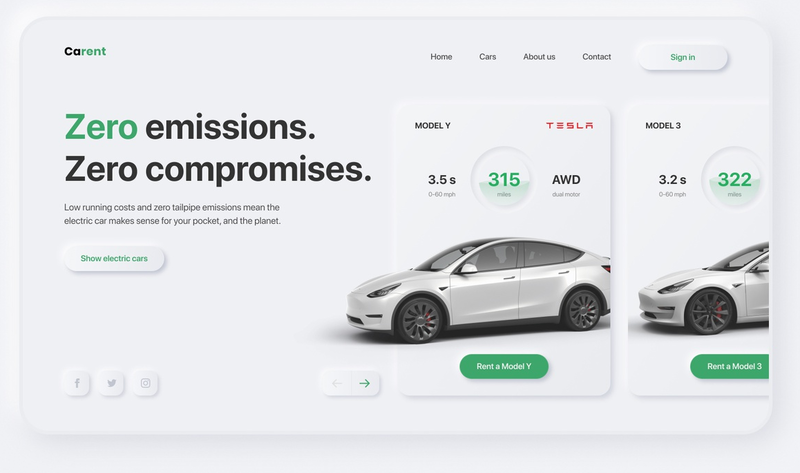 Source: Rent a Tesla – Website Concept
Neumorphism depicts the color of the full screen and gives an outstanding user experience. At the time of selecting a color, choose a color that glorifies the shadows on a neumorphic web design. All in all, it gives an exclusive look.
11. Retro Fonts
We have seen many cool fonts before, but now they have become very uncool and fell out of favor. However, instead of simply reusing the previous typography, designers these days are reimagining those conventional typefaces for 2023. Vintage fonts of past decades are now featuring new shades and have come with a new fresh look.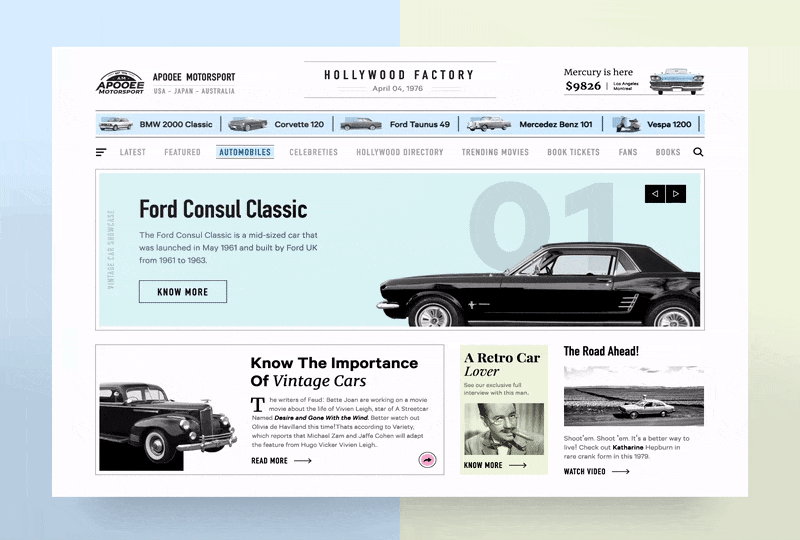 Source: Retro Car News
12. Vector Art
You can always add exclusive graphics to your website to enhance its look. It does not mean you will sacrifice its loading time and quality. However, it is quite challenging in terms of website designing. Vector art is the best solution to this difficulty.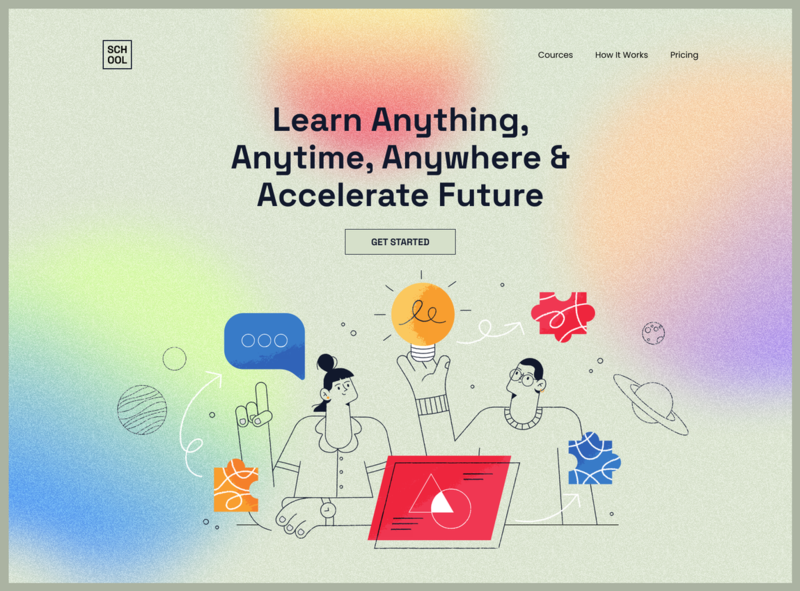 Source: Educational Website Landing Page
The files' SVG format enables users to scale the visuals as per their requirements while keeping up with original graphics' quality. Vector art files' availability makes us expect that website design trends in 2023 will experience the growing existence of these highly amazing illustrations.
Bottom Lines
We, as a leading web design company, predict to see eye-catching, captivating, bright, and clean websites. The websites should use video and animations to boost the user experience.
Moreover, we predict to get a thumb-friendly design that can positively influence our brands and revenues. If you are planning to design a user-friendly and modern website, keep the aforesaid trends in mind.
FAQs About Web Design Trends
Why is web design important for a business?
Web design is foremost for any business because it impacts how your audience judges your brand. Good website design boost sales, enhances usability, and increase company's value.
What makes a good website design in 2023?
Numerous different elements go into good web design in 2023. But, some of the crucial elements are structure, user experience, security, and visual presentation.
How much does a website design cost?
The cost of web design depends on several factors such as the complexity of design, number of features, country of a development team, etc. Contact us with your requirement to get the exact web design cost.