Cloud Business Intelligence: An All-inclusive Guide to Making Your Business Go Places
14 minutes read
7.1k Views
Have you ever wondered about all those popular brands' theories due to which they win their audiences' hearts? How do they run their business and what do they do to strategically optimize their business process? Well, it all comes from the mines of data where they dig in until they do not obtain actionable insights regarding their target audience.
Cloud business intelligence is the way to get you toward the mines of data. Using business intelligence tools, you are enabled to get lots of valuable insights about your users and other relevant data. But, BI tools were earlier used by large-scale businesses until cloud BI came into play.
As of today's date, cloud business intelligence is an integral part of businesses of all sizes to make their process easier, The worldwide business intelligence market will grow to $33.3 billion by 2025. Let's walk you through every crucial side of cloud BI for your venture to reach heights:
What is Cloud Business Intelligence?
Cloud business intelligence is nothing but the amalgamation of the two technologies that is cloud computing and business intelligence. It's basically for the businesses to fetch valuable data about users through BI tools on cloud infrastructure that can be accessed with virtual networks along with the internet.
The traditional business intelligence models were not quite scalable to offer a seamless experience to the businesses and to provide solutions against every query raised by businesses. After the integration of business intelligence with cloud computing, it was monikered again as "cloud BI" which is pretty easy to deploy.
As it leverages the cloud infrastructure, it can be used by multiple users having the scalability, performance, and speed unaffected.
In the concept of cloud business intelligence, cloud computing serves as a platform for data like dashboards, KPIs, and other business analytics. It allows BI tools to be accessed by various businesses to collect a wide range of data.
Why does Cloud Computing in Business Intelligence Make a Perfect Pair?
Though we all are quite fascinated by the concept of cloud BI; let's discuss some more reasons to know why these both technologies make a great pair:
1. Cloud BI is good at security
Cloud BI software is pretty good at security. The application's enhanced security enables the data analysts to work with data without letting anyone involved in it. Well, moreover, the eminent cloud service vendors like AWS (Amazon Web Services) have most of the solutions deployed by their platform.
2. Its platform is comparatively affordable
As mentioned above, the conventional business intelligence solutions had not deployed the modern features yet they were a little costly. Thus, highly-scaled companies were generally associated with business intelligence platforms.
But, soon after business intelligence integration with cloud computing made things effortless for the business landscape. The best of these two technologies emerged under the roof of Cloud BI and came as a savior for every type of business due to its affordability and scalability.
Earlier; apart from spending on conventional BI tools, businesses were investing in big-budget hardware and software, that too with maintenance costs. Unlike traditional BI tools, a cloud computing platform takes care of its maintenance costs on its own.
The implementation of business intelligence on the cloud has made things simpler, effortless, budget-friendly, and savvy.
3. Seamless integration with other databases
Integrating cloud-based business intelligence systems with other databases and software to provide easy data flow is quite effortless.
Business intelligence solutions utilize data from different social media platforms in order to do real-time sentiment analysis. Remote data can be shared irrespective of geographical location.
Moreover, it saves you the cost of paying experts to prepare datasets. It smoothly does the process of acquiring updated insights to help businesses in making decisions effectively.
4. Scalability is perfect in Cloud BI products
Cloud business intelligence solutions help you set your BI system according to you without having to spend anything additional. After all, you are paying for the space you have used, so you can modify the BI system as per your requirements without any supplementary hardware installation or modification.
5. Scalability in Deployment
In the concept of business intelligence, data analysis plays the most important role; in fact, everything in this concept revolves around the same. Well, ease of sourcing this data is only possible when it's integrated with cloud business intelligence tools. With Cloud BI, additional data can be accessed with ease along with processing the resources.
On the basis of data handling and analysis, the number of users is scaled in and out without worrying about the additional installation of hardware or software. All of this takes place at quite an affordable price.
6. Cloud business intelligence solutions are reliable
Well, gone are the days when you used to worry about reliability and security issues. With Cloud computing, you get reliable and safe data backup and storage places. It serves as a backbone for the business that is in the stage of revamping its services to be flourished in the market again.
As there are diverse security features and protocols implemented in cloud BI, cloud business intelligence solutions are the best at maintaining their safety and security. Even there is a feature of fingerprint and voice recognition authentication to make sure that the data is accessible to the authorized users.
7. Cloud business intelligence solutions walk along with the trends
As long as you are exploiting a Cloud BI product, you do not need to worry about the updates and trends. The cloud vendors of their cloud BI product consistently update their solutions.
So, when it comes to the usage of cloud BI, you are always using something that's never out of the trend as their solutions.
8. Cut down on additional expenses
The biggest advantage is its flexibility which you can see in its total cost of ownership. Businesses are supposed to pay only for the services that they have actually used. Cloud BI products enable companies to better modulate the CAPEX and OPEX associated with non-core tasks.
Deployment Models of Cloud Business Intelligence
After understanding the importance of cloud BI and what benefits these both technologies offer as a merger, it's time for us to know about cloud deployment models: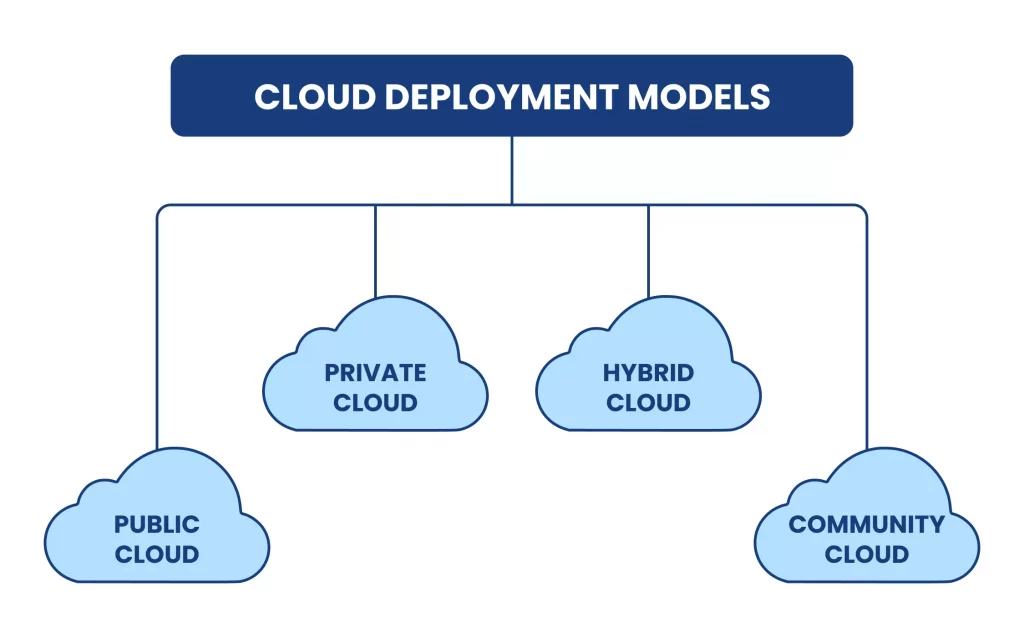 Public Cloud
The term public clearly indicates that this particular cloud infrastructure is shared by more than one person; multiple users are there. It has a large capacity pool due to its multitenant architecture, this is the crucial aspect of cloud computing when the same computing solutions are accessible to multiple users. However, users are not aware of the other users, each user's data is being recorded individually.
This cloud infrastructure is one of the lucid and budget-friendly cloud BI deployment models, it's an ideal option for small-scale and medium-scale businesses, also for the businesses that manage big-data workloads.
Private Cloud
Now here comes the most expensive cloud deployment model of all: private cloud. These kinds of cloud infrastructures are generally for organizations that are pretty much concerned about regulatory compliance and data security.
Also, the private cloud infrastructure is used by organizations that are capable of building their own IT infrastructures such as healthcare organizations, banks, and others with a large spectrum of niches and services.
Here the fun fact is in spite of the surging expenses, the private cloud is still a bit more budget friendly than traditional IT infrastructures. This is a reason why private clouds are popular among highly-scaled organizations.
Hybrid Cloud
This cloud infrastructure is a combination of both public and private cloud infrastructure. It's ideal for the organizations that can dissociate the data that call for robust security from the one that does not. In such cases, opting for a hybrid cloud infrastructure works the best for such organizations.
Basically, you will be eligible to obtain the traits of both public and private cloud infrastructure for your BI solution.
Community Cloud
This cloud infrastructure helps with computer resources that are generally accessible to other businesses and organizations but, like the private cloud, its users are lesser than other cloud infrastructures.
The key benefit of this cloud infrastructure is the division of costs and increased compliance. But, the fact remains that community cloud infrastructure is costly for small-scale businesses and entrepreneurs who have just begun their ventures.
Moreover, you can go through a thorough guide if you want to know more about all types of cloud deployment models in detail.
Factors to Consider When Adopting Cloud BI Solution for Your Business
After going through the key advantages of cloud business intelligence, you must be excited to know the process of its deployment, but have you examined your business requirements in detail? Choosing cloud business intelligence must be rationalized in your mind, but have thought about the factors?
Here we are going to discuss the factors that help you decide the type of cloud deployment model you should opt for:
1. Factor of processing data
What is the purpose of your data? Are they real-time, or is it for data storage analytics functionality that has nothing to do with real-time information? Well, the processing of data includes the following points that you need to make sure they are being conducted correctly:
Data should be gathered from different sources
Data should be processed for high-quality insights
Data should be converted into a properly accessible format
Moreover, you need to ensure that BI cloud solutions call for proper data integration as well. These points are the pillars of proper data processing.
2. Factor of safe data and data synchronization
The factor of security is the most significant factor for the data that's going to be put into the BI cloud infrastructure. This very factor has to be kept on a prior note as businesses expect their data storage is put into the BI cloud after being practiced by legal and auditing requirements.
While you are consulting a cloud vendor, you have to ensure that he's following the practices like SOX, HIPAA, C2 audits, or PCI.
3. Factor of seamless BI architecture
Cloud BI architecture is an infrastructure that is deployed by businesses to use BI tools and analytics applications. It comprises computer hardware and virtual tools to collect, combine, and examine business intelligence data.
Here are the factors you need to consider while selecting a seamless business architecture:
Cloud-based data stores
Data warehouses supply information from certain sources into a repository. Google BigQuery, Snowflake, and Microsoft Azure are the most reliable sources of data stores across the globe.
Availability of cloud warehouses
Many cloud warehouses out there, extend their availability across numerous zones or data centers, including availability in their design. What sometimes happens is that they switch their operations to other data centers and users leave uninformed.
Scalability
Well, cloud storage in terms of business intelligence requirements should be scalable enough to be worked on rapidly when it comes to increasing or decreasing the data. The scalability of the infrastructure has to be capacitating enough to work properly irrespective of data quantity.
4. Choosing an apt software development vendor
An efficient cloud computing solutions provider will walk you through proper BI implementation procedures till their end. You should examine your work experience and ensure that the vendor is competent enough to guide you through this project efficiently.
Most Popular Cloud Business Intelligence Software
After considering the factors related to cloud BI, let's learn about the top software that is generally utilized when it comes to cloud BI:

1. Looker
Looker is the web-based business intelligence and data visualization platform that is deployed by many organizations for creating real-time dashboards and business reports.
It's mainly known for the modification of (GUI) Graphical User Interface based user input into SQL queries and then pushing in live mode to the database. Its pricing module is based on the requirements of the organization based on which it offers customized services. Looker's key offerings include:
Looker's modeling language
Embedded Analysis
Looker API
Data visualizations, dashboards, and components
2. Tableau
Tableau is mainly known for its user-friendly interface that enables users to integrate large-scale data, do advanced data analysis, augmented data preparation, secure collaboration, and so on. Tableau's key offerings include:
Tableau Server Management
Tableau Data Management
Tableau Prep
Tableau Server
Tableau Online
Tableau Mobile
Embedded Analysis
This software also holds a great space in businesses.
3. Power BI
Last but not the least; the software Power BI tops the list when it comes to business intelligence software for analytics. Its budget-friendly pricing module makes it a perfect choice for all types of organizations.
Despite offering cost-effective services, it's very brilliantly designed software and it's capable of managing a variety of analytical issues.
Power BI's key offerings include:
Power BI Pro
Power BI Premium
Power BI Embedded
Power BI Report Server
So, these are the top 3 software that play an important role when it comes to cloud business intelligence.
How MindInventory Can Help You With Cloud Business Intelligence Solutions?
We at MindInventory, provide you with on-demand access to the most recent, highly performing, and revolutionary technologies to help you optimize your business operations. Our cloud BI services allow you to expand your business without taking care of heavy softwares as we offer you endless space by reducing unwanted hardware, by enabling you to save you money and enhance mobility.
Well, if you are looking for an apt cloud BI assistance for leveraging the same for your business; we would love to contribute with our in-depth technical experience in the same.

Wrapping Statement
It's pretty fascinating to know how two different technologies' integration can help you obtain a seamless experience. The synergy of cloud computing and business intelligence is an ideal example of the same.
This complete guide enables you to witness how the concept of Cloud BI offers you cutting-edge services with budget-friendly price modules, unlike conventional business intelligence tools.
FAQs on Cloud Business Intelligence
What is SaaS BI?
Software as a Service business intelligence (SaaS BI) is a delivery model for business intelligence wherein applications are deployed outside of a company's firewall at a hosted location and are accessible to the end users with a safe and secure Internet connection.
What are the challenges of cloud BI?
The key challenges businesses generally face are related to connectivity, data governance, and operations & maintenance. These are the highly faced challenges while businesses work with Cloud BI.
How does cloud BI work?
Cloud BI is the process of transforming data into actionable insights, it can be done either partially or fully in the boundaries of the cloud environment. Cloud BI renders organizations the data and information they require to make data-driven decisions without the cost or fuss of a physical hardware.
What are the 5 stages of business intelligence?
The 5 stages of business intelligence are: data sourcing, data analysis, situation awareness, risk assessment, and finally, decision support.