How to Develop an EV Charging Station Finder App?
9 minutes read
8.3k Views
The arrival of electric vehicles is the most significant initiative toward going green and making our environment cleaner. With the constant evolution in the automotive industry, the EV market has experienced massive development over the past decade. And the growing demand for a greener environment has raised the need for creating an EV charging station finder app.
We still have fewer electric vehicle (EV) charging stations, so businesses are developing EV charging station finder apps. By building such an app, it becomes easier for you to find the nearest EV charging stations. Moreover, you can make the payment directly via that app and book a charging slot beforehand.
If you want to develop such an app, you should know what it is, its functions, business model, features, required costs, market trends, user expectations, and more. Let's read on!
What Is An Electric Vehicle (EV) Charging Station Finder App?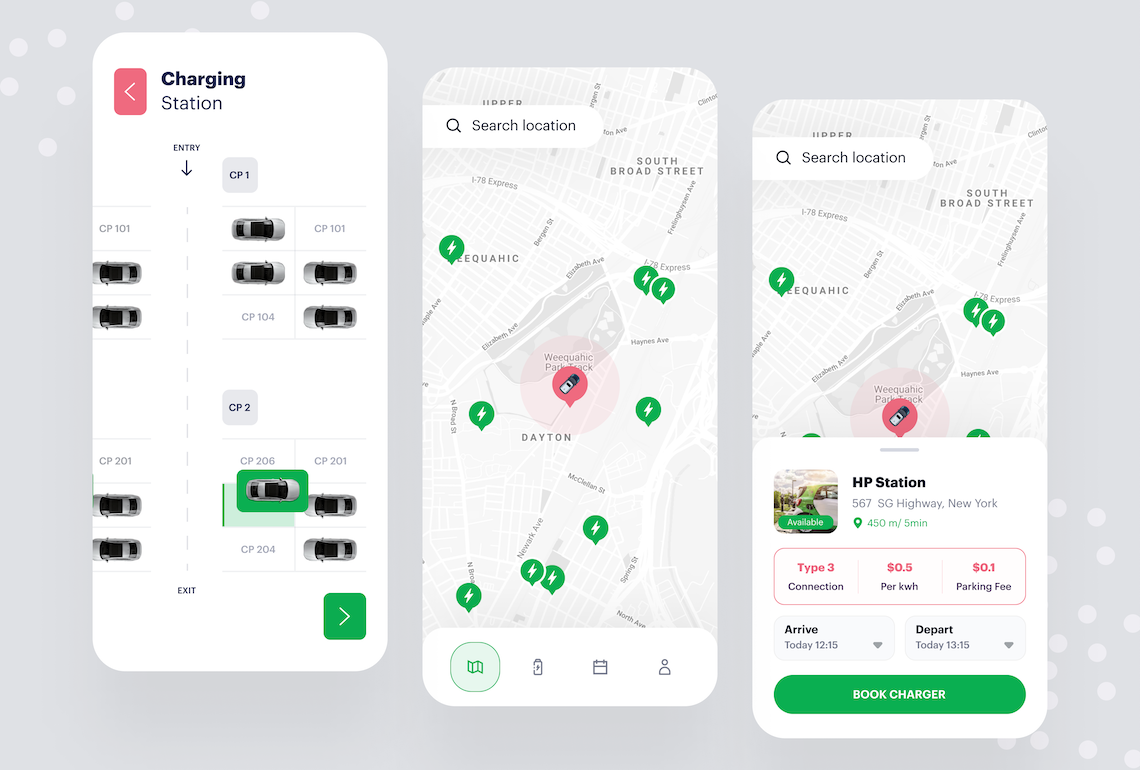 Source: EV Charging App
It's an electric vehicle charging station finder app that shows the nearby charging stations in a location. The app gives info like the kinds of plugs the stations support. Through this app, users get access to the real-time availability, images, ratings, and descriptions of the charging stations.
Moreover, these apps let users discover and add electric vehicle charging stations. And they can enable notifications, which notify them when a charging station is closer.
How Does An Electric Vehicle Charging Finder App Work?
Here is how an EV charging station finder app functions:
If you are a car owner, you need to register on the app with your phone number, email ID, and password. Or, you can sign up quickly with your social account.
After signing up, you have to enter your area or enable Geolocation to give the app access to find your location. It shows the nearest charging stations.
You can browse the closer areas and check essential info about those stations, such as compatible EV, images, details, costs, and availability.
You can book a slot beforehand to save your time. Otherwise, you can visit a charging station and get your car charged.
Advance slot booking via the app helps you check the charging level and progress in your app.
Furthermore, you can see the amount you have to pay and make the payment at the charging station or through the app.
Why Invest In An EV Charging Station App?
Investing in an EV charging station finder app development is beneficial in several ways. Because it is still a secure point in the marketplace with low competition.
The global EV market is predicted to increase at a rate of 26.8% per year from 2021 to 2030. In 2021, the number of EV units is more than 4,093k. This number will reach 34,756k by 2030.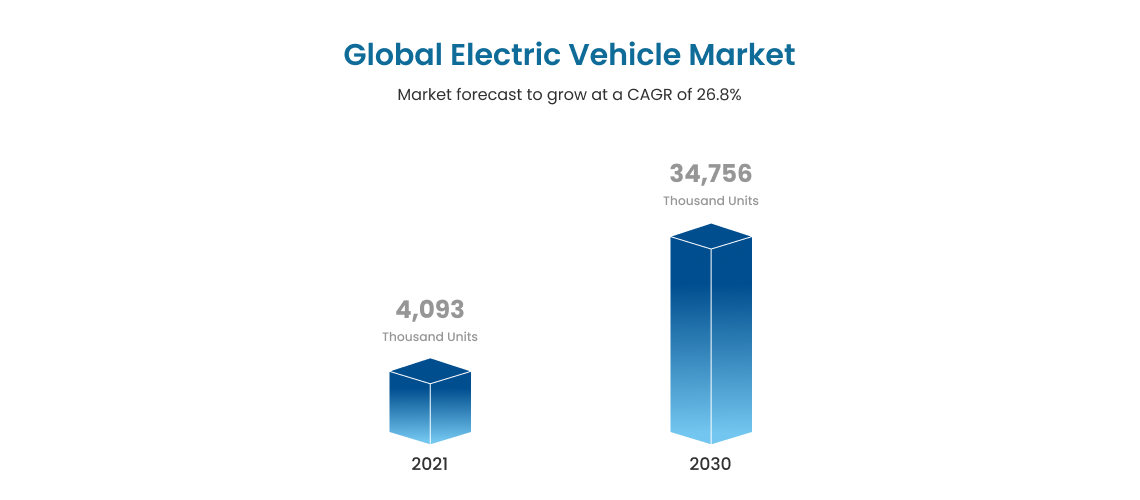 According to a report by Meticulous Research, the electric vehicle market worldwide will grow at 33.6% every year from 2020 and will cross 2,495.4 billion USD by 2027.
In 2020, there were more than 1.3 million publicly available EV chargers worldwide, of which 30% were fast chargers. Since EVs become more prevalent and widespread, the number of EV charging stations will grow significantly.
The value of the EV market in India was 5 billion USD in 2020. It is expected to reach at a massive CAGR of 44% from 2021 to 2026, the market value will be more than 47 billion USD by 2026.
These market statistics show that the EV market is developing rapidly. The main reasons for this development are the requirement for zero-carbon-emission transportation and the government's initiatives for supporting zero-emission vehicles through subsidies, tax rebates, etc.
The EV charging stations will grow with the increase in the number of EVs. Although there is low competition, the app concept is not very common. Hence, by developing an EV charging station locator app, you can take an excellent initiative for running a fruitful business in the future.
Business Model of EV Charging Station App
You will significantly look for monetization opportunities after making an EV charging station locator app. Some business opportunities through this app include membership fees, advertisement, transaction commissions, etc. Let's discuss them in detail!
1. eCommerce Integration
In a business model, you want to make some profit without making others annoyed. ECommerce integration facilities through membership can give you that profit. To use this app, users need to subscribe to it by paying a membership fee.
Therefore, you can earn every time a user pays to subscribe to your app. If you want to provide a free membership opportunity, you can also charge them for booking a slot at the EV charging station and get payment from both the charging station and the user.
2. Advertisement
It is the most standard money-making method. An EV charging app displays ads through videos, sidebars, pop-ups, etc. Many applications don't charge a fee from users for using them, but they show some ads and their earning comes from ad fees.
Key Features of an EV Charging Station Finder App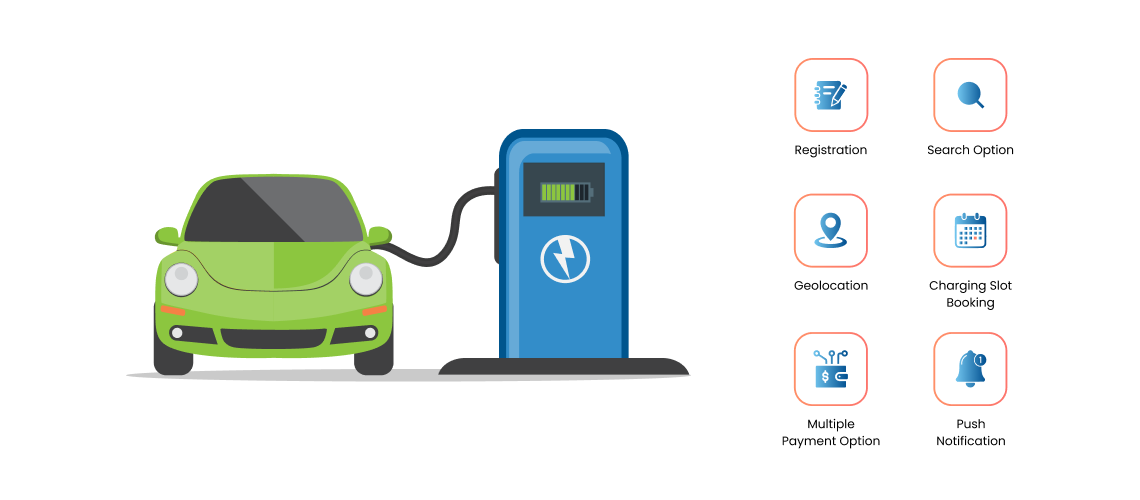 Here are the key features that should be included in an EV charging station finder app:
1. Registration / Sign Up
Every new user needs to sign up with their email ID, phone number, and password to use an app. You can register through your social accounts like Gmail or Facebook.
2. User Profile Creation
Users can edit their profiles and make changes to them in no time. They can add their profile images, vehicle numbers and models, and their names.
3. Nearby EV Charging Stations
When users enter their location, the app accesses it and displays the nearby charging stations. It saves users time and effort to search for this service.
4. Geolocation
An app requires accessing the users' smartphones' real-time locations to display the nearest charging stations. If you want to search for charging stations manually in an area, you can enter the place and see the options available.
5. Filters
You can use advanced filter options for searching according to what you entered. You can apply different filters while searching for an EV charging station to find exemplary service. It saves your time.
6. Station Details
An EV charging station locator app displays relevant information about every particular station and its service facilities.
7. Charging Slot Booking
An EV charging station locator app allows users to book a time slot for charging their cars in advance.
8. Various Payment Options
You can integrate the payment gateway as per your country or location. Give your users access to select different payment methods in your app. These methods help them pay at their convenience. For instance, you can integrate to pay with eWallets, UPI, PayPal, a debit or credit card, etc.
9. Users' Feedback
After charging your electric vehicle, you can rate it according to your experience and give ratings about the charging station. It's an essential feature for a brand as it helps enhance the service quality and other aspects of a charging station and its service provider.
10. Billing History
Users can check their billing history, the power they consumed, and the cost they need to spend daily, weekly, and monthly. The billing history feature helps track the bookings incorporating the energy consumed and the payment made by users.
11. Push Notification
An EV charging app can send notifications or alerts to update users regarding nearby charging stations and give reminders regarding upcoming bookings, new arrival offers, etc.
12. AI-Powered Chatbot
AI-based chatbots can respond efficiently to support and answer users' queries whenever needed. Moreover, they can transfer the non-answerable questions to the team that handles these things.
13. EV Journey Planner
When users plan a long-distance trip, they need to accredit their vehicles at different positions. You can integrate a trip planner feature to make everything feasible for users. The feature enables the access of starting and destination circumstances of their tour.
14. In-App Navigation
It functions via GPS and uses a maps API like Google Maps. The feature enables users to find EV charging stations in real time on the map. Moreover, it gives directions to the charging points.
15. Reward Points
Regular use of an EV charging app gives users some reward points in the form of promotional coupons, discount vouchers, free one-month membership, and more. These rewards help you create loyalty among users and grab more users' attention to your app.
Essential Technology Stack For EV Charging Station App
It is essential to choose the right technology stack for a mobile app development project, and it should be done carefully. Use the following modern technologies to create an EV charging station finder app: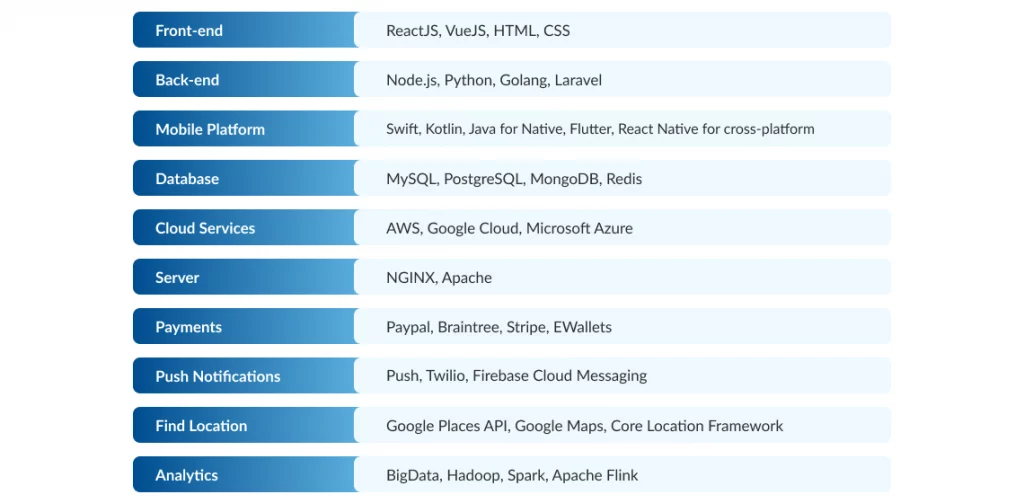 How Much Does It Cost to Develop an EV Charging Station Finder App?
The cost to develop an EV charging station finder app majorly depends on many factors. The influential factors are the development platform you choose (Android, iOS, or both), app complexity, the location of the app development company you choose, and features you want to integrate in the app.

Conclusion
With some great features and functionalities, we expect to get many electric vehicles on the market in the future. The rising demand for EVs increases the need for charging stations and station locator apps also. So, if you are planning to create such an app to meet users' expectations and win the competition, hire an experienced app development company in no time.