"Book local doctors who take your insurance," with this app concept, ZocDoc – a leading doctor appointment app in the USA has won the hearts of citizens. And became their first-rate choice to book online consultation with local doctors available nearby.
With ZocDoc, Practo is also gaining traction across 20+ countries worldwide in the industry of doctor-on-demand app development due to its dedicated business model.
These are only two of 1860+ online doctor's consultation booking app-based businesses, but there's a sea of such healthcare apps worldwide. As more and more businesses are joining this force, there must be a catch.
If we talk about the market statistics, the revenue of the online doctor appointment booking segment is projected to reach USD 927.09 million by 2028 at a CAGR of 13.4%. It's a clear opportunity to invest in this online doctor appointment app concept. And doing the competitors' study before getting into force is always beneficial.
So, let's dig into this guide and start exploring expert analysis on doctor appointment app development!
What is A Doctor Appointment Booking App?
As the name suggests, a doctor appointment booking app or system is a digital product that allows patients to book an appointment with a doctor and lets doctors manage their consultation schedule based on availability.
Apps like this are crafted to simplify the process of finding and booking medical appointments, making medical services more convenient and accessible for patients.
It can be a hospital-specific app to manage the schedules of all doctors associated or individuals associated with a public repository like Zocdoc and Practo, helping them get digital presence and patients.
How Does A Doctor Appointment App Like Zocdoc And Practo Work?
As you are developing a doctor appointments booking app like Zocdoc and Practor, you must be curious to know the working of these apps to decide your app's flow. So, here's the step-by-step process for users to get started with this app to book their appointments with doctors meeting their requirements:
User Registration and Profile Setup
Before getting started with any app, the user, whether he/she is a patient or doctor, must create their user profile and add details.
If the user is a patient, they must provide information regarding allergies, previous major treatments and surgeries, ongoing medicines, etc.
If the user is a doctor, then they have to provide information about their education, specializations, achievements, major surgeries conducted, and more.
Do Advanced Search and Check out Review and Ratings
The type of doctor, the patient is looking for, can be many searches away. Hence, they need a power app packed with advanced search filters to find the right match of doctors who fall into their criteria, offer good patient experience, effective treatment plans, and have achieved great ratings and reviews.
Schedule Appointments
Once the patient finds their ideal doctor for their treatment, they can check out the available appointment slots from the doctor's calendar for the day and time they want to make it. In most cases, such apps offer real-time appointment booking, so there are no chances of overlapping the appointments.
Once the patient books appointments with the doctor, its notification goes to the doctor's app, from which doctors can confirm or reject the request. Once they accept the request, the patient's app will notify them regarding their appointment approval.
Integration with Personal Calendar
Doctor appointment booking apps like Zocdoc and Practo do have integration with personal calendars. After the appointment confirmation, the reminder for this event will be created in patients' and doctors' personal calendars so they can never miss out on attending that medical consultation.
Telehealth/Video Consultations
Both ZocDoc and Practo have this option for video consultation, also known as telehealth consultation. Using this, patients don't need to visit the doctor in person; instead, they can meet through video conference and bring solutions to minor medical issues.
Prescription Creation, Renewal, and Follow-ups
After the consultation, some doctor appointment apps do provide features to create digital prescriptions for the patients, renew them upon required conditions, and update them after follow-ups. This way, patients can have a history of their prescriptions, which they can use if they want to take a second opinion from other doctors or for future medication.
Give Review and Ratings
After the online doctor consultation call is over, the medical app will ask patients to provide reviews and ratings. Using this, they can rate and give reviews about the doctors to help other patients find that useful and make informed decisions.
Payment Process
It is the final process, which asks patients to pay doctor's consultation fees online. Here's a catch, some apps can do this process after the appointment is over, and some ask at the moment of booking a consultation. This is highly recommended to ask patients to pay appointment booking/consultation fees at the time of appointment approval to avoid end-time hustle-bustle.
Read also: How Mobile Health Apps Proving to be a Boon for the Patients
Why Should You Develop A Doctor Appointment App?
Well, the benefits of a doctor appointment app development can vary according to the business and entity type, such as hospitals and individual product-based businesses. However, the end goal will intersect and benefit them in the following ways:
Wide Network of Doctors
Telemedicine and doctor appointment booking apps have a huge network of doctors and healthcare service providers. It also gives patients a range of selection of doctors with different specialties to find the right-fit doctor for their specific needs.
So, whatever your requirement is, whether related to skin issues, primary healthcare, mental wellness, gynecology, etc. These apps have access to doctors of all specialties.
Convenience
Whether the user is a patient or a doctor, this appointment booking app offers convenience to both. These kinds of apps are often user-friendly, easy to navigate to search right-fit doctors, schedule appointments with doctors, and for doctors to approve appointment requests.
Enhanced Access to Healthcare
Though the app is called a doctor appointment booking app but offers access to more healthcare services, including online doctor consultation, online medicines ordering, lab test service at home, finding nearby trusted surgery/medical emergency centers, and more.
This app is beneficial for patients, especially to the ones living in remote areas or underserved areas. So, they can consult medical specialists from anywhere, avoiding the need for physical travel.
Improved Patient Experience
The concept of a doctor appointment system helps to streamline the entire booking process, making it easier to consult a doctor. All patients have to do is find the best doctor meeting their requirements, check for their availability, book an appointment, and attend their consultation. This better usability of the system helps to improve the patient experience at booking a meeting with the doctor.
Increased Patient Engagement
As the app gives patients an easy way to book an appointment with a doctor, they can engage with the healthcare provider more conveniently. With this, the patients can feel more involved in the treatment procedure and healthcare decisions.
Reduced Administrative Workload
Your healthcare app also offers you to automate your appointment scheduling, rescheduling, and cancellations procedures, resulting in lowering administrative workloads and burdens on healthcare staff. With this relief, the reception/administrative staff at your hospital can focus more on patient care and other healthcare assistance.
Efficient Time Management
Using this app, doctors can check and set their schedule according to the booked appointments. This way, they can even reduce patients' waiting time and reduce the chances of overbooking and missing appointments.
Real-time Availability and Updates
Such apps are implemented in such a way that shows patients' real-time availability of doctors. For example, the closest possible appointment available for the doctor, their online or offline status, etc.
The app also refreshes in real-time after each appointment slot booking confirmation or cancellation so that patients can know about slot availability that can meet their time preferences.
From the doctor's app, they can get real-time notifications regarding appointment requests to perform quick actions on such.
Healthcare App Integration Opportunities
Doctor appointment app is just a concept, but you also have the opportunity to convert it into your full-fledged, inter-connected hospital management app. By integrating features and other healthcare software solutions like EHR systems, reporting, pathology access, etc.
What are the Must-Have Features of the Doctor Appointment App?
Around 67% of users prefer to book their appointments online. And over 25% of online appointments are booked for medical services. Of course, with time, the healthcare sector will revolutionize with digital technology, and these numbers will grow, leading to digital success.
Thinking of all with the health-tech revolution, your doctor appointment app must have the following features: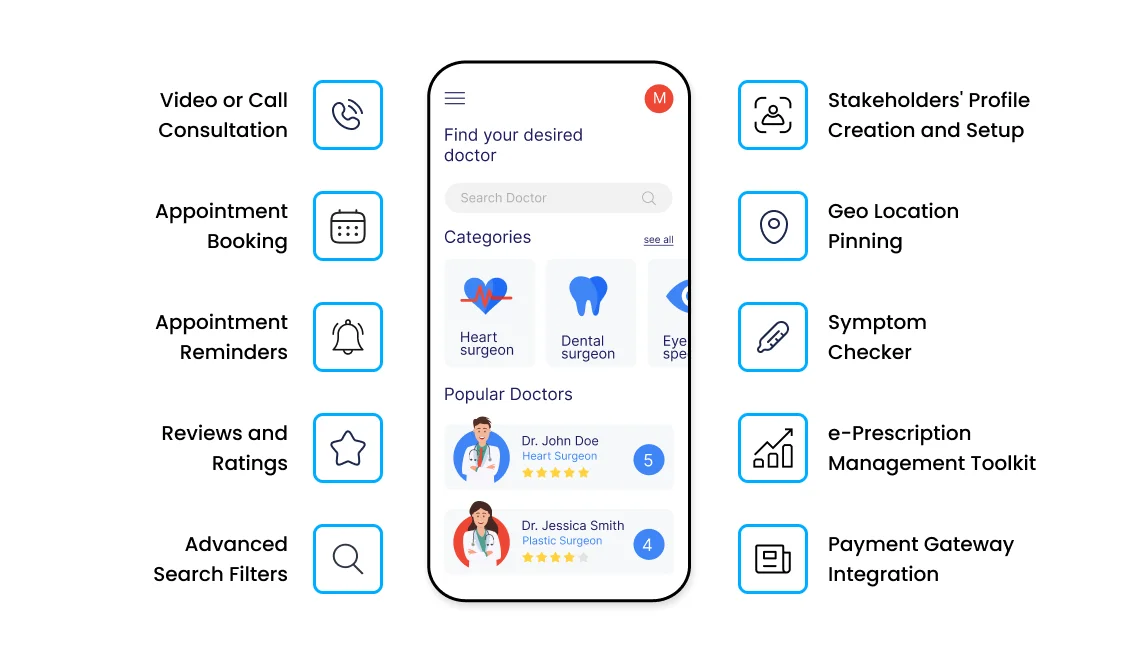 Stakeholders' Profile Creation and Setup
User profile creation and setup is the first and foremost development task of a medical app. It is a screen where the user will log in to the app after entering a few details such as name, sex, age, mobile number, and email address.
For the Patient Profile Creation
You can also ask the user to provide some more information related to health, including height, weight, allergies, whether he is diabetic or not, or if he is suffering from any specific disease, blood pressure, etc. It would act as a personal health chart of the patient.
For the Doctor Profile Creation
You ask doctors to provide details regarding their specializations, such as cardiologists, gynecologists, general physicians, etc., and their years of industry experience. Location of his clinic or the name of the hospitals with which he is attached, the specific days and timings, etc.
After they create their profile, you can even add features showcasing their reviews and ratings for patients' better decision-making. You can ask doctors to add buttons for a direct appointment booking, call, or chat to better ensure their accessibility to medical professionals.
Apart from that, you can also enable doctors to add their profile photos and provide a few pics of their clinic.
Symptom Checker
Most of the time, patients don't have an idea of what kind of medical issue they have been going through and which doctor to consult first. As a precaution, many patients consult general physicists, but their primary medication sometimes may not sound effective.
Hence, your doctor appointment booking system must provide this feature to your patients to check their symptoms and then consult doctors accordingly for a better cure.
Geo Location Pinning
If a patient is planning to consult a doctor personally, they need a feature called geolocation pinning to find the best doctors nearby. Not just for this reason, they can also find the best doctor in any region coming under your app's network.
It also helps patients to reach the doctor's clinic or the concerned hospital using the shortest possible route and in minimum time.
Advanced Search Filters
Your geo-location pinning is the first filter, or you can say, the first-ever step to help patients find the doctor they are looking for. After that, you can add more filters to shortlist their search results, which include ratings, years of experience, consultation fees' range, medical degrees, etc.
Reviews and Ratings
It is a common phenomenon that most patients prefer to consult doctors or specialists based on their reviews and ratings.
Hence, it's necessary to add this feature to your doctor appointment app to enhance patients' app-using experience while helping them find the best doctors in their search terms and make them help others.
Online Doctor Appointment Booking
It is the idea of this app development and its main feature. It lets patients book appointments with doctors. So, what information do they need to provide? It'll cover simple steps, such as the patient's name, age/DOB, contact number, email id, symptoms, gender, address, preferred appointment date, and time. After filling in all these details, patients need to submit the form.
After the form is submitted, the respective doctor will be notified about such requests. From the doctor's end, you can provide them control to accept, reject, or reschedule the appointment to meet their daily schedule.
Appointment Reminders
To make this happen, you can use a program to integrate the app's calendar with users' personal mobile calendars. So, after the appointment is accepted by the doctor, the event will be automatically created in both the doctor's and the user's personal calendars. This will serve as a reminder of the consultation with the respective doctor or patient, ensuring it's included in their schedule.
Online Video or Call Consultation/Telemedicine
There are times when patients would not be in a condition to visit the doctor in person. So, if your healthcare app idea is equipped with this feature of telemedicine or video conferencing, they can virtually consult a doctor and get better treatment.
e-Prescription Management Toolkit
After the virtual consultation, doctors may need to prescribe medicine to their patients. At that time, having an e-prescription management toolkit implemented in your app can enable doctors to prescribe medication to their patients and even directly send it to the pharmacy associated with their hospital to deliver it to the patients. This way, you can automate your necessary healthcare operations.
Payment Gateway Integration
When consulting a doctor online, you need to integrate a payment gateway into your app that allows patients to easily pay consultation fees to doctors and doctors to manage payments.
Healthcare App Integrations
As we have discussed previously, you can integrate your other healthcare apps and solutions, like EHR (Electronic Health Record), pathology system, hospital pharmacy system, and third-party insurance applying systems, into your doctor appointment app to turn it into a full-fledged hospital solution.
So, doctors can easily check patients' records and prescribe them medicines that suit them the best. Patients can book a lab test from that direct pathology feature, order medicines from the integrated e-pharmacy shop, and apply for an insurance claim.
Subscription Services for Patients & Doctors
This feature will create a monetization opportunity for you as a product-based startup. So, how can you delegate subscription services to patients and doctors?
For patients, you can ask them to subscribe to get premium access to app services, such as premium codes for online consulting a doctor, getting free medicine delivery, etc.
For doctors, subscribing to premium services can help them boost their profile and get more appointment booking promises due to in-app marketing facilities.
Tackling the Emergency Cases
A medical emergency can arrive at any time without providing any clue, and nobody can predict it as well. The app should have a section to tackle emergency cases such as sudden stroke, chest pain, severe injury, etc.
It would be fair enough to add a section where the person can call an ambulance with just one tap on the screen.

How to Build A Doctor Appointment Booking App?
After gathering all the information and planning, it's time to move the app concept into the development force. So, here's a step-by-step guide to start building your doctor appointment app:
Analyze App Concept & Market Research
The concept of the doctor appointment app goes beyond its meaning. Hence, experts often suggest conducting market research to know about competitors and the kind of features and functionalities they have utilized.
Finalize App Features and Functionalities
Your research shares a lot of details, which you analyze and further plan your app features and functionalities to make it unique to lead the market. From the above section, you can extract features, and functionalities to include in your doctor appointment app.
Gather Information Regarding Doctors and Clinic
It's the main step in your medical app development, which helps you create a plan to reach out to doctors and clinics to add such to your database. The bigger the database is, the better options you can provide to your patients and make them choose your app over others.
Hire App Development Partners
After gathering basic business-related and technical information regarding your app concept, all you need to do is to find your ideal mobile app development partner.
When selecting that, you need to check their years of contribution to the industry, team size, related projects done, clientele, communication, cost, and much more. After that, whoever meets all your requirements can become your technology partner.
Define Technology Stack to Build Doctor Appointment Booking App
This doctor appointment mobile app can be your pivotal product, leading your healthcare business to its greatest height. Hence, when planning to build such a product, you must choose the technology stack wisely, which can help you build a robust and scalable app.
Your doctor appointment app development partner, after hearing your requirements, will offer you the best-fit technology stack.
Of course, the criteria for choosing the technologies for your doctor appointment booking app can vary according to the complexity of the project.
However, for the reliable option, you can choose the following tech stack: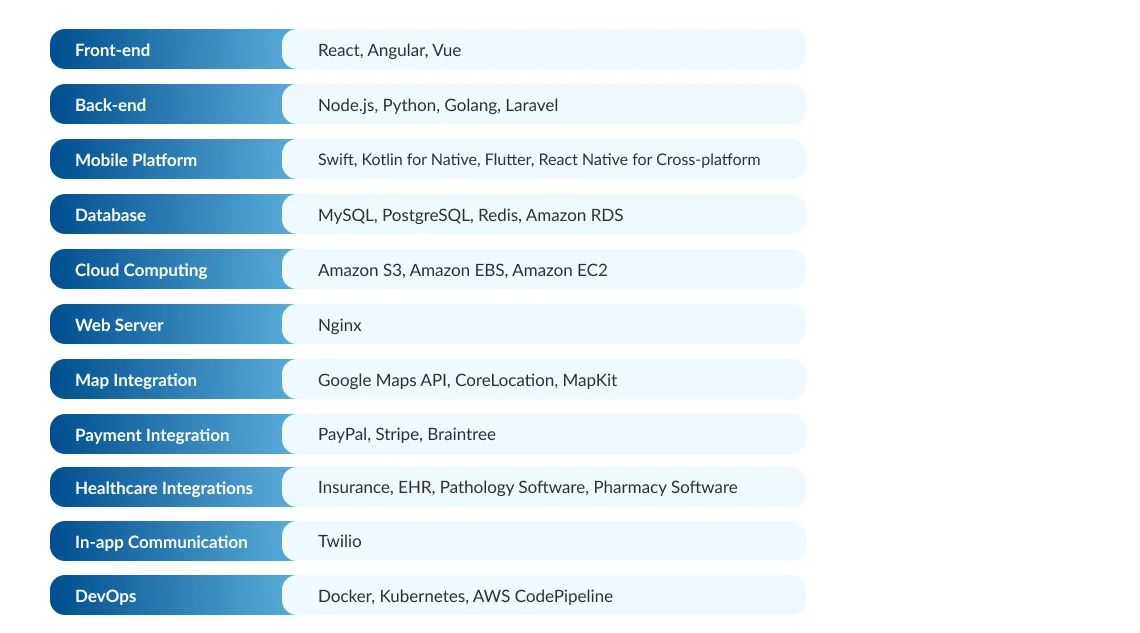 Apart from this technology stack, you can also employ AI technology and Blockchain in your healthcare app to unlock its full potential.
Start with UI/UX Design
Your app development partner you have selected, of course, will be providing UI/UX design services. They are design experts and know which section should be where and how it should be designed to achieve top-notch user experience while following UI/UX design best practices.
The App Development
After the approval of the app UI/UX design, the app development part will come, where your team of mobile app developers will follow the development best practices to help you develop a robust and scalable doctor appointment app.
Ensure HIPAA Compliance
Whenever building a healthcare application, HIPAA compliance is a must-follow standard that your doctor appointment app should meet. It's, of course, for your app's benefit as it contains development and app security best practices to keep your app highly performant and secure. So your app doesn't fall into the cyber trap, and you can avoid paying that security breach compensation.
For better app security, you can follow these considerations:
Integrating SSL connection for secure online transmission;
Ensure the highest level of app data encryption;
Apart from HIPAA, you can adhere to GDPR, HITECH Act, and other standards.
App Testing & Quality Analysis
While ensuring HIPAA compliance, you must have implemented security controls and written algorithms in such a way as to provide robust performance and deliver a world-class user experience. But to get surety, you must take the help of QA engineers to manually test your app code and interface to find all app bugs and loopholes to harden it before it can cause any trouble. After all, precaution is better than cure!
Deployment and Maintenance
Now that your doctor appointment app is ready to be deployed on the public repository to be used by your awaiting users. And developers at MindInventory will assist you with app deployment to the google play store and apple app store, along with app store optimization services.
After the app delivery, if your app faces any bugs or performance issues, maintenance work will be needed. You can even update the app as per technological updates and market trends.
After knowing the app development process, you must be curious about its development cost. So, let's know in the next section.
How Much Does it Cost to Develop a Doctor Appointment App like Zocdoc and Practo?
First of all, you cannot get an exact cost estimate for developing a doctor's appointment app. The reason is the influence of many app development cost factors, which include:
The complexity of the app;
No. of features and functionalities you want to implement;
UI/UX design requirements with no. of screens and wow elements;
Type of team you are hiring; for example, in-house, remote, freelancers, etc.;
No. of talents you hire;
The years of experience that the team have;
The country of the talent;
Technology stack to be used in, etc.
Apart from this, the cost also depends on the engagement model you choose. From this, the majority of IT experts suggest going for the dedicated hiring model, where you can hire talent on an hourly basis. Well, in the hourly hiring model, the cost for such also varies according to the region and country.
See the below image to know the basic hourly cost range for each global region: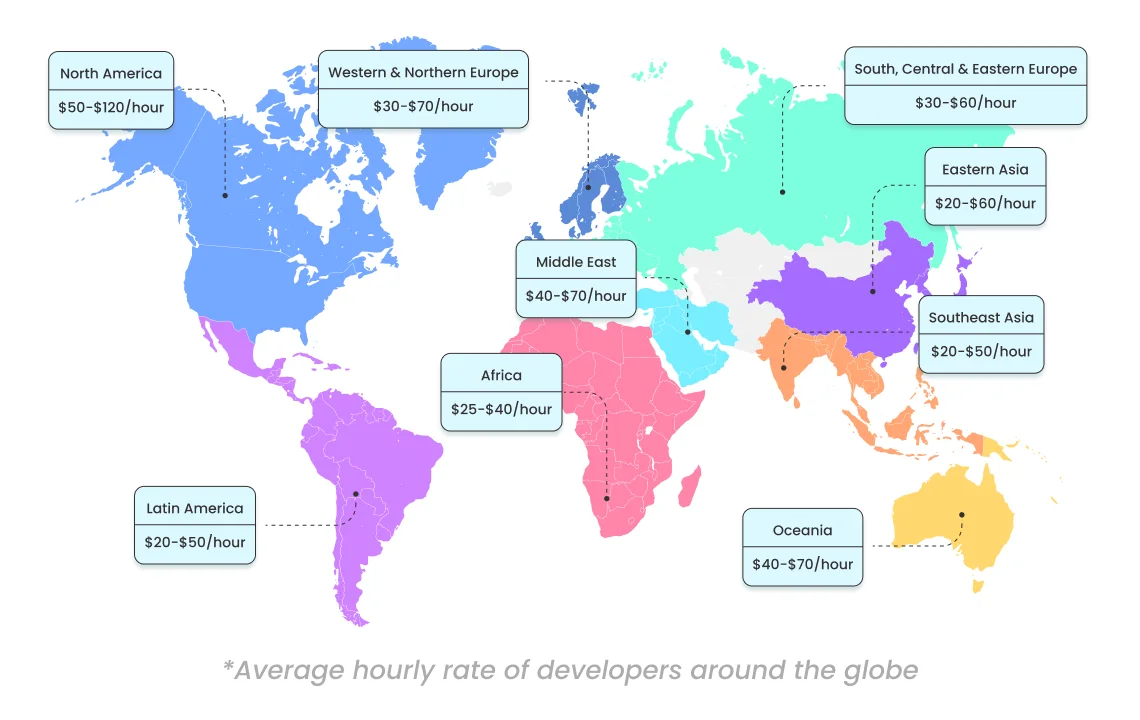 Note: The hourly prices mentioned above are subject to change as per the market scenario.
Of course, the cost of the project matters a lot. However, when focusing on the digital product on which your entire business relies, it's advisable to focus on the build quality over cutting the cost.
It's also important to ensure that the finances you're spending on the project satisfy the type of quality you're getting in return.

After everything is planned, you also need to know best practices to monetize your doctor appointment app to create more revenue streams for your business.
How to Monetize Your Doctor Appointment Application?
Apart from the main business revenue stream, you can generate revenue from your doctor appointment system in many ways, including:
Subscription-based Model
You can create a subscription-based model for doctors to pay you fees to list their profile on your app and access its premium features. Apart from that, you can also provide premium services to patients to become your loyal user and reap its benefits, like free consultation, lab tests, etc.
In-app Advertising
This is the in-app marketing feature, which doctors can benefit from. For this, you can ask doctors to pay for boosting their profile and show it on the top to get more appointments.
Premium Features
This can be a part of a different subscription-based model. Apart from others, you can ask doctors to buy a data-oriented subscription model, in which they have to pay to access patients' medical data.
Medical Delivery
If you have integrated an online medical store for home delivery with delivery charges, you can also charge platform handling charges from patients to generate another revenue stream.
Referral Fees
This is a two-way income-generating module, using which you charge doctors a platform handling fees for recommending patients to consult and help them in their healthcare business.
Of course, these are just a few suggestions, you can add monetization modules.
Why Should You Employ MindInventory for Your Doctor Appointment App Development?
Medical science has advanced by leaps and bounds, and the healthcare industry is increasing further establishing its foot on the highest level. Mobile apps, in fact, have brought a speedy acceleration ever since they got connected with medical science to make the lives of patients simpler to offer them best-in-class services.
However, to develop a doctor appointment booking app like ZocDoc and Practo, you need technology experts' help.
That's where MindInventory, as a leading healthcare app development company, comes to your great help, assisting you from the product inception to design to development, along with post-delivery dedicated support.
So, contact us today to discuss all possibilities about your all-inclusive doctor appointment app idea.
FAQs on Doctor Appointment App Development
How can you make your doctor appointment app trustworthy?
For such, you can make your app securely handle data, verify doctor's profile, harden your user review and rating options, focus on providing more accurate information, proactive customer support, ensure transparency, and more.
How long does it take to build an app like Zocdoc?
It's a bit challenging to decide the time to build an app like Zocdoc without knowing its development complexities, the expertise of the talents working on this, the technology stack, and more.