How Much Does It Cost to Develop a Voice Chat App like Clubhouse?
11 minutes read
26.2k Views
With almost 4.66 billion internet users, with 92.6% of them being mobile device users, online apps are extremely useful and profitable also.
For the last few years, social media startups have been coming up with new ideas for helping people connect with friends, celebs, and peers. And there have been some social platforms that have experienced huge success. And Clubhouse is one of them.
Among all online platforms like Facebook, Twitter, Instagram, etc, people are seeking something more engaging and creative type of social media. And Clubhouse is the latest trend in the social network that is based on voice chat.
But, how will you develop an app like Clubhouse? And how much does it cost to build a voice chat app like Clubhouse? To get answers to these questions, you must read this blog!
What is Clubhouse?
Social audio chat app Clubhouse was developed in March, 2020. According to Pitchbook, Clubhouse is now worth a shocking $1 billion. Initially, the app was developed only for iOS platform. but, it is now available on Android as well. As of Feb 16, 2021, Clubhouse app had over 9 million global downloads.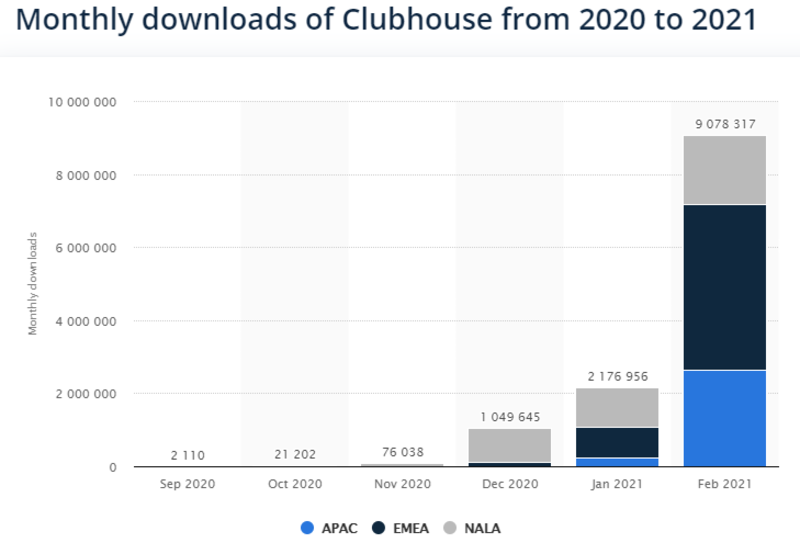 The Clubhouse is a voice-based social media app where users can join rooms and make interactions with one another through voice chats. After registering with a profile image and name, users get a list of rooms made by other members. These rooms are the bound community focused on the creator.
You can participate and sit via ongoing conversations. During registration, every user gets muted automatically, but all users can unmute themselves when they start joining the discussions. You can join this app only by invitation. This makes Clubhouse a unique and exclusive social media application.
Top Features to Add for Building a Voice Chat App like Clubhouse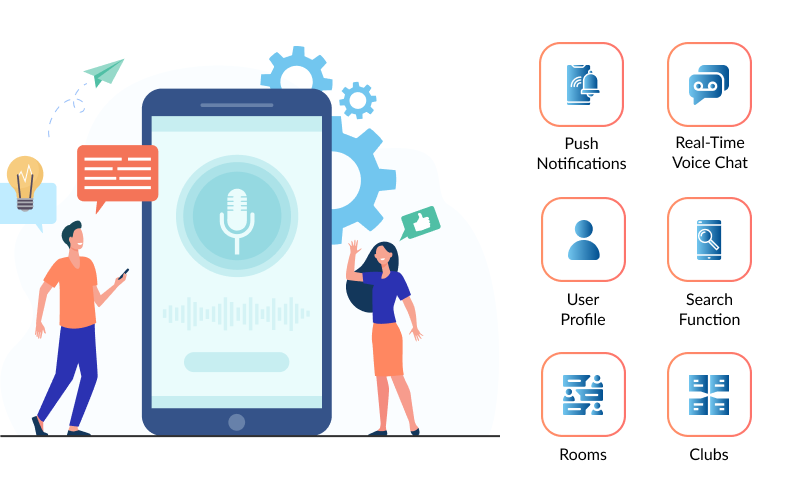 For now, Clubhouse is not available in the app stores, as it utilizes an invite-only model. New users get a TestFlight link and are greeted personally by the app maker who describes its work procedure. In case you want to build an app like Clubhouse, here are the main features to add:
1. Onboarding
Once you are in Clubhouse, you need to enter your name and give an image. You can join any room you prefer directly from the beginning. Every new user is muted by default, but they can unmute themselves any time they want.
Read also: Best Practices to Build an Efficient App Onboarding
2. User Profiles
User profiles contain a name, image, and short description. You can check who is now speaking and their accounts when you are in a room. Moreover, you can see the clubs where a user is a member and find who has invited the user to conversations and when.
3. Feed
After opening your feed, you will find many discussions that are known as Rooms. Moreover, you can find every room's name and all the members who are in the rooms.
4. Rooms
Discussions happen in a room. You can see rooms, participate in their conversations and make your own rooms also. For this, you have to click the 'Start a Room' button on the screen's bottom part. You can raise your hand in a room for interrupting the speaker or politely asking for speaking.
You can declare that you are leaving or press the 'Leave' button quietly when you want to leave a room. Moreover, speakers can invite other users for speaking in the discussions in a room.
5. Search
This is a helpful feature for every social media app that contains live content. In an app like Clubhouse, you can look for topics of discussion and people you wish to follow.
6. Clubs
This feature is the same as Facebook groups. You can participate in clubs that you like and find people with similar interests easily. Moreover, these clubs let you view and add members and recommend chat topics.
7. Activity
By clicking on the 'Activity' tab, you can see the interaction history of your account, incorporating the members who followed you. Moreover, you can find out who joined the application recently, the clubs people are in, and scheduled occasions.
8. Upcoming for You
This section contains upcoming discussions. It appears like a schedule of events, with names of chats, speakers, start times, and short descriptions of topics. Tapping the bell icon displays reminders of when conversations will begin.
9. Push Notifications
Like any other social media app, Clubhouse utilizes push notifications for increasing user engagement and informing users regarding upcoming or scheduled events like when an individual they follow begins a new room.
10. Moderation
The poor moderation in chat rooms is one of the areas where Clubhouse needs to improve. There have been many complaint reports from users regarding abusive, racist talks.
If you are planning to build an app like Clubhouse, make sure to add proper moderation space in each room that must drop the speaker or restrict the interaction of an audience who is giving hate speech and hurting people's emotions.
Steps to Follow to Develop a Voice Chat App like Clubhouse
Here are the 6 steps that will keep you on the perfect track in case you are planning to develop a voice chat application like Clubhouse:
1. Conduct Market Research
You must want to build a unique and useful app that can fix real issues, right? Then, focus completely on studying your target market. Research your competitors' activities and their way of attracting users. Check their weaknesses and strengths to get scopes for creating a competitive edge for your application.
With a well-conducted study, you can recognize marketing tactics that have caused your competitors' success and change them according to your strategy.
2. Study Your Target Audience
Your app's success depends on how properly you understand your target audience. Gather information like choices, demographics, and issues of the app's possible users. Rather than depending on numbers, simply get to the ground to know your audience.
Interview every single user to gather valuable data that helps you develop your app. Schedule some interview questions for finding users' issues and make ideas for fixing them.
3. Make an Engaging and User-Friendly Design
The marketplace is crowded with similar kinds of apps. So, design your app uniquely with user engagement and experience in mind. Visual attractiveness is not sufficient to attract and retain app users. You will need to understand your users' requirements and serve accordingly.
Also, ponder the various kinds of users using a voice chat application. And in case the main audience is influencers, add some features to create content easily and connect with all followers. Simultaneously, make sure that the app is engaging for the followers.
Maintaining a balance between functionality and visual attractiveness is not easy. Nevertheless, it is important for developing an application that is attracting all targeted users.
4. Select a Monetization Model
Next, select a monetization model for your Clubhouse-like app. If you know your users' requirements, you can predict why they will pay. Here are 3 monetization models to select from:
Freemium – Using this model, users can download the app for free. Then, they can pay for upgrading their accounts or utilizing premium features.
Premium or Paid – This is a straightforward monetization model: users pay one time for accessing your application.
Advertising – You can select one of the following advertising options:

Cost Per Action – You can charge advertisers just when users finish a target action like registering for a newsletter or installing an app.
Cost Per Mille – You can charge advertisers for each 1000 ad impressions in your application.
Cost Per Click – You can charge advertisers each time users interact with their ads in your application.

In-App Purchases – Users can pay for various features and products using in-app purchases.
5. Employ a Team for App Development
Finding an app development team to work with is the next step. The initial development stage will incorporate business assessment, creating technical specifications, making cost estimation, and project planning.
Before getting involved in the voice chat app development, your team must fix the app-building workflow, choose the main app functionality, and design the app idea. Then, the team must decide the timeline for the project and start working on the MVP.
6. Make an MVP
You might have a long list of features to add to your voice chat app. Nevertheless, all features are not suitable to add from the scratch. It is not just expensive but also time-consuming. Rather you can create an MVP and examine the main thoughts as fast as you can.
MVPs contain just crucial features that could boost the user experience. Unimportant features for the app's functionality are removed in an MVP. Releasing an MVP helps your team stay tuned to the basic problems that impact the app's performance and marketing appeal.
The main confusion in creating an MVP is determining which features are important and which are not. List down a few of them and utilize the prioritization matrix for recognizing which features will serve the best. You will need to add effective features that need less effort in the MVP and keep others for the next launch.
How Much Does It Cost to Build a Voice Chat App like Clubhouse?
The cost of a feature-rich app like Clubhouse depends on many factors. Moreover, its cost varies from organization to organization and according to the OS. iOS app development may cost you more than Android app development. So select any one of the operating systems according to your target audience, budget, and business needs.
In some cases, business owners prefer having the app on both iOS and Android. In these situations, the cost becomes higher. Factors that can impact the development of a voice chat app like Clubhouse are:
Time for app development
Designing prototype and wireframing
Integrating features
Technology advancement
Front-end and back-end development
App UI/UX development
App maintenance after delivery

How Long Will It Take to Build an App Like Clubhouse?
Like the costs, the time length completely relies on different factors. For instance, for an encrypted messaging app, it can take almost 520 hours for just the back-end development.
Applications with a low level of complicacy will take almost 3 months. For a medium complicacy level, it can take approx 4-5 months. And for a highly complex app like Clubhouse, it can take almost 6 months.
Wrapping Up
Voice chat apps have become very popular during this pandemic. In just the business sector, there has been a 220% increase in mobile app usage. As an outcome, growing entrepreneurs are trying to build a Clubhouse-like app.
Nevertheless, just developing a basic audio chat app will not assure success. To make a successful app, make sure to add basic features to attract users. Also, follow modern technologies to create a modern app. And finally, hire expert developers who can create the best-possible Clubhouse-like app for you.
FAQs About Clubhouse App Development
Why Clubhouse app is so popular?
The main reason Clubhouse is getting so popular is that audio chat can feel much more familiar and live than other text-based chat applications. Nowadays, users prefer to talk and listen rather than typing and sending messages.
How do I make an app like Clubhouse?
You can develop the Clubhouse app by following the process like conduct market research, study the target audience, make a user-friendly design, select a monetization model, hire an app development team, create an MVP, add features, launch an app.
How much does it cost to develop an app like Clubhouse?
The cost to develop an app like Clubhouse depends on a bunch of factors like development platform, number of features, the complexity of design, team size, location of a development team, etc.