A Complete Guide to Come Up with Unique Mobile Game Ideas
18 minutes read
9.1k Views
Games like PUBG take the market by storm on the other hand games like Mario always give us nostalgic feelings. Now the point is, how to come up with great mobile game ideas? Oh, you don't always need a whole team full of developers, but a few talented brains to create the skeleton of a game.
Smartphone games are the most popular sort of mobile app, according to statistical data. Let's explore some more facts about mobile games:
Respective Games Accounts for 43% are of smartphone users.
Within a week of purchasing a phone, 62% of consumers install a game on it.
Games account for 21% of Android app downloads and 25% of iOS app downloads.
Over 2.2 billion active mobile gamers exist globally.
Puzzle games account for 57.9% of all games played.
Augmented reality, AI, and other modern technologies have added to the seamless experience of mobile gaming, increasing demand, and downloads.
You Can't Ignore The Mobile Gaming Market Trend
To create an effective game, you need to research market trends. Examine which mobile games are at the top of the rankings, in which categories, and why. It will aid in brainstorming and establishing user preferences.
App Annie can assist you with this: look at the top charts to see which games and categories are popular. Furthermore, you may limit your search to a certain region by using nation filters.
Such an approach may provide you with fresh ideas, and if you continue to track trends for an extended length of time, you may notice a specific trend.
Current Hot-Fire Trends in the Mobile Game Industry
Although, there are dozens of mobile game development trends going on as of now. However, we have made given some hot favourites here:
Integrate with social media channels
AI/ML-based games
Mobile eSports
Indie gaming (Roblox)
Blockchain-based games
AR-powered mobile games
Consoles battle games
Hyper casual games
Games with multiplayer feature
With current trends, let us explore some types of gamers as well: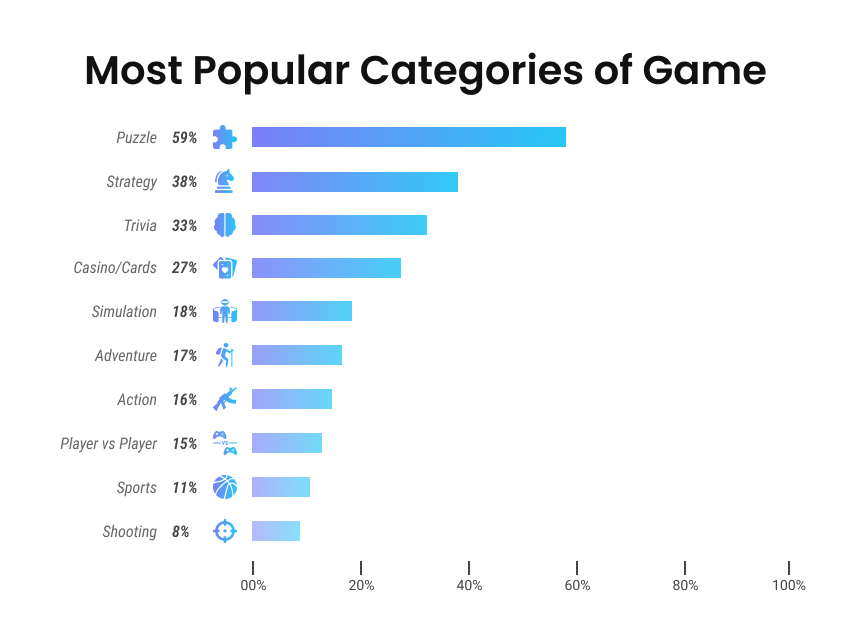 Why Having Mobile Game Ideas So Important Nowadays?
Everyone believes they have brilliant ideas. That is, until reality strikes. There is a concept behind every successful mobile game. Every great thing begins with a brilliant concept. It is the concept that distinguishes products from competitors and comparable current solutions.
This frequently occurs when developers attempt to transform their concepts into fully functional software parts. This is the point at which they realize their ideas are too big for their technological skills.
Sadly, concepts cannot be corrected later in the game development process. Many individuals consider product ideas to be discrete thoughts. However, this is just the start of the idea-generating phase.
This procedure should have a number of phases and well-thought-out parts. Only once the idea has been thoroughly fleshed out is it suitable for the next phase. Even with all of this, there is no assurance that your mobile game ideas will be profitable.
35 Mobile Game Ideas for Android and iOS
Here are the 35 mobile game ideas explained through different categories based on the game genre:
Mobile Game Ideas for Racing
Motorcycle/Car Racing
Games like cars or motorbike racing appeal to both youngsters and adults. To differentiate your game from those currently available on the App Store and Google Play Store, you might include hard circuits or give a variety of cars from which users can race and battle with other gamers.
Animal Racing
An animal racing app (dogs, horses, tigers, ostriches, or any other animal) might be entertaining to use. You may allow users to select their preferred animal for a race.
Skateboarding
A skateboarding mobile game app would undoubtedly be a hit with players. You may add it to your collection of runner mobile game concepts.
Action Mobile Game Ideas
Open up Your Detective Textbooks
Detective games in which the player must solve a murder mystery or discover the suspect may become quite addicting.
Sports League Game
Virtual sports leagues would be ideal for players. Pick a sport and kick-start working on it.
Adventure
Make the game's story the focal point. To provide a wonderful experience, incorporate many technical functionalities and features. We've developed a super successful game under this category, Bal Hanuman in which you play from Bal Hanuman's POV to defend evils of different levels.
Mobile Game Ideas for Kids
Cartoon Game
Children are best attracted to cartoon characters. You might make such an application using characters like Shinchan, Doremon, Chota Bheem, and so on.
Counting Games
A counting game application can assist youngsters in learning to count in an engaging and fun manner. Such software has the potential to be extremely successful.
Driving Game
Create an aeroplane driving game to allow youngsters to experience what it's like to be a pilot. Give them clear voice instructions so they can play the game successfully with their little hands.
Cooking Games
Cooking theme games are always the top favorites for all the kids out there. You can try something with ingredients mixing, napkin folding, pizza making, or anything like that.
Augmented Reality Mobile Game Ideas
Zombie Game
A Zombie game may be popular, particularly with youngsters. To make your app stand out, you might include elements such as Zombies fighting or racing.
Teleport Games
With a teleport game, you may allow players to visit various areas throughout the world without physically visiting them. This game would need the use of Virtual Reality and Augmented Reality.
Pokemon Go Figure
Pokemon Go is a popular game among your target group. You must include a GPS function so that gamers can search for and follow their surrounding critters.
Card Addictive Mobile Game Ideas
Poker Game
Creating a poker game is an excellent way to get notoriety and a reputation. Make your app stand out by including appealing promotions, joining benefits, and other features.
Rummy
People's favourite card game has always been rummy. You may create such a game to allow those folks to play the game online.
Blackjack
It is a difficult card game involving one or more players and a dealer, in which the former competes with the latter.
Teen Patti
Online teen Patti is one of the most addictive games since the start of its booming market. Add certain customized features to give a feel of one of those classic feels.
Puzzle-Concept Mobile Game Ideas
Words
Add multiple languages from which a user may choose, and then begin creating words by selecting the alphabets horizontally, vertically, and diagonally.
Block Games
Move the blocks and position them to form a line. Alternatively, you can issue several tasks to create a specific form with the blocks.
Guess the Difference
This would be a fantastic game app concept for both children and adults. You may give pictures ranging from basic to complex, with varying levels of difficulty.
Educational-Type Mobile Game Ideas
Mathematical Games
If you're thinking of making a maths game, make sure it has several levels for kids, children, and grownups.
General Knowledge Games
Add multiple or standard questions for the user to answer to assess his or her general knowledge.
Chemistry/Physics Games
Provide information or quiz your users on these topics. Developing such a game is an excellent idea.
Strategy-Style Mobile Game Ideas
Mind-Sport Games
This is strictly a skill game; you may make apps for rapid reading, competitive programming, and a variety of other things.
Euro-games
You can make an abstract and simulation game in which the player must evaluate his or her intellectual abilities.
Mobile Game Ideas Casino Freaks
Bingo
This game has a massive fan base, particularly in the United Kingdom. You may include it on your list of gaming app ideas.
Baccarat
It is one of the most popular casino games in the world. The game is played between two hands, a banker and a player, with three possible outcomes: player, banker, and tie.
Wheel of Luck
In this game, the player will spin the wheel and win if the arrow or ball lands on the specified number.
Mobile Game Ideas for Sports Lovers
Football
A virtual football game software always seems to capture the public's interest. Here, you can take examples of one of our top AR sports games too.
Cricket
You may achieve great achievement by using a cricket game app. Are you wondering how? Cricket is, after all, one of the most popular sports in the world. You may provide all of these folks the opportunity to digitally choose their teams and play a T20, one-day, or test match using your app.
Another idea for developing a cricket game app is to use Dream11, which allows you to choose players from your squad who are actually competing in a real-world match.
Boxing
With your software, you can help individuals realise their goal of boxing. Score points for each move a player makes throughout the course of the twelve rounds.
Board Mobile Game Ideas
Ludo
There is no question that Ludo is well-known around the world. Consider creating a Ludo game app that allows users to participate using their social profiles. The functionality will make it easier for people to play with their friends and family.
Sudoku
Sudoku is a popular brain workout; consider developing an app that allows people to play their favorite game on their mobile phones. This game will undoubtedly appeal to puzzle fans of all ages.
Chess
Build a chess mobile gaming application for a chance to capture the public's interest. To make the app everyone's favourite, it offers several levels so that both beginners and experts may enjoy the game. Not to mention, give clear directions to help players comprehend the game's regulations.
Snake and Ladder Game
Hisss!! Snake and ladder is an old-school classic game that is still being played widely. You may design an online snake and ladder game that people can play with their friends and family whenever and wherever they want.
How Do You Come Up with Great Mobile Game Ideas?
To create a profitable game, you need to research market trends. Examine which mobile games are at the top of the rankings, in which genres, and why.
Hence, let us explore a few methods that would inspire you to come up with great mobile game ideas.
Look Around You
You must observe the environment around you in order to activate your imagination and start coming up with creative game ideas. Pay attention to the details: your surroundings, people, and whatnot.
When you are totally aware of the processes around you, almost anything can spark ideas. You never know what will spark an idea for a fresh and exciting gaming idea.
Try Playing Every Next Game
With so many different games available, it's difficult to come up with a distinct idea. However, you may build your foundation on an existing game and add something fresh and unique to the genre that has not previously been applied.
It's critical to experiment with games from several genres, not simply your favourites. Start with the classics, then go on to independent games, and finally to the more mainstream hits.
Ask for Opinions
Be proactive and learn about the games that people enjoy playing. Keep on asking people. They will assist you in seeing your concept from the outside.
You could even obtain fantastic recommendations that will compliment your concept and make the game more enjoyable.
The SCAMPER Way
Color Switch, a successful mobile game created by David Reichelt, was the quickest game in App Store history to achieve 50 million downloads and was the number one game in over 100 countries worldwide.
To use the SCAMPER approach, you must first assess the concept and determine whether it may be substituted, combined, adapted, or modified. It's a clever way to create fresh mobile gaming concepts.
Endless Brainstorming
Set a timer for 20-25 minutes for one session and stop when the timer goes off. Choose the most convenient spot and time of day.
A sheet of paper, a pen, and various colored markers are required to begin mapping game concepts. Choose a game type (arcade, platformer, puzzle, action, etc.) and write it in the center of the page, then circle it.
Begin by jotting down the major concepts in one word each; draw lines connecting the words to the game type printed in the middle. A theme, function, backdrop element, game mechanics, character, effect, or any other game feature can be represented by the concepts.
Reach Out to Gaming Communities
Visit several websites to learn about the hottest issues among developers and players. You may gain inspiration, guidance, and many important evaluations from players, as well as learn about what motivates and repels individuals.
Writing Down your Game Ideas is the Key
Make notes in your notebook or on a mobile app about any ideas that come to you. A notepad full of mobile game ideas might help you narrow down the ones worth your time.
You never know when you'll be struck with a brilliant mobile game concept. However, if you have a mechanism in place to capture them, you will never miss one.
Streaming Your Demo Game
Twitch, Discord, and Youtube are platforms that allow you to stream games and invite players to watch the show. You may use this strategy to play a sample or demo version of the game and see how players react to it.
You may also receive inspiration from the many developers who debut and sell their mobile games and commence live streaming to attract the curiosity of gamers.
The Platform You Choose
Be certain about the platforms on which you want to release the games before releasing the mobile gaming app. Android and iOS both feature a large selection of games that are popular among mobile consumers. However, it is strongly advised to prepare the launch on both of these platforms.
Mobile gaming accounts for around 59 percent of total gaming revenue worldwide. This way, you may reach a larger audience across both sorts of devices and build a strong fan base for your games.
BGMS are Super Important
Alto's Adventure and Owlboy offer excellent background music that keeps players focused while playing the game. The music, like the pictures, plays an essential part in keeping the audience's mood and engagement.
Mobile Game Ideas Connecting with Entertainment
Movies, TV shows, art, music, and literature are excellent sources of inspiration. Which ones are your favorites? What exactly are they about? It's a journey into other realms in search of elements for the game.
Elements that appear unrelated to game design may contain notions that improve the process's attractiveness. They can then be rethought and implemented as game mechanisms. When you look for it, you will find it.
Keep the UI/UX in Mind
Mobile games are created to provide the audience with unlimited delight and entertainment. When evaluating the user experience, the game type is also important.
Don't overburden the users with features. Also, keep the mobile game design simple and straightforward. Also, make the mobile game UI easy to integrate features based on the needs of the users.
How to Evaluate Mobile Game Concepts
Do you finally have a concept and are ready to go? Congrats!
Before you go all-in on investments and development, you need to determine whether the concept is workable.
You don't want to discover that the concept is flawed after the game has already been out and is performing badly.
Are you aware that each month, around 10,000 new games are added to app stores and are ranked at least once? This might occur in the least remarkable category, in a single nation, or for a single day.
When this occurs, each of these games benefits. Some see a momentary rise in downloads, while others see a dramatic increase in earnings.
Many of these games have excellent gameplay, UX, art, and so on. However, only a small minority of them will earn more than $100,000 in their lives.
Even though these creators believed their concepts were brilliant, and their games were even graded, they did not succeed.
It's probable that these creators didn't thoroughly vet their mobile game concepts. If you don't want to be in this category, therefore let's go over the processes for evaluating mobile game concepts.
The Question of Having Similar Games on the Market
There's a good likelihood that someone else had a similar concept to yours. If this is the case, you should investigate if these games were successful and whether it makes sense to produce another comparable game.
Two best ways to find somewhat same titles:
Through Subgenre
Some excellent mobile game market statistics tools allow you to search for games based on subgenres. Some are expensive while others include some free services.
You may construct a list of the most prominent titles from the specified subgenre based on your search. Examine their designs, monetization tactics, user interface, player incentives, player tasks, gaming elements, and so on. Everything that makes these games successful or unsuccessful.
Through Keywords in the Play stores
This approach performs admirably on the Google Play store. It has a lot to do with how the shop ranks search results and keyword competitiveness.
For example, if you search for Gardenscapes, Google Play returns over 200 matches. Other Playrix games, Gardenscapes clones, and other not-so-similar match-3 games are among the results.
Analyzing the Success of Related Titles
The first point you should investigate is the game's income. When it comes to this, you should be aware that the top-grossing lists mostly take into account IAP and subscription income.
Advertising revenues are far more difficult to assess, and no analytics tool can provide precise statistics.
However, there is something that can assist you in this regard: researching downloads by country.
Examining the Current Status of the Target Genre/Subgenre
Various game analytics systems provide information on genre performance by nation. Pay careful attention to the nations that have usually brought in the highest money.
If you detect a significant reduction in the genre or subcategory, you should consider the following:
Is it because the current games in the subgenre are of poor quality?
Why on earth are games in this subgenre losing market share so quickly?
Is it because there aren't any new titles on the market?
If the answers to these questions do not clarify the problem, there is something more to consider.
There is one frequent cause for the stagnation or decline of games, genres, or subgenres.
Overall, if you detect a falling subgenre trend, developing a game in this market area is a risky approach.
Make sure the market segment you're targeting is expanding or steady before turning your mobile game idea into a product.
Concluding Mobile Game Ideas: The Start For You
Finding that one unique concept isn't the most important factor. It all comes down to execution. As a result, build prototypes, explore, develop, take risks, and, most importantly, don't lose hope.
People of all ages like playing action, adventure, puzzle, card, board, and other genres of mobile games.
If you want to create a mobile game for your startup, check out the more than thirty inventive ideas in this post. Connect with a top game development company in order to give wings to your vision!

FAQs on Mobile Games
Which Genre of mobile games do you develop?
MindInventory creates games of almost every genre, you just need to let us know your vision. We can create games for you like, role-playing, adventure, casual, hyper-casual, board, card, fantasy sports, action, and other mobile games.
What method do you prefer for mobile game development?
We use a methodical development methodology to assure the creation of a perfect, enjoyable, and engaging mobile game. We have teams dedicated to ideation, quality assurance, design, development, deployment, and maintenance.
Which technology stack do you use for mobile game development?
You name it, will do it for you with the best & most appropriate technology! We offer and apply the finest technology stack for mobile gaming app development based on your individual needs. Our specialists have years of expertise developing gaming apps using Unity, Unreal Engine, Roblox, and other technologies.