Why, When, and How Should You Hire Dedicated Game Developers?
14 minutes read
14.4k Views
Your product is not just a source of revenue for your company, it's a mass dream that you and your team once had and started turning it for real. Your dream is to offer a game to your users that will welcome a layer of entertainment and fun in their life for which you definitely need a robust team that will make it all happen.
Hiring dedicated game developers is a lengthy process. You need to understand the dos and don't of it along with many important details that you will get to learn through this post.
This article will enlighten you with all the imperative insights that will be required in the process of hiring dedicated game developers. So, let's get learning:
What are Key Advantages of Hiring Dedicated Game Developers?
Here we will be presenting the top advantages you can gain by hiring expert game developers in 2023. Let's take a look at it:
1. Rapid pace; rapid results
Sometimes, an in-house team cannot pay complete attention to a single project as they are involved in multiple projects. In such cases, hiring dedicated game developers is a better option as they will be responsible to pay complete attention to the project requirements.
Hiring game developers can be especially beneficial if you are working on a tight timeline or need to get your game to market quickly. The market is already extensive. By 2025, the PC gaming sector all by itself will accumulate $46.7 billion.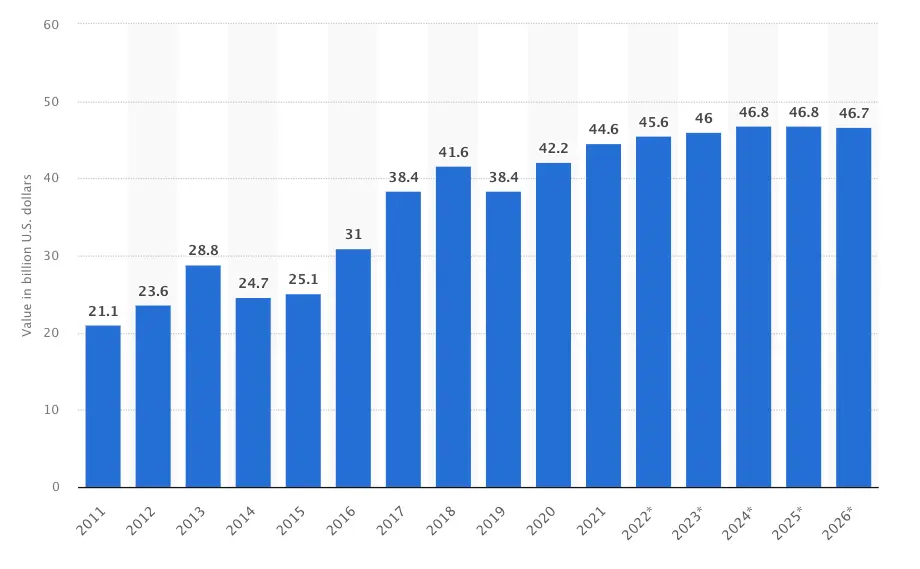 And you will get timely updates so that if something is required to be modified, it will be done instantly.
2. The advantage of scalability
When you hire dedicated game developers for your project, you will be getting all the updates within the specified timeline. As the team is solely accountable to work on your requirements there are quite a few chances of delay. You will always get your work done before the deadline so you also have the advantage of scalability.
3. Talent without putting in the effort of training
As mentioned earlier, your game is just not a game. It's a collective effort of every single team member who did their part to help implement the idea of the game. So, if you are hiring a game development team, you must see your game succeed. After all, you have followed the entire process of selecting a proper game development team.
When it comes to hiring expert game developers, you don't have to put the effort into training the employees as you do with in-house training.
Despite the fact that you can train entry-level employees, you will have a longer time to market if you do so. But if you choose to hire dedicated game developers, you can immediately access top-level developers who need no training.
4. Better compliance
There are many game development companies that allow businesses to create an automated compliance management system. Not only does it allow businesses to reduce the number of errors, but it also enables you to spend less time manually following up on compliance issues.
5. More time for company management
Managing the business is not a piece of cake, especially when you have just begun. You have to manage a lot of things around your product like marketing it and understanding the audience's reaction, requirements, and market trends. These are just a few of the tasks that we are talking about. They might sound trivial but create a huge impact on the product's credibility.
Well, these are just product-related tasks we are talking about. There are many other important tasks like applying for permits, keeping track of financial records, filing taxes, and managing employees. As you see growth in your business, it's usually not possible to continue performing all these tasks by yourself.
In such cases, hiring dedicated game developers is the best option for you as you do not need to put your bandwidth into it. You can opt for the best game app development company that will manage all your essentials and work on your product as per your requirements. Not only will they help you with the optimal solutions, but they will be involved in assistance till the time you require it.
6. Accessible advanced technology
Developing a game calls for the involvement of advanced tools and technologies. But it's generally not a profitable deal for businesses unless businesses are well established to purchase these tools as these tools are quite expensive.
Thus, in such cases, hiring game app developers is a great idea for businesses as they get a chance to get their game app developed by highly professional game developers with hands-on experience in the game industry.
7. Multiple options
When it comes to the in-house team, there is a certain kind of limitation due to a lack of resources, expertise, and timeline at times. Due to this, the end results are not up to the mark. On the other hand, if you opt for hiring dedicated game developers, then there are ample benefits.
Hired developers are solely involved in your game development requirements so you get your requirements and expectations fulfilled with an innovative approach.
8. The advantage of flexibility
The fundamental process of creating a video game is complex. It is common to change deadlines in order to meet milestones. By hiring expert game developers, you can reduce the amount of assistance you need or stop receiving it altogether. Depending on your needs, you can take advantage of the flexibility provided.
9. Focus on quality
Game development companies are focused on delivering high-quality games that meet or exceed their client's expectations. By hiring a game development company, you can ensure that your game is developed to the highest standards of quality.
Since the number of players is rapidly growing. It's estimated that the number of players will soar past 3 billion by 2024 as yearly revenues exceed $200 billion.
10. Access to expertise
Game development processes are staffed with professionals who have expertise in various areas of game development, including programming, design, art, and audio. By hiring a game development company, you can tap into their collective expertise and experience to create a high-quality game.
When Should You Hire Dedicated Game Developers?
Let's learn about the situations when hiring an experienced game app development team is the apt decision you can take as a business. Let's learn about these:
1. When you need solutions for the crux that you can't resolve on your own
As mentioned earlier, developing a game requires the usage of very heavy tools and software. If any startup game app development company chooses to purchase tools and software then it may turn out to be an unfavorable deal for the same.
Also, you can opt for the method of paying developers on an hourly basis to avoid major expenses. A hired dedicated team of game developers is always open for suggestions, they are always open for improvements, so you also have the advantage of flexibility because you can have them do the modifications or implement the suggestions at any given time.
2. When you are short of experienced and skillful game developers
Many times the in-house team does not fulfill the expectations at the time of project delivery due to a lack of particular skills that are required for fulfilling project demands.
In such cases, hiring dedicated game developers is the best decision you can take as a business. This approach is flexible enough to complete the demands that you have regarding your game and they are accountable to deliver exactly what you require.
Also, the team is always there to guide you with the help of their technical expertise for making your game even better and flourish when it is launched.
3. You're struggling to speed up your time to market
The gaming industry is very competitive, and as its market is extremely extensive, you need to match the pace with its growth with an innovative approach. Since it takes time to market the game, releasing it within the estimated deadline calls for proposing a toast, as it's a big deal to release the game on the specified date.
Thus, marketing the same is a different and difficult process altogether. In such cases, hiring experienced game developers is the best decision. Because you are paying them to deliver you the complete product within the specified timeline so that you can begin with the marketing process subsequently.
4. Your project is complex with changing scope
Undefined and unclear project scope is one of the biggest challenges facing tech companies. You can benefit from the assistance of a dedicated development team in such cases, including understanding project goals, timelines, tasks, and team configurations.
Now you are aware of the ideal situation when hiring a game app development team is a viable decision for your business. Let's learn about the common mistakes you must avoid while hiring a game development team.
Common Mistakes to Avoid While Hiring Game Developers
Hiring game developers is an important step in creating a successful game, but there are several common mistakes that you should avoid to ensure that you find the right developers for your project.
Let's learn in detail about common mistakes that you must avoid if you are doing by any chance:
1. Failing to define your requirements
Before you begin with searching for game developers, you must define your project requirements thoroughly. This includes the type of game you want to create, the platform you want to release it on, the budget you have available, and the timeline for the project.
If you are lacking a clear understanding of your requirements, you may end up hiring developers who are not a good fit for your game development.
2. Avoid running a background check
When you are hiring game app developers, ensuring to check their credibility and clean track record of consistently delivering the project is your prime responsibility. You need to rest assured that your game is going to be developed by proficient game app developers.
Relying on someone's reference is not enough to ensure that the developers are reliable to be worked with. You need to run a background check to ensure their credibility by yourself. You can check their background through multiple sources like checking out their LinkedIn profiles and having a word with their clientele.
The motive is to obtain as much information about game development companies as possible, as it eventually helps you make viable decisions.
3. Focusing only on technical skills
While technical skills are important, they are not the only factor to consider when hiring game developers. You also need to consider their creativity, problem-solving abilities, and their ability to work in a team. Make sure to ask for examples of their work and assess their ability to develop creative solutions.
4. Jack of all trades
It's not like full-stack developers are not able to manage the complexity of the project and deliver expected results. They are able to manage the software development lifecycle methodology with a team but the actual results might vary from what you expected due to some inconsistencies.
If you allocate the responsibility to a single developer, he or she might find it troublesome to troubleshoot your issues due to lots of confusion.
So, in such cases hiring specifically a game app development company for your game is the best idea, as their expertise is capable of handling such requirements and they are prone to work with heavy software and tools.
A specialized team can help you deliver far better game development than a full-stack team; a jack of all trades does not work everywhere.
5. Overlooking communication skills
Communication is key when it comes to game development, and you need to hire developers who can communicate effectively with your team. This includes both verbal and written communication skills. Look for developers who are proactive in communicating updates and can provide clear documentation of their work.
Now that you have understood the common mistakes that you must avoid, let's make your hiring process even better by letting us help you with amazing tips to hire the best game developers.
How to Hire Dedicated Game Developers for Your Project?
Let's learn about these 6 mind-blowing tips for hiring dedicated game developers and a smooth game app development process:
1. Run a check on their portfolio
By reviewing the portfolio, you can get an idea of the quality of work that the game development company or individual has produced in the past. This can give you an indication of their ability to deliver high-quality work for your project.
The portfolio can also provide insight into the game development company's or individual's experience with projects similar to yours. This can help you assess whether they have the skills and expertise needed to handle your project successfully.
2. Team strength
By checking the team strength, you can get an idea of whether the game development company has enough resources to handle your project. You can determine whether they have the right mix of skills and expertise required to deliver the desired outcomes.
Moreover, checking the team strength also helps you to determine whether the game development company has a stable workforce. This is important because a high rate of employee turnover can negatively impact project continuity and result in delays.
3. Confidentiality
The game you want to offer to your users must be different from the existing games, as you have put a lot of your creativity and innovative ideas into it. So the features of the game will be likely to offer a unique experience to the audience.
In order to preserve this inestimable experience for the audience, you need to ensure that your idea is not being replicated or stolen through the medium of an outsourcing company. For which you can sign an NDA document. It will protect you from leaks and confidentiality breaches.

Why Should You Hire Dedicated Game Developers from MindInventory?
Mindinventory is a leading web and mobile app development company with a robust mobile and game app development team. Our goal is to provide complete satisfaction through our technical expertise to our clients. That makes us the first-rate choice for our clients when it comes to game design and development that fulfills your business requirements.
We are into full-cycle game development. Through our innovative approach, we structure plots and characters by storyboarding and endless creative inputs. When it comes to building games, we are the prime choice of our customers.
We can't wait to flourish your game through our creativity and technical assistance!
FAQs on Hiring Dedicated Game Developers
How much does it cost to hire a developer for a game?
The cost of game app development mainly depends on the features of the game and other relevant factors like technology stack, location of the dedicated game developers, market trends, game type, game design, project timeline, and so on. Contact us to get the cost and time estimation for your game development.
How do I contact game developers with ideas?
You can inquire with the game development company and discuss your game idea. Furthermore, if everything goes well, you can ask the pricing model and ask them if they are willing to sign an NDA (non-disclosure agreement) with you before starting a project.