There is hardly anyone who has not heard of NFT Gaming. Once, games were only fun; now anybody with an internet connection and a crypto wallet may make money by playing their favorite online games. That's how NFT Gaming has been trending since the start.
NFT gaming is known by several other names, including DeFi gaming, crypto gaming, and blockchain gaming. Note, One industry dominates the creation of blockchain-based games & that's NFTs. If this is your first encounter with this acronym, don't worry; we'll try our best to explain it.
What is NFT Gaming? Know the Base!
NFT is an acronym for Non-Fungible Token. This is a one-of-a-kind cryptocurrency asset. NFTs differ. It may be an album, a work of crypto art, or even a unique tweet. It cannot be copied since it is non-fungible. The information for each NFT will be unique.
These NFTs are incorporated into and used throughout the player's experience in NFT gaming. As a result, NFTs might be represented as avatars, collectible characters, accessories, and much more. These digital things might then be traded, owned, or swapped by users.
NFT games are often accessed using a web browser, just like other decentralized apps (dApps). The games are made up of a set of smart contracts produced by developers that describe the rules of the NFTs utilized in the game. After connecting to a cryptocurrency wallet, a user may begin playing with their NFT avatars.
What Distinguishes NFT Games from Traditional Games?
Traditional gaming is typically divided into three categories: console, mobile, and PC. Each needs users to purchase costly gaming equipment and pay for the titles they desire. This means that the bulk of ordinary games' monetary worth flows in only one direction – to the developers.
There is no central entity regulating the item supply or mandating how it is used. This means no loot boxes or microtransactions! Your wallet will not be drained by a game that continuously asks you to pay to play.
Mobile NFT games provide a far broader monetary system, with value flowing to creators, players, and between players.
The incentive for playing is maybe the most significant distinction between typical players and certain blockchain games: NFT gaming can provide users with the potential to make money.
Many play-to-earn games (NFT) allow players to sell their NFT assets (rare goods, skins, weapons, and so on), receive crypto prizes for completing tasks, rent out their assets, and do other things.
This is one of the reasons why businesses have grown in popularity; their platform allows users to customize and create their avatars in-game in a number of ways using NFTs.
Speaking of the expansion of NFT games by country, NFT gaming is the most popular in India, where 34% of respondents had played a P2E game. Hong Kong (29 percent) and the UAE have the next largest percentages of P2E players (27 percent ). Sweden is at the opposite end of the spectrum, with only 4% of those polled having played mobile NFT games.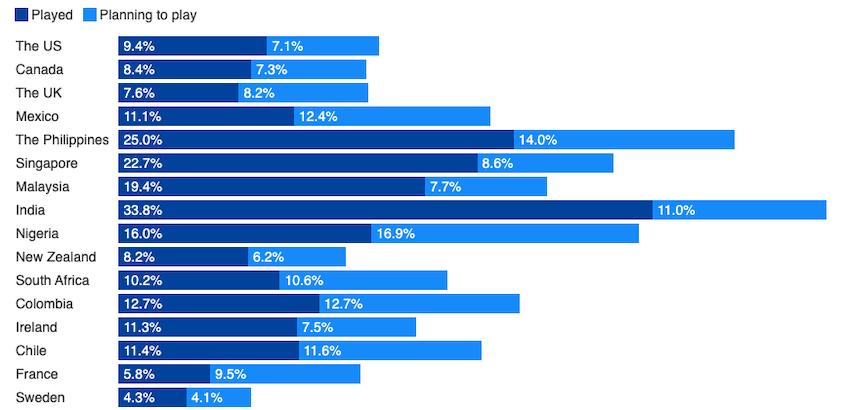 How do NFT Games Work?
Player involvement is emphasized in the NFT games. As a consequence, you may begin working on your avatar. It sells special clothes and skins that function as NFTs. NFTs are also included in the game's in-game objects. To test out new goods, you can exchange or trade with other players. Bingo!
But the question is, how are NFTs used in games? To put it simply, game developers apply smart contracts to integrate NFTs into a game environment. It also specifies some ground rules for the game.
There is no need to be concerned if you are unsure what a smart contract is. Smart contracts are simple bits of self-executing code that are stored on a blockchain network.
The code, however, has never been published by the game's creators. Many people have attempted to develop technologies that assess data on cat generation. Using these methods, they can improve their chances of developing a unique breed. The key advantage, in this case, is that each breed serves an NFT. People assess their possibilities since the rarer ones are worth more money.
Fair Pros of NFT Gaming
The gaming business has millions of fans, but who would have guessed it could expand any more? When NFTs were included in regular games, they created new opportunities and benefits for both players and NFT game owners.
So, let's go a little more into what makes NFT Gamification such a profitable alternative for both players and owners.
Special NFT Gaming Benefits to Mention from Investor's POV
Both investors and gamers earn from NFT games. When compared to traditional games, mobile NFT games provide publishers the following benefits:
Generates Revenue
The transaction fee generates revenue. Developers may charge a transaction fee when players sell or swap an NFT. This transaction can sometimes be important enough that the profit is equal.
Mergers & Takeovers
When a new solution disrupts an industry, established companies may seek to buy out or join such firms to save their present company.
As a result, a little investment, such as the NFT gaming token and game development, might rocket a business owner to new heights.
Safety
The NFT game offers participants a very safe environment. Blockchain technology is complex, with strong security and reliability.
Because blockchain technology protects a gamer's wallet with an unbreakable layer of cutting-edge technology, a player could be confident that his digital assets are safe.
App Store Earning
When a certain number of downloads occur on an App Store or Play Store, the game owners earn a portion of the download fee. Each new download increases the company's revenue.
In-App purchases can give game producers a consistent source of money. Furthermore, unique events and seasonal discounts might help you earn a lot of money throughout the festive season.
Winning Venture Capital
Savvy investors recognize that there is a lot of money to be earned in the blockchain and cryptocurrency sectors. Game developers and owners want to capitalize on the blockchain-based gaming boom to attract venture capitalists.
Gamification for NFT development is viewed as a new way to efficiently market services and products, and a blockchain gaming NFT solution might become the next Tencent.
Encouraging Established NFT Gaming Solutions
Gamification for NFT development can aid in the scaling of pre-existing game systems. It will not only provide new revenue streams, but it will also attract new users to the site.
Special NFT Gaming Benefits to Mention for Players
During the Covid-19 outbreak, Crypto NFT Games became immensely popular, and many company owners resorted to them to earn a living. As a result, the following are some significant advantages for game players:
Transparency
The higher the value of an NFT, the rarer it is. NFT games Blockchain contributes to the transparency of digital transactions and reveals the rarity of NFT, which increases its value.
Collection of NFT Gaming Assets
Game NFTs are often sold as a bundle, and there are several different, dynamic, and visually appealing game components.
Bored Ape Yacht Club, for example, includes 10,000 NFTs representing monkeys in various creative styles and is one of the most popular NFT collections.
Control
NFT games allow players to have total control over their assets. This is an appealing alternative since it allows gamers to earn cryptocurrency by selling their NFTs.
Furthermore, tangible ownership provides greater incentives to play a blockchain-based game and can be a consistent source of revenue.
Investment
Gaming has always been a fun activity, and for some, it has even become a sport. As a result, it used to benefit exclusively professional players.
Anyone, however, may now turn their gaming time into an investment by selling or trading their collected assets for Cryptocurrency.
Likely a Profession
Nothing wrong with it! Many participants saw the market potential and changed NFT trading from a passion to a full-fledged real job.
However, achieving a good revenue level takes time. As a result, having some extra revenue streams for financial covering is usually a smart idea.
If you're looking for the best NFT marketplace overall, then Crypto comes first as of now!
Verified Ownership
Using blockchain technology, all information about gaming NFTs are kept in their code. Decoding an NFT can provide information about its creator and the history of its ownership.
When an NFT is transferred to a new individual, this transaction or record is left in the blockchain codebase. As a result, imposters have no place because ownership is completely verified.
Cons of NFT Gaming: What's Wrong About it?
It goes without saying that there are always two sides to a coin. The same goes for the NFT gaming world. Let's quickly understand what are the not-so-good things about NFT gaming:
The majority of existing NFT games use the Ethereum blockchain, which is known for its slow and expensive transactions. This has a huge influence on both in-game activities and the purchase and sale of one-of-a-kind items outside of games. There are, of course, alternatives, but they are an exception at the moment.
The opportunity for users to pool their funds into a single expensive asset, as well as individuals' access to in-game tokens that equate to real-world assets, might lead to market fraud and other violations of securities rules.
Most significantly, core players do not appear to be enthusiastic about NFTs in games. For example, the response to Ubisoft's "digits" was extremely unfavorable. YouTube's NFT announcement received over 40,000 dislikes and barely 2,000 likes—and only twenty NFTs were sold as of December 2021.
People may spend more time attempting to sell each other things than playing games.
The "play-to-earn" paradigm, in which participants may gain and lose assets, may encourage gambling.
How to Invest in NFT Gaming? The Real Talking!
You can invest in NFT gaming in two ways: by purchasing a game's token or by holding in-game NFTs.
Buying NFT Game Token
Owning an NFT game token allows you to profit from the growth and adoption of games such as Axie Infinity (AXS). Axie Infinity's token, AXS, is traded on major exchanges including Binance and Coinbase. Several additional NFT game tokens can also be traded on prominent cryptocurrency platforms.
Buying in-game NFTs
Buying in-game NFTs is another option to invest in mobile NFT games. These products are frequently bought and sold on NFT markets or in the game's native marketplaces. You may even take part in airdrops of in-game NFTs. Crypto gaming platforms such as GameFi and Gamestarter, for example, provide Initial NFT Offerings (INO) for investors to purchase in-game NFTs.
How to Create an NFT Game? A to Z Guide
NFT game development is much more fascinating and rewarding considering that mobile NFT games may be quite useful to gamers. Unfortunately, NFT gaming is something that far too few game development businesses have looked at.
Check the below four steps to building a superb NFT game:
1. Pre-production
Any project, regardless of specification, begins with planning. It is critical not to neglect this phase if the next development process is to be perfect and successful. As a result, we have broken it into major steps to assist you in preparing for your project.
Invite Professionals: Qualified individuals with years of experience and competence in-game creation are essential for such a project. Managers, medium and senior developers, QA engineers, and 2D/3D artists should be on your in-house or outsourced team.
Collect Data: Before beginning a project, your team should do research and analysis on rivals and the market. It will assist you in determining what you can do better than rivals and which insights are appropriate for your project.
The Concept: The game genre and theme must be chosen based on the results from the analysis. It might be a shooter, simulation, puzzle, strategy, or sports game. Work on game concept art as well, establishing the idea and style of a game as well as the appearance of players and assets.
The Platform: NFT game development has no platform constraints, since you may design a game for mobile, web, desktop, consoles, and AR/VR-based devices. To make the best decision, evaluate your skills (particularly your budget) for developing a magnificent NFT game with the most popular platform that would suit them.
Decide Proper Tech Stack: To put it another way, you should plan the most efficient infrastructure for your project. Define the best tools and applications for the front-end, back-end, smart contract (an Ethereum blockchain application), and testing.
Design GDD: A game design document (GDD) is essentially a set of technical specifications and development techniques that will aid and educate your team throughout the development phase.
Prototyping: Create a demo version of your game – a prototype that depicts the structure and basic functions of your game. Such blueprints enable you to test your prospective game and make any required modifications to the idea before creating a final product.
2. Design and Development – Time to Act
When you're ready, to begin with, NFT game development, it's time for designers and developers to go to work. Follow each of the steps below with care and you'll end up with a stunning product.
Modelling: You should go through multiple stages of content production depending on the format of your game (2D/3D). Start with an outline of the game characters, assets, and environment if you're working on a 2D game. Then paint them, make any required changes in drawings, and animate anything that needs to move. If you're working on a 3D NFT game, artists must design 3D characters, objects, and environments using polygonal modeling techniques, which involve blocking out a model (forming a basic shape) and establishing the proper topology.
Game Level Design: The logic/structure of a game is represented through game-level design. Choose and specify how your game's participants will move in it. For example, your game may include dozens of quests, each one more difficult than the one before it. In comparison, your game may have an open world in which you can freely move about and adjust objects.
Wallet Setup:  As gaming NFTs may be sold or traded for cryptocurrency, a crypto wallet is necessary. Furthermore, NFT gamers utilize them for registration, thus it must be included in a game throughout the development cycle.
Smart Contract Program: This is important because a Smart Contract is a blockchain-based software that is in charge of NFT movement, game cyber-security, and transaction modification. The most crucial element to remember is that the smart contract cannot be modified, so plan ahead of time.
Time for Coding: The back-end is in charge of integrating all of a game's data, content, and architecture into a single system. It is vital to develop a decentralized game structure and enable an application to obtain information about the necessary data, functions, and orders not only from the gaming code but also from the blockchain.
3. Testing – Clearing Bugs
NFT games are a unique idea not just for most regular people, but also for game creators. As a result, specialists can fix issues before publishing a game on a platform.
Unit Testing: During game development, developers (not QA engineers) perform this sort of testing. When game developers construct a portion (unit), they test it to find and repair important issues as soon as possible. As a result, developers may continue working on other game aspects without fear of things breaking, while testers will receive a functional game version with fewer bugs.
Alpha Testing: When developers have completed a game, testers take over with Alpha testing. Alpha testing is closed testing, which implies that quality checks are performed by professional QA engineers before a game is released to the public. This stage includes a variety of additional functional and non-functional game test types.
Beta Testing: Unlike Alpha, Beta testing has just two types: closed Beta and Open Beta. It is carried out using real-world humans rather than numerous software and automated tests like in Alpha testing.
4. Simply Deploy & Promote
Popular and established games typically garner more attention than new offerings. That is why your advertising effort must be well planned. For example, it may be beneficial to join some prominent NFT groups and spread the word about your future game prior to its release.
You may also employ marketing strategies such as putting an ad to reach as many target people as possible. Furthermore, most new games provide greater prices for new users within the first week or month of a game's release. As a result, your target audience will be inspired to follow your product from the start.

How to Make Money with NFT Games?
There are two major methods to profit from NFT games. The first method is to use a play-to-earn approach. The second method is to accumulate in-game NFTs to sell or rent for a profit.
While some games focus on either play-to-earn or in-game NFT models, the majority use a combination of both to provide the greatest possible game experience.
As simple and entertaining as it is to earn money by playing games, gamers can also lose money. The value of NFTs varies depending on the market. The same is true for any in-game tokens – there is no assurance that any NFT game coin or digital asset will appreciate. Earning money through NFT games is still speculative. Only invest what you are prepared to lose.
What the Future Holds for NFT Gaming?
Significant advancements have always occurred in the worlds of gaming and computer-produced reality. The arrival of arcade machines, the PLATO network system, the LAN party, and now, NFTs, which employ blockchain technology to uniquely identify digital things and enable certification of their validity and rarity, have all permanently transformed the way people play games and connect.
NFTs are being used as in-game assets in the gaming industry, rethinking what it means to acquire or own an in-game item. This is only the start. NFTs will have an impact on how we work, live, play games, and make a livelihood.
NFTs are already gaining popularity in the gaming business, and some promising titles may soon release digital assets on the blockchain. As additional developers build mobile NFT games, players will have the opportunity to possess unique objects that they may trade or sell in the future!
Final Thoughts on NFT Gaming
There are several benefits to participating in NFT games. To begin, they show you a peek at the play-to-earn structure, which appears to be the future of gaming. Second, they provide you with valuable items that you may store in your gallery or trade with other players.
One more thing is NFTs are expanding at a rapid rate. As a result, it may be beneficial to invest in it while it is still young. However, like with most cryptocurrencies, there is still the risk of price fluctuation.
We've given you a comprehensive detail on NFT gaming. This will surely be super beneficial to you! If you are looking for a team of experts who can develop secure & feature-rich mobile NFT games? Then contact us today!
FAQs on NFT Gaming
What are the most popular play-to-earn NFT games?
Earning actual money while having fun is one of the key reasons why play-to-earn games have grown so popular. There are several play-to-earn games online such as Axie Infinity, Gods Unchained, Decentraland, Alien Worlds, The Sandbox, Zed Run, etc.
Is it possible to include NFTs in an existing game?
It is achievable to convert a traditional game to one that uses NFTs with the careful effort of highly skilled developers who can design a smart contract and put it into code. If you need to contact a team full of expert developers to do it for you, then go ahead with it!
How much does it cost to develop an NFT game?
The cost of developing an NFT game depends on many factors, like game genre, the complexity of design, functionalities, the number of platforms, animations, the country of designers and developers, etc.

If you want to develop a P2E game with a minimum of animated pieces and a few levels, your game can cost you less. The more advanced a game is, as a 3D mobile game with lots of animations, characters, and complex levels, the more it will cost.

Want to find out how MindInventory can take your game to the next level? Contact us with your mobile game development requirements to get an approximate cost and time estimation.