Developing a Super App – The Complete Guide
21 minutes read
35.7k Views
In this digital era, our life revolves around a mobile app, meaning we use mobile apps for each activity we do, whether it is shopping or setting reminders.
Let's understand this with one example:
Finally, it's midweek, and you have your weekend plans ready. You book movie tickets for the movie you've been waiting for a long time, reserve a dinner table at one restaurant, and shop online for clothes. The moral of the story is to do all these activities online – it takes around three-four different apps. With one super app, you can do all these things using a single app.
This multipurpose app development sounds technical, non-technical, and entrepreneurial by all means. Why? For users, a super app is a source to access many services under one roof. But for entrepreneurs, super app development unlocks better business opportunities.
This blog includes an in-depth guide about super app development that answers all your questions, which will help you build the most successful super app.
What is a Super App?
Super app development is a process that helps to build an app architecture in which multiple micro apps/programs of different kinds are integrated and create a digital marketplace.
In simple terms, super app is more like a marketplace or platform containing multipurpose micro apps (features & functionalities), either developed internally or by third-party developers. You can also call super app an all-in-one app that brings the experience of selected apps into one app.
On average, the most corporate, busy working people search for super apps. The "Super App" or "All-in-one App" search term count is around 100-1000 times a month by smartphone users. The purpose for searching super apps differs from person to person.
Super App Market Statistics
In developing economical countries, including South-East Asia (India, China, Democratic People's Republic of Korea, Thailand, etc.), South America, and many other countries, the super app development model receives major user base attention. This model first aims to grow horizontally, conquer a particular region, and gain international traction.
Before you plan any further about your super app development, let's first see the global super app market statistics for better development ideas:
The super app concept has 72% of demand globally. And 74% of UK, 72% of US, 70% of Germany, and 64% of Australian consumers are interested in a super app for their usage conveniences.
As per Statista report, in Russia in 2020, super apps generated 51 billion dollars in income. The market size is estimated to increase by around 163 percent by 2025, when it is anticipated to reach 134 billion US dollars.
What Types of Categories You Can Add In Your Super App?
Multiple elements in terms of services from various industries and niches are the ones that make super apps "Super".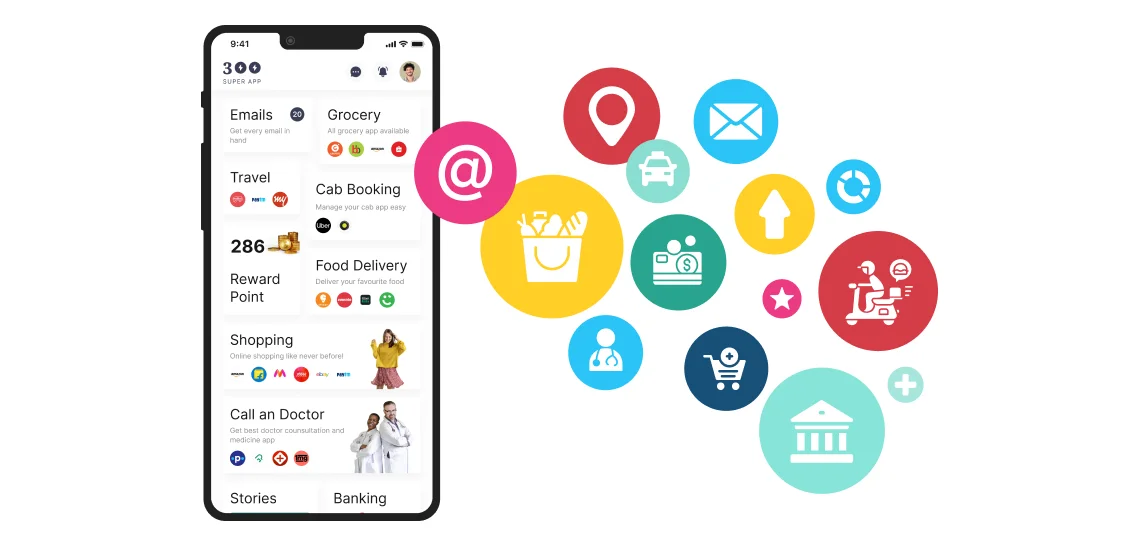 Social Media
Nowadays, social networking and making communication & collaborations with other people is important for better knowledge exchange and personal growth.
Some people use social media to influence other people, some for their business growth and take it to the global level, major users use it to text and share media to their network, etc. In short, social networking media is a platform that brings global audiences together.
On-demand Industry Apps
It includes apps like online food ordering, tracking, and delivery, courier delivery, taxi booking, travel package booking, hotel reservation, and much more. And one super app can contain all these online high-demand services and provide next-level conveniences to the app users.
Banking & Finance
Today, people barely have time to visit the bank to manage their finances. That's where online banking and finance management apps come to great help. When integrated into a super app – it makes users work easy to manage their finances alongside other online activities.
Healthcare Solutions
It has many types of applications, including administration for doctors to monitor patients, online doctor consultation apps, online pharmacy, healthcare informative, diet planning, etc. Integrating such healthcare apps' combo in your super apps creates a great value for your user base; and thus, to your business.
Bill Payment
With all services made online available, bill payment applications, like DTH/Broadband/Mobile Recharge and Postpaid mobile/Gas/Electricity/Water bill payment activities also help users to make all payments online and even automate them.
Hence, they will never miss any billing due date. Integrating these online recharge/bill payment apps in your super app increases the chances of better user retention.
Why Should You Build a Super App?
The super apps serve differently to different categories of stakeholders:
For entrepreneurs and app hosting platforms – It helps to create better business revenue generation opportunities and expand their business connections.
For super app users – It helps users access their many favorite apps housed in a single app, which is both time and space convenient.
With a super app, users all have to download the app, create/login to their super app account, set up their app profile once, and voila from then, they can simply access their user profile in just a single click.
Super apps can be developed for different purposes, such as:
Specific development type, where you can find different competitors providing similar services but with varying quality and price charts.
One concept that we know is one app providing different online services of different service providers with easy accessibility.
A super app can also be one enterprise that is into all kinds of business, including entertainment, pharmaceutical, DTH/Broadband, logistics, finance, etc. This type of super app development eases their users' accessibility to their online services, helps them ensure a better user retention ratio, and thus, generates better revenue and opportunities.
Types of Super Apps With Active Super App Projects
Super apps have varying use cases as per the development, though till now, the super app development is divided into two large development types: Customers & Employees Facing super apps.
Customer Facing Super App
The concept of a customer-facing super app originated in China with a WeChat app inception brought up by Tencent – a multinational technology and entertainment conglomerate.
WeChat counts over 1.29 billion active users every month, and its multipurpose use cases, including money transfer, doctor appointment booking, movie tickets booking, etc. play value-driven elements and make it a kind of super app.
Not just in China, but you can find the popularity of super apps in many countries:
Super App in India
MyJio – Another India's widely used super app giving tough competition to Paytm. MyJio app provides services like personal finance management (internet banking, e-wallet, UPI), payment/bill/recharge services, entertainment (video & music streaming), healthcare, shopping, games, and much more.
Tata Neu – It was India's most awaited super app, which provides all Tata's online services under one roof. It covers service categories, from electronics to grocery shopping, travel and hotel reservations, and many more fascinating services offering rewarding user experience.
Paytm – India's biggest rewarding super app, offering personal finance management (internet banking, e-wallet, UPI), payment/bill/recharge services, plain/bus/train ticket booking services, trading/mutual fund services, in-app shopping, pharmacy, and much more services in just a few clicks.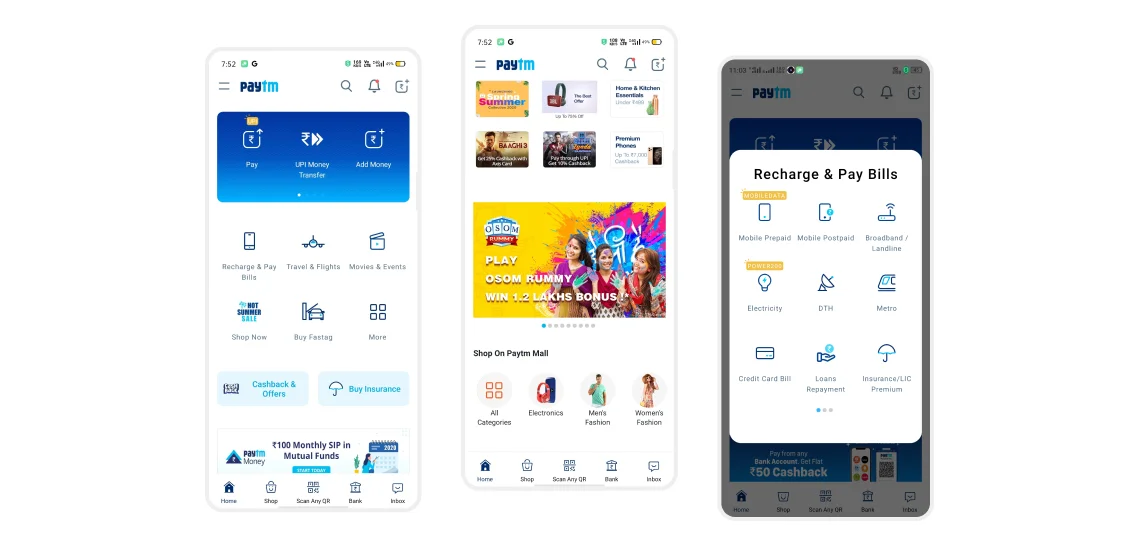 Super Apps in the USA
Amazon – A global leading e-commerce, e-wallet, and online payment application, which also offers food delivery services in the USA.
Facebook – A global communication and online marketplace for global businesses.
Revolt – A banking and finance management platform that clubs online transactions and trading with crypto exchange.
Super Apps in UAE
Careem for Taxi booking, Recharge/Bill Payment, etc.
Noon Shopping is a one-stop solution for all types of shopping, from groceries to clothing.
Talabat is an on-demand delivery platform for food and grocery items.
Super Apps in the UK
Yandex Go is Europe's first super app, offering on-depart transportation and food delivery services (a sort of supply chain super app).
Uber – A on-demand transportation service providing super app, that allows users to book a cab, plane tickets, and train tickets in one go.
Alipay – A super app clubbed with payment, finance management, food ordering, and cab booking-like on-demand services.
Employee Facing Super App
The internal organization-facing super app is getting traction in many businesses nowadays for better productivity. The reason behind this popularity is the company's engagement with employees, regardless of the work arrangement type.
Me@Walmart set a great inspiration for other organizations to create their own employee-facing super app (B2E). It further includes organizational services like employee onboarding updates, schedules, request time off, employee perks & benefits, and much more.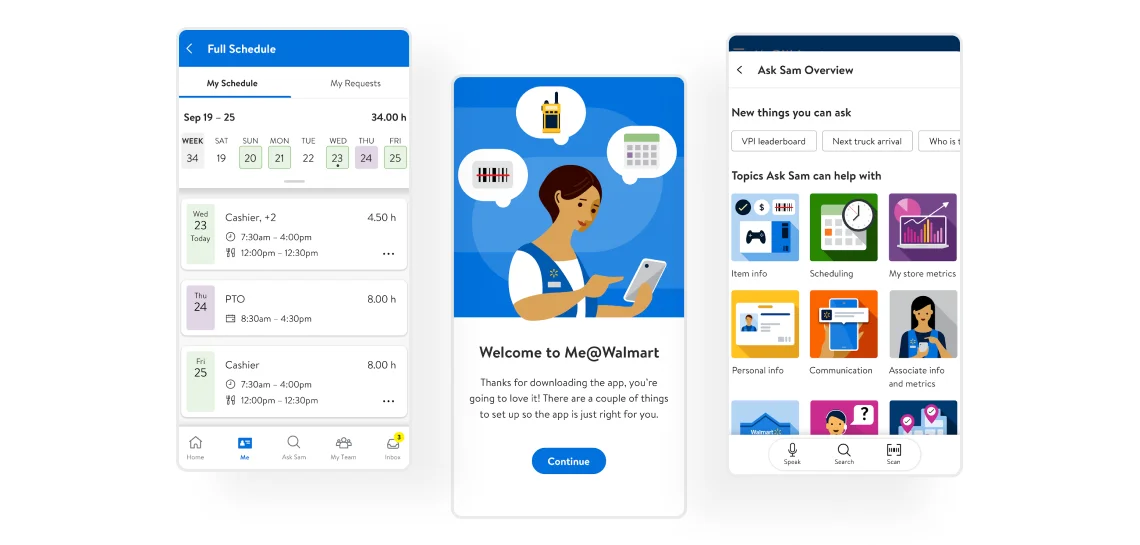 B2E Super App Development Ideas:
It's your B2E super app, so to improve your organizational performance and employee retention ratio, you can tailor it according to your requirements. It could include features like:
Important organizational resources section for employees.
Employee Profile (Personal Information, Finance & Expenses, Meal-Planning (if available), Assets allocated, etc.
Employee shift schedules and timer for clock-in & clock-out.
Employee perks and benefits.
Task planner & task assigning window.
Employee internal communication and collaboration tool.
Latest organizational news column [Official/ Off-the-topic channels (Company events & achievement)], and much more.
Top Benefits of Super App Development
Super apps indeed offer tons of benefits to both users and businesses. Refer to this section to know individual super app benefits:
Benefits of Super App for Users
Mobile users often get confused about which app to download when there is a sheer number of apps available in the market in a particular category. Hence, super apps come as the optimum solution. Below are the facts:
Designed for users' ease and provide them with the best quality application user experience to use the best-in-class mobile apps in just one app.
With super apps, users can set themselves free from remembering different login credentials for all applications and data loss concerns.
The best thing about this mobile app development idea is that super apps comprise services from different industries. So, users can do all their online activities through one app.
Users can quickly access their all-important online services with just a single & quick login. So, through this app, they receive the speed and conveniences they ever wanted to have.
Benefits of Super App For Businesses
Many businesses are on their way to stepping into the digital realm by developing business service-oriented mobile apps. The mobile app development statistics are also playing a vital role in pushing businesses for their digital transition. And the idea of super app promotes new business benefits as stated below:
A Great Opportunity for Big Enterprises
Super apps are the best-suited mobile app development idea for big businesses. It demands a well-established massive infrastructure, more funds for feasible development, marketing, skilled & experienced resources, time, and much more as compared to stand-alone mobile apps. And such are already with big enterprises, which creates ease for them for the super app development.
Opportunities To Get A Larger User Base
As super apps cover all industries, businesses adopting such solutions have options to target a wider user base from different industries. With a wider user base, you also have opportunities for them to become mouth marketers of your super app if they like it.
Access To A Plethora Of User Bases
Due to a wider user base, a business will receive a large amount of user data. And putting this in processing using business intelligence and analytics tools, they can plan and provide a rewarding experience to their super app service users.
Create A Consistent User Experience
The more features and functionalities you add to your super app, the better chances you get to win the heart of your targetted audience. More functionalities mean more conveniences you provide to your users. Hence, they do want to use your super app and may become your brand voice.
Better User Retention Rate
As through super apps, businesses offer rewarding user experiences with utmost convenience; there are maximum chances for higher user retention rates. The more user retention rate, the more revenue generation businesses can make.
A Step-By-Step Guide To Super App Development
A super app unlocks many benefits with a seamless user experience across micro apps or services. Hence, while developing a super app, you should follow the below-mentioned steps.
Market Research and Business Strategies
As a business person or aspiring entrepreneur, you should plan your super app development by considering the following categories:
Inclusiveness
One super app is for all kinds of users (varying through gender, age, interest, knowledge, etc.) using different applications frequently. Meaning the super app meets the requirements of all users to perceive them and makes mobile app navigation easy with an intriguing user experience.
Moreover, the inclusive nature of a super app makes it a more effective mobile app development solution for people with physical disabilities. And that gives super app companies an upper hand.
Create and Grow with Partners
When there are many super giants, like Amazon, Facebook, WeChat, Paytm, Tata Neu, Revolt, and others, dominating the marketplace, it is highly advisable for your business to partner with other growing third-party online service providers. It might create an exception for you to not collaborate with third-party vendors if your brand has already laid roots deeper – in the marketplace.
And when you collab with other market aspirants, ensure to allow your partners to grow with your business to create a long-term profitable business relationship.
A Solution with Native Feel
As the super app is an inclusive mobile app development concept, it becomes essential to give your vertices of users a native feel. That can be in terms of native payment gateway options, UI/UX design, content, and much more.
Define Feature and Functionality
When building a super app, features & functionalities are the core elements that make your app thrive in the marketplace. Of course, for that, you need to do excessive market research to figure out ways to make your super app development decent.
Hence, when building a super app, start it by implementing and offering prime services, as we have seen in the above section "Types of Super Apps":
Amazon started with e-commerce services and then entered into other financial services.
Facebook started out as a social media platform and then became a global online marketplace for businesses to promote their products and services.
Paytm started services with e-wallet, UPI, and net-banking services, and now it offers much more, like online shopping, booking/reservation services, etc.
Starting with integrating functions with wider use cases and higher open rates can help you make your super app a successful project.
UI/UX Design Considerations
For any mobile app, easy navigating UI/UX should be the first priority. Do the market research and user behavioral research to know what kind of UI helps the best to attract and retain more app users. UI/UX factors to consider:
Color scheme
Placement of the important app services for easy navigation
Eye-soothing effects & transitions, and much more
And all these should define the purpose of super apps.
Read also: Top Reasons for Using Illustrations to Amplify UI/UX Design
Select the Right Technology Stack for Development
When developing such multipurpose apps composed of many online features from different industries, you need to consider many technical aspects, including:
Code space consumption
Code loading time complexity
Development complexity (difficulties + development time)
Resource availability
Budget
Keeping such under consideration, here, we found the best technology stack to meet your both native as well as cross-platform development requirements: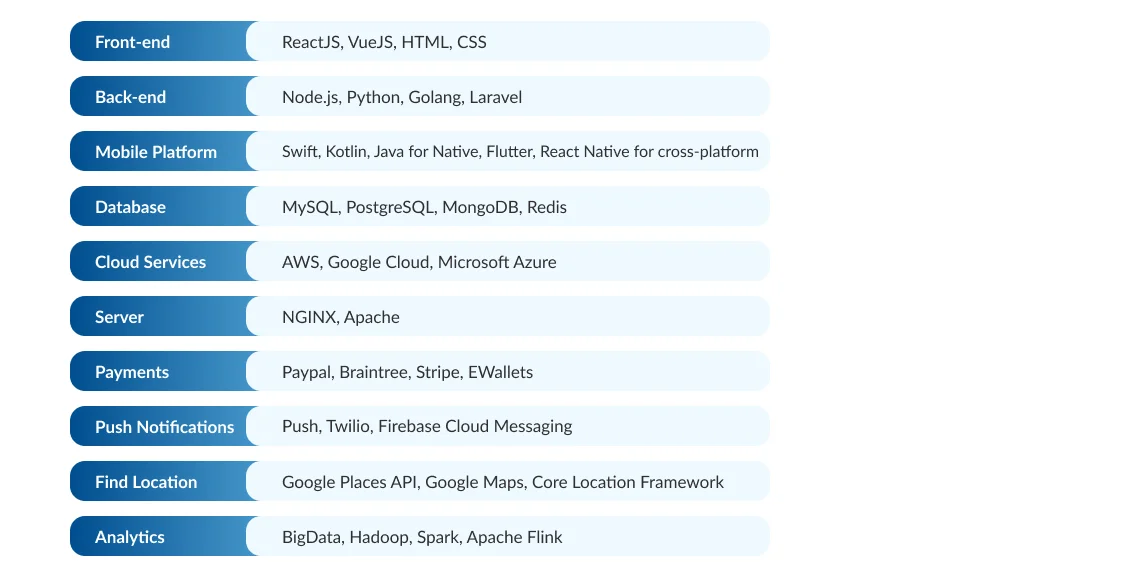 App Quality Assurance
Another portion of the super app development goes into app quality assurance by testing the build in all situations and making it bug-free and crash-free for the initial release. With performance, QA engineers will also test your build for the overall user experience.
Once the super app is developed, it is important to test in the given conditions:
Functional testing
Usability testing
Compatibility testing
Performance and load testing
Security testing
Installation testing
Localization testing
Manual testing
From these testing approaches, QA engineers will create a bug report and exception report, and then send them to the development team for bug fixing.
App Deployment
Now, all your build bugs are fixed and providing the final touches to the app. It is also known as code refactoring, as a best practice to not miss any code defects.
This way, you can ensure the resiliency of your super app architecture and gain confidence to deploy it in the public app registries or hosting platforms (Google Play Store & Apple App Store).
Frequent Releases
In mobile app development, developers and business leaders want a higher user base retention ratio. And for that, you need to keep them happy by releasing new features, bug fixing, security patches, etc. frequently to ensure resilient super app performance.
You must be thinking, "how frequent?". It could be in a cycle of 15 days or 30 days.
Top Challenges Faced in Developing a Super App
Super apps indeed offer many benefits, but developing such is also a path full of challenges. The super app development challenges are as follows:
Need Loads of Capital
Super apps are themselves big, and their development demands tons of resources to do the job. They contain loads of features and functionalities, and to build them efficiently, you need to keep your capital ready.
Demands Cutting-Edge IT Infrastructure
Not just the money, but it also needs a high configuration infrastructure with an algorithm optimized for loading time and complexity. If not used, it might make users lose interest, and soon, your IT product-based will fail. Hence, a super-sufficient IT infrastructure is necessary to run and manage multiple micro apps efficiently in one super app.
Extensive API Integration Asks For Skilled Professionals
Super is called super because it has implemented and integrated many custom APIs to provide a wholesome experience to the user. And managing such a mammoth size of API integration is a bit tricky, which requires a big IT team to take care of this gigantic structure of integrated micro apps.
Multi-Factor User Login Authentication
Today, across the world, you'll find many cases of digital account hijacking. And you don't want your users' accounts to be sacrificed in the hands of hackers. Hence, you need to implement robust app user login authentication to ensure a top-notch super app security experience.
UI/UX Designing
Regardless of the app development type, UI/UX design plays an important role in keeping users' interest in the app. And in the case of super app development, UI/UX designing can be super challenging as need to consider tons of micro apps, their right placement, and all that to ensure user-friendly app navigation.
Meeting Industry and Government Regulations
Industry regulation compliance is the most critical part of the super app development, which ensures that your super app is resilient to being hosted on public domains without any public rights to privacy violation. Hiring a competent legal advisor can make this compliance process smoother.
How to Monetize A Super App?
Okay, now you have made your super app that helps your mobile users in multiple ways. But the question is, "how will your business earn revenue from the super app?". Below are the ideas to earn profits from a super app:
Credit System
Introducing an in-app credit system (like rewards, EMIs/Loans, etc.) to customers, service providers, and business partners to make them use your super app and earn profits from it.
International Transaction Charges
When any user makes international transactions using your super app, you can charge for that to ensure their secure payment transactions to the third party. This way, you and your business partner can also earn revenue.
In-App Subscriptions
You can offer a customer loyalty program and enroll in which your customers can avail more discounts and better deals than regular customers.
Advertisements
You can offer your business partners to run their product ads in-app to get a more customer base, through which you can also earn revenue.
These are just a few tips to monetize your super app, but you can also adopt other marketing strategies for the same.
How Much Does It Cost To Build A Super App?
Deciding on super app development cost is the most difficult phase, which varies across different development factors.
No matter what kind of development you choose, every business leader wants to know and plan its development cost. Deciding on super app development costs varies on the type of app you want to develop.
Hence, the major super app development cost factors are:
Project complexity
Development type: Native or Cross Platform Development
The complexity of design
Team structure: No. of developers, managers, CTO, UI/UX designers, QA engineers, etc.
Country-origin of the developers' company
App Testing
App on-going maintenance
You have your all super app development preferences ready, still its development cost varies across regions. Let's say, you want to hire an IT team for your super app development from a particular region, then it is necessary to have at least a glimpse of cost structure followed by that region. Below you can find the cost structure followed by different regions of the world: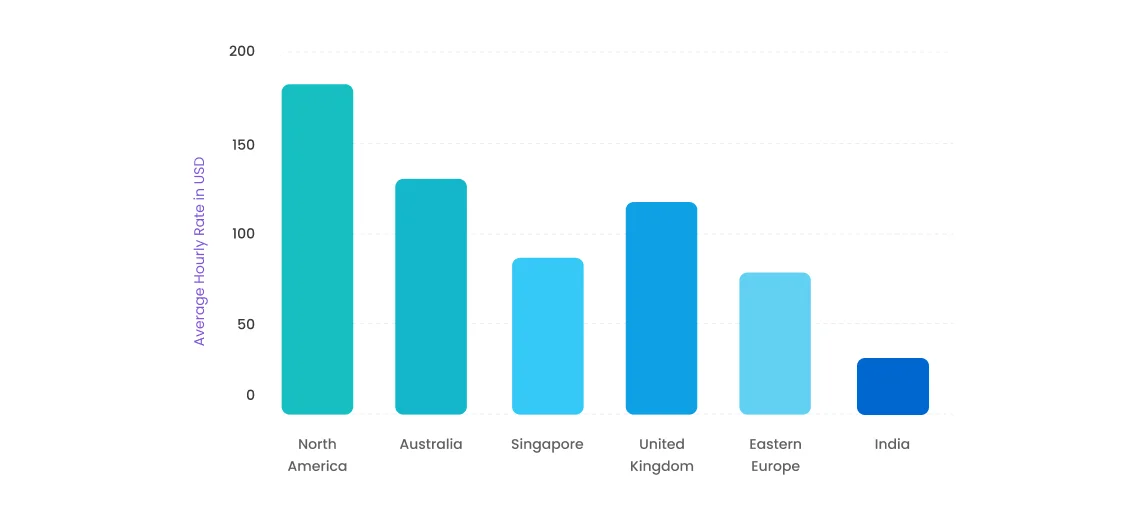 This cost structure is tentative as per this time study. It might be different based on the market situation and variations in your development requirements.
How Will MindInventory Help You Build Your Ideal Super App?
When you think of developing a super app, you might have questions like "Is There Any Future of Super App?" or "Will The Hype Of Super App Development Continue In Future?". Well, the answer is simply, "Yes!" Because of an increasing number of mobile users and the popularity of one-stop solutions to all online services, the hype and the popularity of super apps will continue to rise.
At MindInventory, we helped our international client to develop his dream super app named "I.AM+" – comprised of all on-demand services, entertainment/media services, and what's not! The delivery of that super app has made our client meet his all requirements with satisfactory results.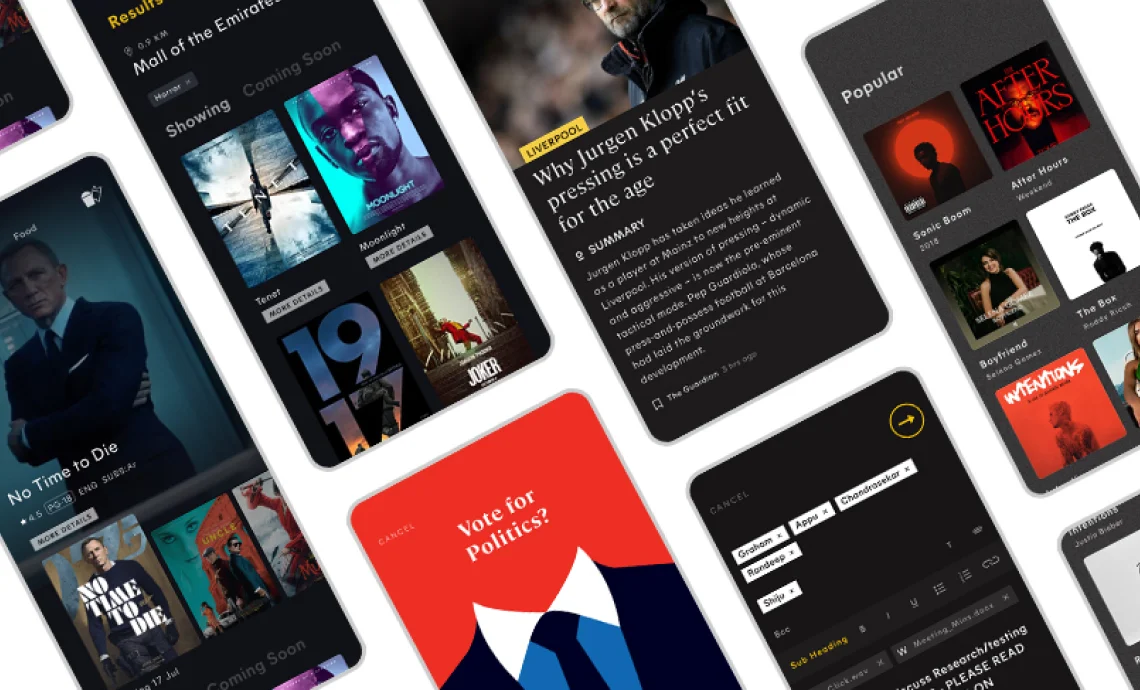 We are also on another super app project called 300 Super App of a quite similar concept, which has a great UI that can win your heart at just first sight.
Have ideas to develop your next industry-leading super app? Contact IT experts at MindInventory to get the demo of the project and detailed consultation for your super app development.
FAQs on Super App Development
How do Super Apps and Stand-Alone Apps Differ?
Well, if we see, the difference between super apps and stand-alone apps is pretty clear. You can define stand-alone apps more like the ones developed to do particular functions only and are from designated platforms. e.g., VoIP apps (Zoom), Entertainment Apps, Banking & Finance Apps, etc. On the other hand, a super app is a digital ecosystem in which multiple micro-programs and services are clubbed into. Popular examples of super apps are Paytm, MyJio, Gojek, and Tata Neu.
Are Super Apps Profit-Making Mobile Apps?
Super apps are space and time efficient and make users' work a lot easier to get their all-important apps/services at their fingertips. Hence, having your super app housed with all on-demand features and functionalities helps you get more user base, undoubtedly leading to considerable ROI.
What Makes A Super App Successful?
The super app success factors include best-in-class mobile experience (availability of necessary online services under one roof), homogeneous marketplace, unbanked population, and many others.
How Much Time Does It Take to Build A Super App?
The super app development time can vary across its two types. The organization/employee facing super app development time may depend on the functionalities and securities mainly. The customer-facing super app development may depend on user interface & experience largely. Contact us for more information on super app development.