Finally, we are in the middle of this year – 2022. And in this post-pandemic scenario, businesses are still recovering from the losses they experienced back in 2020. Thanks to digital-first technologies that gave global businesses – a hope – called enablement to remote work and continue their business practices by transitioning to digital mobile-first and cloud-based cross-platform solutions.
This rapidly growing adoption rate of digital-first business mobility solutions is becoming a motivating factor for tech leaders to bring innovations in mobile technologies. And that will indeed unlock many opportunities for businesses to shine in the market competition.
Especially today, when people prefer to use mobile devices over the traditional system, businesses need to think of transitioning their services to mobile-first software solutions.
As the IT mobility trends are rapidly evolving, let's see innovations they will bring next in the remaining months of 2022, the upcoming year 2023, and beyond.
Why Does It Have To Be Mobile App Development?
With the increasing demand for mobility solutions and getting everything at their fingertips, the mobile app development market has been experiencing a massive elevation. Below are the facts stating the anent need and innovation in the mobile app industry.
Smartphone User Base
One study notes around 0.3-0.6 billion smartphone user base growth each year since the smartphone evolution. The smartphone user count started with 3.6 billion users in 2016, recently (in 2022) reported with 6.6 billion smartphone subscriptions, and is expected to reach 7.7 billion subscriptions by 2027. If we see just smartphone user growth from 2016 to 2022, we could clearly see 10.4% of user base growth annually.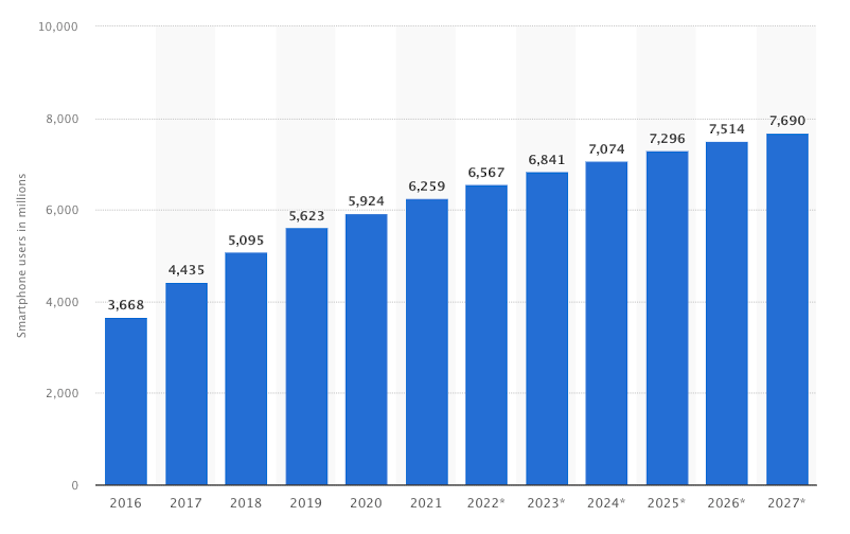 Android vs iOS Mobile Device Users
Global Marketplace: When there is competition between Android and iOS mobile phones, then indeed, without question, Android mobile users dominate the market with 72.2% of the market share globally.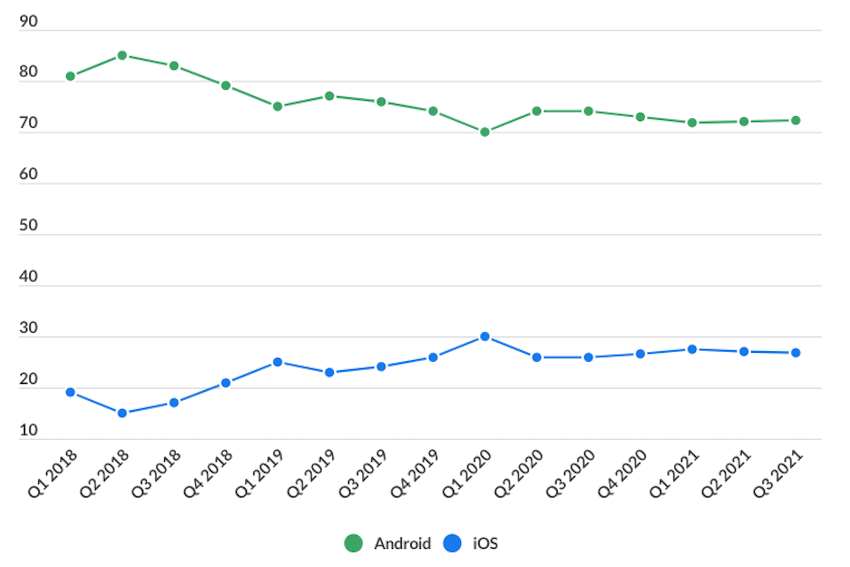 US Marketplace: If we see the US marketplace in the comparison of Android vs iOS mobile device users, then the iOS mobile market has its upper hand with 57% of the iOS mobile user base.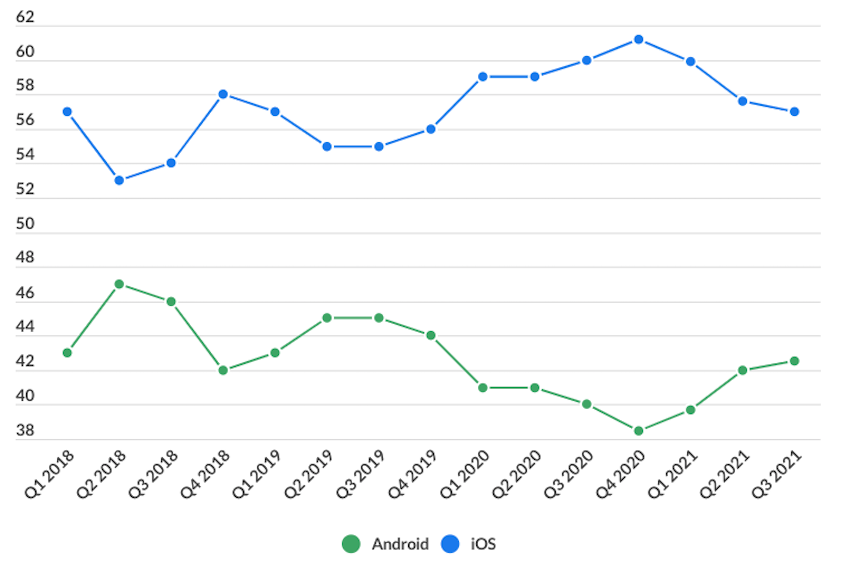 UK Marketplace: In the case of the UK mobile market, both the iOS and Android markets are closely competing with each other. In the Q32020 survey, Android mobile users were leading the market with 53% user base, whereas in the Q3 2021 survey, the iOS mobile user base was counted at 51.6% and the Android user base with 47.8% share.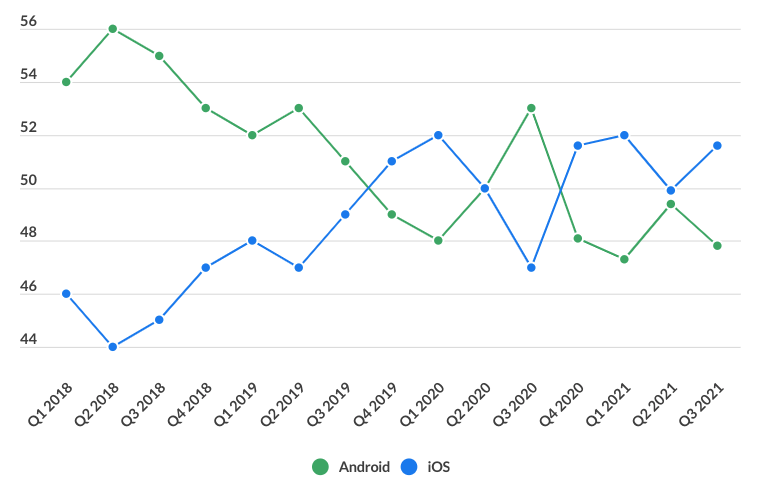 With such forecasting, it does make sense for businesses to build a mobile application to reach their maximum potential customers. Moreover, in the past six years, global tablet users have grown by 36% – with figures near 1.14 billion, putting a point for cross-platform app development.
Smartphone Usage
In the public area, when you observe your surrounding people, you will clearly see how they are dedicatedly busy with their mobile activity.
One study found that, on average, a normal person spent around 4 hours 23 mins a day checking smartphones in 2021. However, with increasing mobile applications, its usage time is expected to rise by 4 hours 35 minutes by 2023. Moreover, an average smartphone addict checks the screen 262-250 times a day, which would be under the duration of 5 minutes.
The reasons behind this increase in intensive smartphone usage are the digitalization of finance, shopping, and management services, easy availability of entertaining materials, and much more.
With the intensive users' dedication to their smartphone usage, businesses have an opportunity to generate $935 billion worth of business by offering services with the cutting-edge mobile app solution.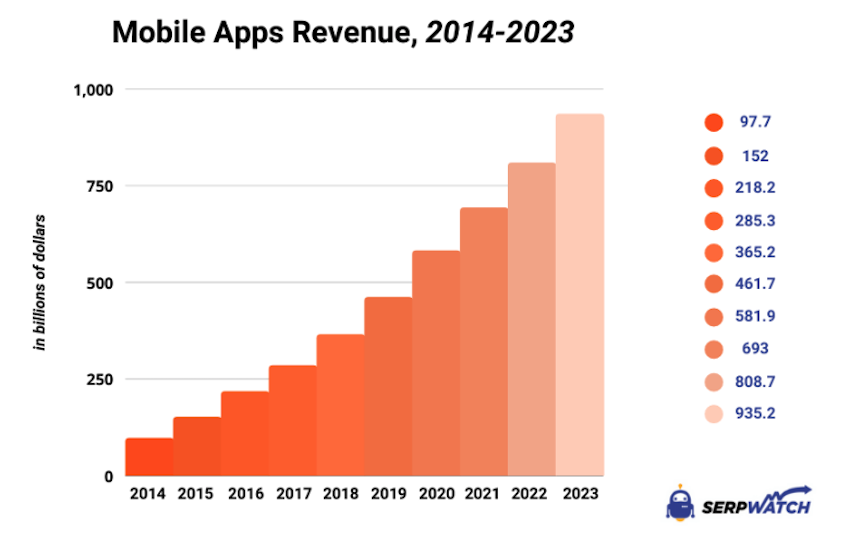 Mobile App Development & Download Statistics
When discussing mobile app development and download statistics, it is necessary to bring the Android and iOS app concepts along with Google Play Store and App Store.
Google Play Store
Google is the most trusted and highly used platform by the global audience base on a daily basis for even the smallest query search. In 2022's first quarter survey, the community counted over 2.65 million android apps with 494K+ publishers in the Google Play Store solely.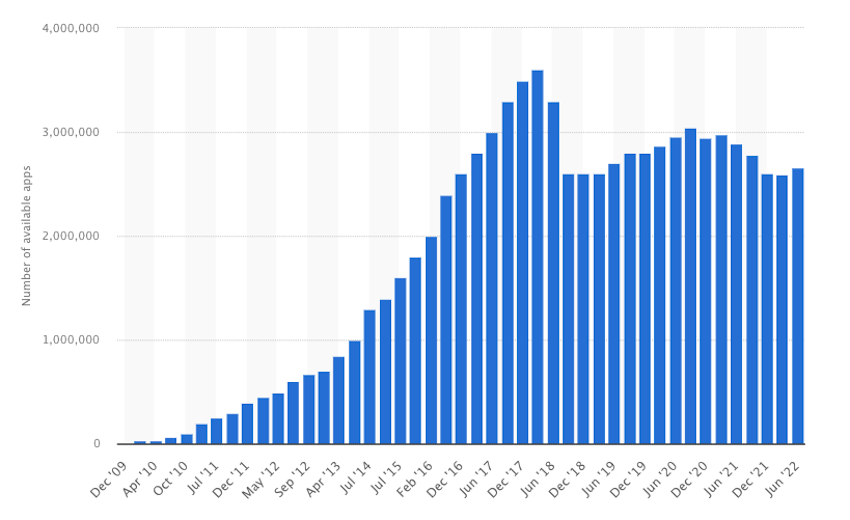 Although Google Play Store is removing low-quality & spamming apps from the store – its application numbers are rising every day. The Google Play Store gets updated with around 3,739 new mobile apps on a daily basis! These increasing app numbers have made Google Play Store the biggest mobile app store in the world.
With such increasing Google Play Store app numbers, at the latest, its app download rate was noted as around 111.3 billion, which was around a 50% of increase from the 2016 app download rate.
The SensorTower has projected a rise in the Google Play Store users' spending on apps from $53 billion (in 2022) to $60 billion by 2023.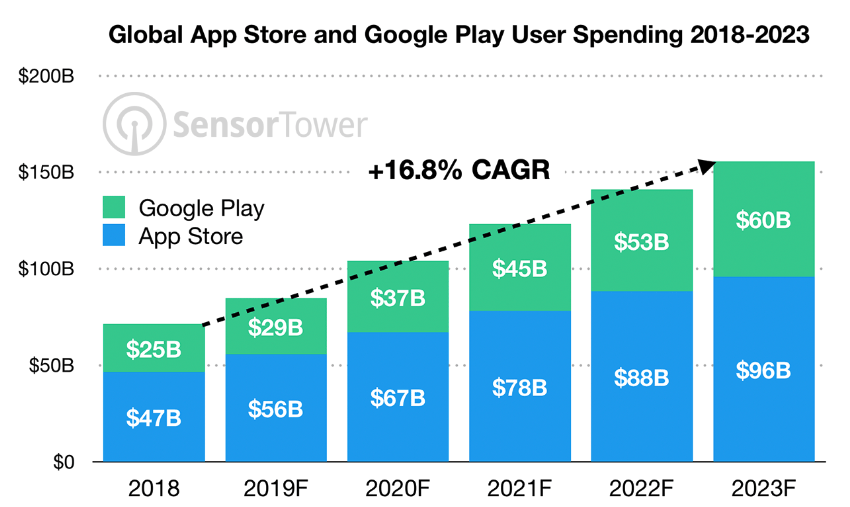 Google Play Store revenue 2023 projection by region wise is as follows: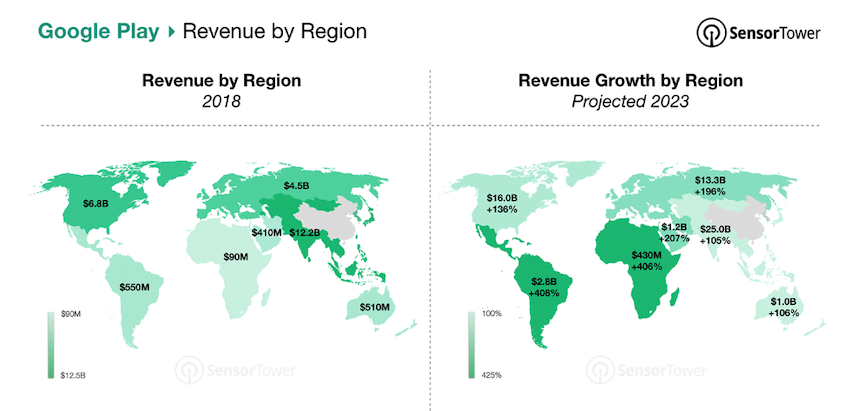 App Store
Apple App Store is the second largest and the close competitor of Google App Store, with a varying user base region-wise. You can get that data from the above section named "Android vs iOS Mobile Device Users."
At the latest, in the App Store, there are 2.11 million iOS mobile apps available with 724K+ publishers globally. Of the total App Store iOS apps, there are around 221,666 Games, and the remaining ones are non-gaming apps.
According to Statista's latest survey, in June 2022 itself, 36 thousand iOS mobile apps were released in the App Store globally.
With the growing popularity and user base globally, App Store is expecting revenue growth of around $96 billion by 2023 from $88 billion in 2022 Q1. And this growth by region wise is shown below: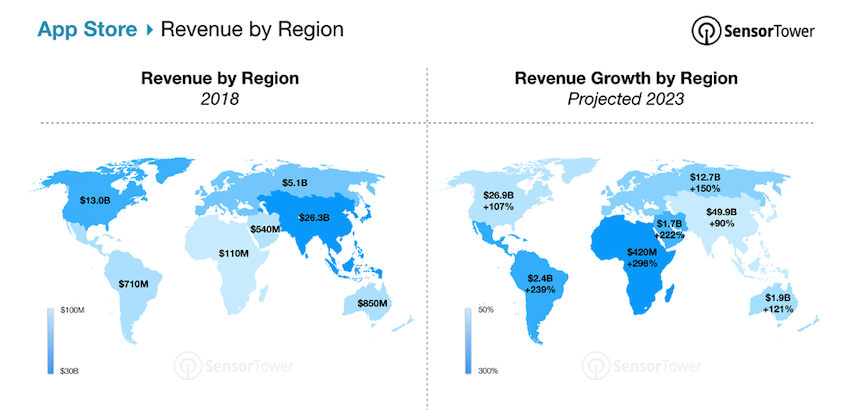 Now, we will see the mobile app retention rates based on different app categories, which show users' commitment to the application they download.
Mobile App Retention Statistics
When developing a mobile app, the major focus should be on the user retention rate. We understand that it is a bit harder to ensure higher user retention rates all time, but important to give different tactics a try.
Let's first know the meaning of mobile app retention rate.
Well, the mobile app retention rate is calculated based on the measures, users continue to use the application after its installation. The more continued use of the application by the maximum users, the better the mobile app user retention rate. Basically, the mobile app user retention is calculated in the cycle of 30 days after a user installs the app on his/her mobile device.
The mobile developers' community shares an average mobile app retention rate measured within 30 days:

If you see for mobile app development type and genre, then the user retention rate differs depending on the kind. Below are the average mobile app retention rates based on industry type: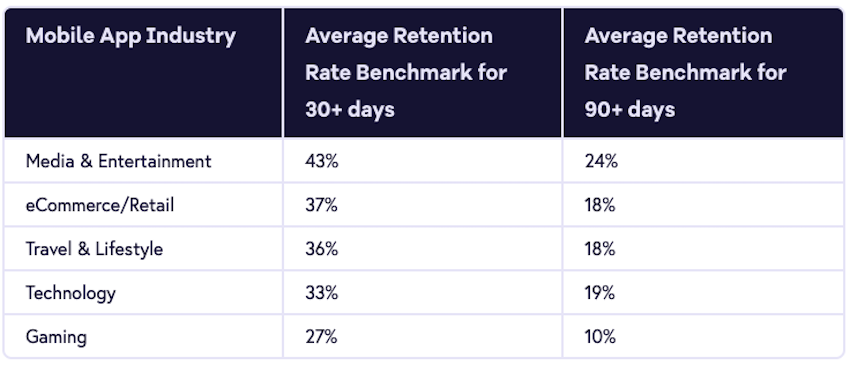 So, to ensure a better mobile app user retention rate continuously, you need to check the factors leading to better mobile app growth as explained in the given-below topic.
Mobile App Growth Affecting Factors 2023
Now you know that around 90% of smartphone users' time is spent on Mobile Apps. However, you would also want to know the factors motivating smartphone users to stick to their favorite mobile app. This study would help you get ideas to make your mobile app solution even more productive.
Mobile App Features and Functionalities
1. Attractive Mobile App UI/UX Designs
The mobile UI/UX design trends are the most fluctuating once. In the past few years, mobile UI/UX designs have advanced a lot and are becoming a major factor in the success of your mobile apps. With such, the market competition for the best mobile app UI/UX to ensure maximum user retention rate is also growing rapidly.
The leading mobile app UI/UX statistics say:
A Good UI design helps to increase application conversion rate by 200% and UX design by 400% (Forrester Report)
The ROI ratio from UX is 9,900% (Forrester Report)
Latest Mobile App UI/UX design trends you can try on your solution
Use of in-app gestures (like Double Tapping, Dragging, Flickering, Swiping, Touch & Hold, Bottom Swiping, Swiping for switching screens, Swiping from the top, etc) borrowed from your mobile OS type (iOS & Android Gestures)
Use of Motion Elements – Wyzowl's study states that 96% of users give more attention to motion elements (video and animation)
Use of AR in UI: The augmented reality implementation in UI has been increasing since 2019. In that year (2019), the AR users were counted at 0.44 billion but are now expected to grow to 1.73 billion by 2024.
Use Illustrations in UI
Use Bitmozies and other cartoon characters for the rewarding application user experience.
2. Best Performance
For the success of any mobile application, the best performance in terms of faster and crash-free operations is the key. In today's fast-forwarding world, mobile app consumers demand to have applications that release new updates frequently, provide a rewarding app user experience, and meet their every needs coming in line.
When there is such an intensive mobile app market competition going on, your mobile app performance is the only key.
30% of mobile app users want their favorite app to load in just a fraction of seconds
49% of mobile app users might wait for an app to load if it takes around 2-3 seconds or max by 5 seconds
Not meeting such app loading speed might cause a loss of your potential loyal mobile app users.
According to Forrester Research, on average, a mobile user extensively uses 25 apps a month, and 80% of users only use 5 mobile apps a month.
3. Platform Dedicated Audience
Now, you already know that the android and iOS platform audience count at the latest by region with their successful user base retention ratio. Hence, it is important to choose your app development type wisely. You also know the mobile app development cost for Android and iOS apps, in which, indeed, iOS app development rates are a bit higher.
If we look on the bright side, to get incredible revenue generation, you do have an option for cross-platform or hybrid mobile app development. This option is more cost-effective than native app development and helps you generate revenue from all app hosting platforms.
Be With the Mobile App Development Solutions' Success Trends
After learning about mobile app development and business revenue generation, you might feel motivated to develop your own mobile application. Do you have any idea about the app development type? In simple terms, "what kind of mobile app do you want to build?" Let us make your research work easy.
As per the study, below are the most popular Google Play Store and Apple App Store categories:
For App Store: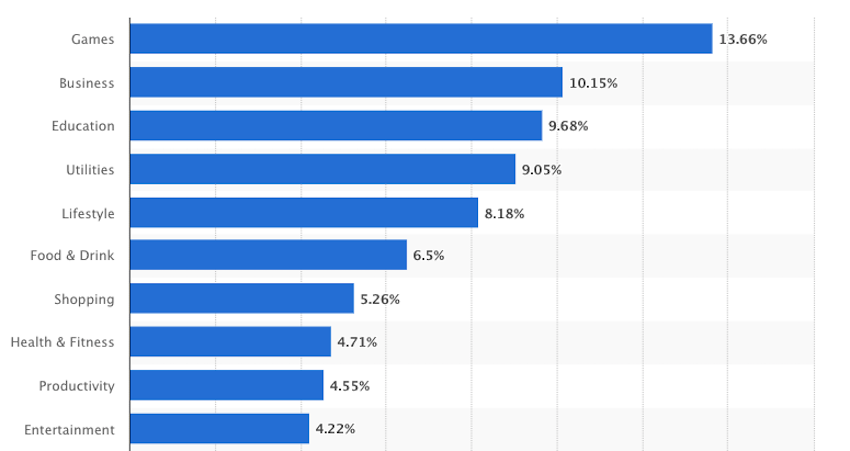 For Google Play Store: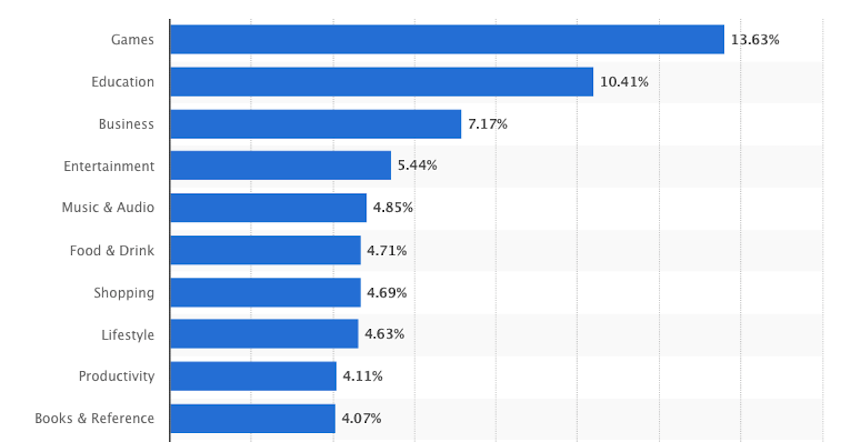 By following these mobile app ideas and industry types, you can build the most revenue-generating app. For better insights, refer to the below mobile app statistics and development ideas.
1. Social Media Apps
Social Media applications were famous from their inception, starting with Facebook. Today, social media platforms have become an integral part of our life for our entertainment, networking, and marketing purposes. Did you know that nine out of ten people spend their 4-5 hours daily scrolling social media?
There is no doubt that the short social media videos, shorts, reels, etc., have doubled the global digital userbase's time spent on social media platforms. And what social media platforms does that include?
Without an extensive survey, we can get that answer from ourselves and the people in our surroundings. Wherever we go, we will find the majority of social media users using applications, including Facebook, Instagram, Twitter, Snapchat, etc.
You can see and analyze from the below-mentioned social media statistics shared by e-marketers that every social media platform is gaining new users in bulk every single day and getting a rising graph each consecutive year.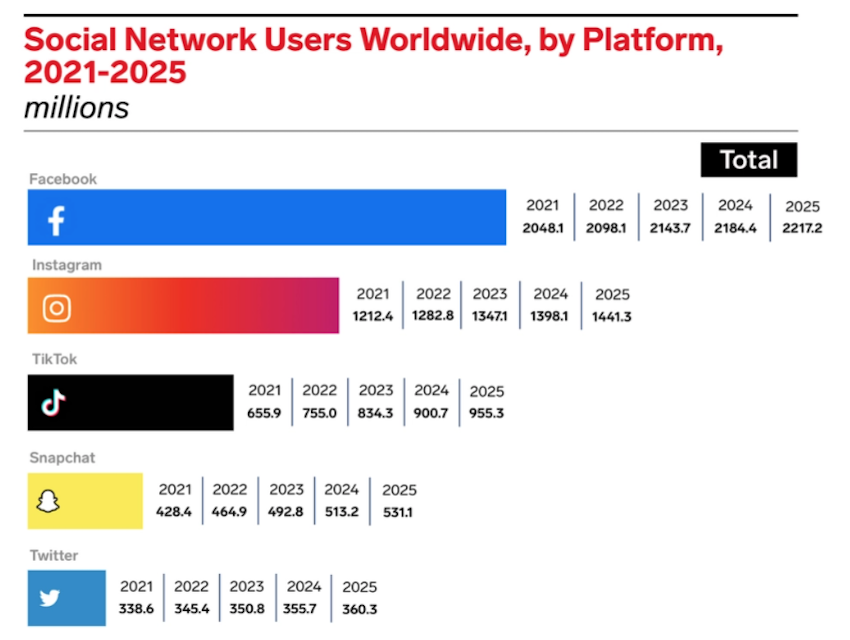 Seeing such success rates, you do have chances to rock in the market by developing a well-thought social media platform that can benefit the global user base.
2. Messaging, Chatting, Video Calling Apps
Online chat or messenger apps and video calling apps have connected the world. They have narrowed it down for people living in distant locations to connect over the internet through such online chat apps and make real-time conversations. Now that all online chat apps also provide HD video calling facilities, their usage has extended a lot globally.
We all know that whenever there is a talk about an online real-time chat application, WhatsApp comes first to our mind. To know more about popular real-time online chat applications, see the below-mentioned statistics about their global user base:
(Source: Statista – Most popular global mobile messenger apps as of January 2022, based on a number of monthly active users)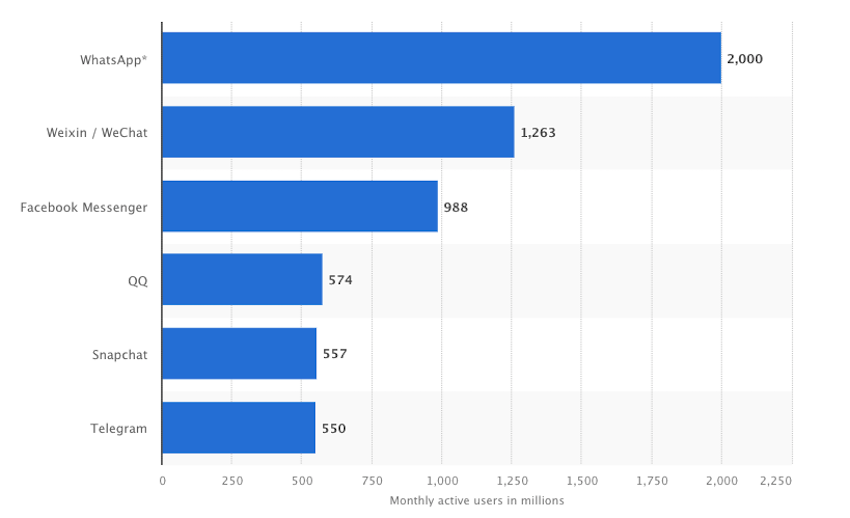 3. Video Streaming Apps
We all need entertainment for ourselves. And when we get to access global entertainment programs, series, movies, and documentaries in one app, why would we don't wanna use it! Speaking of Over The Top (OTT) Services or online video streaming apps, YouTube, Netflix, Amazon Prime Video, Disney+ Hotstar, AppleTV+, etc., like global platforms are the ones we use the most regularly.
As per Statista, the OTT marketplace revenue was last valued at $121.61 billion in 2019, and is expected to reach $275.30 billion worth by 2022 and $476.60 billion worth by 2027 at the CAGR of 11.60% (2022-2027). The user penetration ratio will be around 35.7% in 2022 and is projected to reach 44.1% by 2027.
There are countless online video streaming platforms available in the market, but here, we'll target top-rated OTT platforms at the global level, which we discussed above.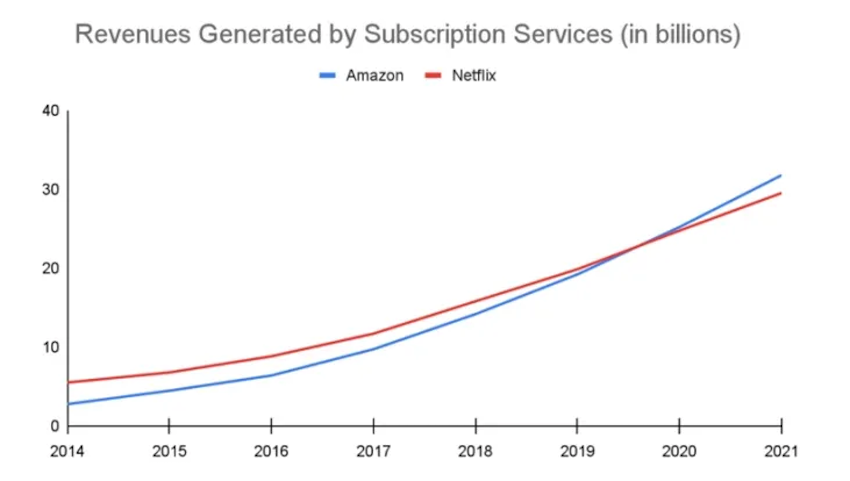 With a growing expectation of entertainment services, there are indeed chances to create better business opportunities by building OTT mobile app solutions.
4. Financial Apps (E-wallets, net-banking, stock market)
After online video streaming services providing applications' stats, financial apps are largely used by global mobile users. As per one study, it is found that 6 out of 10 people prefer to use online finance apps to manage their finances. After the e-transaction is made easily accessible and convenient, their usage is expected to rise in the following years.
Around 90% of smartphone users prefer to see online banking apps to check their bank account balances and make online payments.
97% of millennials and 89% of smartphone users majorly rely on mobile banking apps.
If banking app personalization is done, mobile banking businesses may increase their revenue by 15% on current revenue stats.
Banks with online banking services apps usually retain their account holders with an 89% success rate.
With such success rates, the online personal financial app marketplace is expected to hit $1,576.86 million worth by 2027 at a CAGR of 5.7% (2020-2027).
The global e-trading mobile app market has been projected to increase by 5.1% each year with an estimation of $12.16 billion worth of marketplace by 2028. In this marketplace, the cryptocurrency mobile applications have now also entered the market with a 400% of app adoption growth in 2021 and will skyrocket more in the upcoming years.
5. On-Demand Apps (Booking, Delivery, E/M-commerce)
After the COVID-19 pandemic, the user base of on-demand services providing apps has increased a lot, especially in online booking (hotel accommodations, services booking, etc.), online shopping apps, food/grocery delivery apps, etc.
Because of the extensive applications and increasing popularity of on-demand services, its on-demand apps revenue will increase to $335 million worth by 2025. (unknown source)
As per the CBInsights report, US smartphone users are spending around $57.6 billion finances an annum on today's market – on-demand services' apps. The spending break-throughs are as follows:

Moreover, European on-demand app marketplace spending is expected to hit $1.8 trillion worth by 2025.
Also, the on-demand app market creates many new business opportunities for the rising entrepreneurs and helps them to make better business in the upcoming years at the global level.
6. Gaming Apps
In our free time, we all enjoy playing mobile games to freshen up our mood, whether it is a popular mostly played Candy Crush, Card Games, War Games (PUBG, Fortnight, etc.), or any other ones. Speaking of which, the gaming market has a huge dedicated user base across the globe.
In the last year 2021, the mobile gaming industry made around $180.3 billion worth of revenue, which was around a 1.4%+ of increase compared to previous years. The gaming industry gets new users every year.
In 2021, the mobile gaming app user base increased with 3 billion new players with a 5.3%+ of increase rate as compared to previous years. Moreover, of those mobile gaming app players, 55% of them were from the Asia-Pacific region.
At a global level, downloaded 21% of Android and 25% of iOS apps were games only.
43% of mobile app users mainly use their mobile devices for gaming purposes only.
78% of Game players are Android, mobile phone users.
57.9%=~58% of game app users prefer to play puzzle games.
In all mobile games, PUBG became the MVP across the global app market.
Gamers Gender & Age-wise:
The majority of women gamers spend more in-game purchases.
53% of gamers fall under the 45-55 years category.
37% of mobile gamers are men.
8% of mobile gamers are teenagers.
The AdColony survey says that 50% of gamers are teenagers and middle-agers – youth. They later entitled them as committed gamers.
The gaming industry is changing and has become a major revenue-generating business. The involvement of web 3.0 technology in the gaming industry is changing the paradigm by adding many new exciting gaming features and experiences.
Final Statement
With the increasing motivation toward mobility, mobile app development, and adoption rates will indeed skyrocket in the following years. The amalgamation of normal mobile apps and web 3.0 technologies will change the paradigm of the mobile app industry in terms of user experience, performance, and security extensively. So, that was all about mobile app growth statistics and trends to take care of in 2023 and beyond.

Need to know more about the mobile app industry and its development? Contact us to get an expert consultation for your mobile app development query.