What are the Benefits a UX Audit Can Bring to Your Business?
18 minutes read
42.5k Views
Do you know the feeling when you have created your digital product by considering most of the measures, yet it gets quite an unavoidable abandonment rate, leading to a major bounce rate and lower sales rate? Yes, it's the worst feeling ever!
All credit for the negative reputation of your digital product goes to unappealing user experience. As per webFX's survey, around 89% of customers are likely to leave your digital space and buy from your competitors due to the poor user experience. That you definitely don't want to face in your digitally-thriving business!
Providentially, there is a way to build up or revive your excelling brand reputation. And that is by conducting a thorough UX audit of your website, mobile app, or digital product.
But do you know what this UX audit is? Maybe, vaguely! However, having a clear understanding of UX audit can be quite beneficial before opting for such a service.
Therefore, this blog comes into the picture and sheds light on the UX audit process! So, let's begin the analysis.
What is the UX Audit of a Digital Product?
UX audit is a quality assurance term focused on identifying issues from the digital product's design and user experience side, assessing user journey, product's usability, and accessibility issues. Some experts also know this process as the UX review of a digital product.
This UX audit is generally conducted by usability experts. They utilize real-world and real user feedback-based data and consider your business value to identify pain points of your products where your users leave the page abruptly and find effective solutions to fix those and elevate their user experience.
It's not like a UX audit will help you identify all product issues, including technical as it's obviously not a thorough product QA process but more focused on the usability side of the product. However, this process can effectively help to find out:
Alignments that users may find unappealing to look at;
Areas where users face difficulties in navigating through app features;
Ways users behave when they come across particular pages or features;
Solutions to optimize the product's experience;
In short, UX audit uses various methods to identify design and user experience side issues from different angles with reasons and possible solutions.
5 Reasons Why You Must Do UX Audit of Your Digital Solution
Among many reasons, better ROI is the most important reason why the majority of digitally-driven businesses opt for the UX audit service.
Some other important reasons to conduct a UX audit include:
Better User Satisfaction: By identifying digital solution's usability issues, a UX audit significantly helps to address those issues and improve user experience and overall satisfaction.
Increase Conversion Rates: UX audit may help to identify areas to optimize user journeys and reduce difficulties in the conversation paths (such as sign-up, checkout, etc.). The quicker the path those pages offer to navigate through with other conveniences, the better the chances to get higher conversion rates.
Data-driven Decision Making: The UX audit process entirely depends on the data, and that's the reason why you're doing it. By analyzing the current data and digital solution, UX audits state evidence-based insights showing where and how the user experience can be improved. Therefore, data-driven decisions are made.
Keep it up-to-date with Trends: Apart from the data analysis, the UX audit also asks for market analysis to find out where your digital product is lacking and what to adopt to make it stand competitive in the dense market of many similar products.
Enhance Brand Reputation: The better competitive your product is in terms of user experience, the better brand reputation you can have in the market. And this analysis helps you achieve the product of which users speak volumes.
In short, UX Audit is a valuable investment that can lead to making your digital product a user-centric one, increasing user retention and satisfaction, leading to a better brand reputation, increased conversation rates, and, thus, business success.
What's the Right Time to Conduct a UX Audit of Your Digital Solution?
In the book Software Engineering: A Practitioner's Approach by Robert Pressman, there's an explanation about prioritizing the UX Audit with this hypothesis: "Solving mistakes on the design stage may cost $1, while $6 on the development stage, and $15 on the testing stage, exceeding to $60-100 in the post-launch scenarios."
This study suggests choosing the right time to do the UX audit to find out where your product lacks and fix it before it causes more trouble. Therefore, many UX auditors suggest doing it once to thrice a year to grow your digitally-driven business faster.
Not just for the entire product's audit, UX audit also helps to audit the effectiveness of particular features you're planning to add to your product. Along with that, it contributes to the study of features that are doing well and worth keeping in and worth availing for a particular user base.
This is also quite helpful when redesigning your website or mobile app. During that, it helps to identify your previous mistakes and revamp your product into a totally fruitful solution.
It's not like a UX audit can only be done on existing digital solutions. You can conduct the UX audit of your product at any time, be it during the development phase or it was launched quite a long time ago.
UX Auditors at MindInventory strongly recommend doing a UX audit of your digital product after its development and before launching it to the market. This decision may offer flexibility to make changes without causing trouble in terms of time and budget.
However, an audit done post-launch can be more insightful as it has some data to know the UX parts missed that are irritating users to understand their journey in your product.
Apart from these, there are times when you need a UX Audit:
When you're facing a lot of cart abandonments, user bounce rates, decrease in user engagements
During and after making major updates and getting new major releases in the technology
When scaling up your product
When many users share their feedback/reviews for experiencing a bad UX
Briefly, the aim of this quality assurance technique is to provide users with a world-class user experience.
Also Read: UX Design Best Practices for eCommerce Stores That Guarantee Better Sales
How to Conduct a UX Audit of Your Digital Product?
UX audit is conducted in various stages to find out the usability of the website, mobile app, and digital products. It starts with preparations for the audit, gathering all documents, and then going towards the main assessment stage as listed below:
STEP 1: Prepare for the Success
Now, this is the stage in which you plan and set several benchmarks and create a checklist to evaluate your digital product. Here, in the UX audit preparation part, your UX strategy plays quite a vital role.
So, here are the initial stages to prepare for the UX audit drive:
Understanding the product and business type by briefly navigating it;
Interviewing stakeholders (business owners, project managers, customer support team, etc.) to know their pain points, business objectives, and gather as much information as possible to better understand the goal and conduct audit accordingly;
Gather existing documentation related to your digital product, such as design and brand guidelines and previous UX research reports.
After getting all this information on the table, it's time to kick-start the UX audit process.
STEP 2: Product Understanding & User Persona Creation
During interviewing stakeholders and briefly reviewing it for the first time, UX auditors usually get a basic idea about the product. However, to conduct the UX audit, they do need to study the product thoroughly to understand everything about it, including concept, user needs, user journey, and much more.
So, during this thorough product exploration phase, auditors learn about the product type, its focus user base, and business model type to further scope the UX audit process.
After their product exploration phase, they come up with the user persona, identifying the strategies to make their journey exciting and meaningful.
Now, what's this user persona for the UX audit?
A user persona is a semi-functional character that UX designers create by listing down their name, occupation information, understanding levels, personal summary, and pain points when exploring the product, needs, and providing solutions to ease their journey throughout the product. In short, a user persona is more likely a portrayal of a real user in particular. And this user persona looks something like this: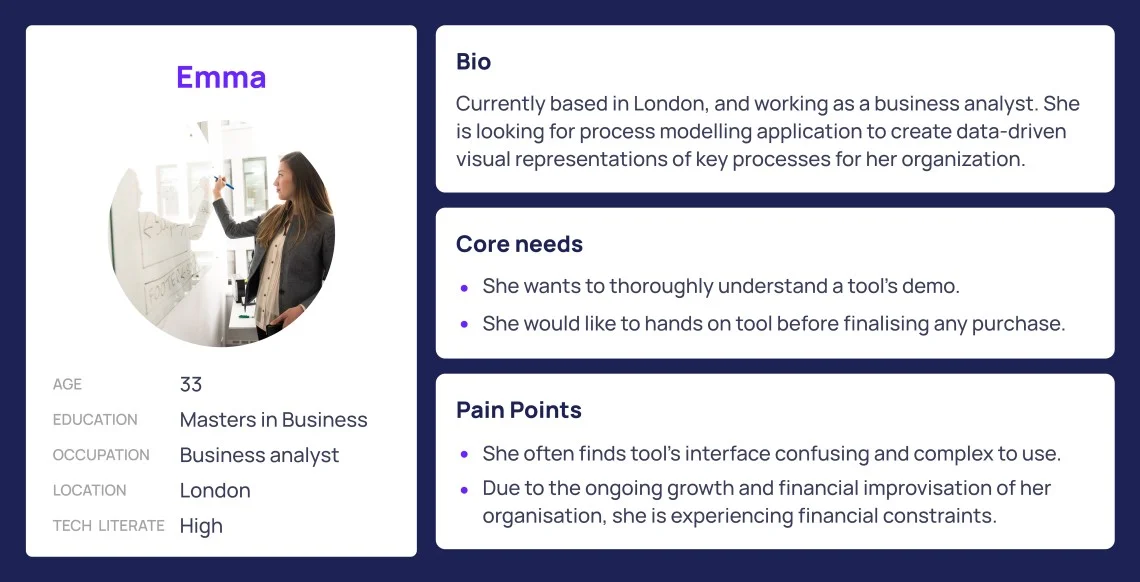 This user persona helps product stakeholders understand users' needs to use this tool expertly. It shows the overall brief review of the user, where he/she faces difficulties, and where the improvement is necessary.
STEP 3: Defining Scope of the UX Audit
Now, this is the most important process that helps UX designers define the required timeline and milestones to complete the thorough audit of the product, along with the prioritization.
In this process, 4-5 auditors analyze the product parallelly to come up with a list of focus areas (product features, visual appealingness, navigation) to scope the audit stage and let the stakeholders know the features and product parts to prioritize.
It may seem like a simple task, but contains extensive industry experience to scope the audit process that fits into a business owner's budget and timeframe.
After this, a comprehensive heuristic evaluation starts, the main process we all are waiting for to reveal.
STEP 4: Usability Heuristic Evaluation
Heuristic evaluation is performed thoroughly to discover usability issues of the digital product. It's performed by UX designers/auditors with the use of the rule of thumb to discover:
Usability issues
Hidden opportunities
Roadblocks in the user's journey to the product
Prioritize optimization needs
If done with professional UX designers, a walkthrough will be taken on the way users navigate through the app and explore core features just after signing up from the free as well as paid users' perspective. It requires designers to be realistic as much as possible to avoid designers' bias.
In this process, some teams may prefer to include both professional UX designers and users to do the screen-by-screen evaluation to find gaps. When doing this test with the users, NN Group suggests involving not more than five users to save time and learn most of the things.
Because more users are involved with the process, the learning process for heuristic evaluation will lower down, leading to a splurge of time, resources, and money.
However, to conduct the heuristic evaluation precisely, you need to follow Jakob's 10 Usability Heuristics, which are: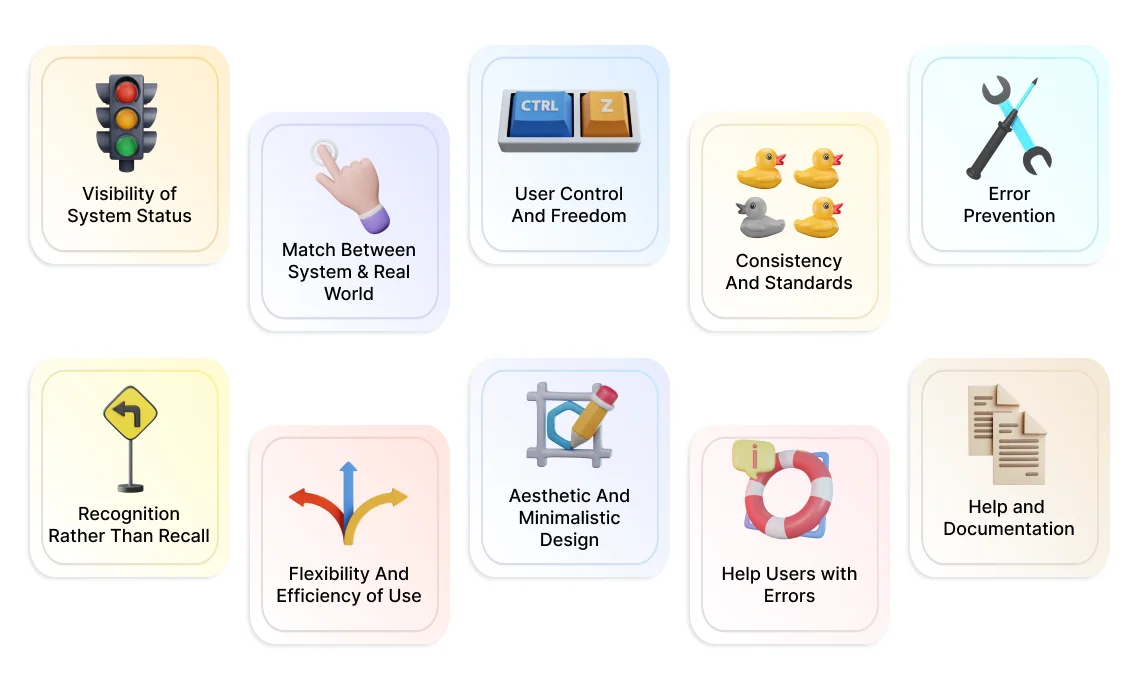 Visibility of System Status: This focuses on design, which should inform users about the process with appropriate feedback, like where they are currently and where they should go to reach their destination.
Match Between the System and the Real World: In this, the design should speak users' language by stating keywords that users can easily understand.
User Control and Freedom: There are chances that users may end up at the location they don't want to, so to take the "emergency exit." So, this evaluation is to discover that quick button to roll back rather than leaving the whole digital site.
Consistency and Standards: The right placement of the right element without creating diversion or confusion for users is the most important rule in the design, which must be met.
Error Prevention: Having a creative error message is important, but a safe design preventing problems is essential. So, this study focuses on that.
Recognition Rather Than Recall: This assessment looks for the design navigation and provides comments to improve the design flow to make users easily understand such without having any extra cognition load.
Flexibility and Efficiency of Use: Design should have two approaches one is regular navigation and another is the shortcut for the expert users to take the fastest possible route.
Aesthetics and Minimalist Design: It shows that the user interface should contain only the necessary information that a user should know and perform rather than making it crowded with too much information.
Recognize, Diagnose, and Recover from Errors: If the user attempts to navigate in the wrong direction, it should provide an error message in a simple way like "Oops! Looks like you're lost!," and suggest the best possible solution.
Help & Documentation: Good product design doesn't need further explanations. However, it's nice to have something for users to refer to. So, it ensures that product design onboard a user with a quick start guide to use the app.
Apart from this, it's really important for UX evaluators to flag issues with its codes when doing Usability Heuristic Audit. When doing so, they mainly take a top-down approach to set priorities in two categories for stakeholders to understand and fix based on the metrics given.
Those prioritization categories are:
Ease-to-Fix: It flags issues from E1 – E5 ratings, where E1 stands for hard to fix, easing down to E5 – which is easy to fix.
Severity Metrics: They flag issues based on the severity they can cause in the user experience. Here, it states severity from S1 – S5, where S1 stands for most easy to fix, leveling up to S5, which is very hard to fix.
Here, severity metrics are flagged with their ranks with issues, type like:
Cosmetic Issues: These issues are related to color schemes, shapes, and other appealing factors.
Irritant Issues: It checks for the alignment and selection of design elements, including navigation choices that may irritate users to prioritize your website, mobile app, or digital product.
Minor Issues: It's the sub-category combining all the design-related factors creating a minor impact on user experience, yet necessary to fix and also the easy ones.
Major Issues: These are the quiet to consider issues on priority, which must be addressed to elevate the user experience.
Usability Catastrophic: These issues are the disasters in the design, which must-must be addressed and, in the most possible scenarios, are suggested to be redesigned or replaced by effective solutions.
So, this usability heuristic evaluation is performed to discover as many issues as possible to optimize the product to the fullest in the usability wise.
STEP 5: Visual Heuristic Evaluation
This one is our own developed heuristic evaluation that adds up to the usability evaluation. And helps our clients get a thorough UX audit report to optimize their business-essential digital products. This evaluation is done by considering visual design factors like:
Alignment: Analyzing the product to check the visual appealingness in terms of alignment consistency;
Hierarchy: A proper order of each feature and action is checked, and suggested edits to change the sequence to make users' journey on the product smooth like butter;
Contrast: Analyzing color combinations, we know as color palettes/schemes used in the product UI design, to check their compatibility with and how they complement each other. And if they are not matching up, what would be the ideal fit for the same? That's all they help to find.
Visual Balance and Rhythm (Consistency): Here, we check the consistency of the alignment, color selection, design objects used, and the format of all pages. So, your users don't get surprised by opening any one page of your product that is designed differently than other pages.
Affordance: You must be thinking that it's the term related to the money factor. In UX, it isn't! It's the term related to how quickly a user can understand your product design by just having a glance at it. It's just like learning to use a pen and hanging it on the shirt or pant's pocket, just by looking at its design.
Along with these points, visual heuristics also evaluates the accessibility of the product for different groups of users with different types of visual disabilities. To help you make the product more visually appealing and accessible for every user.
BONUS

Here, the mentioned ones are purely UX auditor's side evaluation process, but there's also a digital marketing professional's side evaluation that can add more value. In fact, this DM professional's side evaluation helps UX auditors save ample time in understanding users' journeys in your product.

This is done by gathering product analytics insights and heat map data. They help to know the actual data where users spend more time, from which page to another they travel through, how much more time they spend for a particular page section, and where their cursors move the most.

So, it's better to involve UX designers, UX auditors, Digital Marketing professionals, and QA engineers in the audit process to reap most of the benefits.
STEP 6: Writing a UX Audit Report
Now comes the most important part of the UX audit, which is to create its audit report by listing down all findings from the product UX assessment processes. Remember that you are building this report for the product stakeholders, project managers, and development team to refer to; hence, it's necessary to ensure its clarity in content word choice and representation.
When creating the UX audit report, evaluators also represent issues with effective solutions and remarks to consider at the time of optimization.
But how is it included in the UX audit report? So, the UX audit report is created with:
An executive summary of the report;
A project brief with a list of users and their experiences, the scope of the audit, platforms used for the audit;
A little bit of explanation about the evaluation framework: the research and the methods to be involved;
User persona with user type, information, pain points, and objectives;
Tables of usability heuristics and visual heuristics overviews with focus area ;
A thorough usability analysis of each feature with the issue types, violation types, prioritization keys, and recommendations;
A thorough visual heuristic evaluation report with issue types, violation types, prioritization keys, and recommendations;
Top recommendations that should be implemented for better user experience.
Every organization uses different approaches to create UX audit reports based on their set priorities, but the above-mentioned one is the most recommended one from MindInventory's UX evaluators.

How will UX Experts at MindInventory Bring Value for Your Digital Product?
You'll find countless reasons to not do a UX audit of your digital products, which are – it's a time-consuming process, quite cost-intensive one, and many others. But do you know what can influence you more to go for the UX audit service? It's the ROI solely. And that's the reason why you must hire UX auditors for your project by considering many things, including interviews and the assessment process.
It can be tiring work, right? Need a head start? MindInventory can be your ideal UX research, design, and audit partner with full-cycle product development offerings. We have highly skilled UX talents with extensive knowledge and experience in doing UX research and auditing and offering world-class UX recommendations that boost users' journey in your product, leading to better business benefits.
So, have a project in mind? Drop us a line; we'll be delighted to provide you with a UX solution that meets your standards.
FAQs on UX Audit
Why choose professional UX designers for the UX audit process?
Well, it's not like you, being a non-UX professional, can't perform the UX audit. You can definitely do that on your own when planning to save some money, but will that result be the accurate one that the UX professionals offer? Maybe not! Also, UX is quite an extensive field, which requires skills and experience that can't be developed overnight or over the course of a month. Therefore, a professional point of view is required to do a thorough UX analysis of your business-essential digital product.
How long does it take to conduct a comprehensive UX audit?
Well, it's quite a tricky question to answer. The time to complete the thorough UX audit of any digital product depends on the length and complexity of the product, the experience of the UX evaluator, report thoroughness requirements, and much more.
How much does a UX audit cost?
Unlike other cost-affecting factors, the cost calculation of the UX audit service is done a bit differently, which also impacts product maintenance and development costs. So, the factors affecting the cost of a UX audit are the experience & location of the UX auditor, the complexity of the digital product, the scope of the audit, no. of personas required to build, the requirement for the detailed analysis, and much more.