The Importance of Cloud Computing in Healthcare Industry
7 minutes read
32.5k Views
The use of cloud computing in healthcare has increased a lot by far. During the pandemic, the entire healthcare system had depended on the application of cloud computing. Along with doctors and nurses, every medical institution has reaped the benefits of IT infrastructures.
Some perks of the increased use of cloud systems in healthcare include improved privacy, lowered expenses, and better patient care through remote operation and collaboration. The implementation of cloud computing in healthcare brought new ways to enhance the functionality of IT systems.
As per the report, cloud technology is becoming famous and the cloud computing market is predicted to reach $71,730.64 million by 2027, with a CAGR of 14.12 percent between 2022 and 2027. Hence, we can see that healthcare organizations accept new technologies and spend more on tech growth.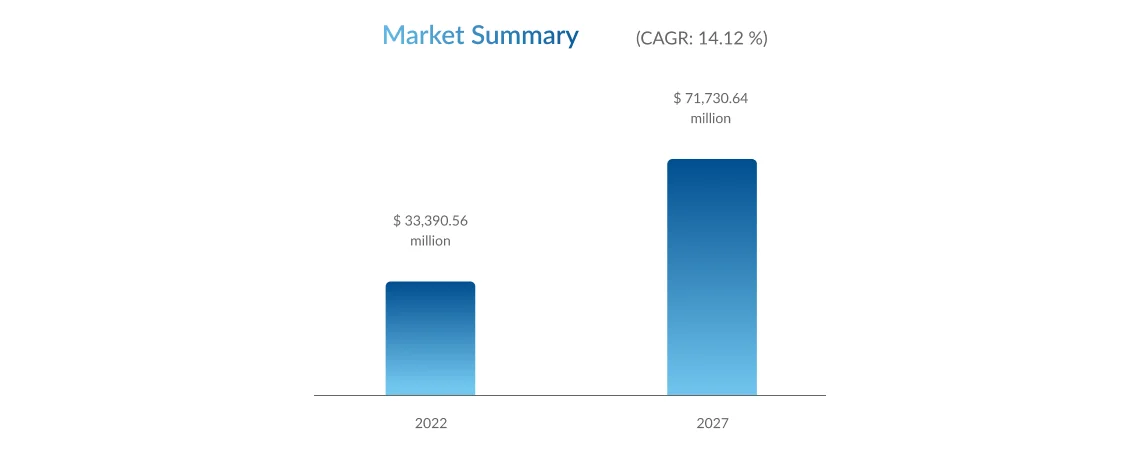 Let's explain cloud computing a bit and what role it plays in shaping the future of the healthcare industry!
What is Cloud Computing in Healthcare?
Cloud computing in healthcare is all about applying remote servers used through the internet. It helps to store, handle, and process medical information. Cloud storage is convenient for healthcare experts and medical institutions to use online servers to store a massive amount of data securely. Generally, IT experts maintain such servers.
With the advent of the EMR (Electronic Medical Records) Mandate, medical companies have embraced cloud-based solutions to store and secure their patient records. Furthermore, healthcare organizations that did not plan to shift current data centers to the cloud also adopted cloud-based solutions.
Top Advantages of Adopting Cloud Computing in Healthcare
Here are some benefits of implementing cloud computing in healthcare:
1. An Affordable Solution for Storing Healthcare Data
Healthcare providers produce massive amounts of digital data every year. These include lab tests, insurance claims, EMRs, and prescriptions. Cloud technology helps handle that data efficiently. When cloud computing offers more data storage, cloud-based analytical tools can use data more and change it into meaningful information.
2. Growth of Telemedicine
The application of cloud computing in healthcare has accelerated the rise of telemedicine. Cloud-based apps and telehealth systems help share healthcare data, offer patient health insurance during treatment, prevention and recovery, and enhance availability.
Furthermore, many apps feature more enhanced functions like virtual analysis of medicine consumption or doctors' appointments through video conferencing. In short, cloud computing is the key to enhanced medical care via telemedicine.
Read also: How to Develop a Telemedicine App Like Doctor on Demand
3. Improved Patient Experience
Doctors can ensure better patient involvement by providing real-time access to lab test reports, medical information, and doctors' notes using cloud technologies for healthcare. It helps patients maintain their health more precisely with better knowledge.
Furthermore, due to cloud computing in healthcare, patients don't go through unwanted tests or extra prescriptions.
4. Enhanced Collaboration
The application of cloud technologies in healthcare improves collaboration. Due to the EMR in the cloud, patients no longer require individual medical records while visiting a doctor.
Doctors even can share data, check earlier consultations with other healthcare professionals, and share data. It saves time for doctors and patients and aids in more precise diagnosis and treatment.
5. Convenient Interoperability
Interoperability is all about creating data integrations via the healthcare system, regardless of the source of data storage. Cloud solutions enable interoperability in healthcare and make patients' information accessible for flexible distribution and getting insights to facilitate healthcare delivery.
Cloud computing in healthcare allows medical professionals to access patients' medical data collected from numerous sources, distribute it among primary stakeholders, and deliver on-time protocols.
Types of Cloud Computing in Healthcare
The types of cloud computing in healthcare can be classified from two viewpoints: Deployment and Distribution.
1. Distribution Model
SaaS (Software as a Service): Providers offer IT infrastructure, and clients deploy apps and operating systems.
IaaS (Infrastructure as a Service): Providers provide an operating system and IT infrastructure, and clients deploy apps.
PaaS (Platform as a Service): Providers offer apps, an operating system, IT infrastructure, and other elements inside an easy-to-use platform.
Read also: IaaS vs PaaS vs SaaS: Picking the Best Cloud Computing Service Model
2. Deployment Model
Community: A specific group with similar preferences and goals can utilize the technology.
Private: One specific client can utilize cloud technology.
Hybrid: The technology integrates multiple clouds with various access options.
Public: Common people can use the technology.
Cloud Computing in Healthcare Comes With Risks
Despite all the advantages that healthcare cloud computing offers, there are still some issues. Let's have a look!
1. Restricted Ecosystem
The only acceptance of cloud solutions in healthcare cannot make the whole industry productive and efficient. To reap the benefits of this technology, healthcare organizations need to use Artificial Intelligence, the Internet of Things, and Data Management technologies.
2. Lack of Experts
You can hardly find expert developers in the healthcare software domain to carry the expertise for integrating new technologies in the industry. Likewise, it's tough to find cloud professionals in the health domain.
3. Security Challenges
Storing healthcare data is the primary point of adopting cloud technology. However, it comes with security risks also.
Due to the primary cloud setup, a company's data share on the server with other companies and the remote systems to individualize them may fail. It causes a situation where healthcare agencies fail to adopt cloud solutions.
4. Issues in Adopting Technologies
Moving from the legacy framework to cloud technologies needs to transform the whole task management process. Healthcare agencies need to teach everybody how it would be helpful in their daily tasks.
How to Avoid Risks While Applying Cloud Computing in Healthcare?
The application of healthcare cloud computing is a multi-phase process that needs collaboration between a healthcare organization and a technology provider. Moreover, it would help to consider some measures to avoid risks associated with cloud technologies.
1. Decide Your Objectives
First, understand the requirement of cloud systems in your healthcare business. Otherwise, you cannot list out the things that need cloud solutions. Some reasons for applying cloud technologies are:
Saving expenses
Compliance management
Security improvement
Data protection and better backups
Understanding the key objectives helps you communicate with your technology provider. And they can provide tailored cloud computing solutions according to your business requirements.
2. List out the Things to Switch to the Cloud
You may have many processes to switch to the cloud, but you need to understand that some particular functions need this improvement. Hence, analyze the current pipeline of your healthcare organization and recognize the obstacles that are preventing quality medical delivery or holding back your healthcare team's operation.
After assessing your company's processes, give importance to the immediate switch to the cloud to reap the topmost benefits. Moreover, it will help better communicate with the technology vendor and measure the precise time needed for the technical delivery.
3. Measure the Particular Investments
Switching to the cloud needs specific spending. Hence, understand whether your business can afford such investments. The primary expenditure includes paying tech experts engaged in the whole transfer process. You can:
Outsource Jobs to Offshore Technical Vendors: It's a trustworthy choice that offers security, convenience, and reasonable rates. However, you must be ready for potential language issues.
Create an In-House Technical Team: It's a complex process as you need to hire employees and pay a high amount to every specialist. However, simultaneously, you can control the entire transfer process.
Hire Freelancers: It is not preferable to share a medical organization's data with freelancers, but hiring freelancers is also the most cost-effective.
Bottom Lines
Implementing cloud computing in healthcare can shape the industry's future in several ways. From reducing expenses or time to providing conveniences, scalability, and enhancing collaboration among healthcare researchers, cloud solutions have many things to offer.
If your organization lacks specialists, hire a healthcare app development company to adopt cloud solutions and overcome technical issues.