Top Mobile App Ideas for Restaurant and Food Businesses
16 minutes read
17.6k Views
In the current digitally-driven landscape, restaurants and food startups are undergoing a paradigm shift. Gone are the days when customers used to stand in a queue to order food or wait for an hour or less to savor it. Now, with the help of mobile apps, they book their tables and order meals in advance. That's just the start of it.
Mobile apps have become indispensable tools for restaurant owners, food entrepreneurs, and customers. They are enhancing customer engagement, streamlining operations, and boosting revenue to a great extent. Along with it emerging technologies like AR/VR, artificial intelligence, etc., are extending their operations and capabilities.
So invest in mobile app development to earn higher revenues and great profits. Now, you must be thinking about which type of app you should invest in. Well, it's a valid question because many types of food apps are useful to business owners or individuals. However, the final choice should depend on business requirements, market demand, and customer preference.
To help you understand the diversity, we will explore some of the top mobile app ideas that are transforming the food industry, enhancing the dining experience, and making it more interactive and immersive.
Benefits of Developing Mobile Apps for the Food Industry
Investment in mobile app development provides numerous advantages and opportunities for restaurants and food startups. Here are some compelling reasons to consider the investment:
Increased Sales
Nowadays, consumers rely on mobile devices to order their meals, and groceries, book tables at restaurants, and check reviews and ratings before visiting the place. Mobile apps enable restaurants and food startups to reach a broader audience and serve more customers.
Enhanced Customer Experience
Mobile apps offer a user-friendly and personalized experience for customers. They can easily browse menus, customize orders, and make payments, enjoying a seamless food ordering process and dine-out experience.
Improved Brand Visibility and Recognition
The app icon on customers' devices acts as a constant reminder of the restaurant or food startup, marketing your business 24/7 and increasing the likelihood of repeat business. Your customers will think of ordering again from your platform or visit the location physically frequently and recommend it to others.
Customer Loyalty and Retention
In these apps, you can incorporate loyalty programs, reward points, and special offers for regular customers. These incentives encourage customer loyalty and increase the chances of repeat orders.
Real-time Order Tracking
Mobile apps allow customers to track their orders and physical location and display the status of their orders and restaurants. This feature enhances transparency and saves time, improving customer satisfaction.
Direct Marketing and Promotions
Restaurants and food startups can use mobile apps as a direct marketing channel. They can send push notifications about new menu items, promotions, and events, keeping customers engaged and informed.
Data-driven Decision Making
Mobile apps can provide valuable data and analytics on customer behavior, ordering patterns, and popular menu items. This data helps businesses make informed decisions to optimize their offerings and marketing strategies.
The benefits of investing in mobile app development do not end here. There are more like contactless payments, competitive advantages, third-party integrations, sponsorships, cost-effective marketing, collaboration, etc., and the list goes on. So when are you investing in it to take the chunk of profits?
Do you want to but don't have any idea? Well, it's obvious to get confused or have no idea about the industry. It's a growing industry, and many are unaware of its paradigms. To help you comprehend them, we have given ideas for food app development. You can choose from them and start your venture.
Top Mobile App Ideas for Food & Restaurants Business Startups
Below mentioned are exclusive food app ideas that will help you grow and promote your food tech and restaurant business online.
1. Food Delivery App
Food delivery apps like Bhoj, Porter, DoorDash, UberEats, Zomato, etc., are enjoying notable growth and profits.
According to the report, the average American spends approximately $37.28 per week, $152.51 per month, and $1,843.72 per year on food delivery orders online.
As per the Statista report, revenue of the meal delivery apps is forecasted to reach $507.10bn by 2027 at the CAGR rate of 6.49% between (2023 to 2027), along with the rise in consumer base reaching up to 2.45 billion by 2027.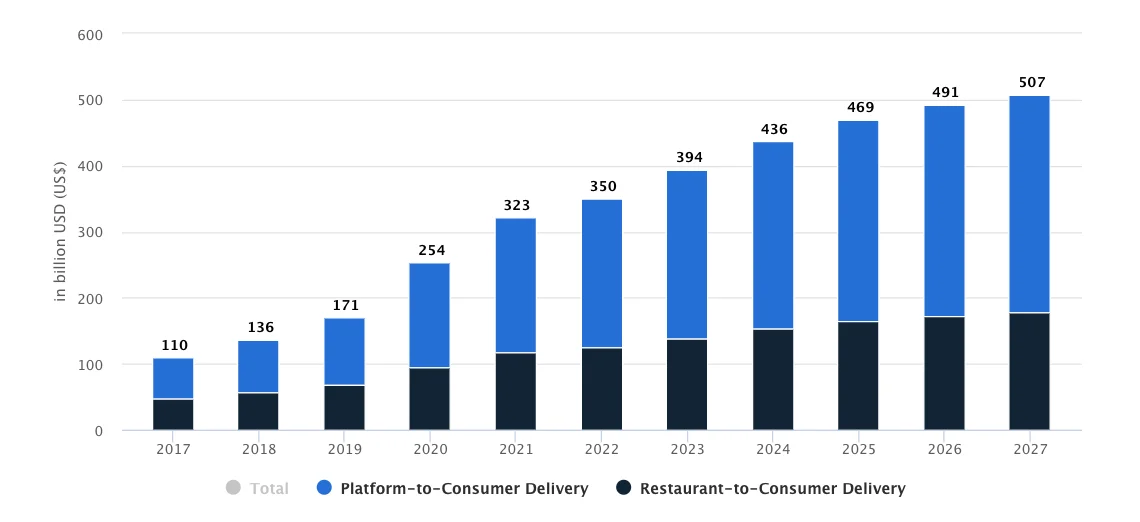 Food delivery apps generate revenue from restaurants, cafes, and food chains, ranging from local eateries to popular chain restaurants, allowing users to explore different cuisines and dishes. Along with it, they facilitate customization, real-time tracking, easy payments, offers, and discounts, bringing sales for the owners.
In return, they charge 25% to 35% commission from business owners and add delivery charges and taxes to the customers' bills. They follow other revenue models, including subscription charges, advertisement and promotions of food businesses, data monetization, partnership, integrations, etc., to increase the profit.
Now, you can guess the scope for the growth of food delivery apps in the market. It's scaling and booming! You just have to invest in it and enjoy the profits.

2. Virtual Cooking Classes Apps
Virtual cooking class apps leverage technology to provide cooking instructions, demonstrations, and interactive experiences to users willing to learn cooking from the comfort of their homes. You can conduct these classes through the app and charge a substantial amount to users for each class or the entire course.
You can opt for the basic, standard, and premium subscription models and ask users to pay monthly, quarterly, or annually to continue with the services. The fee usually includes access to live or pre-recorded sessions, recipe materials, and any additional resources provided by the instructors.
3. AI-Powered Food Recommendation Apps
AI-powered food recommendation apps leverage artificial intelligence and machine learning algorithms to provide personalized food recommendations to users. These apps analyze various data points, including user preference, past actions, social interactions, and other relevant data.
The app also uses collaborative filtering techniques to company user preferences and behavior with other individuals having similar interests. Later, it suggests items loved by the majority. You can also use its explainable features that tell why it made the specific recommendation and how it will suit you.
In addition, a few apps integrate with food delivery and ordering services, allowing users to place orders directly from the app based on these tailored recommendations.
4. Grocery Delivery App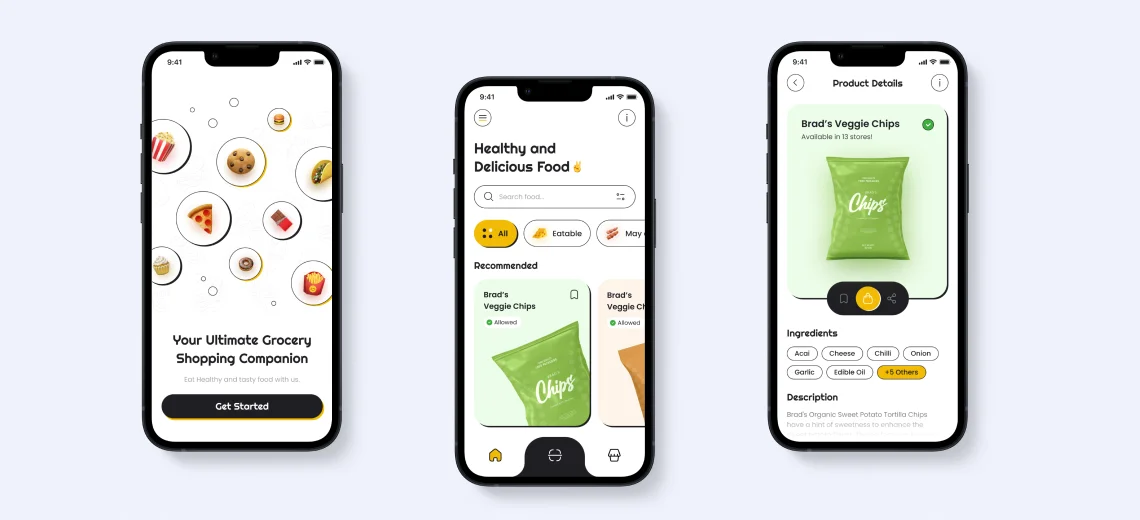 In today's fast-paced world, grocery delivery apps have become the second name of comfort and convenience. They save consumers from spending weekends buying groceries and standing in queues at supermarkets on busy days.
That's why the overall revenue of this industry is forecasted to acquire a market share of US$1,140 billion by 2027 with a CAGR of 16.11% between 2023-2027. In addition, the business may acquire 1,995.0 million users by 2027.
Grocery apps charge commissions from grocery stores for each other placed through their platform. It is their primary revenue source for grocery delivery apps. However, the industry follows multiple streams for revenue generation, like delivery fees, subscription models, the markup on products, advertisement, and promotions, partnerships with grocery stores, data monetization, etc.
All in all, it will be a good investment, looking at the urbanization and busy lives of people. Of course, they wouldn't have time to buy groceries, but grocery buying is a necessity. Here, you can work as a mediator and fulfill their demands and build a business out of it.
Read more to know the key features and cost of grocery delivery app development.
5. Recipe Sharing Apps
The recipe apps market has witnessed significant growth in recent times and may become a multi-million dollar market by 2024. Hence, it can be a sub-field to yield good profits with minimum effort and investment. You can invest in recipe app development to share new recipes or encourage people to share their recipes with users.
The app can help you build a community of chefs and potential chefs willing to master the art of cooking. You can target multiple revenue generation models like subscription, cost per recipe, advertisement, commissions, promotions, and partnerships.
6. Augmented Reality (AR) Food Menu Apps
Food chains and restaurants are replacing physical menu cards with AR menus to make the involvement more interactive and immersive. Users can scan AR menus using the app's camera, and the app will overlay AR content on the physical menu. The content will represent the menu with interactive 3D models, images, videos, animations, and other multimedia to make its visualization possible.
Users can tap specific menu items or sections, and it will offer additional information like price, detailed descriptions of dishes, ingredients, nutritional value, food images and videos, preparation time, etc. They can place the order without calling the waiter, and their order will reach the chef leveraging the same technology.
AR menus also provide suggestions for popular dishes, chef's specials, wine pairings, or other food combinations and give dietary instructions based on user preference. These menus are multilingual and come up with translation features, allowing them to scroll through menu items and descriptions in their preferred language.
All the features of the AR menu benefit the restaurant and bring in more sales. You can use your resources for other works than customer greetings and order taking. Hence, AR menus are beneficial both ways. So what could be a better investment than this? Nothing right!
7. Restaurant Table Reservation & Waitlist Management Apps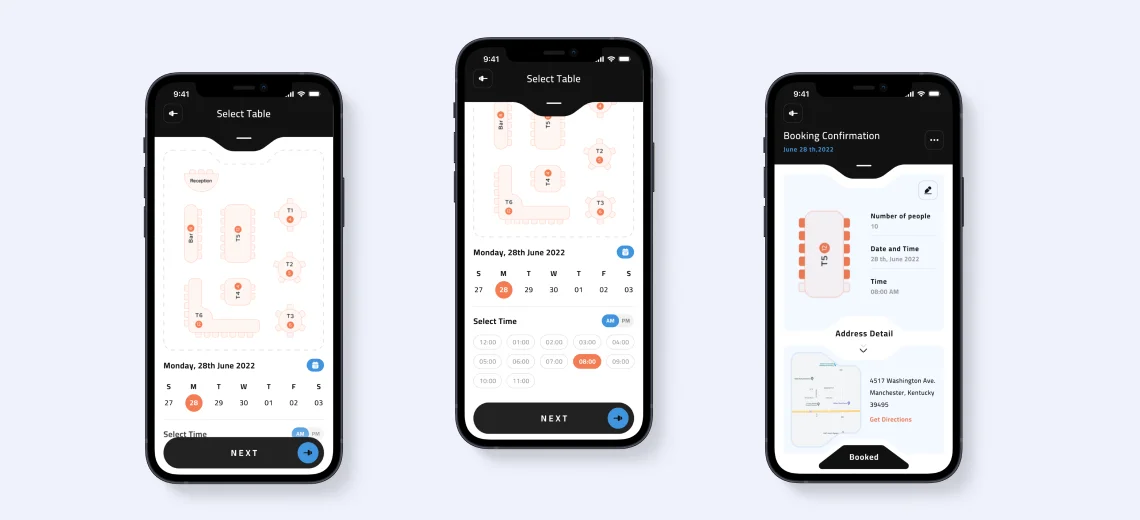 You wouldn't like to lose your valuable customers in the weekend rush, right? You wouldn't want them to wait outside your restaurant, trying to get a table. Well, in a traditional setup, it's quite impossible to avoid the hotch-potch and provide tables to everyone immediately.
Restaurant table reservation & waitlist management apps are the perfect solution for this hotch-potch. They allow users to reserve a table in advance in their preferable location, time slot, and date.
By investing in these apps, you can take note of their table bookings and make arrangements accordingly. Moreover, it gives you an idea of the waiting list as well. You can plan your daily schedules accordingly, serve more customers and increase your sales.
8. Restaurant Inventory Management Apps
Inventory management apps help food businesses track, manage, and optimize their inventory, including raw materials, ingredients, finished products, and other supplies. These apps streamline operations, reduce waste, and improve stock control and availability of inventory.
Moreover, inventory management apps provide real-time tracking of stock levels, and gather information about inventory levels, sales data, purchasing history, and supplier details. They also offer various analytics and reporting tools that help generate reports on stock levels, slow-moving items, turnover rates, revenues, etc. Food or restaurant chains can use it to manage inventory across all branches or outlets.
9. Restaurant PoS Apps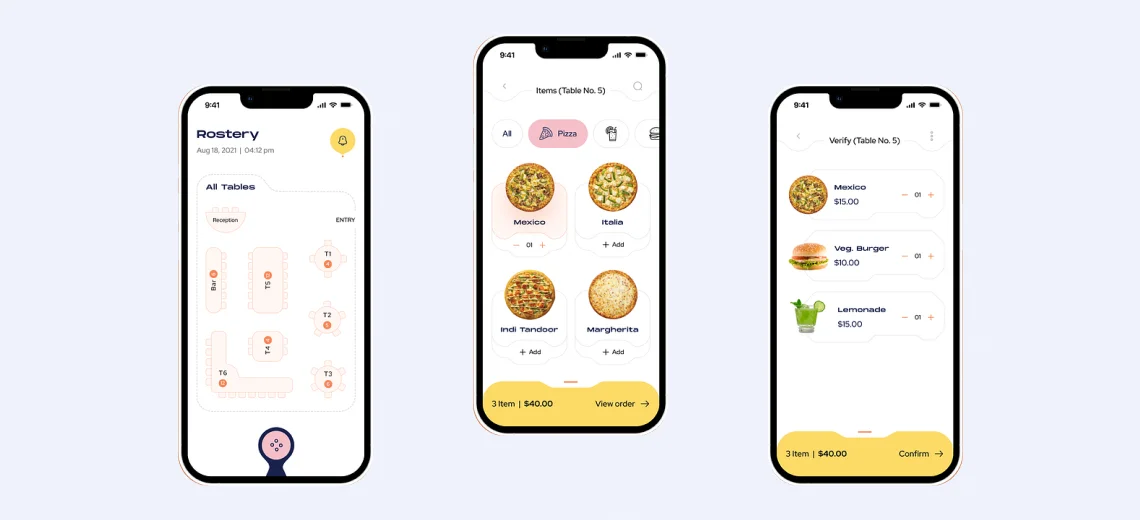 Restaurant Point of Sale (PoS) apps are software solutions designed to streamline and manage restaurant operations, including order processing, inventory management, payment handling, etc. It allows customers to place orders and send them to the kitchen display or print on kitchen tickets, allowing kitchen staff to take note of these orders and cook food accordingly.
The PoS system calculates order costs, taxes, and service charges, handles payment processing and billing, tracks the availability of tables, helps with reporting and analysis, splits bills, and collects and manages customer information.
You can build the system for your business or provide white-label solutions making other restaurants pay a certain amount to use the app. Along with it, one-time licensing fees, hardware sales, transaction-based fees, data analytics, and insights selling for research can be other models for revenue generation.
10. Food Waste Management Apps
A food waste management app is a fantastic idea for any food startup business. Restaurants and other food businesses cook food in massive quantities. The wastage is too high to put in numbers. Along with it, there is a huge demand for leftover food in any country due to the growth of the poverty-stricken and homeless population.
To curb the need, you can launch a startup for food donation or supply the leftover foods from restaurants to the homeless and poor individuals of the city. The idea can start a social movement offering benefits for poverty-stricken populations.
However, what would be the business model of this app and startup business? It's a noble cause, and this concept can find investors in corporate circles and industries. You can also team up with large enterprises to cover operational expenses and organize crowdfunding time and again to collect funds.
11. Food Coupons & Deals Offering Apps
It's one of unique food app ideas that offers endless possibilities for revenue generation, partnership, marketing, and sponsorships. The app's business model is really simple and beneficial. It sends notifications to users whenever restaurants announce to provide substantial discounts, food coupons, and free food items.
It keeps track of restaurants and food chain activities and alerts users accordingly so people don't miss out on such delicious meals. After investing in this app, you can promote other businesses, and charge them a commission, be their marketing partner, or follow other models to generate revenue. The possibilities are endless!
12. AR-Based Restaurant Exploring Apps
Augmented Reality is a trend to follow for marketing your restaurant business while maintaining client satisfaction and engagement. Moreover, many travelers select dine-out places as per the lively environment of several popular restaurants across travel places and cities. The integration of AR technology in the app can help you meet this demand.
The AR app has a feature-rich and user-friendly interface that helps users set their preferences for cuisine type, location, price range, and other filters. It uses device GPS to identify user location and display your restaurant details, including name, ratings, reviews, pictures, operating hours, menu, and contact information.
Before booking the table and time slot, customers can also see the restaurant's virtual layout and ambiance and how the food looks on the table. This AR-based app for exploring restaurants merge virtual information with the real-world environment to enhance user engagement and dine-in experience.
13. Food & Nutrition App for Fitness Enthusiasts
Food and nutrition apps for fitness enthusiasts comprise the details about meals and diet charts for shedding or gaining weight. The diet and nutrition app will help you increase your business and grow sales by approaching people via an online food ordering app.
With Nutrition AI, you can customize healthy meals according to your preference and diet plan. It will recognize food types and ingredients, count calories, and suggest nutrition-rich meals like carbohydrates, protein, vitamins, fiber, etc. With kitchen AI, you can estimate cooking time, minimize food wastage, and enhance safety.

How Can MindInventory Help You Build an App for Food & Restaurant Businesses?
A smart investment in food app development can be a game-changer for your restaurant or food business. It will increase sales, and consumer base, enhance brand recognition and help you forge a long-term relationship with your customers. However, you must hire a reliable mobile app development company to get success in the industry.
MindInventory is a prestigious mobile app development company. Our in-house team of expert developers has the in-depth knowledge, skills, and experience to build futuristic, high-quality, functional, and user-friendly mobile apps. They are well-versed in implementing industry best practices following coding and quality standards, making the app feature-rich and exclusive for your restaurant or food business.
Our team develops apps keeping scalability in mind, ensuring its capability to handle user load and future updates. We test it thoroughly and take robust security measures to protect user data and other sensitive information. We use unique ideas to create the app while focusing on your core business activities, enhancing its usability and innovation.
Connect with the MindInventory team for food app development and grow your business into manifolds.

FAQs About Food and Restaurant App
What are the functionalities of food delivery mobile apps?
Food delivery apps help with user registration, profile setup, menu representation, real-time tracking, order placing and customization, cart management, delivery scheduling, contactless delivery, digital payments, etc. Its features are wide and varied and benefit both customers and business owners in many ways.
How much does it cost to develop a mobile app for the food industry?
The final cost of mobile app development for the food industry depends on various factors, such as app type, tech stack, development approach and complexities, programming language, number of hired resources, required expertise, deadline, etc. For exact budget estimation, contact the MindInventory team and discuss your requirements. You will get valuable insights into the budget and project development strategies.
Which type of restaurant apps is in demand?
There are different types of restaurant apps in demand like food delivery app, recipe app, table reservation app, food coupons and discounts app, etc.
Do mobile apps help increase sales and customer base?
Mobile apps help food businesses increase sales, retain existing customers, streamline daily operations, build brand reputation, and attract new customers. It functions as an additional channel to engage with customers, implement tailored marketing strategies, and create a positive interaction experience, contributing to business growth and success.