Gone are the days when technology was just a talk limited to defense, automobile, and healthcare sectors, amongst only professionals. Today, technology has become a broad topic of conversation across industries, especially in areas of Artificial Intelligence and Augmented Reality, creating the next level of personalization.
Since its inception, the AR topic has been just a fictional conversation topic, but now AUGMENTED REALITY ain't a SCIENCE-FICTION anymore!!
Many industries have started to embrace AR, including E-commerce. If we specifically target e-commerce, then IKEA, ZeeKit, and NIKE are the leaders making the most of AR to elevate their customers' online shopping experience.
And if they are broadly investing in AR for their online shopping apps, then there must be a reason for it! They see the potential in Augmented Reality technology for the retail industry and for their e-commerce platforms.
One study reveals that the adoption of AR in the e-commerce and retail industry market value is expected to reach $6.74 billion by 2028 at a CAGR of 20% during the forecast period 2022-2028.
And you definitely don't want your retail business to feel left out from such technological advancements bringing your business revolution. So, keep reading this blog till the end, as we have our amazing study on AR in e-commerce to share, which will give you many insights to grow your business effectively.
Statistics About AR in Retail Industry and e-commerce Solutions
AR has a huge potential in sales. Below-mentioned statistics about AR in retail and e-commerce will blow your mind and make you use it for your business to use AR in your online shopping app(s):
As per the survey revealed by Centric Digital, around 60% of Furniture buyers, 55% of clothing, 39% of grocery, 35% of shoes, 25% of makeup, 25% of jewellery, and 22% of toys' buyers would like to shop via AR. (note: though the data is a bit old, referencing the same, we can predict that the data must have increased a lot.)
To date, around 5% of retailers are using AR to elevate their customers' shopping experience, but more retailers are in queue to embrace this trend in their e-commerce software solutions.
Also, AR-enabled products are likely to get 200% more attention and engagement compared to other non-AR equivalents. (Forbes) This results in a 40% increase in sales conversions.
Around 62% of consumers prefer to buy from retailers that are embracing AR as it helps them to know more about the product – more like generating a trust factor.
In fact, around 40% of consumers are ready to pay more if they are getting an AR shopping experience from the retailer.
Japan, the leading country in AR adoption in retail stores since 2009. And around 66% of consumers demand for AR experience in more offline retail stores, offering AR experiences for easy navigation and seeing potential product pairings.
As per Statista's study on consumers from different countries buying products online using AR technology by 2025 – there are around 45% of consumers from Saudi Arabia, 42% from the UAE, and 28% from the USA are expecting to use AR technology for their online shopping experience. See the below graph for a detailed view:

What is Augmented Reality (AR)?
Augmented Reality is a technology that takes the help of smart hardware devices, like smartphones, tablets, or Smart Spectacles/AR Glasses, to get overlaid digital information about the real-world product you see through the lenses of any of the mentioned smart devices equipped with AR functionalities.
But have you wondered what technologies provide AR the power it holds?
AR technology extensively uses computer vision and machine learning algorithms for image recognition and tracking real-time user environment. This places real-world objects virtually the way users can engage with a virtual feel, like holding them as an element of the physical environment.
Potentially, AR shifts the way we interact with the world around us with the seamless integration of digital information with our physical environment.
AR Types That Can Be Implemented In Your E-commerce Solution
Many experts also refer to these types as the AR application, like an AR functionality, which you may want to add to your e-commerce solution. So, let's not test patience of your curiosity and take a jump in to know about them:

1. Marker-based AR
Marker-based AR type uses a camera and a black-and-white object pattern or image as a visual marker to overlay 3D digital content in the real-world environment. Here, the marker is recognized by the AR system employing computer vision algorithms.
Here, the AR application with access to the camera has to scan continuously to put focus input and let the marker recognize the image pattern for the geometry creation. But in the case of fluctuating camera focus lines, the visual object might not be seen.
2. Markerless AR
As the name suggests, it's a type of AR that uses computer vision and machine learning algorithms to identify and track real-world objects, shapes, colors, textures, and motion, at the focus of the camera without any specific visual markers.
Markerless AR analysis employs Simultaneous Localisation and Mapping (SLAM) to analyze the environment and place right-fit maps to include 3D virtual objects. The best thing about this is that the placed 3D visual objects on the map will not move even if it isn't in the user's view field unless you do it by yourself, along with it eliminates the need for scanning new images.
It can even detect objects and their characteristics without having prior knowledge about the same, as it combines computer graphics and real-world images to understand the environment.
But the main challenge of such AR applications is gathering and managing data and also asking for the algorithm to execute the heuristic learning process.
Location-based AR
Simply put, Location-based AR uses the user's physical location through GPS, camera, and other sensors to overlay digital content nearby onto the real world. It once asks for capturing the surroundings, such as landmarks, roads, etc., so that AR applications can precisely align digital content with the real-life environment.
Examples of location-based AR applications are Pokémon Go, Ingress, and Wizards Unite. And Google is also in-line to use location-based AR to build a WebAR named VPS (Visual Positioning System) – a successor of GPS (Geographical Positioning System) to improve Google Maps user experience.
Projection-based AR
Projection-based AR refers to the system that projects the synthetic light onto the flat physical surface to showcase 3D image details. It even understands human interactions with the projected augmentation using the SLAM model. You can even create holograms using this AR type to make your offline store customers have a fun and story-guiding experience.
Ring any bell? 🔔 Exactly, just the way, robust stark works with JARVIS – AI and AR technology!
This is what projection-based AR would look like!
Overlay AR
Overlay AR refers to an application overlaying the digital content on the mobile screen as it is a part of the real world.
Contour-Based AR
This type of AR focuses on the real-world object's contours/borders/edges to detect and track them to overlay their digital content onto those objects. Also, it shows the image/illustration of the digital content in such a way that creates a vibe like it's actually interacting with the physical environment.
Architecture of AR For E-Commerce Solutions
AR architecture varies through the functionality you want it to perform. Though several architectural components are a must to consider, including User Interface (UI), AR Engine and Gadgets, Client AR Application, Core e-commerce systems (CMS, SRM, ERP, PIM, etc.), and most importantly, the Backend (Database of metadata, 3D models, and other coordinational, navigational data, etc.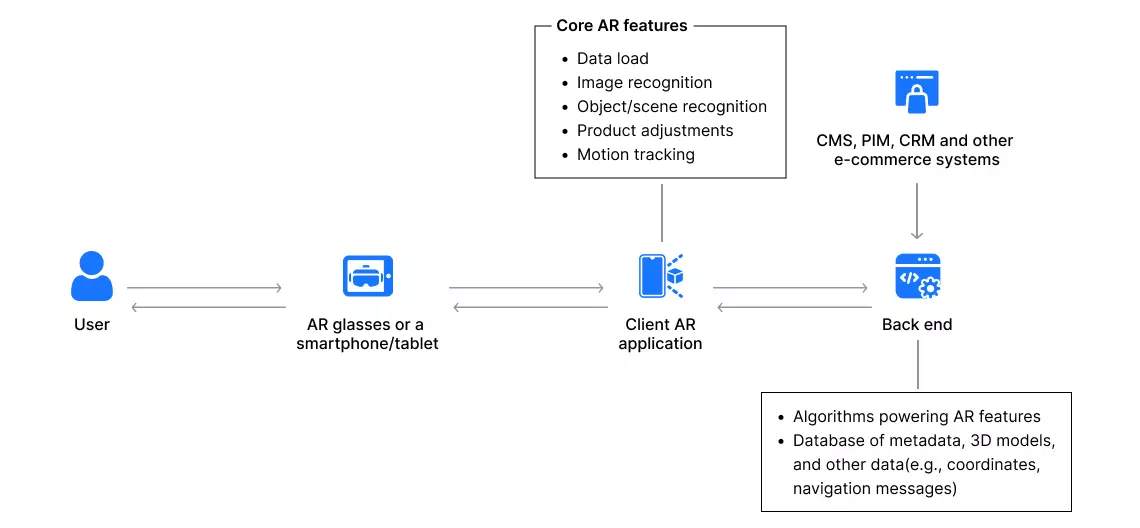 At MindInventory, we will first understand your retail business operations and the legacy software solutions you use to help you create an AR-powered e-commerce platform with a total SaaS integration solution to help you enforce centralized management across the business.
Top Benefits of Implementing AR In E-commerce
As you now know the AR architecture for your e-commerce/online shopping application, you do have this curiosity to know ways AR can be helpful for your e-commerce business. Here are a few benefits AR can offer if implemented in your online shopping application:
Support in Brand Awareness Campaigns
Augmented Reality (AR) in e-commerce, this phrase per se has a tremendous impact on users, which develops their curiosity to explore more. It helps you as a retail business to set up higher brand perceptions and append greater marketing prepositions.
The early adopters of AR in their e-commerce solutions have agreed on its giving a boost to their brand, giving it a modern, innovative, and interesting touch.
Consumers that have experienced the AR functionality in their online shopping process are more likely to go back and experience it frequently. It also creates a positive point for the company taking care of consumers, which builds up brand loyalty and customers' inclination to buy from your e-commerce platform.
Reach New Customer Base
The BUZZ – well, it ain't a bee buzz!! Jokes Apart! Buzz is the key to gaining attention in this picky world, and following the trend will help you a lot! AR itself is a trend, a WOW factor for all age groups of generations that catches the eyes you need for the online presence of your retail business.
Once implemented AR features and functionalities in your e-commerce platform, you can create a buzz about it across the target audience by creating innovative, engaging, interesting AR marketing campaigns. And this way, you'll get the attention of more new consumers regularly.
Reduces Product Return Rates
With conventional e-commerce, you can provide all possible information through multimedia use, such as written information, images, infographics, and videos, but AR has its unique charisma over everything. AR adds up a layer of real-world engagement-like feeling with a TRY-ON feature, even while sitting in a place oceans apart.
It offers realistic 3D object views and overlays 3D content about the display product that creates a great impact on the user's experience. This only offers users every detail about the product with an immersive experience and persuading impact but also drives sales with reduced product return rates as they check the product visually from every angle.
So, the order-return cases become narrowed down only in cases like similar products at a reduced rate, damaged products, sudden change of mind, etc.
Enriched Customer Experience and Engagement
AR per se is interactive, making your target customers drop by your online shop to get hooked up until they check products entirely for what they came in.
As a retail business with an online shop, what else do you want apart from customers spending more time on it? It is an opportunity to get conversions as it builds a new business-customer relationship and creates chances for them to visit your online shop again!
Unlocks Next-Level Personalization
As today, modern users want to see everything according to their preferences, and the deadly combination of AR with AI takes this personalized shopping experience to the next level. As per the Statista survey, there will be 1.73 billion active mobile AR user devices around the world globally by 2024.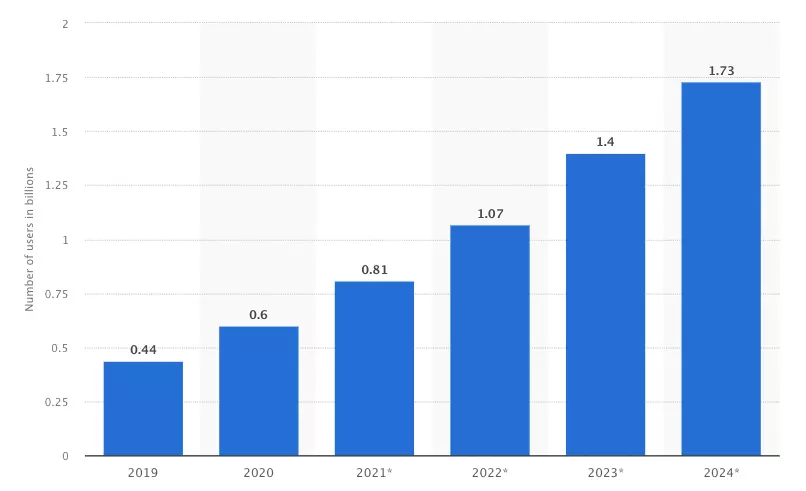 Undertaking this study, retailers must employ this feature to take their e-commerce business engagement with customers to the next level.
Effective Supply Chain Management
By implementing AR in an e-commerce app, there are several potential benefits for you to unlock in the supply chain management sector. It allows getting real-time data on inventory levels and locations to make informed decisions about replenishing stock to get streamlined inventory management.
In addition, it provides real-time updates to the warehouse staff regarding the order packaging and shipping, which results in improved accuracy for more efficient and accurate order fulfilment.
In short, it reduces more dependencies on the retail and supply chain teams and time-taking inventory analysis processes. It covers up for the time, space, and human-effort requirements for better retail business operations depending on the supply chain.
How Do Top Brands Are Using AR Technology For Their E-commerce Business Benefits?
Now, let's know how top brands are embracing AR culture through their e-commerce platforms to facilitate their users with a world-class shopping experience:
Furniture and Home Decor
In this sector, IKEA is a leader that has incorporated AR features into its online shopping app to stay ahead of its competitors. It enables consumers to "try on" and check how their favourite furniture item would fit in the space for which they are buying it.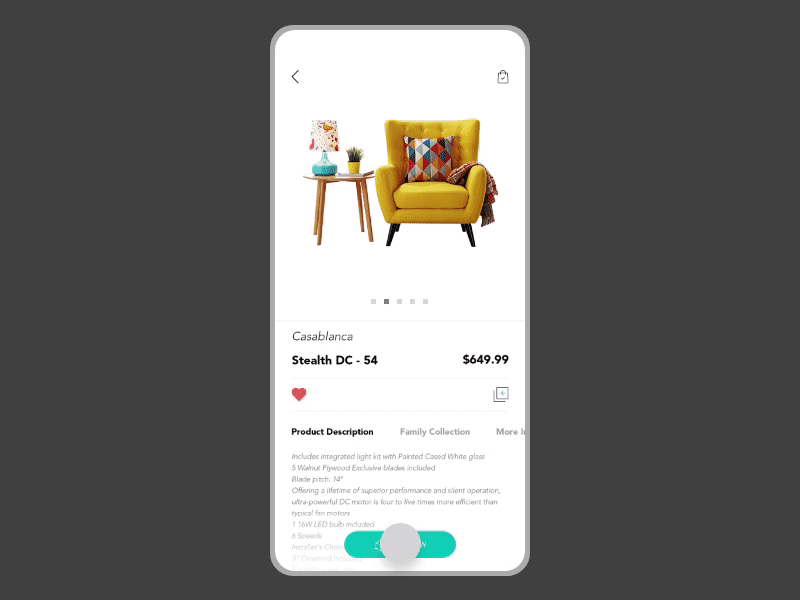 Source: First Augmented Reality
This initiation has eased a lot of people's problems who often find themselves in the middle of confusion or have no idea about how to select the right-fit furniture for their space.
Want to know more about how IKEA employed its AR-powered app to drive more sales? Read our latest blog written on it: How top brands have utilized mobile apps to drive more sales?
Not just IKEA, but there are other AR adopters as well in the furniture retailers.
EQ3, Canada's leading furniture company, has also adopted the AR trend by upgrading its desktop product page and implementing a pop-up with a QR code showing innovative style for "product information" and unlocking "AR try-on filters".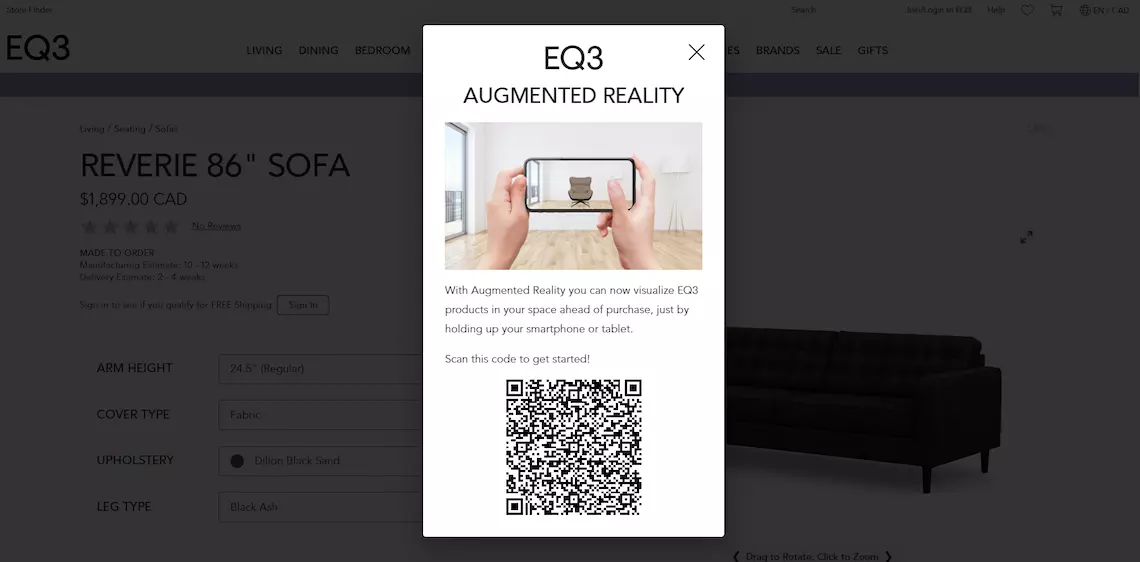 Through this, EQ3's conversion rate has been increased to 112%, with an overall 429% increase in customer base.
Lightology, a Chicago-based interior furnishing/home decor brand, has brought the new age of interior planning to make your home look shinier and elegant. It has adopted AR technology to allow modern consumers to take a "3D virtual tour" of their homes with selected home lighting, furniture, and other home interior accessories.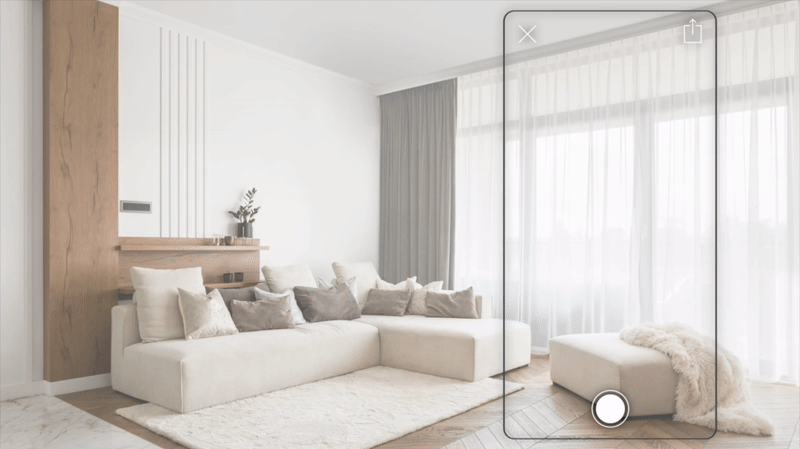 After the successful adoption of this AR technology, Lightology revealed that now their consumers coming to their online site are staying 3.7 times longer, resulting in a 50% more conversion rate.

Online Fashion Apps
Know how different fashion spaces, including clothing, footwear, makeup/skincare, and other makeover brands, have adopted AR technology to redefine the online shopping experience.
Clothing
The leader of the AR-based fashion industry-based startup now acquired by Walmart – Zeekit, has brought the revolution across the industry with its ZEEKIT "Virtual Fitting Room" app.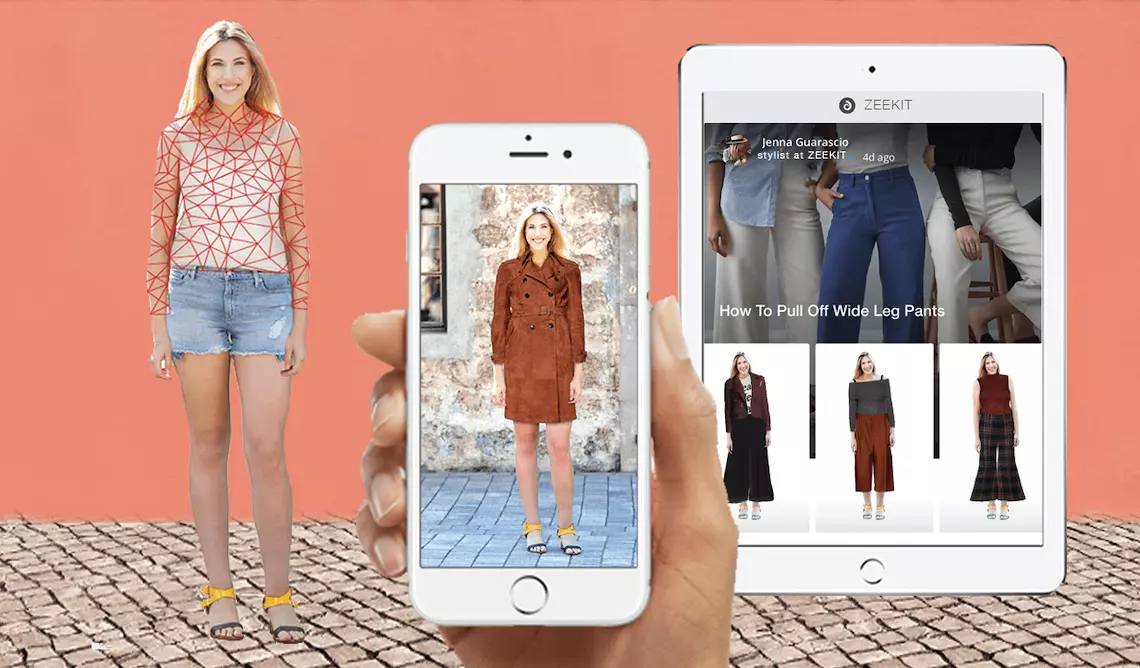 It allows consumers to upload their full-length photos on the app and "Try On" different clothes before purchasing, which creates an elevated shopping experience just like offline shopping.
Footwear
When it comes to fashion and apparels, it's hard to forget our favorite brand NIKE offering the comfort we need for our adventure experience. NIKE adopted this AR trend to solve the biggest problem that many consumers buying footwear online often end up ordering the wrong size of shoes.
In its report released in 2019, NIKE shared its finding that around 60% of people wear the wrong size of shoes. So, to execute its mission with the help of AR technology, it has partnered with 8th Wall and BDRG studios to launch its web-based AR-powered app – "NIKE FIT."
The app requires only one input from you as a user, lining up your feet with the aligned circle to accurately "measure your foot size" and buy the footwear that fits well and comfortably according to your foot size utilizing a "virtual AR-based try-on filter." See the below image: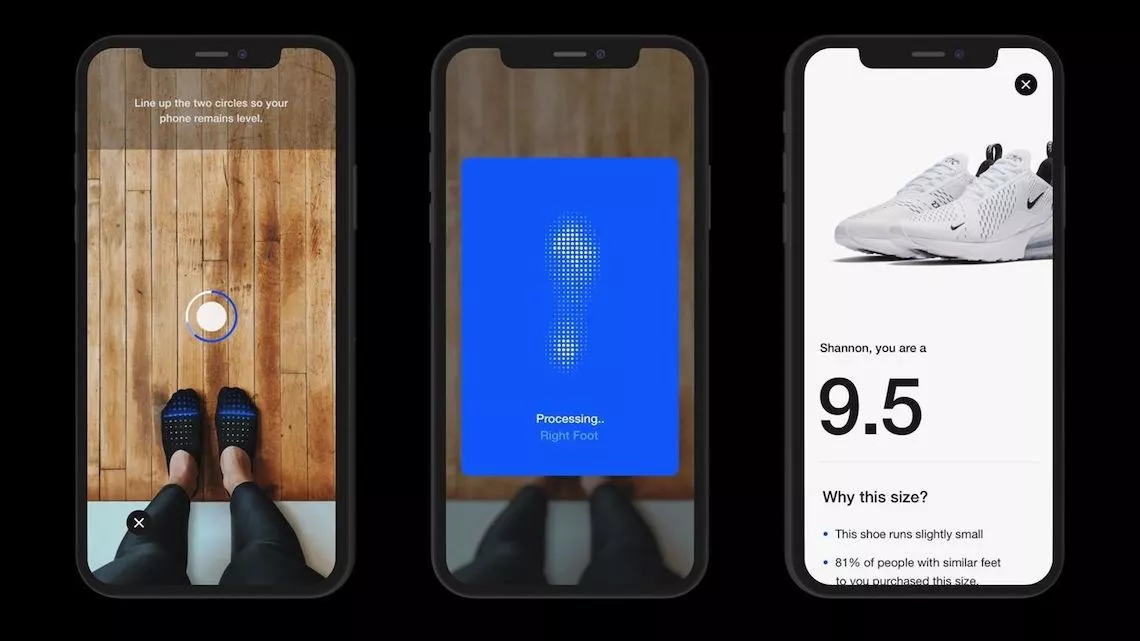 There's no doubt that NIKE's revenue increases every year. However, the NIKE Fit concept has given it a boost, which resulted in $13.315B in November 2022 and is expected to increase by 17.24% year-over-year.
MakeUp and Personal Care
When it comes to personal care and make-up products, many brands come up with unique AR proposals. Just the way L'Oreal Paris has brought up its app named Makeup Genius and Share Genius app to help users to try on those essentials before buying with its Maybelline New York brand.
And now, it has partnered up with Facebook Meta and Instagram to offer social media users to try out its cosmetics virtually through social media makeup try-on game filters. It has also partnered with Snapchat to allow Snap users to try out its makeup essentials with the AR filter. Its competitor, Sephora, is also using AR technology in its online shopping app to allow makeup lovers to apply makeup on their faces virtually before buying it for better buying decision-making.
In the range of personal care conveniences, there are many consumers who rely on spectacles/glasses to see the world. We all know how tiresome the process is to fetch out the best fit and good-looking spectacles according to our facial dynamic. But will you buy your spectacles online? Your answer would be NO! But what if it's yes, and how will you measure them appropriately?
For this concern, an Indian eyeglasses brand – Lenskart, adopted AR technology to provide its users to buy eyeglasses worry-less even online through its mobile app by trying out different frame styles and sizes conveniently.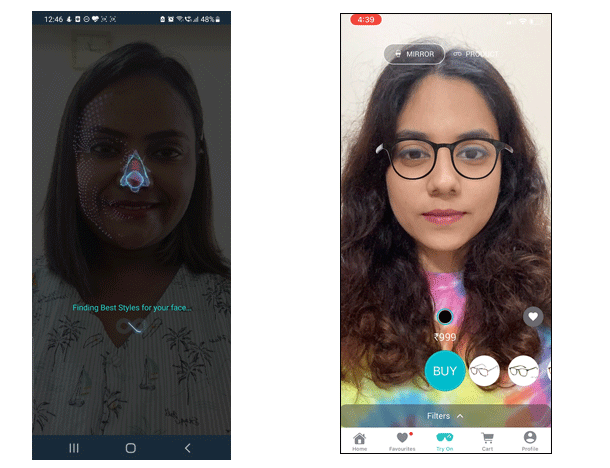 Just scan your face once through the Lenskart app with 360-degree angles, covering 463+ facial points, and try on different eyeglasses with its 3D try-on filter to see how they'll fit you.
Indeed, Lenskart has revolutionized the way we buy eyeglasses/spectacles.
Warby Parker, an American retail company, has also employed AR technology to allow their customers to buy eyewear from the comfort of their homes.
These are just a few examples of brands who have embraced AR technology as a trend to revolutionize their e-commerce strategy and offer customers a great online shopping experience, pretty much nearer to the offline shopping-like experience. But there are many as well, like Apple, Hisense, Sephora, etc.
Okay, that's all right! But you do want to know the cost to develop such an AR-powered E-commerce app. Worry not! It is covered in the next section!
How Much Does It Cost to Build An AR-powered Online Shopping App?
The cost of developing an AR-powered online shopping/e-commerce app differs across various factors, such as the app complexity, features and functionalities, the platform you want to target (Android, iOS, both, or cross-platform), development team location, and more.
If we want to bifurcate the AR-powered e-commerce app development cost, then it is done in the following way:
Planning and Analysis
This includes e-commerce app idea research, scoping the app requirements and features, target audience research, competitor research, and app development strategy creation.
Design
In this phase, by utilizing the user and competitor research, UI/UX designers finalize the UI/UX elements, screen numbers, e-commerce navigation, app interaction points, and many others to finally create a basic wireframing structure, information architecture, and the prototype for you to get an idea how the product will look like post development.
Development
This is the most critical stage, which involves app development and integration of AR technology in the app for it to perform the function you have planned and implemented. As AR is yet an emerging technology, it requires specific skills; hence, impacting the cost of developing the AR shopping app.
Testing and Launch
This stage covers the extensive app performance, functionality, usability, and security testing to bug-fix the app and offer users a crash-free app user experience.
Apart from these factors, your chosen AR shopping app development model also acts as an effective cost factor. But looking for a convenient app development model, it is highly advisable to go for the dedicated talent-hiring model, which allows you to hire designers, developers, and QA engineers on an hourly basis.

How Can MindInventory Help You Build Your AR-powered E-commerce App?
Being a leading AI/ML and Web3 development company, developers at MindInventory hold the expertise to build AR-powered shopping apps by integrating AI/ML and Computer Vision capabilities to empower your e-commerce app to do next-gen functions.
Want to develop your business-critical AR shopping app under your budget? MindInventory allows you to hire your right-fit app developers and UI/UX designers from a huge pool of resources and onboard them to start working on your AR shopping app development project in just 2-3 business days! And why not opt for it when you get to check their compatibility with a 15-days risk-free trial!!
Contact our experts with your AR app development requirements to get the right-fit team and solution catering to your business objectives!
FAQs on AR in E-commerce
What is AR in e-commerce?
AR in e-commerce is a technology that allows customers to visualize products they want to buy in the real-world space virtually with detailed product information to buy the right-fit product according to their specification requirements.
What's the future of Augmented Reality in e-commerce?
Well, the future of augmented reality in e-commerce is really bright as it unlocks a new virtual experience for users with their comfort of home by providing a more immersive and interactive experience. Moreover, you can even incorporate AR with other emerging and web3 technologies, like AI/ML, Blockchain, NFT, and IoT; which creates the next big thing! Of course, AR is not only limited to e-commerce; other sectors as well can utilize it, in which the Game Industry makes extensive use of AR technology to provide players with an immersive, amusing gaming experience!
What's the difference between AR and VR?
Many technology users confuse themselves with the terms AR and VR as they are usually taken together like AR/VR. However, in offering an immersive environment to users, both platforms differ significantly. Augmented Reality (AR) overlays digital content on top of the physical world item with the help of a camera of smart devices and headsets, while Virtual Reality (VR) totally immerses users in a different, virtual world with no interaction with the physical world with the help of headsets.