How Much Does it Cost to Develop a Food Delivery App Similar to UberEATS
14 minutes read
46.5k Views
In this digital era, with app like UberEats, you can savor delicious cuisines while sitting in the comfort of your house by tapping a few keys on your smartphone. Meal delivery apps are like having your chef on call. But have you wondered what it takes to bring culinary marvels like UberEats to life?
For example, how much food delivery app development costs? How can you manage the capital investment? What are the smart ways to reduce the expense? Well, if you do think, then you aren't the only one. These questions often linger in the minds of aspiring entrepreneurs and businesses aiming to make their mark in the food delivery industry.
In this blog, we will answer these questions and teach you how to estimate the development cost of a Food delivery app like UberEats. Read it to understand the intricate world of app development finances.
Why Should You Invest in Food Delivery App Development Like Uber Eats?
In 2022, Uber Eats made a whopping revenue of 10.9 billion dollars, reporting a remarkable year-on-year growth of 31%. Moreover, the platform's gross bookings reached a mark of $55 billion, and Uber Eats acquired 88 million users globally.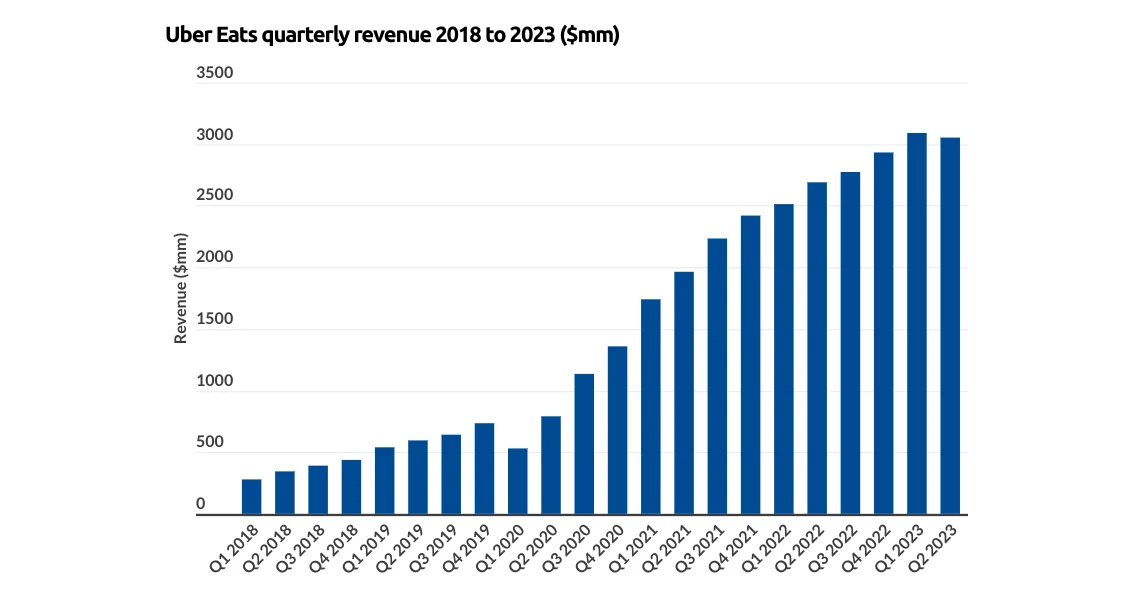 The success of Uber Eats within a few years is remarkable. No doubt, its strategies were distinctive, but market demand for food delivery apps also played a crucial role in its soaring growth. The reason behind this growing demand is busy lifestyles and the convenience of ordering meals online from anywhere.
Now, food lovers prefer to order online from their favorite restaurants or cafes and eat the food comfortably wherever they want to rather than dressing up and driving to have a meal in the restaurant. Food delivery apps are fulfilling their needs while making money out of it. By investing in a food delivery app, you can tap into this thriving market and secure a substantial customer base.
Moreover, these apps generate revenue through various streams, like delivery fees, service fees, and partnerships with restaurants. Diversified income can skyrocket your business' profitability. When your business grows, you can scale your operations to accommodate increased demand and maximize your revenues.
Also read: Top Mobile App Ideas for Restaurant and Food Businesses
Key Features of Food Delivery App Like UberEats
Food delivery app development costs largely depend on app features and functionalities. If you want more features, the budget will increase. However, there are basic features that are mandatory for all meal apps. You must include them while planning the development process. Below mentioned are some of the prime examples of these app features.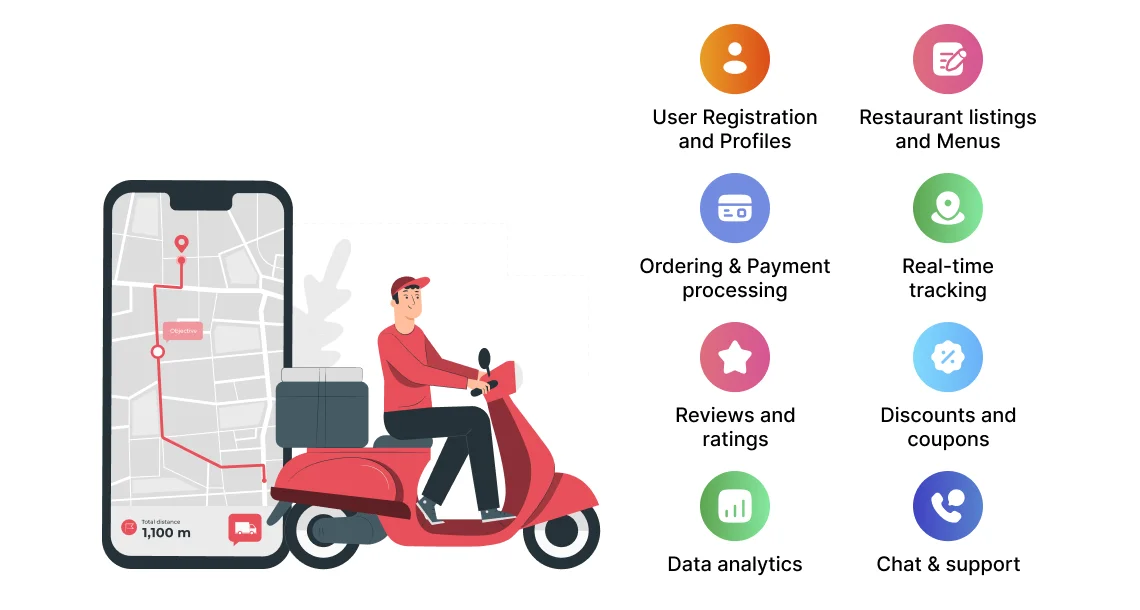 User Registration and Profiles
It is a basic feature of the app that helps users sign up for the app with their phone number, social media accounts, or emails. After registering, users can create and manage their profiles, including names, preferences, contact details, delivery addresses, etc. They can set payment methods and edit and update their profiles according to requirements.
Restaurant Listings and Menus
This feature is the cornerstone of the food delivery app, providing users with an extensive array of dining options at their fingertips. So, users can explore a comprehensive list of nearby restaurants and their cuisine types, ratings, distance, and estimated delivery times.
In this feature, each restaurant has detailed profiles and other information, such as menus, prices, working hours, images, and customer reviews. The detailed display helps users make informed decisions, allowing them to browse restaurant menus and enjoy the virtual dining experience.
Ordering and Payment Processing
This feature enables users to select items from restaurant menus and customize their orders with other dishes, add extra toppings, specify taste, decide portion size, etc. After choosing the dish, they can simply add it to the cart and proceed with payments using multiple secure payment options like credit/debit cards, digital wallets, cash on delivery, etc.
The process ensures flexibility and security during order processing and payments through a user-friendly interface and transaction system. It takes the hassle out of food ordering and delivers the meal on the customer's doorstep.
Real-time Tracking
Real-time tracking ensures transparency and convenience, offering users an engaging and reassuring experience. It allows users to closely monitor the progress of their orders, right from the moment they have been placed to the time of arrival.
Users can track the exact location of a delivery driver, estimate delivery time, and receive updates on the status of their order in real-time. It fosters trust and keeps the users informed throughout the delivery process, reducing anxiety and uncertainty until order arrival.
Reviews and Ratings
It guides users to make informed dining choices while promoting transparency and accountability within the platform. Through this feature, users can provide feedback and rate their experiences with restaurants and delivery drivers, offering valuable insights to fellow users.
Users can write about their dining experience and rate the restaurant based on taste, service, quality, ambiance, pricing, cuisine variety, etc. They can also recommend dishes and restaurants to other visitors, helping them discover the best culinary experiences.
Moreover, moderation tools ensure quality and content appropriateness. It also encourages restaurants and delivery drivers to maintain excellent service standards.
Discounts and Coupons
The feature showcases a variety of promotional offers, discounts, and exclusive deals from restaurants and the platform itself. Users can apply these promo codes and vouchers during the checkout process to enjoy reduced prices or special offers, making dining more affordable and enticing.
Whether it's a percentage discount on the total bill or a free item with a specific purchase, the feature delights users and encourages them to explore new restaurants within their budget.
Data Analytics
This feature functions as the eyes and ears of the food delivery app and offers valuable insights into user behavior, preferences, and overall app performance. It collects and analyzes user information, order history, browsing patterns, demographics, etc. It enables the app's administrators to make informed decisions and tailor the user experience.
The feature has detailed metrics and reports, revealing trends, popular menu items, peak ordering times, and user engagement levels. Using this information, app operators can optimize promotions, enhance menu offerings, and strategically target user segments, improving efficiency and profitability.
Chat and Support
The chat and support system guides users seeking assistance and quick responses to their inquiries. It enables direct and real-time communication between users and customer support representatives.
It ensures immediate response to queries related to orders, payments, returns, refunds, or other concerns. The feature fosters trust and loyalty of users, making them feel valued and well-supported in their food ordering journey.
Social Media and Third Party Integrations
This feature functions as a gateway to a wider digital ecosystem, allowing users to connect their social media accounts with the app. Users can share their dining experiences, food choices, orders, and reviews with friends and followers.
Additionally, the feature can integrate with third-party services, such as mapping apps for precise location data or payment gateways for secure transactions. These integrations promote app visibility and create a dynamic and interconnected environment, allowing users to access various services within a single interface.
How Much Does It Cost to Develop a Food Delivery App Like UberEats?
The development process involves several stages, each one affecting food delivery app development cost. It may vary according to app complexity, features, platform, development team's location, and experience. Here is a breakdown of this process and its cost estimation.
Pre-development Planning
The stage includes comprehensive research on target market customer preferences and competitor analysis. You will have to gather data on market demand for food delivery services in your chosen location, identify competitors, and analyze their strengths and weaknesses.
Along with it, idea validation and concept refinement are also a part of this stage. You may have to test the app concept with potential users through surveys, focus groups, or prototypes. The step will help you gather valuable feedback and insights about the food delivery business and your idea.
Also, technology stack selection, development team hiring, project scope and requirements document creation, etc., are a part of the pre-development process and increase the development cost of the Food delivery app.
You may have to hire professionals for this stage if you are not aware of these tasks. The entire process cost may vary based on the type of app, market condition, and required research. However, you can put $2,000 to $10,000 aside to finish the step. The amount may be enough to execute the process.
UI/UX Design
This process includes creating basic layouts and structures for the key screen of the meal delivery app. Wireframes are the low-fidelity representations that define app structure and outline the element placements and navigation. Designers create interactive prototypes that allow stakeholders to preview the app flow and functionality.
Prototyping helps acknowledge usability issues early in the design process. Along with it, visual design involves the creation of aesthetic elements, including typography, icons, imagery, color schemes, etc. After this, UI designers work on high-fidelity mockups and design assets, buttons, menus, and icons for each app screen.
Now, designers move to UX and optimize the overall user experience. The work on navigation, information architecture, and usability to make the app intuitive and user-friendly. At last, they create animations, transitions, micro-interactions, etc., before sending it for user testing and iterations.
The cost to develop the food delivery app UI/UX interface comes in between $5,000 to $15,000. This price relies on app type, number of screens, level of details, and other factors.
App Development
Developers start the process from backend development and set up servers, databases, APIs, etc. They implement core features for user management, order processing, restaurant data management, etc. They move to the front-end development, code the app screens, and set up navigation and user interactions.
Later, they set up and manage databases to store user profiles, restaurant menus, orders, and other data. Costs depend on data volume and database technology. They develop essential features and test the app thoroughly to ensure better quality.
This stage requires a maximum budget as the steps and required tools and expertise add to the Cost to develop the food delivery app. It may range from $10,000 to $20,000 if your app has many complexities. However, if it is a simple app with fewer features and complexities, then you may have to pay $3,000 to $15,000.
Post-Launch Expenses
During post development or app launching, you may have to pay for bug fixing, app maintenance, technical issues resolutions, and app updates. Along with it, you may bear the expenses for content moderation, adding new features, improving existing ones, enhancing user experience, and developing a support system for users.
There is no fixed cost for this stage. It depends on the type of issue your app is struggling with and the solution it requires. Many developers charge hourly for technical issue resolutions and app upgrades. These charges are lower than other development stages. For proper budget estimation, you can contact an established food delivery app development company.

Challenges Associated With the Food Delivery App Development Process
Food delivery app development comes with a unique set of challenges that demand strategic planning and expert attention. Below are some of the most common challenges that you may face during the app development process.
Growing Competition
The food delivery market is highly competitive and full of established players and new startups entering the space. To survive this cutthroat competition, businesses look for exclusive and personalized development solutions. Hence, programmers must be skilled enough to meet their expectations and create unique and feature-rich applications that stand out in the market.
Complex Backend
Handling a variety of restaurants, menus, and orders is a complicated and troublesome process. Programmers should build a powerful backend system to handle these aspects efficiently. Otherwise, glitches or delays in-app navigation, order placement, and real-time tracking can lead to user frustration.
Data Security
It is crucial to secure sensitive user data, payment information, personal details, and other aspects of the app against data breaches, security issues, hacking, phishing, etc. Developers should stay careful, integrate payment gateways securely, and implement stringent security measures to tackle these issues.
Technology Integrations
Developing and integrating algorithms for logistics and route optimization, real-time tracking, driver assignment, contactless delivery, AI features, and IoT for tracking can be tricky and resource-intensive for developers.
Also read: The Biggest Challenges Faced by Food Delivery App Business
How to Reduce Development Cost of the Food Delivery App?
Food delivery app development cost optimization is a smart strategy that helps reduce expenses without compromising quality. So here are some tips to optimize the development cost and save extra bucks.
Before starting the development process, conduct research on your project and create a comprehensive project plan outlining app objectives, features, tech stack, and functionalities. The research will help you cut off extra expenses, streamline the process, and avoid scope creep.
Recognize and prioritize necessary features that are important for seamless app performance. Start with a Minimum Viable Product (MVP) that involves the most critical features, and add more features in future updates only if you need them.
Try leveraging open-source libraries and frameworks to reduce development costs and time. Various reliable and convenient open-source solutions are available online that help reduce development costs while ensuring proper app functionalities.
Build your app using cross-platform development frameworks like Futter and React Native. They will reduce development time and cost by building the app for iOS and Android using a single codebase.
Adopt an agile development approach, which includes iterative development and frequent feedback. It enables you to make adjustments according to development stages and minimize the risk of costly errors.
Invest in a clean, intuitive, and user-friendly design, but avoid overcomplicating the user interface. It will maximize the cost and frustrate users, impacting your sales negatively.
Consider outsourcing your project or hiring offshore developers. It is more cost-effective than maintaining an in-house development team. However, make sure to choose a reputed company or developer for app development.
Partner with MindInventory for Food Delivery App Development Like UberEats
In conclusion, figuring out the cost of food delivery app development like Uber Eats is crucial for any investor. It involves a lot of factors and expert consultation. However, with careful planning and expert help, you can make an informed decision. MindInventory can provide the best help for your venture.
We are an established food delivery app development company, thriving in the market and helping investors own meal delivery businesses worth millions of dollars. We have a track record of successfully developing and delivering complex projects with trending technologies and features.
Our professional team develops high-quality, user-friendly, and reliable apps and keeps them updated according to the latest guidelines. We offer comprehensive support, from ideation and design to post-launch maintenance, giving you a holistic and hassle-free development experience.

FAQs on Food Delivery App Development
What are the primary factors that influence development cost of a Food delivery app?
Multiple factors influence the food delivery app development cost, including tech stack, features, app complexities, choice of platform, app architecture, deadline, required expertise, location of developers, number of hired resources, etc. To get the proper estimation, you can contact the MindInventory team.
How do food delivery apps like UberEats make money?
Food delivery apps generate profits by charging commissions or fees to restaurants for each order placed through the app, which is a fixed percentage of the order value. They collect delivery fees from customers and partner with restaurants to run promotional campaigns. Subscription services, ad revenues, data monetization, etc., are some other sources of their income.
What is the cost of food delivery app development in India?
The cost of food delivery app development in India is lower than in other countries. However, it depends on your app requirements, expectations, and the type of hiring model you have chosen for app development. However, the average charges start from $25 per hour. For accurate estimation, discuss your project with the MindInventory team.