Is mobile app development really an opportunity for businesses to take it to the next height? If we see nowadays, it is getting difficult to spend the whole day without being dependent on mobile phones. From finding locations to food ordering to online shopping to entertainment to finding jobs and managing important tasks and finances, we all rely on countless mobile apps to perform these different tasks seamlessly.
In one study, Oracle revealed that around 67% of Fortune 500 companies connect with customers via mobile apps. There must be a reason for it!
As per the year 2022's research, around 80% of the population globally heavily relies on smartphones and spend around 4.8 hours on average on mobile phones. Also, the global numbers of smartphone users were around 7.26 billion in 2022 and are expected to grow by 7.49 billion by 2025.
As per the Statista survey done for the period of July 2021-June 2022, smartphone users use it to do various tasks like chatting, e-mailing, entertainment, online banking, shopping, and many others, as mentioned in the below image: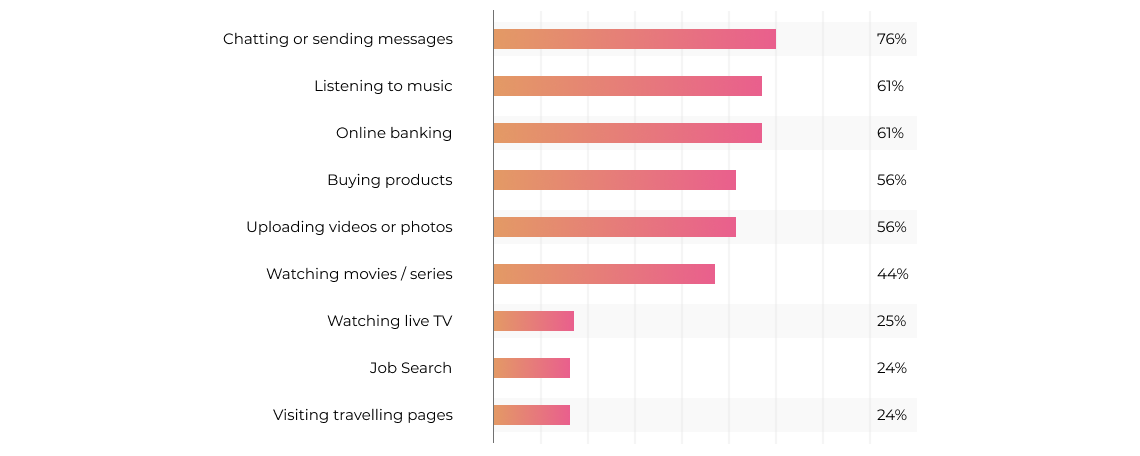 So, when you have this much of proven data of smartphone usage for those activities, of course, it is an opportunity for your business to come up with creative mobile app development ideas and compete with your business market dominators.
For example, when we want to shop something online, we always prefer Amazon or Walmart (if living in the USA and Canada), to order burgers – McDonald's, furniture/home-decode goods – then definitely IKEA space app, etc.
Hence, it becomes necessary to know how the top brands are shining in the market with their star mobile app strategies.
But the question is, "how would you crack it?" Don't you worry! We have designed this blog with a lot of research to finally present to you the secret behind top brands getting business from mobile apps.
So, let's step into the world of globally ruling mobile apps from top brands:
A "Mobile App-first Strategy" Is Not New, But The Necessary One For Businesses
An app-first strategy is nothing but developing your brand-specific mobile app, which further becomes an online source to get customer engagement with your business. Through this, you'll have the precise data of your customers to target specific deals to them and achieve more sales conversions.
As per ThinkwithGoogle's survey, around 51% of smartphone users prefer to use mobile apps to browse and shop from brand's mobile apps, so they can earn loyalty points and unlock many exciting rewards.
Not just big brands but also startups, small businesses, and medium-sized businesses must invest in mobile apps to offer their services online. This helps you build a better brand image and customer loyalty through creative marketing campaigns.
More Doors to Creativity
Every brand and company, though, offers similar services to other businesses in the market, but they have brought up some visions to stand out from the crowd. And definitely, you don't want your target users dropping by your mobile app with enthusiasm, to feel bored. Also, you just don't want to sell your products/services in different marketplaces.
You want your brand to create value for your users. You want them to buy your products from your brand-specific apps only. It's your mobile app. You can design it the way you want to make a difference as a B2B solution!
You do want to add many creative elements in your brand-specific app, like micro-interactions, gamification, in-app notification, in-app wallet and multi-currency support payment gateway integrations, reward section, personalization, and many other creative design and logic elements.
Having a smooth mobile app UI is a plus point, but it should also have the characteristics to make the users attracted, engaged, and retained to the app. In short, your app must offer an unforgettable user experience, like the meditation app – Calm is doing.
A Broader Consideration with A Little Bias for Young Generation Support
Regardless of your business type, you should always figure out your target audience. And if the young generation, like gen-Z and millennials, falls into your target audience, then your mobile app planning should be much more thoughtful and specific.
As this generation has seen many apps offering similar services, they will be picky when it comes to getting the service. Thinking of which, you need to think of all UI and UX elements that can hold on to their excitement and earn their bias for your business-critical app.
Remember, when the young generation is your target, their requirements, and expectations to experience changes very frequently. So, mobile app strategy must contain upgrade plans according to trends to sustain their interest to buy only from you.
Improve Brand Visibility & Accessibility
You are creating your business-critical mobile app to give your customers the freedom to access your online business prepositions from anywhere they want to, and that, too, hassle-free.
You can aware them of your existence with the marketing strategy named AIDA, as suggested by BusinessofApps:
Attention – mobile ad, first 3 seconds of it
Interest – mobile ad, remaining 10-20 seconds
Desire – store listing, exploration typically within 10 seconds
Action – store listing, installing the app
Once a user installs your brand-specific mobile app, they will see your brand logo many times, which results in brand visibility and awareness. The more they see the app installed on their phone and get notifications regarding the sales or any marketing announcement, the more they anticipate at least stopping by and checking the collection. And sometimes, even just with the intent of window shopping, they actually end up buying something.
Although the conversion rate of window shoppers is only around 2.95%, trying out different strategies may help to increase this conversion rate.
There's a plus point for this, when window shoppers come to your mobile site or app, you get their data, using which you can know them and remind them about what they want. As per Google's survey, 58% of shoppers prefer mobile apps that remember them and what they need.
Once you make up your mind to build an app, ensure to do great branding with a stronger brand message, analyze competitors, and do market research to optimize your mobile app with modern features that make users' journey in your app easier with improved accessibility.
To Ensure User Convenience, Customer Service, and Trust Build Up
As a business, customers' convenience and satisfaction is the most important thing to be ensured. Whether they try to buy your services online or raise a complaint, they need a quick and simple solution for every query they raise.
Speaking of which, mobile apps can offer a great way for customers to quickly get in touch with the customer support executive through many ways, written guide to the query, dedicated chat services, or a direct call to executives. A great example of this is the amazon online shopping application.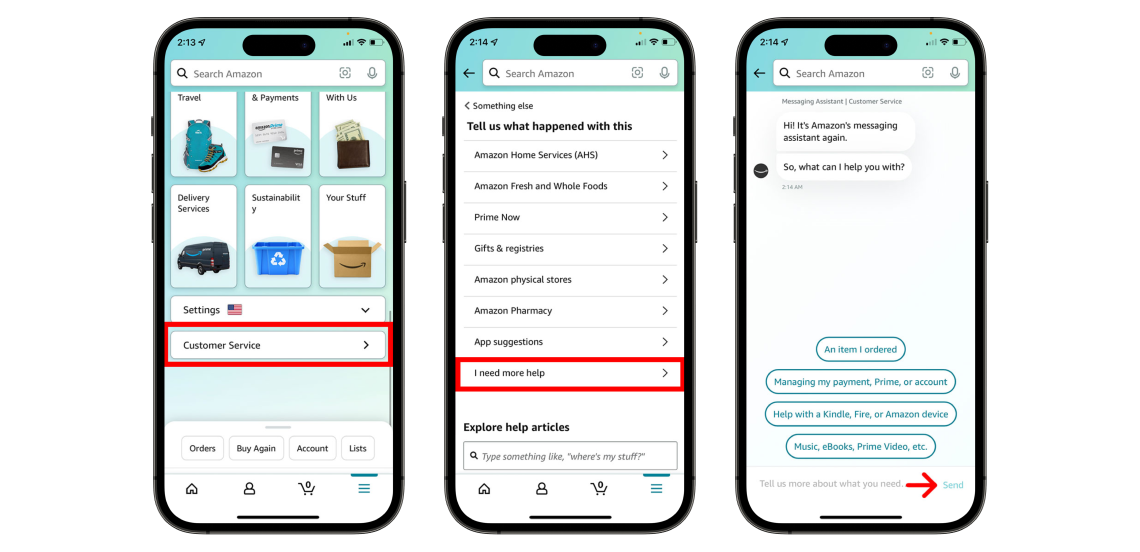 This way, you not just provide them quick help with total conveniences but also build customers' trust in your brand.
And you do want to know how top brands are making mobile apps their asset to the business.
How Top Brands Have Created Their Mobile Apps To Get More Sales?
So, finally, the moment you were waiting, for the mystery to unlock and know about the mobile app features and functionalities, and strategies that drive their maximum sales:
Starbucks
Starbucks is an American multinational coffeehouse chain that mostly every coffee lover would want to visit. As of today, Starbucks is the largest coffeehouse chain in the world, with 35,711 store presence across 80+ countries.
After studying its popularity in other countries as well, Starbucks launched its mobile app back in 2009 for its brand lovers to find Starbucks nearby stores, nutrition details, and access the interactive drink builder. This decision has played a key role in its brand awareness and sustainability.
In 2011, Starbucks integrated an in-app payment feature that provides the speed their loyal customers would require. A great addition to Starbucks Card and Brand Loyalty.
In 2014, Starbucks adopted, that time's most controversial feature called – mobile ordering to elevate customers' experience to the next level. It eliminated their need to wait in a long, tiring queue to order their favorite coffee by simply enabling them to order a coffee online and pay instantly to takeaway on the go.
Not to miss out, Starbucks' mobile app used to lead in the USA, which was just overtaken by Apple Pay in 2021 with 43.9 million mobile payment users, whereas Starbucks comes in second position with 31.2 million users.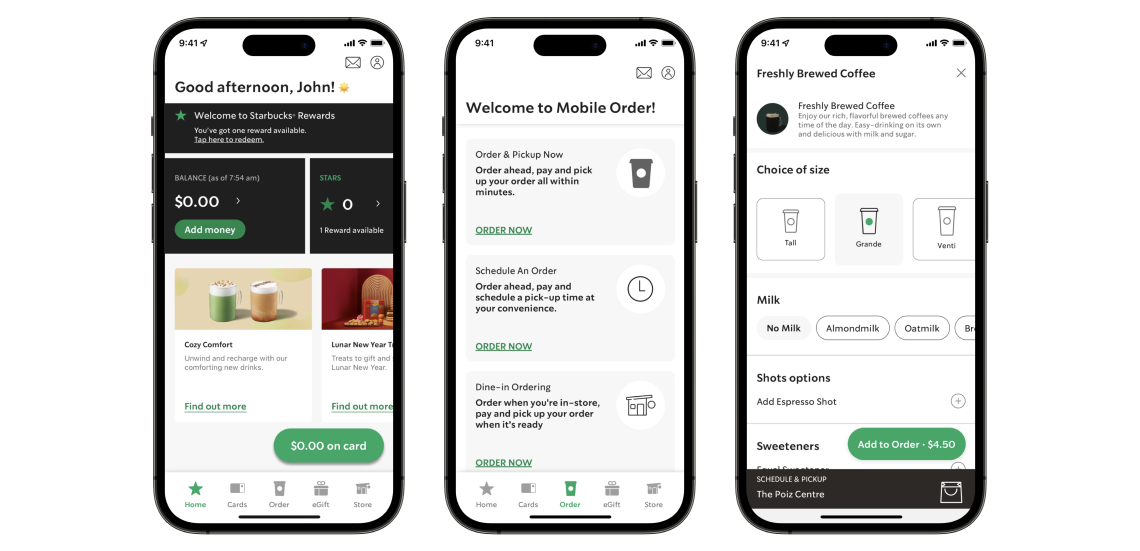 In 2017, Starbucks empowered its brand app with Machine Learning to increase the loyalty of its customers by offering personalization. Then it has also introduced its in-app loyalty program for earning points on buying any beverage or any other offering, either through the mobile app or offline stores. And getting discounts on the next order.
This loyalty program drives around 50% of Starbucks' business. Because of the app, Active Starbucks Rewards members in the US have started to increase by 13-18% every other year, which reached around 27.4 million members in 2022 with 52-53% of store sales.
If we see the Starbucks App users – generation-wise, then 31-40% of the millennials (21-38), 24% of Gen-X, and 14% of baby boomers have installed the Starbucks app on their mobile phones.
In the latest financial release, Starbucks mentions that the "Starbucks Rewards loyalty program 90-day active members in the US increased to 30.4 million, up 15% year-over-year."
Moreover, Starbucks notably reports a 7-10% increase in mobile orders year after another.
Key Takeaways From Starbucks App:
The UI of the Starbucks mobile app is very smooth, attractive, and engaging for users to easily understand and move through to find what they need instantly, from Sign up and onboarding to secure payment execution.
Offers great, interactive, fun customization options to users, definitely not tiring, to order from the mobile app what they want from the Starbucks menu.
The crystal clear and accessible Starbucks rewards system, which soundly shows how to earn and redeem loyalty points.
Each payment process done via app is pretty smooth and convenient!
Walmart
Walmart, is an American multinational retail corporation, expanding its global presence to make an impact as the greatest retailer of all time to make people's lives better with its omnichannel approach. Globally, as of now, Walmart operates 10,500 stores across 24 countries and has employed approx. 2.3 million associates with 1.6 million in the USA only.
Walmart began its M-Commerce app with the concept to gain shopping transactions, but now it is thriving for its next chapter rather than just being an M-commerce site.
Walmart always puts customers first, whether it is an offline store experience or a digital medium – like mobile and web apps to provide convenience to the customers. They studied this behavior of customers, where they might use a web browser at home to buy some groceries, but they shift to the mobile app to add a few goods to the cart when going to the quick pick up in-store.
In short, we can say that with offline stores, Walmart has also aced its online shopping & grocery app.
The Walmart Shopping & Grocery App provides all the information that customers need to know about the store (like locations, open hours, etc.) and even lets them create their important shopping lists. The app was made with a lot of strategies to save customers time, effort, and money. It has a super easy-to-understand interface and in-app cards on the home screens to know exclusive deals; overall, it offers a great amusing shopping experience.
As the app is made for both: Android and iOS devices seeing the competitive number of users, almost all users across the globe, wherever Walmart has its presence can access it easily at their comfort zone.
Walmart's mobile app has around 6.5 million users who shop through that medium solely. Of these customers, around 21% of customers are Gen-X, 45.3% are millennials, 13.4% are older millennials, and the remaining 20.2% are baby boomers. Amongst them, 88% of those use Android devices, and 12% use iOS devices.
Before COVID-19, Walmart's annual revenue was around $514.405B. After that, it got a boost due to the massive adoption of the Walmart mobile app and got an increase in sales of around 1.86% in 2020 with $523.964B, then a 6.72% increase in with $559.151B revenue, and then reached to 572.754B in 2022 with a 2.43% increase.
Though with finding a balance in revenue generation now, Walmart's mobile app plays a significant role in its revenue growth.
Key Takeaways From Walmart App:
The choice of mobile app theme, bright and easily graspable UI with yellow, green, and red accent colors that compels users to explore the app more with easy navigation;
Top features of the Walmart app: Search & Filter, Product scanner, In-app grocery planning, In-app wallet, reserve delivery time, and app-specific membership;
The use of AI/ML technology to offer users personalized user experience.
IKEA Place
IKEA – A Swedish multinational business in goods, especially furniture, kitchen appliances, decoration, etc., has been in business for around 80 years now. Undoubtedly, the concept of the business of allowing customers to assemble their own furniture is indeed an amazing one that connects customers with their products with a feeling that they've built the same.
With lots of years in the business, IKEA has finally launched its online presence with an AR-based mobile app to rock the market with a creative app concept.
The app delivers a unique real-world-like shopping experience, 360-degree product view, multi-lingual and currency support, in-app payment gateway, personalized dashboard, and offers quick decision-making, and when combined these unique features in one app; indeed, offers increased sales with the customer base.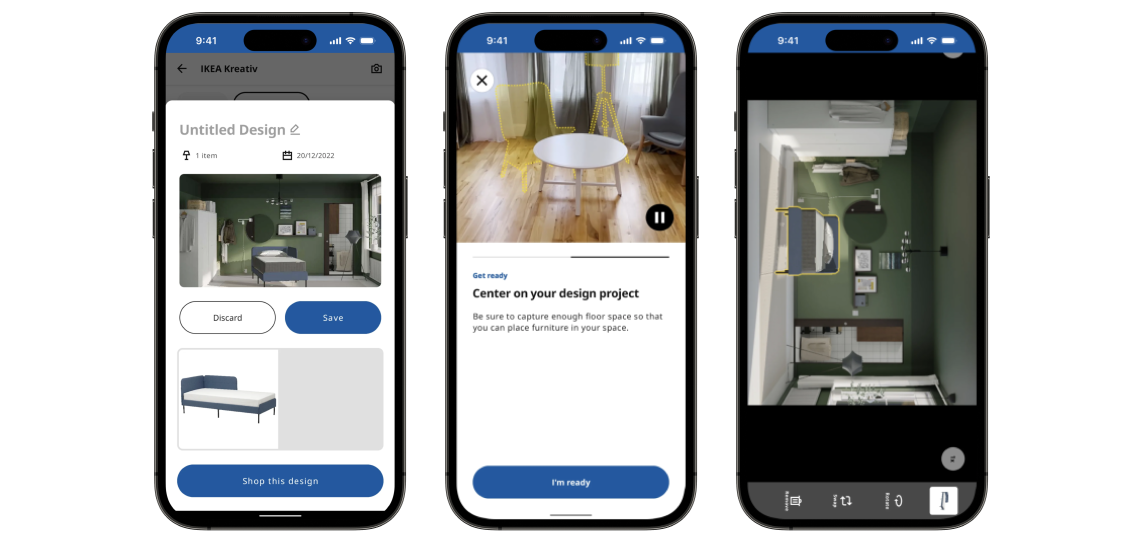 With the launch of the IKEA Place app, in less time, it became the most popular app, with nearly 8.5 million downloads initially. And then it used to get 9.5 million unique global users monthly.
With time passing by, the IKEA Place app has crossed 30M+ downloads combining both: Android and iOS app downloads with 4.6 stars ratings. In 2022, due to such an increase in IKEA Place app users, IKEA gained a boost of 6.5% in sales with revenue of around EUR 4.6 billion compared to 2021.
As per the Forbes survey, the implementation of AR technology in a mobile app has the power to convince around 200% of customers to buy the product with an initial AR test.

Key Takeaways From IKEA Place App:
Adoption of Web 3.0 technology to create unconventional app user experience – AR Shopping App – Catalog Mode;
Clear, 360-degree information and view of the product;
Right-angle positioning of your products on the app;
CMS integration for easy business operations like a SaaS business;
Sound product categorization to ensure the customer journey to the app is smooth;
Multi-lingual and currency support with the NLP model and payment gateway integration, respectively, to make it the best app for users around the world.
McDonald's
"Craving for burgers? Wanna go to McDonald's? Dine-in Or quick pick-up? Or how about using McDonald's app to get some handsome discounts on the food items we buy?" It's the story of every family and friend group who enjoy burgers with authentic American style and taste.
Founded in 1940, McDonald's has been earning the loyalty of customers since then and is still the leader in the fast food chain, especially for Burgers. In addition to that, McDonald's has 38,000+ outlets across 100+ countries around the world.
But to maintain its top position, in 2014 in India and 2015 in the US, McDonald's launched its mobile app named McDelivery to provide their burger lovers to order their favorite food at their fingertips.
The McDonald's app development concept has always been a revolutionary one with so many exciting, innovative features and functionalities, to be ever found in any other food-ordering mobile app. It has cards for customer loyalty rewards/benefits, find a McDonald's branch nearby, the product menu, hot offers/deals, favorites, news, etc.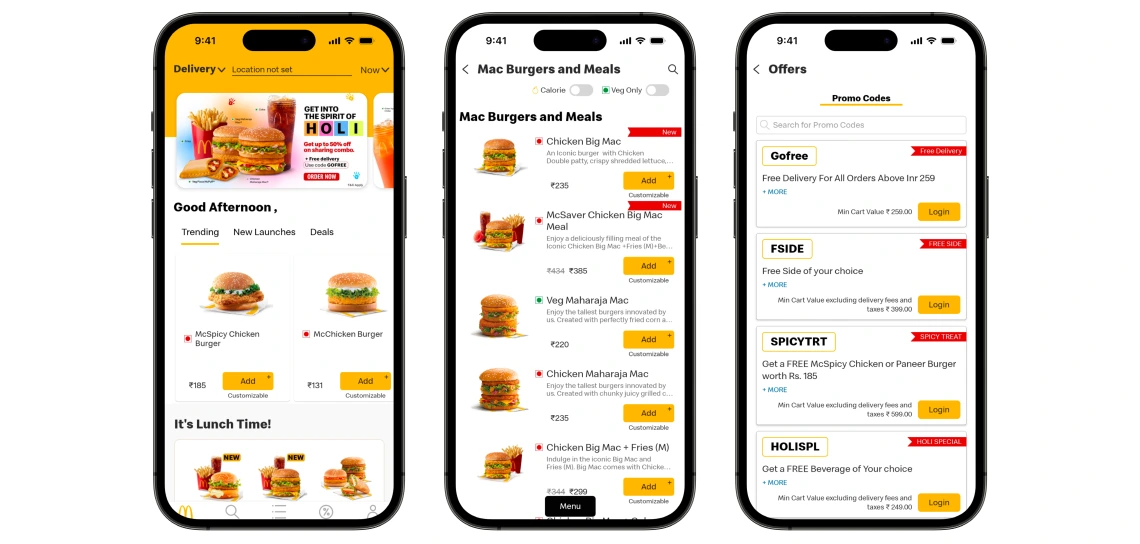 Since its initial launch, McDonald's app has been getting the interest of users, especially for the reward/loyalty program part. In 2022, McDonald's announced its revenue potential in the mobile app as its loyalty program crossed and reported around 50 million active MyMcDonald's Rewards users across the globe.

Through this loyalty program, it has expanded to over 50 markets. In the US specifically, the McDonald's app was downloaded 40+ million times, which was greater than its close competitors.
In the 2022 Q4 earnings release, the management of McDonald's revealed that their digital sales have topped $7 billion in its top-6 markets with 35%+ systemwide sales. Also, global sales increased by over 12%, with double-digit growth across all of its segments.
It's pretty clear that McDonald's app plays quite an important role in its growing sales.
Key Takeaways From McDonald's App:
Amazing, compelling app UI/UX design;
Unique in-app purchase reward strategies, earn points on every single purchase through the app, free food item reward to lure customers, price discounts, etc.;
High personalized customer experience;
Whether want to dine-in, takeout, get delivery, or on-the-go order, McDonald's app caters to all requirements with exclusive deals and offers;
Keeps customers updated with various creative pop-up push notifications.
Now, as you're acquainted with the top brands' apps and how their apps position their businesses uniquely, which in turn, results in increased sales.

Not to mention, you also want your business to grow like them, and that's why MindInventory is here at your service!
How Can MindInventory Help Build A Mobile App Solution That Boosts Your Sales?
MindInventory is an upscaling software development company with expertise in cutting-edge native and cross-platform mobile app development with the additional help from industry-leading technologies, like cloud and DevOps, AI/ML, Web 3.0 and Metaverse, etc., can cater to all your requirements.
Being a technology-driven company, we understand how important your business is, especially when you have to make your unique presence stand out from the crowd. For over 12 years, we have been helping businesses to reinvent their approaches, which makes us your right-fit technology partner. Not just take your business to the next level with our digital solution but also get dedicated support from the business success managers to grow your business.
How about we discuss your business with a cup of coffee through a quick online meeting at your convenient time? Share your project requirements today to help us gather resources to help you define the best-fit, omnichannel business software solution!

FAQs On Business-Specific Mobile App Development
How Much Does It Cost to Develop Your Dream Mobile App?
Well, the mobile app development cost depends on many variables, such as the concept research complexity, design complexity, technology you choose for the app development (native or cross-platform), number of designers and developers you hire on which model (fixed-priced or dedicated hiring model), and many others. Still curious? Why don't you share your app development requirements with us? We'll get back to you with the best cost estimation and development prepositions compared to others you get from our segment.
Which technology should I choose for mobile app development: native or cross-platform?
Well, that depends on the type of app development requirement you have and how robust, reliable, and scalable you want your business-specific mobile app to be. Still, we have better suggestions for you based on your development needs. Contact us today!
What are the mobile app development trends for 2023?
If you see, there are countless mobile app development trends to follow, like AI/ML, web 3.0, AR/VR based, and so on. However, to decide on the best fit, as per your app development, we have gathered the top 20 mobile app development trends, which you definitely don't want to miss out on!