Offshore App Developers: Key Benefits & Things to Consider Before Hiring Them
9 minutes read
26.1k Views
Many entrepreneurs have praised the merits of outsourcing development overseas, while others have disagreed due to horrible experiences.
Do you need to seek offshore developers or hire an in-house team? A massive issue with outsourcing is quality control. How would you ensure that the code being written is of high quality? Would you be able to make precise judgments about an overseas developer?
A vast majority of development firms tend to display a generic list of work that the company has done, as a portfolio. This lack of authenticity is another reason why people feel scared of outsourcing. You cannot be sure of what you are getting.
Read also: The Pros and Cons of Hiring Mobile App Developers from Overseas
What is an Offshore App Developer?
An offshore development company is located in a country with a great talent pool in tech and offers IT services at a much lower rate than local developers.
The services most frequently provided by such companies include custom design, software development, mobile app development, and maintenance.
In terms of software development, a company could offer comprehensive systems for CRM, ERP, SCM, along with other enterprise-grade services for a wide variety of industries.
A pro-tip for companies looking for offshore developers is to make sure that the potential partner has extensive experience in the field.
Every provider of IT solutions has its personalized SLDC processes and engagement models. To ensure success, look for companies providing end-to-end services.
Why Look for Offshore Developers?
The primary reason why many business owners are drawn to offshore development companies is the opportunity to save money. It is incredibly pricey to hire an in-house team of developers in major cities and metropolitans like London, New York, Sydney, and Los Angeles.
The high cost of living in such towns requires an equally high wage. The competition for talent is fierce. It is thick enough to be sliced with a knife. The companies wish to attract the cream of the crop by spending much more on facilities and perks.
When standing against such a competitive background, one adds the lack of local creative developers to the mix- it becomes apparent why offshore developers become attractive to the company. There is no harm in looking for a better deal abroad, is there?

Key Benefits of an Offshore Developer
I have gathered a list of the top advantages that you receive from an offshore app developer. These will inevitably change your decision if you are on the brink of deciding between outsourcing and in-housing.
Savings and taxes
Many companies have stated cost savings as the most significant benefit of hiring remote workers. The lower labor costs in other countries make employment easier.
Talented developers from different countries are often hired to complete the most critical of tasks, due to their lesser demands and a better understanding of company values.
The tax incentives offered by other countries can make a world of difference for a company hiring offshore developers.
Many countries are providing an exemption from VAT until 2022 to companies developing software. This includes operating systems, websites, online services, system operation, and software programs.
Acquisition of talent
Buyers admit that they can get higher better expertise at much lower rates from another country. Companies in the US and Europe often look for developers from countries like India.
Quality
There is always a sense of ambiguity attached to the idea of outsourcing. When it comes to the success of the product, the country of launch or the launching company is not the first figure that carries this burden.
Instead, it is the developers and their passion for the work that helps them shoulder the weight of the expectations and quality like Atlas, the Greek God known for his strength.
Management
Offshore developers provide a complete suite of management services. These commonly comprise of marketing, supply chain, and also social media.
When B2B Integration and other such services are provided by remote employees, the company has enough time to work on elements that they are the best at!
Development cost
San Francisco, Berlin, London, Sydney, or New York- if you are located in any of these cities- employing an app developer comes with an eye-watering price tag.
Moreover, when you add the overheads such as equipment, rent, perks, taxes, and pension, you find yourself frazzled.
According to the Accelerance report, global software outsourcing rates in various regions can be the following as in the table below: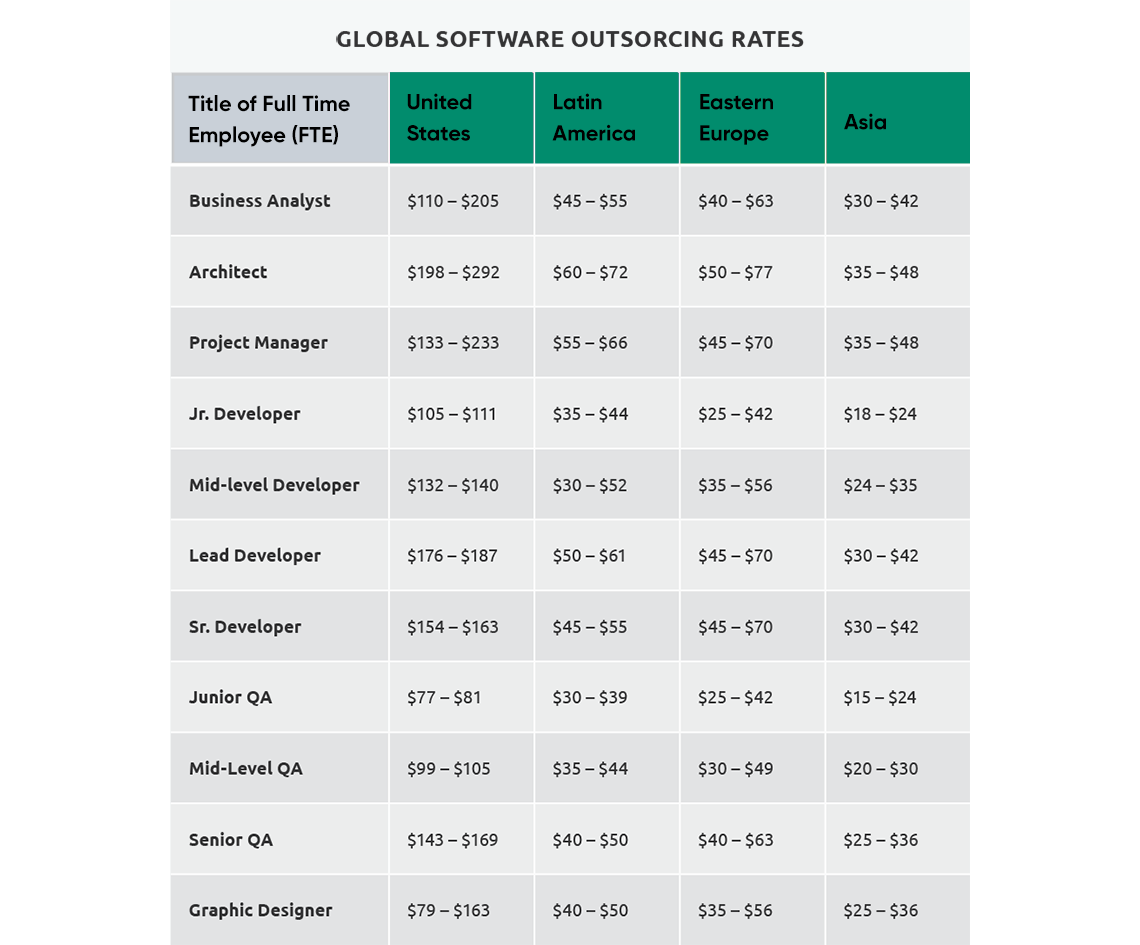 This plethora of expenses other than the cost of development itself has pushed many companies towards offshore app developers to offset the costs associated with the growth of the business.
Things to Consider Before Hiring Offshore Developers
Going offshore enables access for you to a broader talent pool and reduces the chance of encountering high-rated/competitive IT solution providers.
However, before you take the leap of faith to hire offshore developers, there are a few things that you need to know and fully understand.
Be careful with your criteria
If you want software developed fast, good, and cheap, you need to choose two.
If you choose a combination of fast and cheap service from an offshore developer, you inevitably lead yourself to the low quality of the product.
This will eventually become a more significant headache further down the line. This is precisely why wise budgeting now is essential for saving yourself from a hassle later.
It is true that offshore teams reduce your costs, but this should not be detrimental to the quality of your finished product.
I suggest that you get to know all of your options about offshore developer rates and then hire the most suitable team. In simpler terms, I don't want you to be reluctant to pay for quality proven.
Take as much time as you need
Finding the perfect team plays a critical role in the success of your launch. Because the team not only creates a good, they add a part of themselves into your product.
When you take a look back on a job done well, with timely delivery and carried out to the exacting standards that you had, you would feel more than glad at spending extra time before hiring the team.
However, what exactly do you look for when carrying out a task of due diligence?
Examples of similar and previous work
Customer reviews and strong testimonials
Clarity about modern techniques, methodologies, and advanced technologies
Coherence in the approach to security and the process of error reporting
A complete understanding of the organization in terms of critical figures and overall structure
A demonstration of abilities of scale and overcoming any bottlenecks in the journey
Local Leadership
If you were to ask me about what is paramount to an application's success? My answer would be 'leadership.' The field of offshore software development follows a similar parallel to any other form of application development.
Stable leadership is essential for any project to succeed. The team needs a quality leader onboard because when you ask an offshore developer to take the reins, there's a solid chance of things ending in a rut.
This is why I suggest my readers keep the requirements clear-cut and well-documented. A key to the smooth transmission of responsibility from onshore developers to offshore developers is 'proper communication.' It helps in keeping things under control.
Any team under poor leadership is likely to end in chaos. The offshore developing team could go, rogue, for all you know! The project can lose its way, and the team might not be able to keep up with the day-to-day changes and developments needed by your project.
An offshore developers' team is most successful when developers have a balanced ratio of local and offshore developers. The ideal ratio for success would be 1 to 1.
This has the potential to go up to 1 to 3, local to offshore, respectively. A project can be successful regardless of such a ratio, the bottom of the story is that ultimately, the leaders need to find time for cultivating better communication among all levels of the development hierarchy.
Communications
In order to maintain the Minimum Viable Product as the main focus, it is incredibly critical to have clarity in your communication. Many companies keep the MVP as the key contributing factor for the failure or success of the company in its entirety.
Language barriers act like a tough nut to crack. The inability to communicate effectively over the phone or online only due to language barriers could bring doom to your project.
Therefore, before you hire a team of offshore developers, it is essential to have multiple in-depth conversations through all the methods of communication over calls, email, and messaging.
Read also: How to Hire Dedicated Developers for Your Project
Final Thoughts
Going offshore is rather beautiful, for it opens up a new world of possibilities. The age of digitalization has removed geographical borders and helped companies escape the dwindling, local talent pools.
I hope that this blog has helped you understand the complete picture. All that I wanted you to know is that hiring an offshore development company takes your business to the next level.
FAQs About Offshore App Developer
What is offshore app development?
Offshore app development means outsourcing the app development work to the best development team across the world which does the work remotely. It can be done by hiring an individual developer or a dedicated development team.
Why choose offshore app developers?
There are many reasons to choose offshore app developers for your projects like cost reduction in salaries and infrastructure, access to the best talent in the world, risk management, focus on other businesses, and many more.
How much does it cost to hire offshore developers?
The cost of hiring offshore developers depends on many factors like the location of a developer, the type of your app, the complexity of the design, total number of pages, features and functions, etc. You can hire offshore developers on an hourly or fixed-cost basis.