Threads – an Instagram App was launched in seconds on 6th July 2023 and outpaced its reach in just a few hours of its acquaintance. Threads became the first-ever social media viral sensation that has outpaced its reach and disrupted its competition with 30 million account sign-ups in just 16 hours with its record-breaking wave.
It has become a controversial hot topic everywhere around the world with its user base through the given name "Trends – Twitter Killer," "Threads the biggest Threat to Twitter," etc. With its launch and soaring user base, many Twitter lovers came to its rescue by saying Threads, a copycat, a clean Twitter Clone.
Some social media experts say – there are around 250-500 Twitter clones available in the market right now. But among all "why do only Threads – an Instagram app get this special attention of social media enthusiasts?'"
Also, many businesses finding an opportunity to shine in the market with their mobile app product like Threads have this query "Is it really worth investing in a social media app like Threads?" And if it is – "How can you build an app like Threads and what to consider for the same?"
We, being one of the leading social media app development companies, suggest you should leave all your worries behind as here we are going to present to you an expert analysis of building a social media app like Threads with cost and time estimation. Rest assured, by the time you finish reading this blog – all your queries will be solved.
So, let's begin with a journey to unveiling the secrets behind building a popular app like Threads that will help you grow your online social media app product-based business.
What is a Threads App And Why is it a Talk Of The Town?
Threads is utterly a record-breaking social media app like Twitter created by Meta and closely integrated with Instagram. Likewise to Twitter, it allows you to share your thoughts and multimedia with your online social network in threads form.
The best thing about Threads is – once you join it, there's no going back, only if you have the dare to permanently delete your Instagram account and personalized data! You can only disable your Threads account!
In Threads you can divert all your Instagram connections to your Threads account with a single click. So, no need to create your user base or in the language of threads and you don't need to sew your thread from scratch.
Okay, it's alright! But why is Threads a hot topic in the town today?
In the past few years, we've seen many changes in Twitter – our favorite controversial platform, from meeting the new owner – Elon Musk, delisting the company from a public to a private partial SaaS-based firm, and account verification purchase option, to limiting Twitter scrolling and whatnot!
Because of the past two blowing changes, many Twitter users were frustrated and looking for ways to make Elon Musk bring back the previous version of Twitter.
Though Twitter was bought to give users a freedom to share their thoughts rather than being regularized it ended up limiting them in the other way.
Hence, Mark Zuckerberg envisioned creating Threads – "a friendly public space for conversation, an experience around text, ideas, and discussing what's on your mind."
Yes, it's also true, because Threads belongs to the strong Meta family that is already a well-established brand, making it easier for it to become the talk of the town.
But its default connection with Instagram makes it a controversial topic to debate on.
How Does Threads – An Instagram App Work?
Threads is a standalone app from Instagram that works on the vision to allow users to share their thoughts with their connections and participate in public discussions.
In addition, Threads offers a cross-link between the social media concepts like Instagram and Twitter. Having the same user interface as Instagram but with the slightest more focus on text-based updates with photos and videos makes it a fun and user-friendly tool for social media enthusiasts.
In order to use a Threads account, having an Instagram account is a must.
Once you sign into the Threads account with your Instagram ID, it asks you to send follow requests to your Instagram followers and followings to join you in Threads.
Also, it will ask whether you want to keep your Threads account private or public, which you can also change by navigating to "Settings" without impacting your Instagram settings.
Then sharing your thoughts in Threads becomes easy-peasy by clicking on the "+" button, typing your thoughts, and then clicking on the "Post" button.
On Twitter, users with a normal account can write Tweet text limited to 280 characters long, and for the accounts with a blue tick, they can write their tweets 10,000 characters long, post longer videos, post premium blogs, get priority on their every social media actions, and more.
But with Threads, even normal accounts can write their thoughts in 500 characters length, attach links, around 10 photos, and videos 5 minutes long. Here, every user is treated in an equal manner, so the better your content and engagement on it, the better reach you can achieve.
Moreover, while posting your thoughts, you get the option to choose the type of audience you want to share your updates with, including Anyone, Profiles you follow, and Mentioned Only @.
Why Should You Consider Developing An App Like Threads?
Well, of course, in this crowded social media market, where Facebook, Instagram, Twitter, and now Threads are ruling, you might feel a bit insecure in creating your unique space. But here are the reasons ensuring that it's worth taking the risk for starting your new business depending on a social media app product like Threads:
Apps like Twitter and Threads have their unique user base focused on sharing their thoughts, participating in public discussions and debates, helping the community, and being free to make this world a better place to live.
If a new app comes into the market with unique features and super appealing UI, there are chances your app like Threads, can make its unique place in your target audience's hearts and minds.
You can offer your app user base some compelling benefits while pursuing them to buy your premium services, such as sponsored content, advertising, in-app purchase, etc., to avail your monetization opportunities.
Building an app-like Threads with unique and appealing features may unlock more doors for potential acquisition or partnerships to get financial help to further enhance your app and expand your business.
What Features Make Threads Unique From Twitter?
Threads might be inspired by Twitter, but it has many features that make it an upper hand over Twitter and a great choice for social media enthusiasts, and those features include: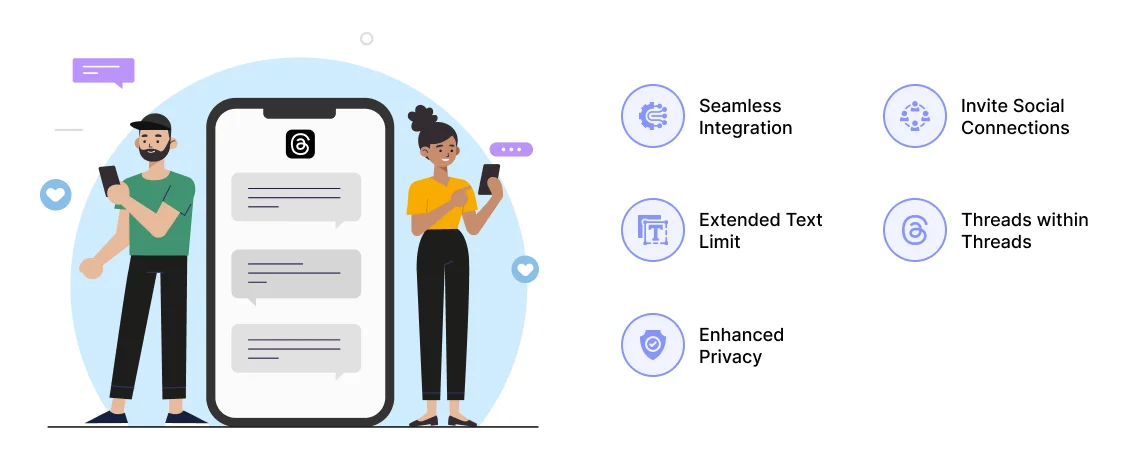 Seamless Integration with Instagram App
This feature is itself described in its name, Threads – an Instagram App. So, when a user installs Threads on his/her mobile device, this will ask for a sign-up user account using Instagram. And derive everything from their Instagram account to their Threads account. This feature makes Threads great and easy to get onboarded and use.
Bring Your Instagram Network to Threads
Now that you've created your Threads account through Instagram, the next screen shows you an option to follow your Instagram followers. This unique feature helps you to bring all your Instagram connections to Threads. Not just that, you can even search for an account that is not on your Instagram connection to follow in Threads.
So, if you already have your social media platform and want to build a new one like Threads, you can utilize this feature with access to your contact list to bring your network into it.
Better Coverage in Sharing Your Thoughts
On Twitter, you only have a limit of 280 characters to express your thoughts, including text, hashtags, and links. And in case of adding more content to that tweet, you have to create threads of that tweet, which may break your link of sharing a thought.
That's where Threads – an Instagram app comes with extended coverage for writing and sharing your thoughts in 500 characters long, in which you can include text, pictures (up to 10), videos of 5 minutes, links, and more.
The reach system in Threads is a bit different than Twitter as it doesn't have any hashtag system. So, the better thoughts you write and get engagement, the better reach you can count on.
Continue Your Conversation with Threads Within Threads
This feature is just like Twitter, using which you can continue sharing your thoughts on Threads by expanding your Thread and making your conversations serialized. This makes it easier for your users to explore the entire conversation on any particular thread.
Have Control Over Your Threads
Unlike Twitter, Threads provides you total privacy control over who can mention their threads and hide default and custom offensive words and phrases. This privacy feature makes Threads unique and more appealing than Twitter.
So, you can also consider implementing these custom regulation settings to provide your a safe place to decorate their thoughts.
Also Read: Important Features To Consider When Developing A Successful Social Media App
How To Build An App Like Threads?
Okay, we now know so much more about Threads, so it's time to explore a step-by-step process to build an app like Threads:
Do Requirement Analysis
It's great that you have the app concept, like what kind of app you want to build. However, you want to clarify the kind of features and functionalities you want to include in your social media app.
You also need to decide your target audience, your app monetization techniques, and so much more that can lead your social media app concept like Threads and Twitter to great success.
Conduct Market & User Research
This part should be processed by you and your team, along with professional help! You can first identify similar app concepts that can be your competitors, market landscape, how's the demand for apps like this in the market, and more. So you can identify your concept and refine it to build your unique brand reputation.
Hire Mobile App Development Partner
You've done your part of the research, but it's time to find your ideal social media mobile app development partner, providing full service from design to development with maintenance and support. The mobile app development company you want to hire can be from any region around the world, providing best-in-class app development services at the best cost to meet your requirements.
App UI/UX Design
After conducting the market and user research, your dedicated UI/UX partner will help you conduct extensive design research. And design app UI/UX mockups and wireframes and send them to select from. Once you finalize the one with your constructive feedback, your design team will implement those changes and present to you an eye-catchy design that is easy to understand and navigate.
Decide Technology Stack
Technology is the most important element that you should choose by undertaking so many considerations. So, as you're building your social media app like Threads, you do want to know the technology stack used by Threads to have a better idea of choosing a reliable technology stack.
So, here's the technology stack you can use to develop your app like Threads: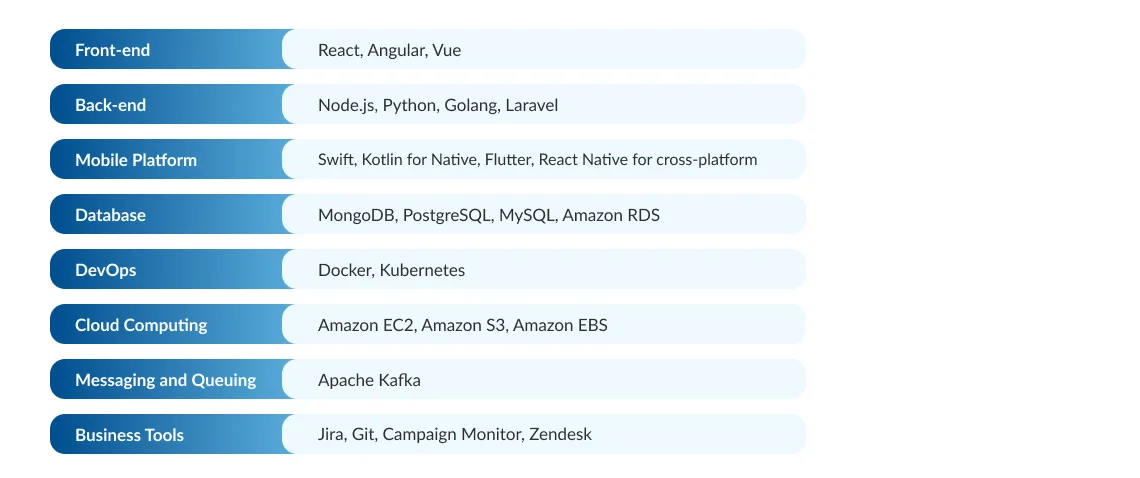 NOTE: The mentioned tools are just suggestions, so before deciding on one, you should consult IT professionals to decide the best technology stack meeting your requirements.
Social Media App Development
After finalizing the technology stack, your social media app development team will step on the app development at full speed. This phase involves the implementation of app UI, APIs, and other components with linking to the backend and integration to third-party APIs.
After the implementation and integration processes, your app will be sent for the responsiveness setting and other UX settings to deliver you the social media product working as you've assumed.

App Testing & Quality Analysis
Though app developers conduct basic app testing and quality analysis from their end, having a dedicated QA engineer onboard can be very helpful to you. They will help you manually test your mission-critical social media app like Threads to find out even tiny bugs hiding inside your app code to deliver you the top-notch, crash-free, bug-free app.
Deployment and Maintenance
Now comes the main and most important part of your app development cycle, which is to deploy your app into the public registry to make it available for all users to experience it.
Once your app is live, you should continuously monitor its performance, user behavior, and many other factors to create a report to send to your app development partner for maintenance and enhancing its performance.
Wow, we've come so far, but you must be getting curious to know the cost of Threads-like app development.
How Much Does It Cost To Build An App Like Threads?
Well, if guessing the cost of developing an app like Threads is easy, then what else do you have to worry about!
But the thing is, it depends on many factors, such as:
The social media app development company;
No. of talents you hire;
The location of the company;
The experience of your dedicated team;
Engagement model you choose;
The complexity of your project;
UI/UX design requirements;
App development platform (Native or Cross-platform);
Technology stack you select;
Features and functionalities;
App testing and quality assurance;
Maintenance and support;
App store optimization requirements, and more.
One thing you can be sure about is that the higher the complexity of your social media app idea, like Threads, the higher the development can be.
But if you opt for the dedicated hiring model, you can get dedicated support from the talents you hire, with access to the BA and Project Management team. However, the dedicated hiring model cost is considered in an hourly manner, which can vary depending on the region of the company you hire.
So, if you analyze the below-mentioned estimated hourly prices based on the region of the mobile app development company, you can get help shortlisting your ally.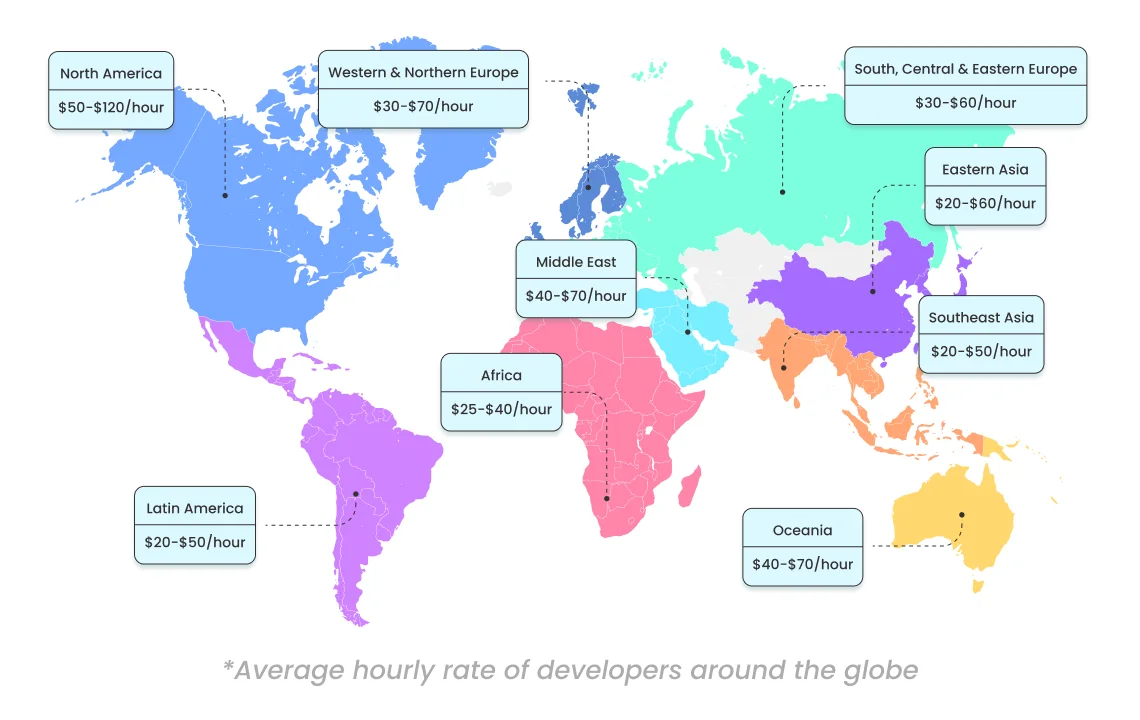 NOTE: Please note that the prices mentioned in the above image may be subject to market changes, demands, and other factors that can affect costs.
How To Monetize Your Social Media App Like Threads?
When developing a popular concept of text-based apps like Threads and Twitter, you can unlock many gateways to monetization and become a millions-club social media app.
NOTE: As Meta has just launched Threads to compete with the social media giant Twitter, it has yet to implement monetization strategies.
However, you can take a look at the below-mentioned social media app monetization strategies to foster:
In-app advertising: Allowing businesses and brands to promote and boost their market reach through paid campaigns.
In-app Purchases: Just like Twitter, you can provide in-app premium services, such as account verification (blue tick-mark), premium access to their exclusive content, and more.
Data Licensing: Social media platforms collect data at scale, which can be helpful to market research and analysis. By complying with your industry standards and regulations, you can provide your users premium access to such data without violating their right to privacy.
E-commerce Integration: Just like Instagram has once integrated this e-commerce feature into its app, you can leverage this feature to enable brands to link their e-shops and provide their customers with direct access to buy their products without leaving the app.
There are many other ways as well, but these are the effective monetization strategies you can bet on.
How Can MindInventory Help You Build An App Like Threads?
In this social media-driven world, building your text-based app, like Threads, can help you create a record-breaking history if developed with the proper clarity, perfect research and planning, and execution. And that is where MindInventory comes to your rescue!
At MindInventory, we have a team of researchers, analysts, designers, and mobile developers – all working as one team to help you get the social media app solution with the right technology stack, robust implementation, till secure deployment with dedicated maintenance and support.
So, what are you waiting for, share your requirements with us and get a world-class solution for your app development concept like Threads.

FAQs on Building An App Like Threads
How long does it take to develop an app like Threads?
The time required to develop an app like Twitter can vary based on several factors, like the app's complexity, features and functionalities, team size, the experience of the team, and the development approach they use.
Are there any specific marketing strategies or techniques that can help promote an app similar to Threads?
Of course! You can promote your text-based app like Threads in many ways, such as doing App Store Optimization (ASO), social media marketing, content marketing, public relations, app preview videos, collaborations & partnerships, and many other ways. You can also check out our digital marketing services to know ways MindInventory can be beneficial to you.