Progressive Web Apps for eCommerce – Everything You Need to Know
11 minutes read
5.9k Views
With the arrival of Progressive Web apps, numerous organizations have begun using this technology to provide an intriguing user experience and connect to their target audience more rapidly. For this reason, PWA development services are becoming more popular in several industries.
The eCommerce industry is one such segment that is reaping the benefits of the game-changing PWA technology. After all, it represents further development in mobile-driven businesses. The PWA platform helps eCommerce brands focus on improving their user experiences. It allows brands to develop three times quicker than an eCommerce website.
According to the Statista reports, there has been an expectation that we can experience a vast development in mobile-driven commerce that will profit more than 400 billion US dollars by 2024. And Progressive Web Apps are the primary reason behind this growth in mobile businesses.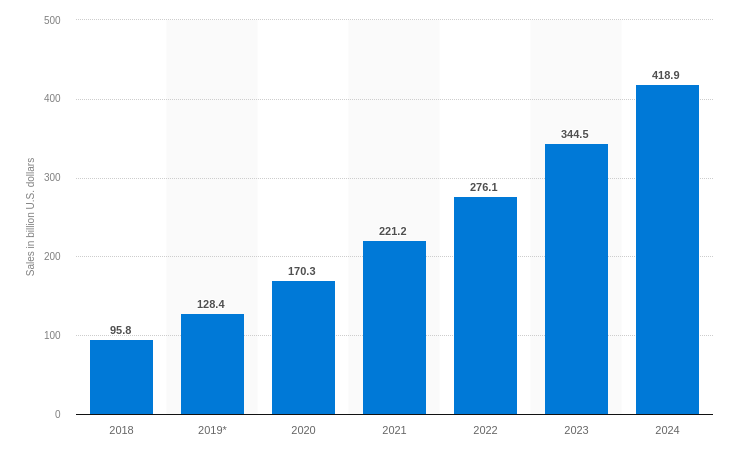 What is a Progressive Web App (PWA)?
PWA is a combination of the features of a website and an app. It's a website that works and appears like a native application. It is quick, conveys push notifications, functions offline, and you can add it to your mobile phone's home screen.
Unlike a native app, a PWA is a blended method of creating a platform that works like an app and a website. You cannot download PWAs from an application store. But, they are prompt and easy to use, like native applications.
Since mobile phones are the primary traffic source, especially for eCommerce stores, PWAs may seem to be a fantastic solution for sellers predicting more conversions.
Read also: Native Apps or Progressive Web Apps: Which One to Choose?
How Progressive Web Apps Are Beneficial for eCommerce Stores
The advantages of PWAs for eCommerce businesses are countless. PWAs make the online buying experience as smooth as possible, and we can expect them to rule and change the prospect of mobile-commerce for the below-mentioned reasons.
1. Saves Time and Cost of Development
As PWAs' architecture rests on reusable codes, developers may use them over and over again. Where, to build an app you need to have different code for other platform. Furthermore, your app must fulfill specific needs to get approval from both platforms' reviewers.
If you want to use devices with various operating systems to target two groups, you should increase your efforts alongside money, time, and resources.
2. Amazing Marketing Scopes
Search engines are making minor changes to their voice-based searches. Likewise, sellers should also fine-tune themselves. PWA is a great SEO approach that an app cannot manage even if it is available on the app stores. As PWA is a site in the native form, it improves searchability automatically.
3. Bridges Gap between Customers and Merchants
With a Progressive Web App, users don't have to download an app. Hence, it lowers the cognitive load that users usually encounter while undergoing the app downloading process. Now, users are more aware of the number of apps present on their mobiles. Since users get limited mobile storage space, keeping a minimal amount of mobile apps is the current trend.
Users don't like to install more apps if they already have a lot of apps on their phones. Having lots of apps on the mobile makes it slower, clogging the phone. For this reason, mobile-driven businesses are turning to PWAs more quickly.
4. Offline Functionality with Service Workers
Cache and service worker APIs are the USPs of PWAs. Service workers operate in the background and are accountable for obtaining cache elements and sending notifications. They store new content in a browser's cache and syncs local transformations to the local server.
Therefore, even if your app users cannot be online because of a weak internet connection, PWAs would help standard navigation.
5. Saves Storage Space and Data
Whether it is crucial for an eCommerce business, users always save their internet and data costs. In this aspect, PWA are saviors for eCommerce businesses. When an application might take 50MB storage space in the phone memory, a PWA would occupy a few MBs only.
6. Flexibility and Responsiveness
The flexibility and responsiveness of Progressive Web Apps may impact your choice. PWAs have a responsive layout. So, no matter what gadget you use, your website's design must comply with its resolution and size.
Impressive user experience increases online sales and retains more promising buyers. Flexibility harmonizes with the mobile-first method depending on addressing the choices of your targeted mobile audience. The mobile-responsive websites have more scopes to attract users' attention and engage them.
7. Automatic Updates and No App-Store Costs
In a PWA, automatic updates work like a regular website update where all updating processes occur at the server end. And this enables the end-users to have an updated website application. Moreover, either your tech partner or you as a business owner would have to pay subscription costs to the application stores where you want to upload your native application.
A PWA helps you abstain from these unnecessary costs without impacting your website's visibility. Launching a Progressive Web App means you don't need to depend much on the application stores and their terms and conditions. While a native app might not be visible to your users on the app stores, a PWA can be dealt with by the search engines to boost its visibility.
8. Easy to Maintain
Suppose you need to develop individual applications for iOS and Play Stores. In that case, you may need to spend a considerable amount for hiring a developer on a prolonged period as an app requires continuous monitoring, regular error fixes, and up-gradation. On the other hand, PWAs save your pocket, and you can upgrade them by identifying their needs for various browsers.
9. Increased User Adoption
To use an application, users first need to install it. And this includes an additional step in online buying. It results in a lower conversion rate. Using PWAs, the users don't need to download any app. They only need to click on the website link and follow all guidelines shown on the device screen.
10. Secure Payments
Security is one of the advantages PWA provides the eCommerce companies. People undoubtedly prefer the concept of online shopping. However, bulging and tedious check-out processes may prevent them from finishing an online purchase and disregard their carts.
Due to the integration of Payment Request API with a browser, buyers can experience secure and fast payments. There is no check-out form in this payment method, and this helps customers finish their purchase immediately.
When Does an eCommerce Business Need a Progressive Web App?
Undoubtedly, PWA provide various advantages to eCommerce businesses. However, your e-store needs this platform depending on some challenges it currently faces. E-commerce business owners should consider some factors while going for PWA. Let's take a look at those crucial factors below:
1. You Are a Startup Owner
If your eCommerce business is a startup, PWA is the ideal option for you. Startup businesses should use their time and limited resources to find the best place for them on the market. And a PWA is affordable and easy to develop.
2. Your eCommerce Website Struggles with Conversion Rates
Despite having a highly functional native app, some eCommerce websites often experience a low conversion rate. It may impact your brand's growth. In this case, we will recommend you invest in PWA development and provide your consumers with the best user experience.
3. Android is Your Primary Target
PWA technology is currently not optimized for the iOS platform. Hence, you should avoid it if you mostly have iOS users. If your target users use Android, a PWA is a suitable option for you.
Android is compatible with PWAs, and most sites have PWAs for their APK files. Also, the functions of a PWA and a native Android app are pretty similar.
4. You need to update your eCommerce Website
If you need to update your eCommerce website quickly, redesigning it into the PWA is the best solution.
Differentiating Progressive Web Apps from Websites and Native Apps
Responsiveness is not the single thing an eCommerce site requires. Responsive websites can satisfy users' requirements for error-less function across all devices and flexibility. However, websites and native apps fail to fulfill these for new updates and fast loading.
With a view to some essential features, we can differentiate PWAs from native apps and websites:
1. Installation
Native apps need installation while PWAs don't. Hence, users also don't need to undergo a tedious installation process. Instead, to use websites and PWAs, you need to add them to your device's home screen.
2. Cost
Developing a progressive web app is considerably less expensive than developing a native app or a web app. Unlike native applications, you do not need to pay money on app submission to an app store.
Also, you'll need to pay more for a single app that can be used on any device or platform. Whereas, there are many PWA frameworks available to help you quickly create for all the platforms.
3. Publishability
It would be best if you published native apps at either App Store or Play Store. You need to follow the terms and conditions of those platforms every time you update your native app. but, PWAs and websites are free from these hassles as you don't need to publish them. You can use a URL and browser to make them visible to people.
4. Downloading Speed
Downloading speed decides to a greater extent whether your customers will retain or not. Since websites and PWAs don't need installation, they can load within seconds, leaving native apps behind.
5. Security
The improved security measures can be hard-wired into native applications additionally. But, websites or PWAs cannot get reinforcement with certificate pinning or multi-feature authentication. It makes the personal and financial data or native app users more secure.
6. Quality Control
Natives need a several-stage publishing process that has a positive result. The stores where you launch native apps test these products with quality skills and remove the inefficient ones. Websites and PWAs are inadequate in this matter and fail to present a high-quality product to people.
7. Functions
Native apps have various functions that regular websites don't have. But generalization is not possible for PWAs, as a few are rich in some parts whereas others aren't. The Support API may consider the availability of functions.
8. Visibility
PWAs and websites rule in this aspect as search engines index them. Native apps are not easily discoverable as users need to find them in a respective store.
9. Weight
Native apps weigh more (almost ten times) than any regular website or PWAs.
10. Offline Functionality
Once installed, a native app doesn't need website coverage, while regular sites cannot load without an internet connection. However, PWAs can provide offline operations thanks to the service workers.
Primary Challenges of PWA for eCommerce Business
Despite all the benefits of PWAs for eCommerce businesses, they have some limitations that you should consider:
PWAs are not as famous as responsive websites and native apps. Hence, it takes some time for you to reach out to your end-users.
Since PWAs refer to both sites and native apps, they are more complicated to design and operate. Designers design PWAs with solid expertise in app architecture and high needs for coding and website design.
Caching brings lots of problems, being necessary for PWAs. For example, the balance between a website's functionality and its usability.
Since PWAs are just half apps, their scopes and functionality are also limited.
Unlike native applications, PWAs cannot access user data like social profiles, contacts, media, and more.
Even after a couple of years, Apple still doesn't refer to PWAs, although PWAs are now available on Android and iOS.
Takeaway
Starting with Progressive Web Apps is the best option for eCommerce business that needs to increase mobile conversions. Since the online biggies use PWAs to dominate the industry, it has become necessary for every mobile-driven business to grab this opportunity. So, this is fantastic news for every eCommerce business owner.
In simpler words, PWA is a growing strength when it comes to eCommerce website development. If you want to set up a PWA-enabled online store, hire a PWA development company and let them know your needs to enhance your online functionality.