Why New Businesses Need the Support of Web Development Companies
14 minutes read
28.4k Views
For a new business, the first publicity comes through its website most of the time. Within the digitized settings in business, your website serves as more than just an electronic interface. It becomes one of the first branding and marketing tools, particularly for startups.
A study reveals that 66% of the visitors, when exposed to website content for more than 15 minutes, are likely to comment positively or negatively on its design.
From the online marketing perspective, your website is of prime importance. Evidently, website design and development is something you can't afford to ignore while kickstarting your business.
In Business, the First Impression is Likely the Last Impression
A good website determines how you draw customers into the funnel. As a business owner, you must know that 38% of your visitors are unlikely to engage with your site if the layout is unattractive. It is important to come up with a compelling layout, with can get potential customers engaged.
It takes seconds for people to judge your website. Therefore, the visual elements, the interplay of graphics and texts as well as the usability of this platform need to be integrated carefully.
Failure to create an impact with a compelling website gives an edge to your competitors instead. You are likely to miss out on good leads, as visitors will move on to other websites.
This is where you need professional web developers who can closely collaborate with your in-house team. They have a prominent role to play in how potential customers perceive your brand.
In fact, good designers and developers come together to integrate all vital elements – from colors to graphics, navigation to UX – within the design in a way that creates a cohesive impact on the target audience's collective psychology.
How Can Web Developers Contribute to New Business Groups?
Web developers evaluate the market potential for new businesses, and come up with functionally robust websites that pull the crowd.
Have a look at the role that web developers play, while collaborating with a firm.
The web development professionals study the requirements and build the code. In the process, they optimize the business value of their client firms, offering alternative solutions.
High-quality websites offer sophistication and aesthetic appeal, which have a deep impact on the thought process of customers. Better navigation and accessibility complement their efforts of browsing through the site.
Web developers also collaborate with their clients even after the launch of the website. By providing after-sales support and maintenance, they help business firms retain the consistency of their services.
For specific projects, particular tools for web development might be necessary. Web developers identify these requirements and, in the process, cut down development cost and time.
Collaborating with reputed web developers at an early stage can help business firms save a lot of money in their later days.
Did you know you can prevent a loss of 7% in conversions, when you increase the loading speed of your website? Well, that's what a developer does and that's why you need him.
Further, people value time more than anything else. Web developers can help you retain existing customers, while acquiring new ones with a website that converts.
Why do Business Leaders Collaborate with Website Developers?
Website developers come with a good collection of resources, which helps firms achieve their goals. Business analysts, QA experts, developers and other specialists come together, while building a site. In order to suit each stage of web development, the composition of this team must change.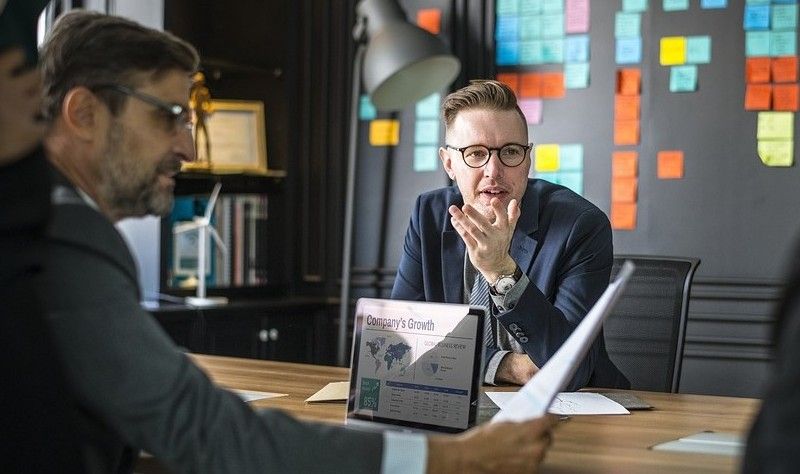 This helps in limiting expenses and sharpening the focus. From enhancing user experiences to building visually appealing UIs, the professionals take care of all the necessary aspects.
This helps brands convey a cohesive branding pitch to their intended customers. The team oversees the execution of the website building project throughout its length.
Given that website design is one of the most prioritized aspects of a company, business leaders collaborate extensively with web developers.
Here are certain benefits you can enjoy, when you work closely with these professionals:
Websites With Seamless Navigation
Your visitors would love to breeze through your website seamlessly. Difficulty in finding the pages might hurt their experience.
Hiring a good web developer ensures that your customers can browse the site without facing any difficulty. Good user experience is essential in retaining your visitors.
Appealing Graphics And Additional Features
For business firms, it is important to get their website customized depending on your offerings. Web developers integrate visual graphics and additional features in these portals.
At times, entrepreneurs choose the same design on their website, brochures, and other advertising accessories. A comprehensive assistance from the web developers, is therefore, required.
Responsive Websites
The usability of your site decides its success in the competitive environment. Today, most websites are mobile-friendly, or responsive. A research reveals that 72% of the people love websites that are mobile-friendly.
Given that a large segment of internet users gets access to your website through mobile devices, it is important to come up with mobile-friendly sites. A cross-device compatible website can broaden your customer base. Besides, your website is likely to retain more customers, if it has a faster loading time.
Read also: Optimizing Website for Mobile? Here are the Mistakes You Should Avoid
Targeting Your Customers
A well-maintained website can optimize your ROI. When customers are comfortable with the design and navigation of your site, they are likely to stick to your brand. In order to get more customers to your door, you must target them well.
Web developers consider the psychological aspects and taste of your customers while designing the site. An organized and targeted approach works out well.
Pronounced Brand Identity
With the right website, you can create the essence of uniqueness among your customers. It enhances your brand identity and establishes credibility. Successful brands have often set trends with their website designs. This helps in associating with your customers with an optimistic outlook.
Marketing And Sales
To enhance your sales you must promote your brand on the online platforms. Through a consistent online presence, your brand can market its products, solutions and services to a larger group of audience.
Considering this marketing value, a compelling website remains an asset for your business. From online marketing to branding, the design of your website creates a powerful impact on your audience.
Vision and Business Strategy: Things Web Developers Consider
Building a website involves something more than coding and maintaining its quality. Reputed web developers have a good foresight and consider the vision and business strategy of a company while designing the site.
Based on the goals and objectives of the client, as well as the needs of the customers, they implement the web development strategies. Evidently, web development should not be an afterthought, but an innate process of expanding your business.
When you get across to web development consultants, they identify the most important aspects of your business. Accordingly, they go ahead with the task. Most of the web development firms try to get maximum knowledge about the future possibilities of product development of their clients.
In the process, they come up with websites that deliver value even long after their launch. They make the website easy to maintain and scalable, while offering the best features to the customers.
An efficient website developer not only revolves around the technical aspects, but also the business goals of a company. In other words, collaborating with reputed website developers can make your site future-proof.
A Well-Developed Website Strengthens your SEO
With competition between firms raging in the digitized environment, SEO can give you the much-needed edge. However, search engine optimization largely depends on how your website has been built.
The reason is several designing practices and elements have an impact on the layout in which content is published on the site. Eventually, it has an impact on how the crawlers influence the website index.
Reputed developers focus on the SEO fundamentals of their clients' websites. Your site can therefore, get a better rank in the index and visibility.
SEO is influenced by the way you publish your content on the site. Unless you get to know how SEO works, it might be difficult to understand the nuances of a good website.
It is for this reason that business firms work with experienced website makers to enjoy an SEO-friendly website coded to perfection. No wonder, startups and forward-thinking entrepreneurs always collaborate with digital marketing agencies!
Positive Customer Experience Matters
Your website has a direct impact on your customer service. It provides visitors with an insight on how the firm treats its customers.
Easy navigation, instant help, a captivating interface and an overall positive experience are what your visitors expect. Considering these requirements, website developers focus on the usability of your site.
An outdated or shabby site fails to live up to the competition. But, a no-fuss website delivers a greater degree of comfort to your customers. This positively influences the brand image, an asset, which most businesses need to nurture with care.
How Web Development Company Can Help your Business
Poorly developed websites fail to have a lasting impression on the audience. On the other hand, a website that has been coded right, can build trust effortlessly.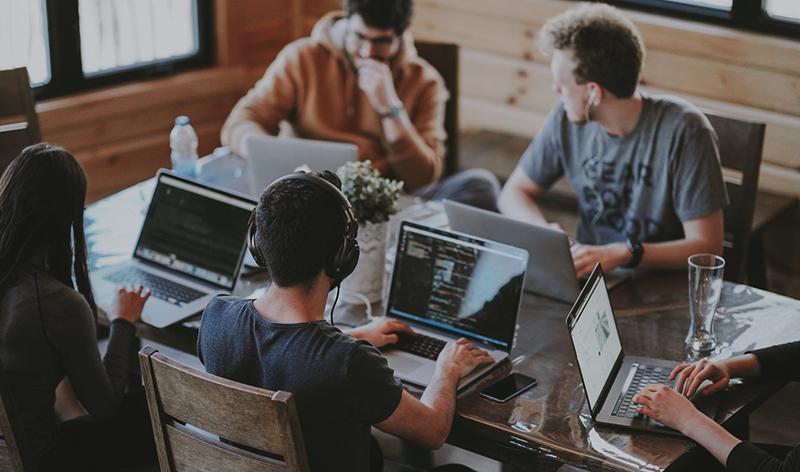 To that end, here is what a web developer can do for you:
1. Implement advanced technical knowledge
Web development technologies are evolving. With increasing competition, it is important to integrate the latest technologies while building or maintaining your site. Reputed web developers come up with fresh designs and development solutions for their clients' site.
This helps the businesses in maintaining an edge over their competitors. The technical aspects are to be carefully evaluated, ensuring that a particular feature will benefit a given firm.
Established web developers consider several marketing, technical and aesthetic aspects while integrating these features. A research-oriented approach from the developers works perfectly as they suggest befitting features for your site.
2. Select the right sets of development tools
Choosing the best tool-stack for web development involves a good understanding of SEO, user persona, target audience and design. Reputed web developers consider all these aspects, while selecting the right tools for website building.
The specialization and composition of the website development team are not the only aspects that influence the choice of tools. With the right approach and tools, your website can get a great visual appeal. The experience and technical skills of the website developers do matter, considering the impact you need.
3. Develop a cohesive website
The website builders strive to solve problems and help business firms achieve their goals. They come up with strategies and suggestions of their clients, which they find helpful.
At times, the developer may reject a solution that the client had initially proposed. The seasoned designers are well-versed with tactics that are likely to click. Eventually, they suggest an alternative that can be more beneficial to the client.
Budgeting is one of the core aspects to consider, while investing in web development. Hiring a reputed web development company economizes the process. In the process, you can benefit from the best business opportunities that might come your way.
4. Offer a better business value
The role of a web developer is not limited to the website building, designing and maintaining the endeavors. Considering the business goals of the client, the professionals come up with unique strategies using which, you can beat your competitors.
Therefore, they educate their clients about all the available options. In the process, business firms are able to make more informed decisions.
The approaches they adopt and technologies they implement are highly customized. Hiring a reputed web developer is a good idea for business firms, as they can obtain a better business value from them.
For instance, the developer might decide whether you should opt for Scrum or Agile, whether you need to think of Site Reliability Engineering, of whether you need DevOps for app support.
The consultants advise their clients on these aspects, and in the process, help them in strategic ways of business. When you collaborate with the experts, you can benefit from the experience that they have gathered over the years.
5. Offer post-product support
Even after you launch your product, you might need a dedicated hand from the developers. Many firms ignore this aspect, particularly support and maintenance. In course of time, when they reach out to the experts, the overall costs rise. Therefore, it is necessary to seek post-product support throughout the process of business.
When you introduce a fresh team of developers to the project, it turns out to be costly and stressful. It takes time for the professionals to get themselves familiarized with the code. Over time, they come to know about business processes that are relevant.
However, your company is likely to lag behind in competition, if the professionals take too much time in this process. Therefore, it is recommended to assign the task of maintenance to the original developer.
From time to time, the experts introduce fresh features and eliminate bugs from the sites. Users, too, have different expectations and you need to address the same. Thus, by staying involved, the web developers offer adequate post-product support to their clients.
6. Make you battle-ready
From the basic perspective, a professional and impactful website can help your firm stay abreast of recent trends in the industry and give you an upper hand in the competitive environment.
Most firms are aware of what their competitors are doing. Therefore, in order to remain relevant to potential customers, you need to hire a reputed web development company.
Websites that are outdated and of low quality, can hardly do any good to businesses. They simply serve as an electronic mode of communication. Even firms with very low budgets prioritize website development, as it gives them the first exposure to their audience. It helps in generating leads and converting them.
Yet again, this is a website that lets you showcase your products and services to your customers. However, in a competitive environment, there are several firms offering the same grade of product at similar price points.
In such situations, it is your website that can give you a soapbox to present yours and impacts customer retention in the long run. To that end, developers make sure you receive a unique product that can do the talking.
7. Maintain consistency
Building a brand identity calls for consistency. Marketers want the target groups to get familiarized with their brands. When they want to make a purchase, they readily turn to the respective brand. It is important to maintain a coherence or consistency across all the pages.
When you hire a reputed website development company, the experts work on all the aspects of your website that would be conducive to branding – from layouts to fonts, graphics to navigation, backend to frontend.
Beyond this, they also work on uniformity to ensure all these elements are similar across all the web pages. Monotony is dismissed and a professional appeal is assured. After all, consistency is the key to solidifying brand recognition, building trust, and encouraging conversion.

To Conclude
Presently, people spend two out of every three minutes online on mobile devices. With the rising impact of responsive designs, it is important to offer greater usability to mobile users. At the same time, you need to curtail your costs.
Collaborating with the right team of web developers can give you the right solution. The role of a consultant is to resolve the issues that their clients are facing, focusing on the success of their business.
Considering the multiplicity of benefits that a strong website offers, it is logical to seek assistance from a reputed developer.