How Much Does it Cost To Develop an App Like Airbnb In 2024?
29 minutes read
33.0k Views
We all love traveling, and who doesn't love a travel experience that's both budget-friendly and offers an authentic local vibe? In this world where the gig economy is booming, popular vacation rental apps like Airbnb have enabled property hosts to offer travelers unique stays while earning money.
According to the latest Airbnb report for 2022, there are over 4 million hosts and 6.6 million active listings worldwide, spanning 100,000+ cities and towns in more than 220 countries. The app has served over 1.4 billion guests to date, and hosts have earned over $180 billion globally.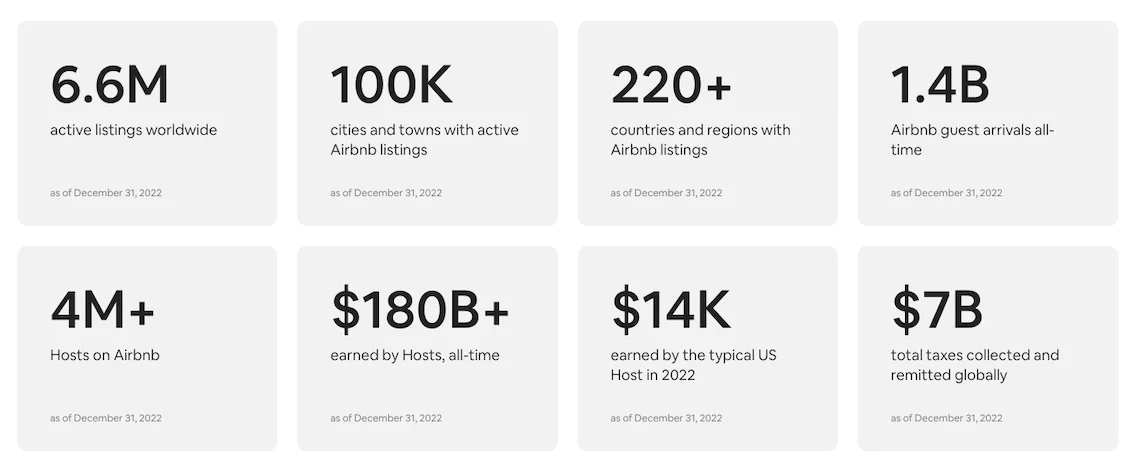 Not just that, as per the Airbnb 2023Q1 report, it hit the highest record of 120M+ nights and experiences with a revenue growth of $1.8 billion, which was around 20% (24% ex-FX).
After seeing this rising profit, you must have decided to launch your digital product-based vacation rental business like Airbnb. Fair enough!
And you also have many questions, like:
How to build an app like Airbnb?
What apps can be your strongest competitors?
What features should you include in your app like Airbnb?
And most importantly, how much does it cost to build an app like Airbnb?
Therefore, we've done extensive research and curated this comprehensive guide on building an app like Airbnb specifically for you!
So, let's start exploring answers, and thank us later 😉!
What is an Airbnb and How Does It Work?
In the travel industry, the idea of Airbnb – Air Bed and Breakfast, has taken the world by storm. Airbnb is an online platform enabling property owners to rent out their residential properties to lodging seekers. Basically, the Airbnb app has two types of users – Hosts and Guests.
As the business title says, Airbnb is a vacation rental company. But you do want to know the difference between Airbnb and Hotel Reservation.
So, How is Airbnb different from hotel reservation apps?
Unlike hotels, Airbnb offers a wider range of accommodations, such as entire homes, apartments, and private rooms owned by normal citizens.
Airbnb offers flexible pricing decided by hosts based on factors like location, season type, amenities, and more.
Personalized stay experience than a hotel, where hosts personally come to greet guests and give a walk-through and guide them about localities.
With Airbnb, guests can experience the more local experience as the properties are mostly located in great places with many amenities, such as access to a kitchen, washer, dryer, and balcony/backyard.
In short, Airbnb offers a new age of travel experience to tourists and makes them meet with the local vibe. Also, offers a great earning opportunity for hosts and great flexible stays for tourists.
A vacation rental app like Airbnb is just a standard app like a hotel reservation app but a profitable travel software application-based business that offers many benefits to hosts and guests.
So, it's also important to know the ways Airbnb becomes the bridge between hosts and guests.
How does the Airbnb host panel work?
Initially, hosts register their profiles on the Airbnb app.
Then, they can create a property listing on Airbnb by adding details such as location, property type, number of rooms, beds, bathrooms, other amenities, number of guests they can accommodate, and more.
After that, the app prompts them to upload photos. Airbnb insists that property and location photos be taken by a professional photographer for better picture quality.
Once a guest requests a stay by contacting the host, the host can start responding to the guest's queries and providing them with every detail, such as cleaning standards, nearby public transportation, tourist places, etc., to build trust.
Depending on the conversation with the guest and other bookings requested on the same date, the host has full authority to approve or reject the requests.
Although guests are required to pay in advance through Airbnb, the host will receive the payment 24 hours after the guest checks in and approves the site as satisfactory.
How does the Airbnb guest panel work?
Guests looking for vacation stays can simply search for the sites of their liking by applying filters like destinations, check In and Out dates, and no. of guests.
If interested in a stay reservation, guests need to complete their profile registration and setup, such as adding details like name, profile picture ID number, and more.
When guests like any property, they can directly chat with hosts and discuss further to make their decision about making the reservation.
So, after requesting the stay, it is sent to the host for approval.
Once the host approves the request, guests will be prompted to pay the bill included with Airbnb service charges and taxes.
The final requirement is to step out for traveling, visit the stay location, check in, and enjoy the stay.
And Airbnb earns profit by charging for its mediator services to both: hosts and guests. Don't worry! We'll discuss its business models in the latter section.
But before that, it's important to consider whether there are any competitors to Airbnb that you should be aware of. This research will help you create a unique and promising app that will grab the attention of your target audience, such as avid tourists and local hospitality hosts.
Famous Apps Like Airbnb That Can Be Your Strong Competitor
You'd be surprised to know, but yes, there are competitors offering similar online vacation renter services like Airbnb, including:
HomeToGo
HomeToGo is the world's largest vacation rental metasearch engine that operates as a marketplace and pulls all listings of houses, condos, cabins, and other vacation rentals around the world in apps like Airbnb that are providing cooperation with the firm.
The company operates its website and mobile app in 25 countries globally. Moreover, HomeToGo has travel partners across the world, including Vrbo, Booking.com, Expedia, Tripadvisor, Trivago, and more.
In the HomeToGo annual report 2022, it witnessed around 50M monthly visits in peak months (such as August), collaborated with 60k+ partners, and earned booking revenue of EUR 163.7 M in 2022, which is 32% more than 2021 overall, with a 54% global onsite share and 59% onsite conversion rate.
Further in that report, they even revealed that it achieved the YoY repeat booking by 68% at a CAGR of +57%.
Vrbo
The travel companion of travelers, an online holiday rental company founded in 2005, once called HomeAway, is now called Vrbo and is flexible to take risks to change while maintaining its ethos.
Vrbo has over 2 million properties listed in over 190 countries worldwide with 48+ million users.
Being a part of Expedia Group, Vrbo also shares profit in its latest Q32023 financial report, in which Expedia Group has calculated around 20% of gross booking increase, which was around $29.4 billion. Also, this year's first quarter's revenue was around $2.7 billion, which was an 18% increase compared to 2022.
Hostelworld
Hostelworld is a robust network of hostels and backpackers/roamies to connect over and find inspiring adventurous minds to quit their comfort zone and create exceptional travel and meetup stories. It works on a special vision to Go from Solo to Social.
Hostelworld has over 36K properties listed across 178+ countries with over 13M verified guest reviews, for backpackers to select from and connect with other backpackers who are also planning to stay in that hostel on such dates to get to know them and make adventure plans even before they reach the hostel. To be more precise, it has 10,279 hostels in 2412 cities.
Apart from hotel booking, it also offers to rent Hotels and Bed & Breakfast(BnB). The best thing about this concept is its unique business model through which they guarantee 100% booking confirmation and after that, if any user faces any issue during the check-in time, then they will get assured $50 back with a full deposit from the company.
As per Hostelworld's 2022 financial report, it recorded around 4.8M net bookings and earned net revenue of €69.7M for that year.
At last, all we can say is that the Hostelworld application is in itself a great exploration experience for travelers it calls Roamies.
Booking.com
Now comes the full-service online travel booking agency, Booking.com, headquartered in Amsterdam, with its presence in 220 countries and its application supporting 40+ widely speaking languages.
When counting its global data, it has over 400K hotels, motels, and resorts and 2.3M homes and apartments listed. Moreover, it offers flights in 54 markets and tours & activities in over 1200 cities.
With such offerings, in 2022, Booking.com became the world's most downloaded mobile app in the travel category.
Booking.com offers a great selection of website and mobile application color schemes with high-quality pictures used with easy application navigation that makes its app experience amusing. Hence, it earned 41st global rank and 3rd rank in the category with 557.5M + monthly app visits.
Booking Holdings' 2022 Annual Financial Report revealed its gross travel bookings of $121.3 billion, 58% more than 2021 annual bookings. Speaking of net income, for the full year 2022, it had a net income of $3.1 billion, an increase of 162% from the prior year.
In short, Booking.com has everything in its plan to offer to users, from flight booking to stay reservation to finding attractions with car rental options and connecting to other travelers to do more.
So, after reading all these, you must have created a feature list to add to your app, but to make your feature shortlisting work easier, in the next section, we have done something great for you.

Top Features You Can Include In Your Vacation Rental App Like Airbnb
Creating your travel agency-based app is beneficial for your business. However, having the powerful features implemented in it can make a huge difference for your app. So, let's have a look at the top features to include in your vacation rental app like Airbnb based on the panels:
1. Host Panel
Well, hosts are the assets of any vacation rental business that makes this business possible by listing their properties. So, it becomes necessary to decide on host app features wisely:
Host Profile Management
In any vacation rental app, hosts first stop by as normal users looking for ways to list their property and become a host.
So, here, the profile creation is as simple as signing in to any other app; for example, a social media app with username/email and password. After profile creation, they can set up their host profile by adding their name, host bio, mobile number, property details, payment cards/bank details, and more, and then manage further.
Property Management
Through this, hosts can list their property by mentioning their property details, such as the type of space (entire place or private room), number of bedrooms, photos of the property, address to the property, expected rent per night, contact details, and currency they'd like to receive payment in.
And then, in a few clicks, the property will be sent for the admin verification and approval of the listing.
Afterward, hosts can even list their other properties and manage those further to meet your business's vacation rental guidelines, such as cleaning process management, amenities updates, and more.
You must ensure that here, hosts should be able to set their own prices and property availability calendars and receive a notification when a property reservation request is made or a chat request is made from the guest side.
Dashboard
The first rule of dashboard designing is that it should be user-friendly that allows hosts to get a total overview of their listing, such as no. of viewers, total click on the reservation, reservation requests, upcoming reservation, property cleaning status, and more.
Reservation Management
This feature enables hosts to manage reservations, including accepting or declining the reservation request and even being able to modify bookings.
Through this, hosts can even chat with guests to know their queries and provide relevant information about the nearby attraction and underrated visiting places, along with booking-related further details.
Payment Management
Of course, here, the secured payment gateway is integrated with the system that allows hosts to manage payment methods, extra property access-related fees, and set up automated payout to their respective bank account once its set in-app wallet balance limit is reached.
Host Support Window
Well, hosts are there to guide their guests about their property, but they do need help from someone to know more about their role. So, for that same, you can prepare and provide them with a basic host onboarding presentation to know about host rules, role, and some best practices and create a host support channel for them to directly be in touch with your customer support team.
Moreover, you can create a host support center allowing hosts to connect and share their stories and get help from fellow hosts who also had faced similar issues in the past.
2. Guest Panel
Guests are very much important just as hosts, giving the total contribution to the business. Hence, you also need to choose features carefully while ensuring a great user experience:
Guest Profile Management
Through this feature, guests can register a profile using an email id and create a strong password. After the profile registration, you must create a form for them to easily fill in their details, such as name, phone number (asking to verify the number), link payment cards & bank accounts, manage their travel wishlist, future self-made travel itineraries, reviews & ratings, and travel posts.
To make it even better, you can allow users to share their travel experiences/stories with other users, allow them to like and comment on posts, and even allow them to create their travel profile on your app.
In short, they can manage their entire guest profile while having full control over the visibility of their profile and followers.
Property Search with filters
This is the feature for what users come over to your site, and you don't want to frustrate them. A filter-rich, user-friendly property search function would do best to let guests search for their likings of rental properties based on their planned travel dates, location, required amenities, budget, and other preferences.
Wish List
Here's the feature, using which travelers can mark as favorite rental places – they like and use those saved locations to quickly reserve any of the ones they want when they plan their next trip to that location.
Create Personal Travel Itinerary
A feature allowing guests to create and manage their own travel itinerary they wish to explore in the future, which includes rental property booking, transportation, attraction points, and underrated places to visit.
Payment
It's a securely linked payment gateway allowing users to save their preference of payment cards and bank accounts to easily and securely pay for their vacation rental reservations. You can even create your in-app payment wallet to allow them to quickly pay for the travel reservations.
My booking/ Booking Management
This feature enables travelers to check out their bookings, update booking details, and easily cancel reservations.
In-app Messaging
Using this feature, guests can easily connect with rental property owners by simply clicking on the button called "talk with the host" or similar to this to discuss the booking and more.
Payments
The app will be linked to the payment, enabling in-app payment that makes users' work easier to quickly and securely pay for the property reservation. Furthermore, users can manage their payment settings by saving their bank and payment card details.
What's Nearby
Using this feature, guests can check out nearby places to visit, such as cafés, restaurants, attractions, activities, and more. So, they can never miss out on exploring the local vibe of the place they are visiting.
Ratings and Reviews
Once guests visit any place as they have planned, using this app, they can, later on, give ratings and reviews to their bookings and help other guests looking for stays to check out the experience others had. Apart from that, guests should have access to edit their reviews and ratings and reply to comments they got in their comments.
Invite Friends
This is an additional feature that can help you set out a unique vacation rental app proposition for your users. Using this, your guests can invite their friends to stay with them.
Moreover, they can even invite their friends and family members with coupon codes to download the app. Once anyone makes any reservation using that, that guest will get some in-app wallet money or refer coins to utilize to avail of further booking discounts.
3. Admin Panel
Now comes the core panel of the app through which an entire vacation rental app business can be managed, enabling centralized governance of the entire business. Hence, the admin panel of your vacation rental app like Airbnb must have these features:
User Management
This is the core management feature of the admin panel through which admins can check out new users and manage their profile verification. Not just that, admins can even verify property listings sent for verification to make them public.
Apart from that, admins can manage the user profile permission and resolve tickets created by users after giving answers to users' all queries.
Content Management
This feature enables admins to manage the content and decide what to show in the application, from managing the rental categories, titles, prices, descriptions, media, promotional content (in-app ads or blogs), and more – while taking care of the content facts.
Booking Management
This feature ensures that both guests and hosts are updated and notified all the time with the latest bookings done for them.
Using this, admins can easily manage the bookings, guest check-in and check-out, suggestions related to bookings (such as add-ons), ratings and reviews, booking-related reports, and more.
Payment Management
With this, admins can manage all the payment flow coming from different users and ensure on-time payouts to hosts, booking charges from hosts and guests, and resolve payment disputes. You can even use AI/ML to automate the entire payment management process and even switch it to manual procedures when required.
Analytics and Reporting
Here, you can integrate your admin panel with data analytics tools, like Google Analytics, Power BI or Tableau, Hubspot Marketing Analytics, or others. Then design an amazing dashboard to access entire real-time data reports, insights, and the admin panel through a single glass pane.
Through this dashboard and detailed report, you can learn about the behaviors of your users and identify trends to improve your app and business tactics.
Communication and Support
It enables admins to provide users with best-in-class customer service. They can easily manage custom support inquiries and escalation issues when and as needed for a better-elevated user experience.
Some Must Have Features that Every Vacation Rental App Should Have
So, here are the common features you must ensure to implement in every panel of your online vacation rental app:
Signup/Login: A simple and easy way for users to register or log in to the vacation rental app with respective panels.
Push Notifications: For all users, including admins, hosts, and guests, to get real-time push notifications about reservation inquiries. Here, guests will also get some push notifications related to marketing if they agree to get such.
Voice Assistance: Improving app accessibility, enabling a better app search experience for users.
Weather Forecast: Admins can use this to provide better-personalized stay suggestions to guests. On the other hand, users can use such to plan their further exploration accordingly.
In-app Navigation: Helps guests easily find their rental property and make their further location exploration smooth.
In-app Communication Support: Allowing hosts and users to communicate without sharing their personal contact details. Moreover, allowing both parties to quickly raise issues and connect with the customer support team for further assistance.
Cancellation Policy: There are chances your Guests or Hosts do require to cancel the reservation due to some reasons. Hence, like any booking business-oriented app, your app must have this reservation cancellation feature to ensure a reliable app experience.
Property Price Calculation: You can program this feature to calculate the reservation cost by considering factors like Currency Exchange Fees, Value Added Tax, and Location-based Tax.
API Integrations
Let's have a look at some necessary API integrations to make your vacation rental app development process faster and make your app offer a top-class user experience:
Communication Gateways
Here, you can integrate many communication gateways for SMS, Email, WhatsApp, and other in-app communication channels to ensure that your users have more app accessibility and are updated with the latest app information.
The SMS and Email APIs ensure that once any user signs up/login to the app, get instant OTP before the timer runs out. Moreover, users can get offline SMS about marketing, reservation, and more. To make it happen, you integrate such APIs as Twillio.
Payment Gateways and Currency Converters
You can integrate Payment Gateways like Paypal, Stripe, or any other to ensure smoother international transactions for users.
For the currency converting facility, you integrate APIs like Exchange Rates API or Fixer.io for better and more accurate results.
This makes users' work easier as they don't need to leave the app to check out prices in their familiar currency.
Language Assistance
For language assistance, you can integrate an API like Google Translate for your global users to access your app information in their native language.
Analytics
In this data-driven tech world, you don't want to stay away from the leads that data solves through deep analysis. So, integrating your vacation rental app with robust data analytics tools, like Google Analytics, Hubspot CRM, or any other, will help you keep a close eye on your apps' performance, attraction, notice users' behavior, and more.
You can also implement and give access to other types of analytics based on the users' category. For example,
Admins will have all data access;
Hosts will have access to data, such as no. of views to their property, reservation success ratio, reservation cancellation ratio, etc.;
Guests will have access to data, such as no. of rental properties they discovered, properties they showed more interest, etc.
Geo Location
Allow hosts to easily pin the Geo locations of their listed properties and guests to easily find a way to their reserved rental property by looking at the map to check their distance from the property. For that, you can integrate Location/GPS support along with Google Maps or Mapbox API.
CMS Integrations
You do want to edit the content you want to show to your users without disturbing developers all the time by updating content. Hence, to ease the app content management, you can link your vacation rental app like Airbnb with CMS, such as WordPress, Drupal, Firebase, Joomla, or any other.
We're pretty sure that till now, you must have created an entire mind map of what features to include and what flow you want for your vacation rental app like Airbnb. But you also want to know the best way to build your pivotal app like Airbnb.
How to Develop an App Like Airbnb?
As you already have done all research for building an app like Airbnb, from features to API integration, and more, it's time to know further processes to build an app like Airbnb:
Create A Business Plan
Before you start creating a business plan for your app like Airbnb, you must want to know the business plan Airbnb follows.
As Airbnb is a vacation rental marketplace, it works entirely based on a commission-based model through which it charges hosts and guests its platform service fees.
Moreover, the key components of the Airbnb business model include:
USP (Unique Selling Point): Allowing locals to list their property for rental and offer unique and affordable accommodations to travelers.
Revenue Streams: It usually charges 3-6% to hosts for listing their property and 15% for more support and charges from 5 to 15% to guests as a booking service fee.
If you see, Airbnb spends on application management, key resources, and partnerships with property managers, payment providers, and more.
You can even check the cost structure, to be more precise, the entire business model of Airbnb, including income and expense, in the below image.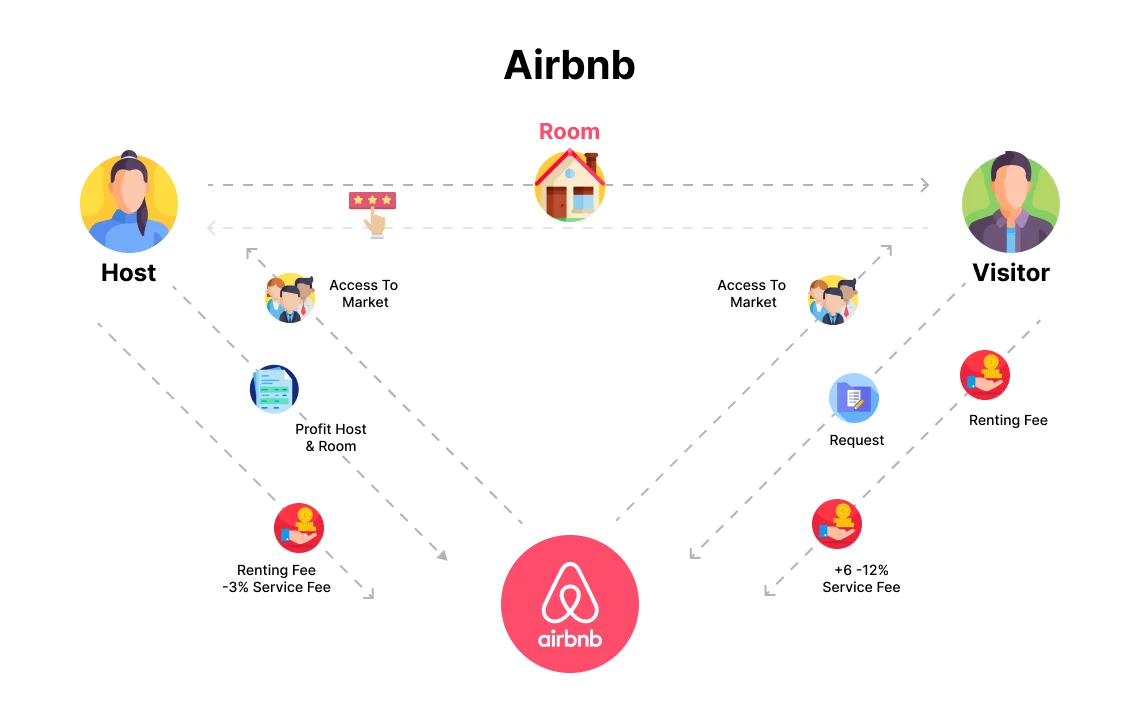 So, in short, you can follow business model as mentioned below:
Commission-based Model: In which the app will charge hosts and guests the platform service fee.
Subscription Model: Through which hosts can pay monthly or annual fees to access premium services, such as better property visibility, advanced analytics, and more.
Booking Fees: The app will charge a small fee to guests for each booking, which can be used to pay transaction costs.
Advertising and Partnership: You can partner with location businesses and attractions to advertise their services within the app.
Property Management Services: Enabling hosts to hire people using the app to assist them to maintain their vacation rentals.
API Licensing: Through which you can allow third-party developers to link your API with their app and charge them for API integration.
Find and Hire Talents
Well, all that planning is okay, but how will you execute it? To do so, you do need an expert team. But the question is, how'll you choose the right mobile app development partner for your travel app development?
It's very important and not that hard; you only need to assess a few things, such as:
Look for a company with a proven track record in developing travel apps, from design to development;
Look for the client testimonials, specifically the video testimonials, to gain more confidence;
Make sure that they have years of experience and expertise in utilizing tools and technologies you want to use in your travel app, more specifically, vacation rental app like Airbnb;
Send a Request for Proposal (RFP) to get an estimated time frame and cost for developing such an app;
Inquire about their post-app delivery app maintenance and support, along with an NDA and Service-Level Agreement;
Confirm that the team you hire follows industry-standard app development and security best practices;
Assess the company's portfolio section to check the creativity they put into their project and their success stories to check how their delivered solutions have helped their clients;
Check for the engagement models they offer, such as Time & Material, Monthly Hiring, and Fixed Bucket Model.
But what talents do you need in your team? If you go for the fixed bucket model, you'll get the following talents in your team:
Project Manager
Business Analyst
UI/UX Designers
Front-end Developers
Back-end Developers
QA Engineer
So, by considering all these, you will be able to find the best-in-class team for your mission-critical app development project.
Create User-Centric Design
Hire creative UI/UX designers from the best creative design agency to design your top-notch vacation rental app. The experienced app designers will help you throughout the app design phase, from research, ideation, and defining user persona to prototyping, along with an iterative design cycle until they get you the mesmerizing app design.
The Development Phase
Now, your hired app development teams, including web front-end, back-end, and mobile app development teams, come into action and utilize your approved technology stack and app UI/UX design to develop your business-critical app like Airbnb.
Feature & API Integration
You can refer to the vacation app features and API integration that we have mentioned above based on the Admin, Host, and Guest panels. You can even take the help of MVP model development initiation to ensure to build a feature-rich and feature-balanced app like Airbnb, and who knows – even better than Airbnb!
Test – Update – Repeat
Building an app is an iterative process that requires continuous tryouts and errors, leading to application improvements. So, here, the app development team will continuously help you implement new features, test their effectiveness, and release and update the app according to market trends and considering user conveniences.
What Tech Stack to Consider When Building an App Like Airbnb?
Today, you'll find many app development tools and technologies good enough to develop your dream vacation rental app development, but you should opt for the right-fit.
Hence, considering the robust build and future assurance of your vacation rental business, we suggest you use tools and technologies as mentioned in the image below: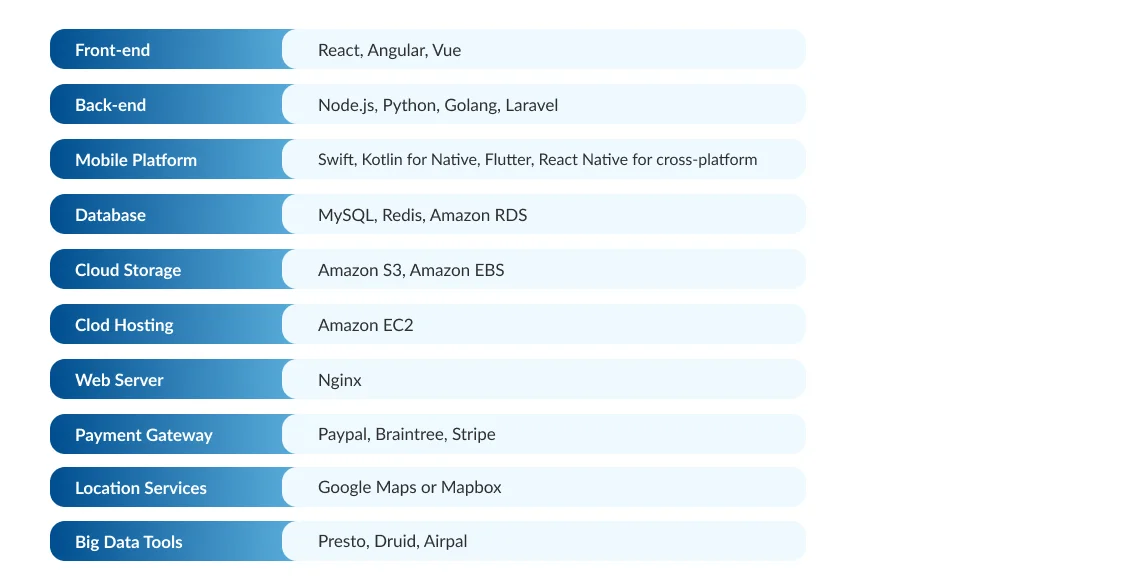 With the selection of the right tool stack, you also want to avoid some mistakes that most entrepreneurs repeat.
Top Mistakes to Avoid When Building an App Like Airbnb
When building an app like Airbnb, on which your entire business depends, you must not want to follow the mistakes mentioned below:
Not doing enough market research
Research is crucial when developing your business-oriented app. If done correctly, it will give you many heads up in further app development planning.
When we've covered our extensive research here, and our team of business analysts and project managers carry extensive industry experience, then why go anywhere? Share your app vision and allow us to assist you as your long-term tech companion.
Neglecting the user experience and app performance
Consider you're trying out a new travel app as it's providing great benefits and features, but it's not that responsive, doesn't contain good interactions, and even has an unappealing color scheme.
So, would you use this app even if it has many good features but does not give a reliable app experience? Definitely Not, right? Instead, you'd go for the app that offers reliability in terms of service and user experience.
Hence, you must prioritize user experience at any cost. That's where your creative travel app development partner, like MindInventory, comes to your help.
Failing to prioritize security
Security must be the top-most priority, and you never want to be indebted to the users for compromising their identity and personal information and pay a hefty price for the same.
Trying to do too much too soon
We know it's very thrilling to create your travel startup app, but don't try to do everything at once. Go slow! Of course, you're going to rock the market, but start with developing an MVP of your concept, check its impression, and then slowly go for the full-fledged development to avoid too much investment at first.
Underestimating the cost and resources required
Everyone loves to invest small and earn a big smile! But sometimes you need to compromise one thing: the lowest cost and best-in-class build quality. And, of course, you want to go for the best-in-class build quality offering a stellar user experience that promises better business opportunities.
So, never compromise on hiring the best talents by setting up an insufficient budget. Instead, opt for phase-wise development to start small and thrive to digital excellence.
How Much Does it Cost to Build an App like Airbnb?
Well, it's subjective and depends on the factors you select for developing your app like Airbnb, including:
The choice of the platform – Android or iOS;
The number of persons employed in the project and their expertise;
Country of the hired team or talents;
Amount of research required for the app;
The design of the app;
No. of panels implementation;
The technical complexity of the features and api integrations;
App testing requirements.
You can even hire dedicated talents on an hourly basis to ensure faster development and better reliability. However, the dedicated talent-hiring rates vary across global regions, as shown in the image given below: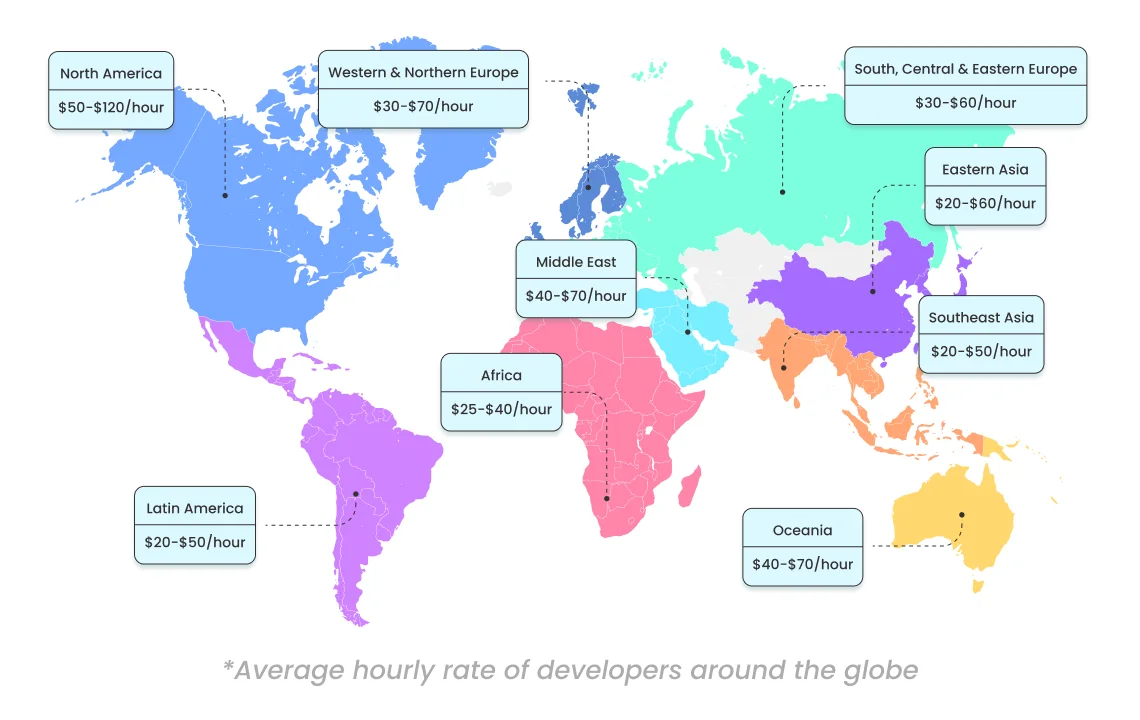 Note: Costs represented here are subjective to the respective timeline and market situation. Please reach out to our business representatives with your app development requirements to know the nearby timeline and cost estimation for your project.
How Can MindInventory Help You Develop An App Like Airbnb?
It's a bit difficult to find a great IT firm that can become a long-term mobile app development partner for any thriving business.
If you're in search of a reliable mobile app development partner, then MindInventory becomes your right choice, like for Zammans – A Holiday Home Booking App. Your one-stop destination to get end-to-end digital product development, from business-based research to design to development to post-delivery support.

FAQs on Vacation Home Rental App Development
How long does it take to develop an app like Airbnb?
Just like cost, the app development time is also subjective and depends on factors such as the complexity of app development, the experience of the designers and developers, no. of screens to design and development, and so on. Reach out to us with your vacation home rental app idea and get a nearby development time estimation within a few days.
How can I market my vacation rental app?
You require a proven and comprehensive strategy to market your vacation rental app, which includes defining a target audience, a compelling brand identity, app store presence optimization, social media marketing, content marketing, paid advertising, partnerships, and adjusting strategies as per the analytics. We can also help you with your app's digital marketing.
How to monetize your vacation rental app like Airbnb?
You monetize your vacation property rental app using various business tactics, such as taking commissions from hosts, property listing fees, property verification fees, property sponsoring fees, transaction fees from guests/travelers, in-app advertising of other apps or related businesses, and a lot more ways.