Mobile App Growth Statistics in 2020
10 minutes read
17.6k Views
As the year draws to a close, it's normal for people to anticipate what challenges and advancements the new one will usher.
It's only natural to expect the winds of change to blow in every direction. But 2019 brings to an end a decade's worth of technological developments.
We're turning the page and entering another. Let's see what innovations it will bring.
The Technological World is Progressing at a Fast Pace
Consider, for instance, the rate at which the mobile industry is progressing. 2019 marks the 12th anniversary of the first iPhone.
Over the years, Apple has released a total of nineteen iPhones, including iPhone S and iPhone Plus models, as well as the latest iPhone 11 line. And this is only one manufacturer!
But besides this, the mobile app market has also grown exponentially over the years. That may primarily be due to the growing adoption of mobile devices in our daily lives.
In fact, it is the mobility factor that is relentlessly reshaping entire industries. So mobiles have become a necessity, and as a result, apps have become an integral part of our lives.
The Growth of the Mobile App Industry
Research shows that the average American spends 3 hours and 43 minutes a day on a mobile device and checks their phone nearly 80 times a day.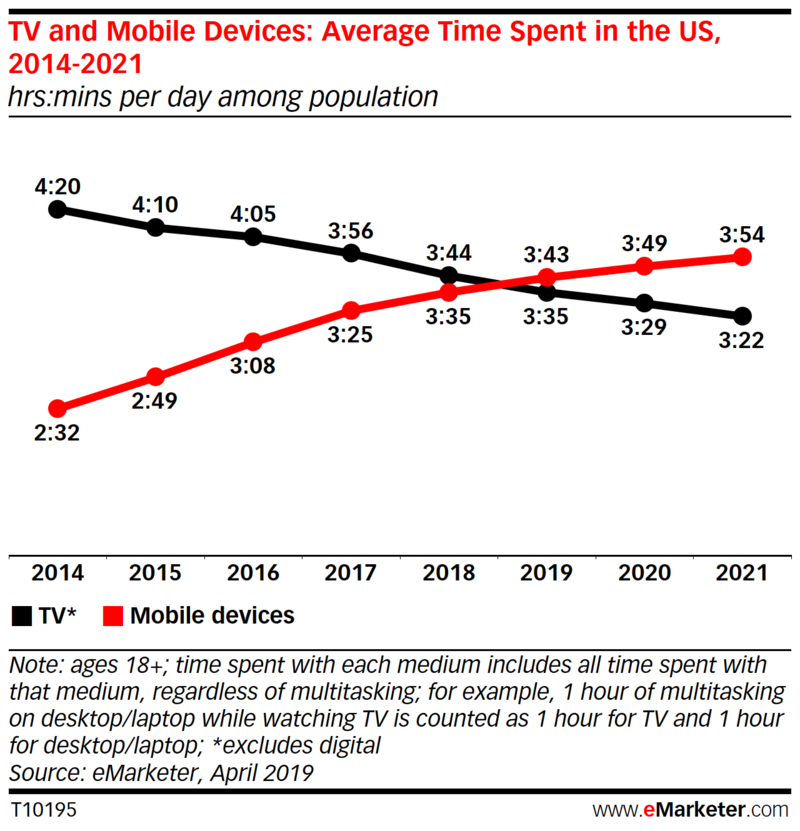 Impressive, huh? But what's everyone doing on their phones? Studies indicate that 90% of mobile time is spent on apps. Now that's enough to send any developer into a frenzy.
The principal activity in apps is digital audio. Average Americans spend 50 minutes on audio mobile apps and 40 minutes on social media, among other favorites such as mobile video, gaming, and messaging.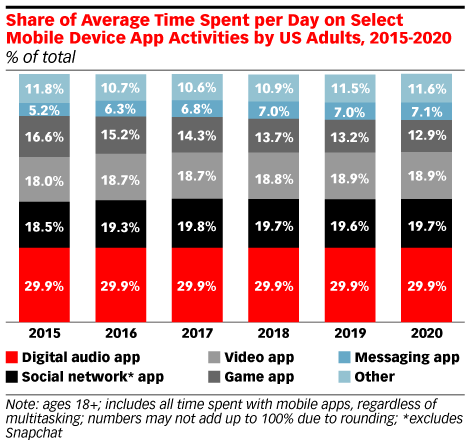 Mobile App Growth in the Coming Days
If you're considering launching an app, you need to be headed in the right direction. Identify who your target audience is.
Here are some relevant stats about mobile app growth that will make it easier for you.
1. The market is crowded
The mobile app market continues to evolve and grow. There is no end in sight when it comes to the number of apps that can possibly be developed. But as always, competition is fierce.
As of the third quarter of 2019, there were 2.47 million apps on Google Play and 1.8 million apps on the Apple App Store.
2. It's all about the money
Not surprisingly, people are still digging the free stuff. It seems that even the turn of the decade won't change this. 90% of iOS apps are free, as are 95% of Android apps.
More interestingly, mobile apps are expected to generate $189 billion in revenue by 2020, says buildfire.com.
Even if the app is free for download, monetization strategies such as in-app purchases, help to roll in the profits. In fact, in-app advertising spend is predicted to triple, reaching $201 billion by 2021.
But in order for your app to be successful, you need to get it downloaded. As long as people install the app, it will ultimately translate to money. And the more users there are, the more revenue the app will generate.
3. The audience is global
More interestingly, BusinessofApps pointed out where most of the app downloads were taking place. 64% came from the APAC region, 19% from EMEA, and 17% from AMER. But China accounted for nearly 50% of global app downloads.
However, India is leading the way for app download growth, followed by US and Brazil, says Business Insider.
Read also: Mobile Application Development Tips To Target Your Audience
4. Social media apps are the most downloaded apps
By the looks of it, social media is still topping the charts. In fact, according to SensorTower, WhatsApp topped the list with 223 million new installs, followed by Facebook Messenger, with 209 million installs.
But TikTok is one of the fastest-growing social media platforms in the world. In just one year, TikTok downloads grew by an impressive 70%.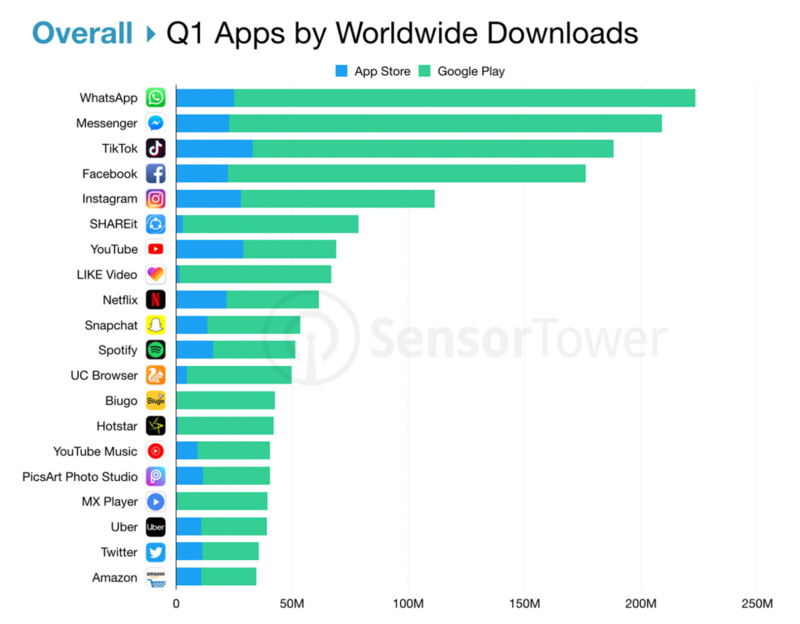 But the app industry needs to make space for gaming apps. Global mobile gaming is expected to represent 57% of the market share over the next year. The inception of 4G/5G will boost cloud gaming services even further.
5. Design matters
Future apps will use artificial intelligence along with predictive analytics to offer better UI and UX. Apps that are user-friendly will continue to be in demand.
That's why 78% of people prefer to access a store from an app rather than its mobile website.
Here are the top reasons consumers choose mobile apps.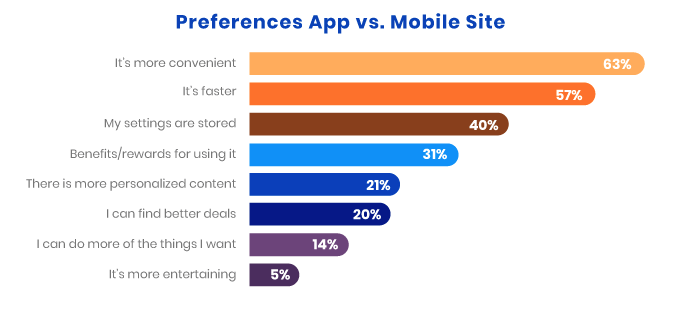 Apps that decrease the number of steps between a landing page and the checkout page provide a better UX.
Read also: The Mobile App Design Process to Follow
6. So does performance
More important than design is app performance. Users will continue to use an app only if it proves to be functional, efficient, and performs properly.
AppSamurai gave some insight as to why people uninstall mobile apps. App crashes have led to 71% of app uninstalls, while freezing amounts to 76%. Research showed that 59% of customers uninstall an app if it's too slow.
Unfortunately, 52% of users with bad mobile experiences are less likely to engage with a brand.
7. Mobile commerce is on the rise
Shopping on-the-go is the latest trend, especially now that 90% of the world's population can connect to the internet. 43% of smartphone owners consider online shopping as one of their top online activities. It's convenient for consumers and retailers alike.
Services like Google Pay and Apple Pay have promoted mCommerce. Based on research, 83% of shoppers use shopping apps on their smartphones.
Therefore it's essential to have a mobile-first payment gateway on your app.
8. App usage is growing
Depending upon the app vertical and category, users interact with mobile apps in a different way. The retention rates, session duration, and in-app activity will vary accordingly.
Mobile-first companies are taking over the enterprise market. They are poised to capture as many customers as they can get.
Statista claims that mobile devices generate nearly 50% of global website traffic. Currently, shopping apps have the highest growth rate.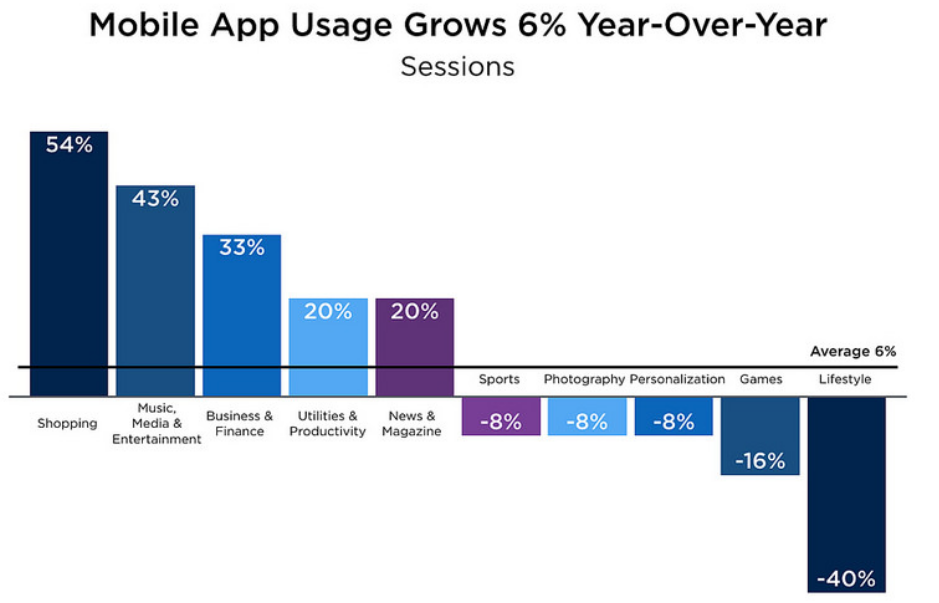 9. Generation Z
By 2020, there will be 6.95 billion mobile users worldwide. But the future is all about the next generation of mobile users. Generation Z (ages 16-24) was born and raised in an era where mobile phones are commonplace.
They're connected continuously and socially savvy. Studies show that 96% of Gen Z already own a smartphone.
However, they interact and engage with mobiles differently than other generations. Studies show that Gen Z spends 20% more time and engages 30% more often with their most-used apps than other people.
By 2020, Generation Z will account for 40% of all consumers. So their habits and preferences carry a lot of weight for companies across all industries. Businesses like TikTok are banking on success by leveraging Gen Z practices.
More importantly, the next generation of app users prefer videos. 50% of Gen Z say that YouTube is a platform they can't live without.
If a business wants to attract Gen Z to its app, it must promote a comprehensive mobile as well as a video strategy.
10. The future of mobile apps
Apps are created to cater to a customer's needs. We have witnessed the rise in voice search. 34% of marketers expect to have a voice app by 2020.
But as we embrace other advancements such as IoT, it's only natural that the demand for cloud-driven apps will continue to grow. By 2020, 83% of enterprise workloads will be in the cloud.
According to research, Cisco says that 90% of all mobile data traffic will gravitate to these platforms. There will be a rise in powerful mobile apps that can retrieve data from the cloud and occupy less internal space of phones.
The mobile industry is transforming. Apps are integrating upcoming technologies such as AI, ML, blockchain, and 5G. However, the greatest implementation can be seen in wearable tech.
The Guardian points out that mobiles are moving out of the pocket and becoming wearable. As this trend continues to grow, apps will need to adapt. The need for intelligent aggregation of content will promote app innovation.
Apps are adapting to changing screen sizes, ergonomic, faster loading times, user-friendliness, consuming less power, and providing seamless data transmission, among others.
Additional Factors Fueling Mobile App Growth
Finding success in the mobile app market is tough. Maintaining user retention is not easy. Uninstall.io claims that 94% of users uninstall a mobile app after 30 days from download.
But familiarizing yourself with current mobile app development trends of 2020 and aligning them with what customers expect will put you on the road to success.
The cost of developing an app depends on its complexity and features. It can be as cheap as under $5000 or as expensive as $100,000 or more. You should also take into consideration what platform you intend to develop the app.
Note that native apps tend to provide better UX because they are faster and more responsive. However, you should be aware that iOS app development costs are usually 10 to 15% higher than that of Android.
Additional iOS expenses include a $99 per year fee to make the app public in the App Store, while Android only charges a one-time fee of $25 to upload the app on Google Play. Moreover, Android apps can be released quicker than iOS apps.
But on the flip side, the average iOS app retention rate is better than Android apps – even if it's by 1 to 3%. The Apple App store generated 80% more revenue than Google Play.
At the end of the day, you need to choose how your app can apply to the market sentiment. More importantly, it should enable revenue growth for your business for years to come.
Wrapping up
The mobile app industry continues to expand. It shows no sign of slowing down. And the focus still remains on improving the quality of an app, delivering more value to customers, and meeting their expectations.