What's your weekend plan? No idea! How about "Netflix and Chill?"
From setting our weekend mood with this powerful tagline to its robust app performance, Netflix – an on-demand OTT streaming app, has become our convenient boredom escape with its unstoppable entertainment.
Not just that, in the strong market competition of OTT platforms, Netflix wins the battle with its presence in over 190 countries, 238.39+ million existing paid subscribers worldwide, and a revenue of $8.19 billion as of the latest Q2-2023.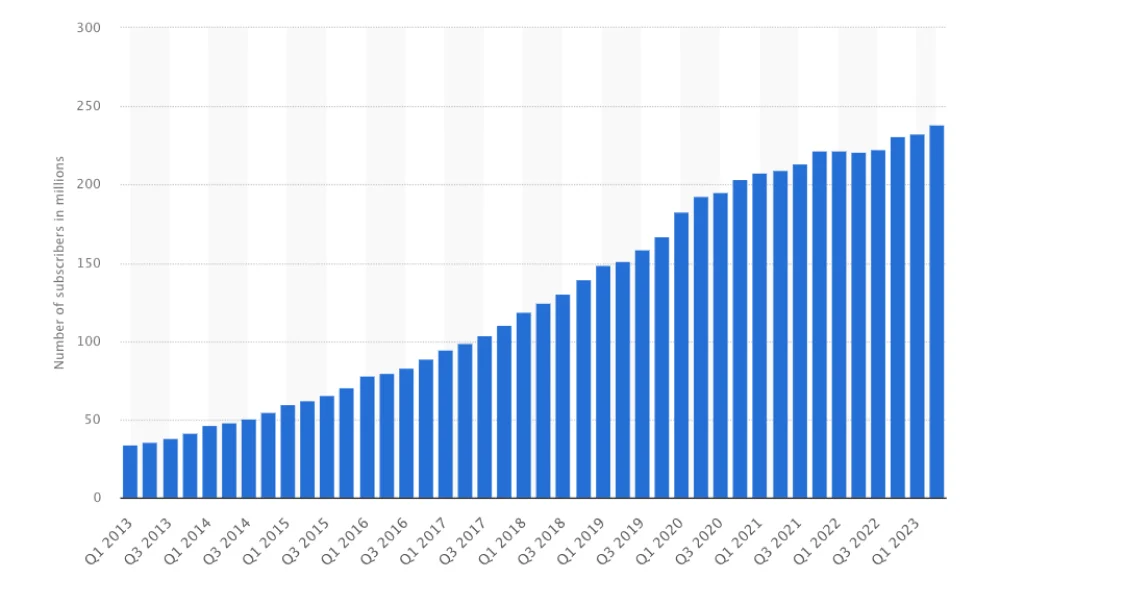 Well, It's just Netflix! But if we see the global OTT market scenario, then it's projected to grow to $397.20bn by 2027 at a CAGR of 7.73%. Moreover, Statista adds that the OTT apps will secure a user penetration rate of 45.07% by 2023 and cross 53.0% by 2027.
This data clearly shows growing opportunities in the OTT marketplace. And Netflix knows how to seize this market opportunity, so do its other competitors, including Amazon Prime Video, Disney+, Hulu, etc.
But do you know how these OTT giants are so popular and creating a handsome revenue? Curious? 🤔 So are we!
Therefore, in this blog, we've revealed all the secrets of on-demand OTT streaming platforms targeting Netflix's master strategy. This guide will provide you with all the OTT insights, including business planning, UI/UX psychology, features, etc., you need to create the next OTT giant like Netflix.
So, grab your popcorn 🍿 and join the quest 🕵️ for new paradigms of the OTT world!
What Does OTT Platform Mean?
The term OTT is an abbreviation for Over-The-Top services, following the digital distribution model to deliver media content, like movies, shows, music, and more, to internet users directly. Simply put, OTT platforms or OTT services providing platforms are the database of digital media content that users stream over the internet connection.
When it allows users to stream digital media content as they wish, it's considered an on-demand OTT streaming platform. Netflix, Amazon Prime Video, Disney+, Hulu, etc., are the types of on-demand OTT streaming platforms.
Users can stream these platforms on any digital device (supporting internet connectivity), such as smartphones, PCs, smart TVs, or normal TVs attached to smart TV sticks, and with their streaming subscriptions.
Types of OTT Streaming Applications
Over-the-top (OTT) streaming applications have become an essential part of our life and have become increasingly popular due to their variety of offerings over traditional streaming options. So, here are the different types of video streaming apps:

On-demand Video Streaming Platforms
Today, everyone uses smart devices, if not smart TV yet, but definitely smartphones and laptops. It has made them get access to on-demand video streaming platforms, allowing users to explore the kind of content they want to, pause it where they want to, and resume it from where they left off with forward and backward controls. More like DVD controls we used to have traditionally, but with a difference of internet connectivity.
There are also sub-types in the on-demand video streaming platforms, which include:
Subscription Video on Demand (SVoD) Platforms
As the name suggests, to access a library of content on such platforms, users have to pay a subscription fee. Netflix, Amazon Prime Video, Disney+, Hulu, HBO Max, etc., fall into this OTT platform type.
Ad-supported Video on Demand (AVoD) Platforms
This type of platform offers free access to its content to users but with advertising in line. So, in this, users have to pay subscription charges to get access to an uninterrupted content streaming experience. YouTube Ad-free, Pluto TV, Tubi, etc., are these types of OTT platforms.
Transactional Video on Demand (TVoD) Platforms
It is a rental or purchase option where users pay for renting or purchasing individual titles for a specific period. This type includes popular platforms, like Google Play Movies & TV, YouTube Movies, Vudu, Amazon Prime Video Rent, etc.
These types of OTT on-demand platforms can be multi-genre-based or even specific to genres, interests, networks, or audiences, catering to particular tastes. Examples of genre-specific on-demand OTT streaming platforms include CuriosityStream, Discovery+, Crunchyroll, CNN, Masterclass, Paramount+, and many others.
Live Video Streaming Platforms
Live video streaming apps provide channels, businesses, and other individuals a platform to create their subject-specific accounts/channels to broadcast their events, concerts, competitions, news, and more.
In these apps, users can directly visit their channels to watch their live broadcasting and even mark it to get reminders about the channel's updates.
YouTube Live, Twitch, Facebook Live, etc., are types of live video streaming platforms.
Apart from these two, you can also find other types of OTT platforms, like multichannel networks (MCNs), aggregating two or more channels into one platform, with a shared success.
Why Do Modern Users Prefer OTT Platforms Over Traditional Channels?
Gone are the days when we had to wait for tomorrow to catch up with our favorite show's latest episode and even sometimes miss a chance to do so. OTT platforms, with the setup of a completely new way of grasping content and entertaining ourselves, have revolutionized the way the entertainment and media industry operates.
Also Read: The Importance of Mobile Apps in the Media & Entertainment Industry
If we talk about Netflix for the US region only, then on average, a user spends his/her 22.4% of minutes watching its content, followed by YouTube with 20.4%.
And who are these avid OTT streamers? The majority of OTT streams are Gen-Zs and Millennials worldwide.
But why do they choose OTT over traditional TV channels? So, here are the reasons why OTT took over traditional channels and has become favorite of today's youth:
Content Variety
The very first advantage users can get from most OTT platforms is access to the variety of content of different genres, languages, and from different countries and ethnicities.
The increasing popularity of OTT platforms made them create their original/special content, provide faster access and premium to the latest content, and more.
And if we, as users, are getting access to new types of content every day, then it's pretty understandable that we want to go for it.
On-demand Accessibility
With access to the content at scale, users do want to stream them as they want to rather than waiting for it to stream by the channel operator traditionally.
The commencement of OTT platforms has given this accessibility and control to users to watch what they want to, at what time they want to pause/resume playing, add media to watch in a queue, download it for offline access, and much more.
Personalization
TV channels are personalized for their medium, but what about different users with different choices? So, traditionally, they were forced to watch something they might not want to at that moment.
Thankfully, the advent of OTT platforms like Netflix, with the command over the selection of the content, also utilized the power of AI/ML technology to provide users with personalized suggestions they might want to watch based on the shows they liked and watched.
Not only did it bring personalization to the level of one common shared screen only but also to all screens it offers in its one account. So, each user using the same OTT account can have their personalized space of entertainment.
Non-stop Entertainment
Back in the time, when we used to watch movies from traditional TV channels, we used to hate advertisements due to the interruption they cause. And, of course, nobody likes to have such.
The OTT platform set us free from some such advertisements and interruptions they cause with its premium subscriptions and provided us with non-stop entertainment. Not just that, it even introduced us to the binge-watching trend of finishing the show we like as soon as possible.
Device Flexibility
OTT services have broken those silos to watch entertainment media only on TV while making all those accessible from any device we want to, whether it is smartphones, PCs, smart TVs, etc. So that users' entertainment does not get limited to screens and has boundless entertainment.
Cost-effectiveness
Traditionally, we've been accustomed to paying monthly and annual fees to access our favorite TV channels. Even with occasional offers such as receiving one or two months free upon paying annual subscription fees, we haven't achieved complete control and accessibility over the kind of entertainment content we desire to match our mood.
However, the emergence of OTT platforms has further heightened the convenience of accessing entertainment content. These platforms offer competitive pricing for monthly, quarterly, and even yearly subscriptions.
So, all these reasons are behind the success of OTT platforms, but we do want to know the positive points that brought Netflix to our attention. So, the next section is all about that.
How Did Netflix Come Into the Limelight?
Starting an entertainment industry-based business initially with an online DVD Rental-by-Mail service back in 1997 to finally starting an online on-demand video streaming app-based business, Netflix has evolved a lot. But the question is how it became the OTT giant it is today?
All the credit goes to the continuous evolution-based culture of Netflix.
In 2007, when Netflix entered the online video streaming business with its application, it enabled users with internet connectivity to get more accessibility to the entertainment content. This transition was crucial in anticipating the shift toward digital content consumption with the evolution of the internet generation.
Access to the original content and licensing agreements with various entertainment and media studios and networks have become key drivers for it to expand its content library.
The continuous improvement according to technological evolution, the improvement of app algorithms, the adoption of AI/ML technology for data-driven recommendations, and the Gaming revolution made Netflix even more innovative to stand out in the market competition.
And above all, the credit for its success majorly goes to its exceptional app UI/UX design and navigation that makes users onboarding and their journey easy. And the equal experience across smart devices is a plus one reason to choose Netflix over other platforms.
When the app UI/UX design of Netflix is in talk, how can we forget its thoughtful branding and marketing?
The combination of the Black and Red colors, two super highlighting and contrasting branding colors, makes a rich, psychological impact on users. The "N" logo design with the compelling effect of it coming close to us and wrapping up the screen with multi-colored rainbow-like stripes – which we sometimes see when turning ON/OFF TV, gives us the comfort and thrilling kind of vibe.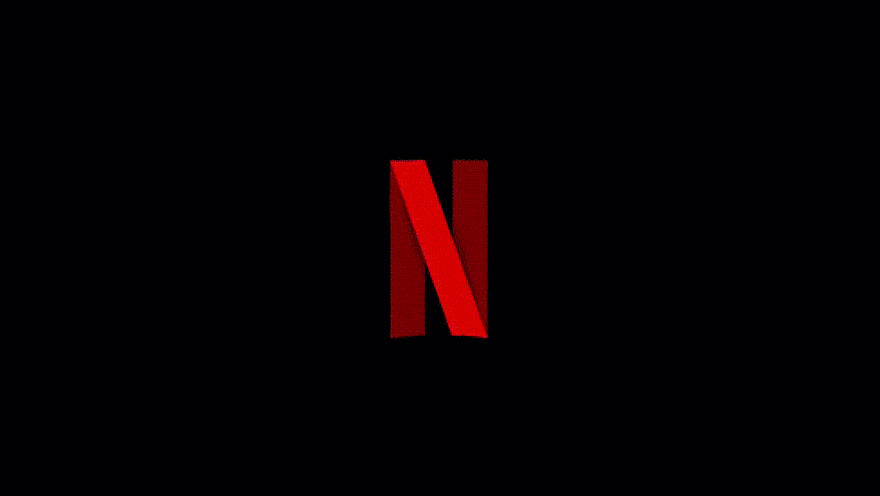 The presentation of NETFLIX in its branding gives us a feeling like a big curved screen we see in IMAX theaters. So, its brand name, colors, and logo design says a lot about its being a big-fat online entertainment brand.
Also, we all know about the mind blowing digital marketing strategy of Netflix that allures users to come back to the platform for that content and spend more time.
In short, it's a wholesome OTT platform that any such platform should be and get inspired from.
Why Should You Invest in Netflix-like OTT App Development?
Well, now you know the reasons that users love OTT platforms like Netflix, but for more motivation, let's explore some business-related reasons to invest in such an app development:
The Unyielding Demand for Unique Streaming Services
The COVID-19 pandemic fueled an increased demand for on-demand OTT services, such as Netflix. During those two years, people began spending more time with their families, consuming content together. Experts suggest that the OTT market will continue to grow substantially, and developing an OTT app similar to Netflix will further contribute to this trend.
Meet Evolving Viewership Habits
As Traditional TV is a bit slow in meeting modern users' evolving demands for content streaming, it has experienced a decline in viewership. Conversely, OTT apps are positioned to offer users the accessibility they seek and to adapt to their rapidly changing viewership habits.
Future-Proofed Industry Growth
Over generations of entertainment and internet development, we have witnessed a significant evolution in the OTT landscape. Today, the majority of young people prefer OTT platforms over traditional channels. Consequently, new trends and niches will continue to emerge in the OTT realm, solidifying themselves as leaders in the industry.
A Business Opportunity
The concept of an on-demand OTT platform presents an excellent opportunity for startups to flourish. Additionally, it offers multiple monetization models, including subscription fees, advertising revenue, and pay-per-view options. Consequently, these dynamic revenue streams can make your investment ultimately rewarding.
Key Features that an OTT Platform Should Have
Features are the ones that make your video streaming app development attention-worthy. So, after studying many popular on-demand OTT streaming platforms, here below are the top features you should include in your dream app:
Account Creation and Setup
Account Signup and Login are the first and foremost features that your user will come across after installing your OTT app. Because to start exploring your app, they require to create their profile.
After the OTT app account creation, this feature should ask users to do some settings, like from what devices they want to stream this platform, and some security settings like two-way authentications and more.
This feature also brings many benefits to the business and users. The business can utilize this feature to gather user signup data, subscription patterns, streaming patterns, and content exploration types to provide them with a personalized user experience.
On the other hand, users get the benefits like securing their personal intellectual data and getting personalized content recommendations.
Payment Gateway Integration
Unlike traditional TV channels that have salespersons collect door-to-door subscription fees, OTT platforms can face a little difficulty using this traditional approach due to its global reach.
Hence, your OTT app should have integrated payment gateways, like Paypal, Skrill, and others, providing ease to users to buy or renew subscriptions online as they need.
Personalization with User Specific Screens
After the account setup, your OTT app should also ask users to create different user profiles within their accounts. So their family members/friends using the same account can have their personal screen to enjoy their favorite content. This way, all the users using their specific screens can have their personalized space for the media content grasping.
To secure each screen and give that screen-specific user a bit more privacy, you can add one more parameter to have them lock their screen with a secret password.
Speaking of personalization, "Do you know how this personalization works?" Well, this secret is hidden behind the code and technology stack. Okay, let us reveal that! The use of AI/ML technology helps your OTT app to harness the power of user-specific data insights to provide automated personalized content suggestions based on the shows they watch, ratings, and more.
Quick Search Filters
If you want to build the best OTT platform like Netflix, it's obvious for your app to have a big media content library. But how'll you make it more accessible to your users, allowing them to explore all with ease? It's quite simple, the analysis of the best OTT platforms you come across.
Let us give you a hint. 💡 If we analyze Netflix's UI, when you visit its home page, on the header section, you can see three clearly visible filters, like TV shows, Movies, and Categories, with a drop-down.
When you tap on the drop-down menu of the category, you can see the Home page selected by default, Watchlist, Available for Download, Regional Speaking Languages, Award Winners, Documentaries, etc., like categories to easily navigate to such type of content.
Apart from that, you can also create some secret codes to quickly search such shows as Netflix uses. For example, 7424 for Anime content, 1365 for Action & Adventure content, 1492 for Sci-Fi & Fantasy content, 8933 for Thrillers, etc.
In the end, having a quick search bar is a need of an hour, which is not only limited to OTT apps but to any app with huge libraries. Moreover, you can also provide voice search options and other filters, as we see in e-commerce stores – categories with checkboxes.
Multilingual Support
In the world, more than 7100 languages are being spoken, and each region has different languages based on the change in ethnicities. OTT platforms are a part of the media & entertainment industry, which is based on communication.
Also, English is not the standard language that every other human being speaks (around 1.5 billion know). Some people only familiar with their mother language prefer to grasp content in that only. Hence, in the app language setting, you should also provide multiple language support (that is being spoken worldwide) to improve your app's usability.
In-app Download Features
As the OTT platforms have brought the accessibility and control of media content to our fingertips over the internet connectivity, it should also enable users to download such for offline convenience. Hence, your OTT app should have this media download feature and even an auto-download field with permission to give them offline access to the content of their liking.
Watchlist
After getting tons of recommendations about media content, it's obvious that users get loaded with so much excitement and note-taking. But to keep their content grasping in the pipeline, they need a feature in the OTT app to tick mark shows they want to watch next. That's where Watchlist features come to a great help.
So, allow your OTT app users to list down shows within the app with Watchlist feature to continue their browsing experience and help them avoid choice fatigue.
In-app & Push Notifications
Push notifications offer great opportunities to app marketing and bring users back to the app. Not just that, in-app notifications also update regular coming users regarding new content alerts and all. So, having these two features in your OTT app increases more chances of user retention and makes them come back to explore your content library.
Streaming Tracker
There are chances that one user is watching multiple shows consecutively, and keeping track of all those shows can be difficult for that. Hence, having a real-time update-based feature to keep track of your watch list can be of great help, just like Netflix has a "continue watching" feature.
You can also add one more control in this feature, which is to remove that show from the continue watching list. So users can control their watching list.
TV Casting Options
In the age of one user using multiple smart devices, do need a feature to quickly switch to other devices without waiting too much. For such times, having a TV casting option in your mobile OTT app helps a lot. Netflix once had this easy feature, and top OTT streaming platforms like Amazon Prime Video and YouTube do have this quick casting option.
It's true that in smart TVs, we have the option to download, install, and use the OTT app as we do on our mobile phones. However, having such a feature can help users quickly shift to the resuming show on TV without needing to press multiple buttons on the TV remote controller.
Upcoming Content Timeline
This is not the most found feature in every OTT app, but Netflix has this feature with the name "New & Hot," in which it lists every upcoming season, show, and movie updates with trailers and reminder buttons. This feature keeps users updated about the future releases and catch up with their interested content when they are released.
Watch Party
Many users like to watch their favorite programs with their friends and family. What if those are living in distant places? At that time, this watch party brings the joy of togetherness virtually, bridging the barriers of distances.
So, how does this feature work? It's very simple! Users will find this feature in their program's tab. Once they click on it, they get a CTA asking for the chat name. After clicking on the create a room, they will get the invite link. By sharing this invitation with their friends and family, users can enjoy this watch party while sharing their thoughts in the form of comments.
Isn't it an amazing feature to add to your OTT platform? Yes, it is!
OTT App Admin Portal
To upload the media to the client side application, your business as an admin must have a feature to upload, delete, and further manage the media, user accounts, timeline, marketing activities, and more that we discover in the OTT app we use.
Apart from that, you also want to know the process of developing an on-demand online video streaming app like Netflix. The next section is all about that!

How to Develop an On-demand Video Streaming App like Netflix?
To develop your Netflix-like OTT app, and that too in a less time, you should follow this step-by-step process, suggested by industry experts, as explained below:
OTT App Ideation and Research
Now that you have knowledge about different types of OTT streaming apps, it's time to define the one that you think can help to build a successful business. Of course, for this, you have to do extensive market research to find out all pros and cons of developing the type of OTT app you want.
This research will help you get information about the features and functionalities, app design trends, technology stack selection, business models, and a lot more to create your basic OTT business plan.
Consulting an OTT App Development Partner
It's great that you've done your own research and extracted information, but getting an expert opinion helps a lot. Hence, finding a mobile app development partner becomes crucial.
They listen to your app requirements, do their research and analysis, and provide you with a solution that meets your needs, along with design and development planning.
Technological Stack and Architecture Planning
After the consultation, while providing the development solution, your technology partner also provides you with the modern technology stack catering to app performance requirements. You must want your OTT streaming app to perform really well and scale easily; hence, for that, you can target the technology stack mentioned below: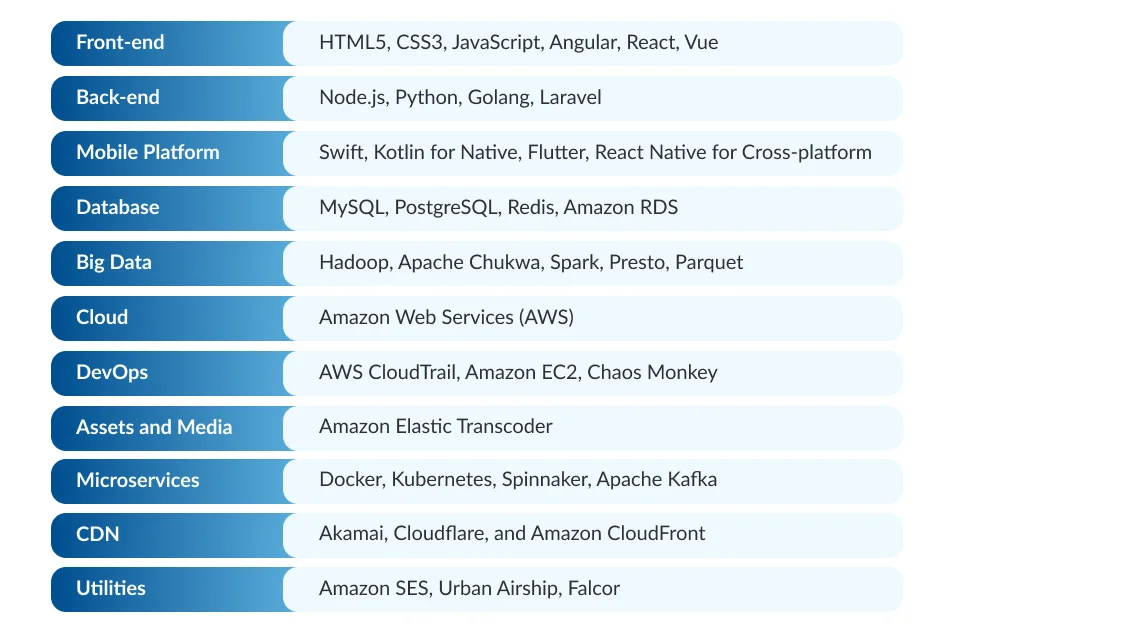 After the planning of the technology stack, your technology partner will also help you in preparing the initial architecture for your OTT app concept. If we consider Netflix's app architecture, then it looks something like this: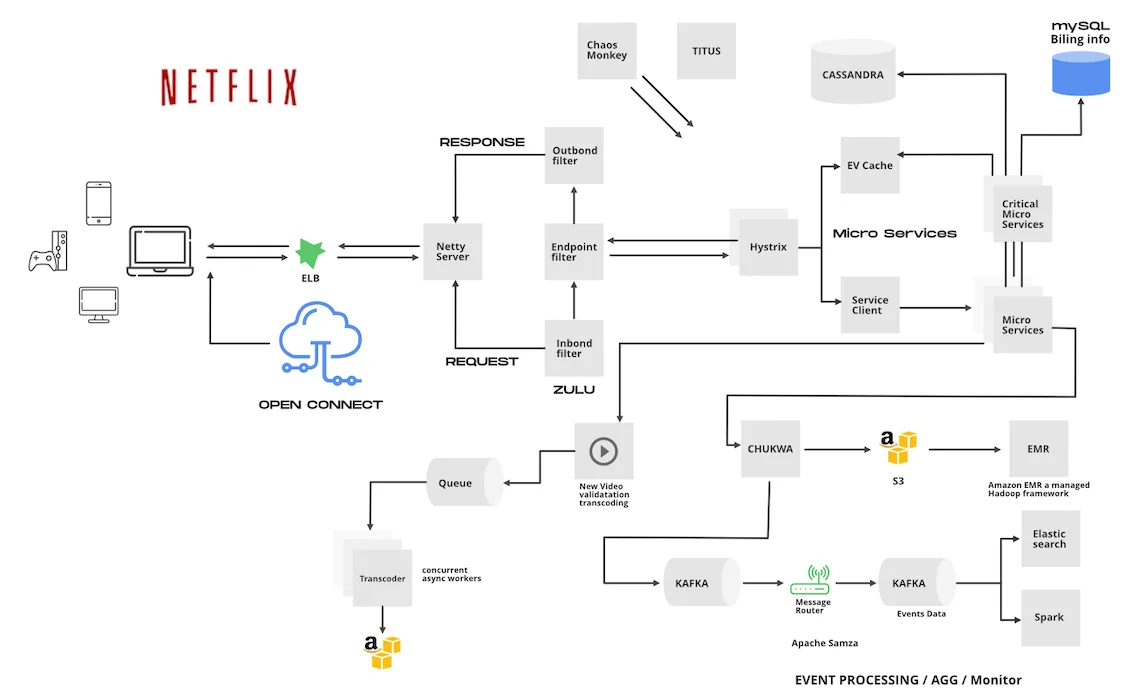 This image shows the connection of client devices with Elastic Load Balancing, dealing with streaming requests in bulk, ensuring a smoother app experience. Its robust and scalable app architecture, extremely relying on AWS and Apache-like cloud and DevOps ecosystem, has been making the application even more reliable for users to prioritize.
OTT App UI/UX Design & Prototyping
After all the technical planning, it's time to put all our research into design with a plan to make your dream app an intuitive look.
For this, you have to hire UI/UX designers to work on your project dedicatedly to offer you a world-class app experience design solution and clickable prototypes showcasing how your OTT app will look like, with interactions, ensuring easy navigation.
OTT App Development
After getting the app design, it's first advisable to start with the MVP (Minimal Viable Product) development, which covers the implementation of all required features and functionalities. After the launch of the MVP, you can analyze its impact on users, like how they are taking it, and check its potential for becoming a useful app for users.
Once you get positive results from the OTT MVP development, you can opt for full-fledged app development to make a wholesome platform that users want to use. Having a dedicated team of mobile app developers proves to be very beneficial.
OTT App Testing, Quality Assurance, and Launch
Post development of the app now comes the app testing and quality assurance, which will help you get surety of the build quality of your app. This is the savior stage as with the help of QA engineers, it allows you to test your app in every possibility to fix its bugs, expectations, and issues to avoid a post-launch crisis to the brand reputation.
After this, it's time to launch your app on the respective platforms, Google Play Store for Android app and App Store for iOS app.
Post-launch Support & Maintenance
With technological evolution, your app also needs updates and maintenance to be able to cope and remain the favorite OTT app of your target users.
So, when finding an app development partner, you must see whether they are providing full-cycle support, from design to development, with future app support for the upgrade and maintenance.
How Much Does it Cost to Develop the Best OTT Platform like Netflix?
OTT apps are mostly developed considering a broad spectrum, affecting the cost of app development. Hence, it's quite a difficult task to provide the cost of the development and even the range. However, you can consider the following OTT app development factors to estimate its nearby cost:
The type of OTT app idea;
The complexity of the app idea;
The design and development requirements;
The type of hiring model you choose, such as freelancing, outsourcing, outstaffing, fixed model, etc.;
Difficulty area of the technology;
The experience and country of the app design and development talents;
No. of integrations required, and much more.
Well, all those cost factors are okay, but how can you get the robust and scalable OTT app development solution at the best cost you invest in? Considering the best business decision-making, many experts suggest going for the out staffing, meaning a dedicated remote talent-hiring model, allowing to reap the maximum potential of it and ensuring faster product time-to-market, as they will be using the DevOps model for the same.
As the most dedicated remote talent-hiring models are billed as per the hours spent, the hourly cost for the same can vary as per the location and experience of the talent. However, you can take a look at the image to know the region-wise hiring cost: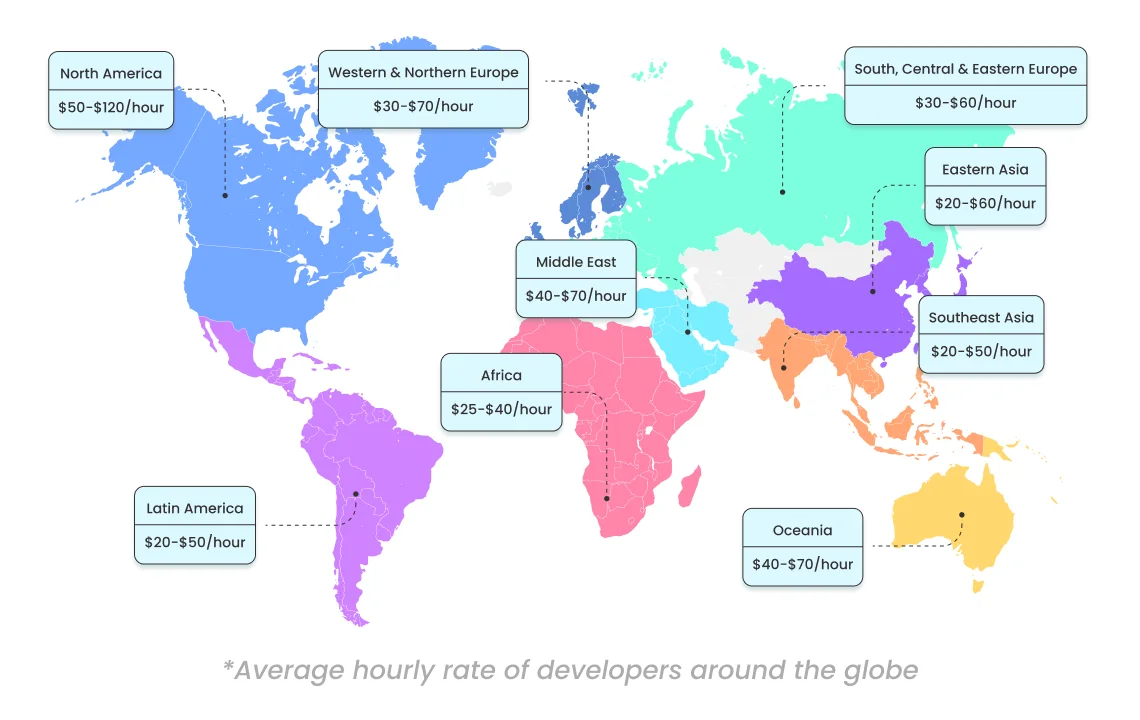 Please note that the cost mentioned here is subject to change according to the market situation.
Contact us now and share your Netflix-like OTT app development requirements with us to know its development timeline and cost estimation.
How Can MindInventory Help You Build A Robust OTT Streaming Platform like Netflix?
Seeing the OTT platforms ruling the digital landscape, though with many competitions present in the market, having a unique OTT concept with mind-blowing features and functionality sustains better business opportunities. This can be done more effectively and efficiently with the help of a smart OTT technology partner like MindInventory.
MindInventory has been helping media and entertainment app-based businesses with a proven track record since 2011, from app design to development with post-delivery support and maintenance. So, contact us today to get world-class support for your crucial OTT platform development project.
FAQs on Netflix-like OTT App Development
How do OTT apps like Netflix make profit?
OTT apps like Netflix make a profit by following various revenue streams and business strategies, like availing multiple subscription tiers, subscription fees, licensing and distribution of third-party content, media partnership with studios and channels, selling merchandise related to their shows and movies, and more.
What are the OTT app development best practices?
Developing an OTT streaming app is itself a big step as your entire business is going to rely on that. So, to make your OTT app a success, you and your app design and development team should follow best practices, like focusing on user-centricity in UI/UX design and development with easy navigation and user responsiveness; ensuring different platform compatibility (such as iOS, Android, web, smart TVs, etc.); following cloud-first approach; prioritizing flexibility and scalability, integrating data analytics and user feedback mechanisms; lastly, following agile methodology for faster and robust development output.
What are the key challenges you can face in OTT app development?
As the OTT platform development is done on a broad scale, it's obvious to face many hurdles, such as managing data and media content at scale, assuring end-to-end app testing and quality across devices, ensuring app security and privacy, complying with the industry regulatory standards and getting content licenses, and much more.
What are the future trends in OTT platform development?
In the count of future OTT tech trends, the use of AI/ML technology use will exceed and have more progress in terms of personalization, the integration of AR/VR technology will provide a better immersive cinematic experience, the seamless multi-platform experience will enhance a lot, dynamic ad insertion will get more improvements and the overall performance of the OTT apps will get more improvements with technological revolution.
How long does it take to create a streaming app like Netflix?
Deciding on the streaming app development time can be a subject matter, which can vary depending on factors like design and development complexities, technology selected, and the experience of the hired talents. You can also share your project requirements with us to know its time estimation.